Reading Time:
5
minutes
Thank You 2018, Next!
2018 was an exciting year for Schimiggy Reviews! I divulged information other than yoga pants (my gray hair transition journey, yoga tips, and more). I still tried on a lot of spandex, but I also wanted to offer more than just clothing reviews. By doing this I was able to collaborate with other brands and bloggers to create something bigger than what I have on this little part of web space. It was such an honor to represent and collaborate with so many brands and companies. I look forward to growing my blog and relationships with businesses in 2019.
Activewear is only a portion of how I want to share my obsessions with the world! There is so much more that I am still discovering and navigating.
Here are some of my accomplishments from 2018:
Love Eat Travel has become a resource for readers from around the world. I even had the opportunity to work with Phil Rosenthal on his blog copywriting and transcribing for his Netflix special, Somebody Feed Phil.
The Moovment is providing opportunities for low-income youth, businesses, and communities to THRIVE. We've taught workshops to 839 people and have opportunities lined up for 2019.
I visited 3 countries (Korea, Vietnam, and Costa Rica). I have four blank pages left in my passport.
I transitioned into a full-time digital marketing role which I LOVE. Being a blogger, a lot of my skills transferred into this role and has enabled me to succeed this year. I can't wait to see what is to come in the world of marketing for me.
I opened up a retail store on my blog. I've always loved shopping and selling and so glad I could use this platform to influence fashion trends and help educate people with their buying decisions.
Before we delve into the new year, I want to share my activewear favorites from 2018. These pieces have been part of my fashion on a regular basis because they've been tried, trusted and reviewed on Schimiggy Reviews. I love trying on new brands and supporting lesser known brands because retail is brutal and helping everyone succeed in this competitive market helps prevent retail monopoly. Ok, enough of my political rant, let's delve into the stretchy spandex stuff.
Top Leggings for 2018
I chose these leggings because they were all high waisted (a must in my closet) and are so darn comfortable. I wear them all casually and to workout.
Top Sport Bras for 2018
I can't seem to take these bras off! Niyama Sol re-released their Criss Cross bra and I immediately jumped on it. I wear this bra ALL THE TIME. I then purchased the shiny Carbon38 Seminyak Bra as soon as it was released. It has a high neck front and beautiful macrame design in the back. The shiny fabric is much more forgiving than their matte fabrics which are thicker and more compressive.
Top Tank Tops for 2018
My go to tank tops in 2018 were Carbon38's crop tank top and Inner Fire Goddess print tank tops. Carbon38's knit fabric is soft and has a flowy texture when draped against the body. Inner Fire's Goddess tank tops bring out the female warrior in me! Their tanks also come in a muscle tank silhouette, which is what I preferred.
Top Outerwear & Coverups for 2018
I didn't find myself wearing anything but my Brave the Cold jacket by Lululemon and ALO Yoga peak hoodie all year long. Both styles are from 2017 and if they're still functional and do the job, I will keep them in my wardrobe for years.
Top Shoes for 2018
I finally gave in and purchased the Athletic Propulsion Labs Techloom Bliss shoes. Why? Because they were laceless. These easily slipped on and looked great with all my outfits. They're super lightweight and are so comfortable. I am not convinced they're worth the $200 price tag but you can read my APL review here and use this link to get 25% off at Carbon38. I would be content if they were priced at ~$120.
What were some of your 2018 activewear favorites? I want to hear from you! If not activewear, I'd love to hear about anything that you were excited about in 2018!
If you like this post, please pin it!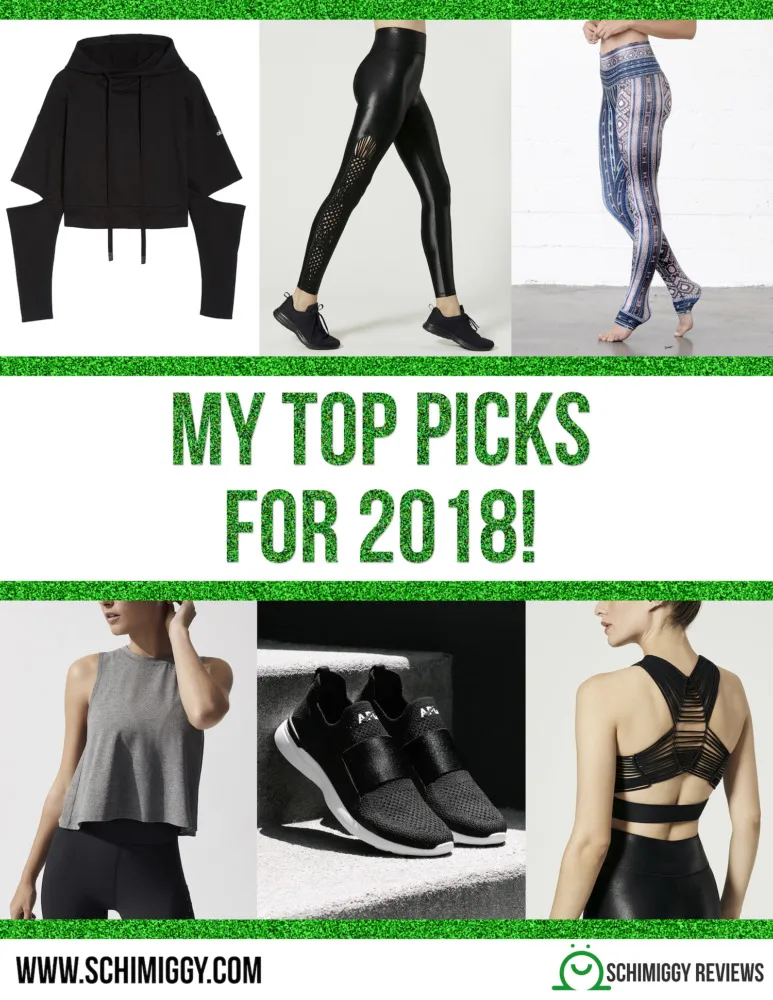 ---
Thank you for visiting today! If you found this encouraging or informative, please connect with us on Instagram, Youtube, Pinterest, Facebook or Twitter. We'd love to meet you!
Sign-up for our monthly newsletter for updates and more. We promise we won't spam you! Feel free to unsubscribe anytime.
For more fitness fashion discounts and offers, please visit our Fitness Instructor Discounts + Brands Directory or favorite brands coupon codes list.
If you're a brand and want to submit a product for us to review, please use this form to get in touch.
This site uses affiliate links. Clicking on or purchasing via an affiliate link may result in commissions for us which help keep the content flowing and lights on at Schimiggy Reviews. You may read more about this in our privacy policy.