Reading Time:
< 1
minute
Updated: 7/5/2022 | Spicy Peanut Butter Noodles Recipe
View our recipe and cooking video of our Spicy Peanut Butter Noodles on Instagram.
View this post on Instagram
In Seattle, I frequent a restaurant called Sichuanese Cuisine in the International District on Jackson Street. They have a super affordable and delicious dandanmiang (or dandan noodles), a dry noodle dish that is topped with minced pork, chopped onions, spicy chili oil, and peanut sauce.
I decided to make my own version that includes more veggies and a sauce that is influenced by the flavors of dandanmiang. It has easily become a staple dish in our home and we eat it at least once a month.
I cook it when I need to use up veggies in the fridge and when I want something with creamy umami flavors and is also warm and filling.
Please enjoy our spicy peanut butter noodles recipe! Let us know what you think in the comments.
Yield: 4 servings
Spicy Peanut Butter Noodles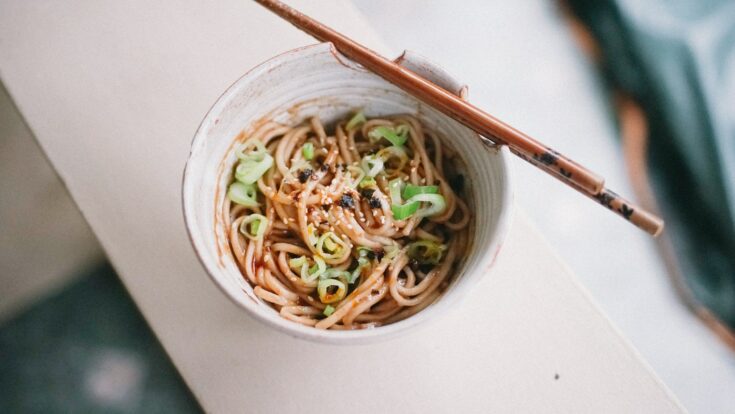 Here is our quick and yummy adaptation of dandanmiang (dandan noodles), a tasty Chinese dish made with noodles, minced meat and spicy peanut sauce! Our version has more veggies and is a great way to clear out our fridge of ingredients. The recipe should take you 25 minutes and serves 4 persons. Bon Apetit!
Ingredients
Pan Fry
1 Chicken Breast (sliced)
3 Napa Cabbage Leaves (sliced)
2 Celery Stalks (sliced)
1 cup Mushrooms (sliced)
2 minced Garlic Cloves
2 tablespoon Sesame Oil
Salt and Pepper to taste
Sauce Mix
2 tablespoon Peanut Butter
2 tablespoon Chili Oil with Black Bean by Lao Man Ga
1-2 tablespoon Red or Black Vinegar
1 tablespoon Soy Sauce
2 minced Garlic Cloves
1/2 cup chopped green onions
1/2 teaspoon Sugar (optional)
2-3 servings of Vermicelli Noodles
Instructions
Prep the veggies and then meat.
Add sauce ingredients to the bowl and mix. Set aside.
Add 1 tablespoon sesame oil to a pan and fry the minced garlic for 1-2 mins on medium. Add the sliced chicken to cook for 2-3 minutes on each side.
Remove the chicken and add it to the sauce bowl.
Add 1 tablespoon to the pan and pan fry the vegetables for 4-5 minutes. Remove and drain and add to the bowl.
Cook the rice noodles or cakes per the package. Feel free to add more noodles or cakes. Drain and add to the bowl.
Use tongs to mix the meat, veggies, and sauce.
Plate and garnish with sesame seeds and/or chopped green onions.
Notes
Rice noodles can be replaced with Shanghai or Korean rice cakes
Feel free to use any vegetables you wish! I like to keep my veggies al dente so there's some crunch.
I typically omit sugar from my recipe because the chili oil with black beans provides a lot of flavor.
---
Thank you for visiting today! If you found this encouraging or informative, please connect with us on Instagram, Youtube, Pinterest, Facebook or Twitter. We'd love to meet you!
Sign-up for our monthly newsletter for updates and more. We promise we won't spam you! Feel free to unsubscribe anytime.
For more fitness fashion discounts and offers, please visit our Fitness Instructor Discounts + Brands Directory or favorite brands coupon codes list.
If you're a brand and want to submit a product for us to review, please use this form to get in touch.
This site uses affiliate links. Clicking on or purchasing via an affiliate link may result in commissions for us which help keep the content flowing and lights on at Schimiggy Reviews. You may read more about this in our privacy policy.