Scott's Cheap Flights Subscription
Free and up to $199 Annually
Reading Time:
5
minutes
Updated: 1/31/2022 | Scott's Cheap Flights Review

Disclaimer: I received a lifetime Premium membership to Scott's Cheap Flights to conduct this review. All thoughts, opinions are 100% my own and always honest.
Flight programs like Scott's Cheap Flights make it easy to travel the world on a budget!
Today we will review Scott's Cheap Flights. Read on to see if the program is worth subscribing to and paying the annual fee.
About Scott's Cheap Flights (SCF)
Scott's Cheap Flights, often abbreviated as SCF, is a subscription travel service that alerts 2,000,000+ members about the world's cheapest flight deals from their preferred US airports.
SCF's goal is to people across the globe see more of the world while on a budget. Members can save up to 90% on average per ticket booked.
In 2013, Scott Keyes found the best flight deal he'd ever seen, a $130 roundtrip from New York City to Milan. He wasn't planning on going to Milan but simply couldn't pass up such a good deal.
When he returned home, his friends and colleagues started asking him to let them know the next time he found a great flight deal. The email list he built for friends was the start of Scott's Cheap Flights.
Today, Scott's Cheap Flights serves nearly 2 million members and has a distributed team of more than fifty travel enthusiasts and experts.
Scott also authored a bestselling book divulging some of the secrets we use to find amazing deals for members, Take More Vacations: How to Search Better, Book Better Cheaper, and Travel the World.
Scott's CHeap Flights (SCF) Review
Scott's Cheap Flights offers three memberships:
Here is a quick breakdown of all the different membership tiers and their benefits.
| | LIMITED (FREE) | PREMIUM | ELITE |
| --- | --- | --- | --- |
| E-Mails | 1-2 Weekly Emails | Receive daily e-mail alerts. | Receive daily e-mail alerts. |
| Departure Airports | 5 airports | 10 airports | All US airports |
| Mistake Fare Deals | Not Included | Only from chosen airports | From all US airports |
| Business and First Class Deals | Not Included | Not Included | Included |
| Domestic and International Deals | Only international deals | Included | Included |
| Free Trial | N/A | 14-Day Trial | N/A |
| Cost | $0 | $49 annual fee | $199 annual fee |
Scott's Cheap FLights Pros
Free to sign-up. Premium and Elite tiers will cost an annual fee.
Awesome e-mail deals sent to premium members with pre-populated booking options on both Google Flights. For Premium members, you'll get 3-4 daily e-mails with domestic and international flight deals.
Website portal shows deals that you can then add as a favorite and book. We really like this feature! You'll need to be logged in to see it.
Alternate departure airports are also listed in both emails and the online portal. When you click on the departure city, you can see flight details and pricing from that departure airport.
Memberships can be auto-renewed.
Scott's Cheap Flights Cons
SCF sets limits to your departure airports. Free accounts get 5 departure airports, Premium gets 10 and Elite gets an unlimited number of departure airports.
Free membership is very limited. The best deals typically start with premium memberships. I find the free membership very limited and not a good representation of all that the SCF membership offers.
Requires credit card information to trial the premium membership for 14 days.
Booking buttons are not included in e-mails. When you click on the blue "View Deal Details," it will take you to their online portal where you'll have to log in to see the booking button. This prevents people from forwarding emails to reap the deals offered by SCF. You'll need to subscribe to see the deals.
Examples of SCF Emails
Flights to Paris, France
Flights to Mexico Cities

Which SCF Membership is Right For Me?
Here is a quick recap of each SCF membership plan that will help determine which membership is right for you.
Limited (Free) Membership: Free members choose five departure airports to receive deals from and only receive a fraction of the deals that premium members do. Luckily, the free member deals are international flights.
Premium Membership ($49): Premium members can choose to receive deals departing from up to 10 departure airports. When a deal is found for one of your departure airports, you'll receive an e-mail alert for the deal. It's best to book the deal within 48 hours. Deals typically expire after 3 days. Premium members receive both international and domestic flight deals.
Elite Membership ($199): Elite members will receive all of the benefits included in the premium membership plan as well as mistake fares for business and first class flights. It's great for people who want to travel in luxury at a fraction of the cost. This plan is not for budget travelers.
We highly recommend starting with a free 14-day trial with the Premium membership and then upgrading to an Elite membership if you decide to want to book luxurious business and first class flights.
What If I Need to Cancel My SCF Membership?
If you need to cancel your SCF account, you can do so online in your account without speaking to an agent. Head over to "Settings", "Billing and Pricing" and then "Cancel/Update Plan."
The membership is charged annually with notices going out 7 days before the automatic renewal. If you cancel within 24 hours of the renewal you get a full refund, otherwise, they'll give you a prorated amount.
If any issues arise, you can easily get in touch with customer service and they can support you in canceling your membership.
How to Sign-Up for the Scott's Cheap Flights
The process to sign-up with Scott's Cheap Flights is super simple. Just click on this link, enter your email, and voila, you're subscribed to their free membership!
If you sign-up for premium using our link, you'll also get A MONTH of free premium membership perks. That is 2 more weeks than their 14-day trial.
The premium subscription is only $49 a year and you'll get around 3-5 emails daily with flight deals that will keep you traveling regularly! We totally think their premium membership is worth it and for only $49, you'll save HUNDREDS of dollars while seeing the world!
And if you want to travel in luxury, definitely sign-up for their Elite membership. Traveling in business and first class is a great way to earn miles quickly and level up with travel loyalty programs. Their deals also save you THOUSANDS off business and first class flights.
If you found our Scott's Cheap Flights review helpful, please share it on Pinterest. Thanks for your support!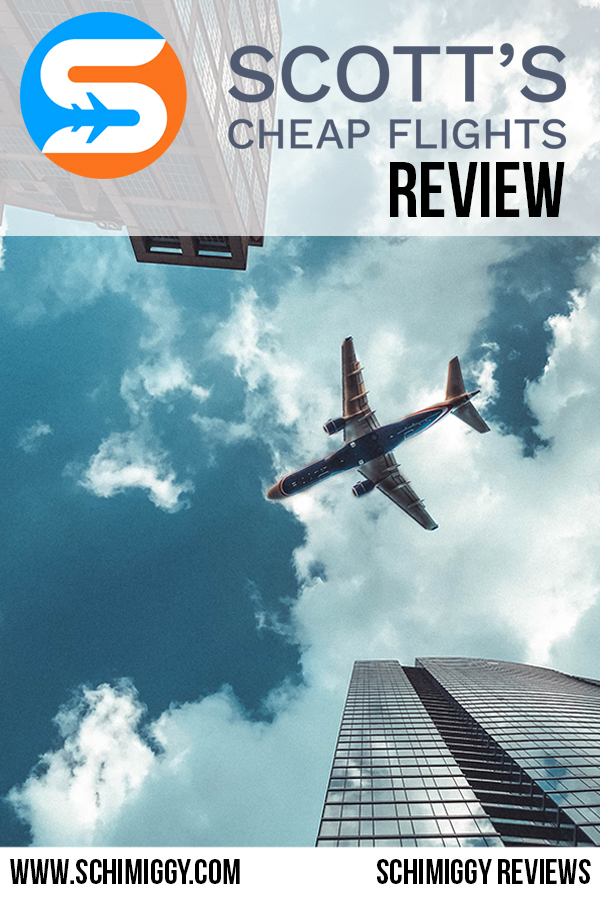 ---
Thank you for visiting today! If you found this encouraging or informative, please connect with us on Instagram, Youtube, Pinterest, Facebook or Twitter. We'd love to meet you!
Sign-up for our monthly newsletter for updates and more. We promise we won't spam you! Feel free to unsubscribe anytime.
For more fitness fashion discounts and offers, please visit our Fitness Instructor Discounts + Brands Directory or favorite brands coupon codes list.
If you're a brand and want to submit a product for us to review, please use this form to get in touch.
This site uses affiliate links. Clicking on or purchasing via an affiliate link may result in commissions for us which help keep the content flowing and lights on at Schimiggy Reviews. You may read more about this in our privacy policy.