Reading Time:
15
minutes
Updated: 8/29/2022 | Best Travel Hacks
Best Travel Hacks
#1 Digitize + Favorite Your Documents
I take photos of all my important documents and favorite them on my mobile phone so that I can easily access them. In the event that I lose my physical documents, I have copies available.
Here are documents that I recommend digitizing and having handy on your mobile phone and/or in cloud photo storage:
Passport
Enhanced ID
Driver's License (front and back)
International Driver's License
Global Entry Card
Travel Credit Card (front and back)
#2 KonMari Your Suitcase
I started Marie Kondo-ing my house because I am a low-key hoarder. I soon realized that I could also KonMari my suitcase too!
This upright method of folding makes it super easy to find what I need in my suitcase and I am also able to pack more than I normally do.
I organize my bag by type of clothing (ie. tops, bottoms, and dresses). I also pack my bag the same way when heading home. I keep dirty clothes on one side and clean clothes on the other.
#3 Use a Tech Pouch
A tech pouch is a lifesaver! It prevents cords from getting tangled and damaged. It also keeps my travel electronics in one place.
I love using this tech pouch by Day Owl, a sustainable accessory company. They sell amazing backpacks too!
Related: Day Owl Backpack Review
#4 Use a Pen Spring to Protect Cords
Pen springs are great for protecting cords from getting damaged. If you have e pen that is on its last leg, use it up and take the spring and start to coil it around the cord.
Say goodbye to damaged cords!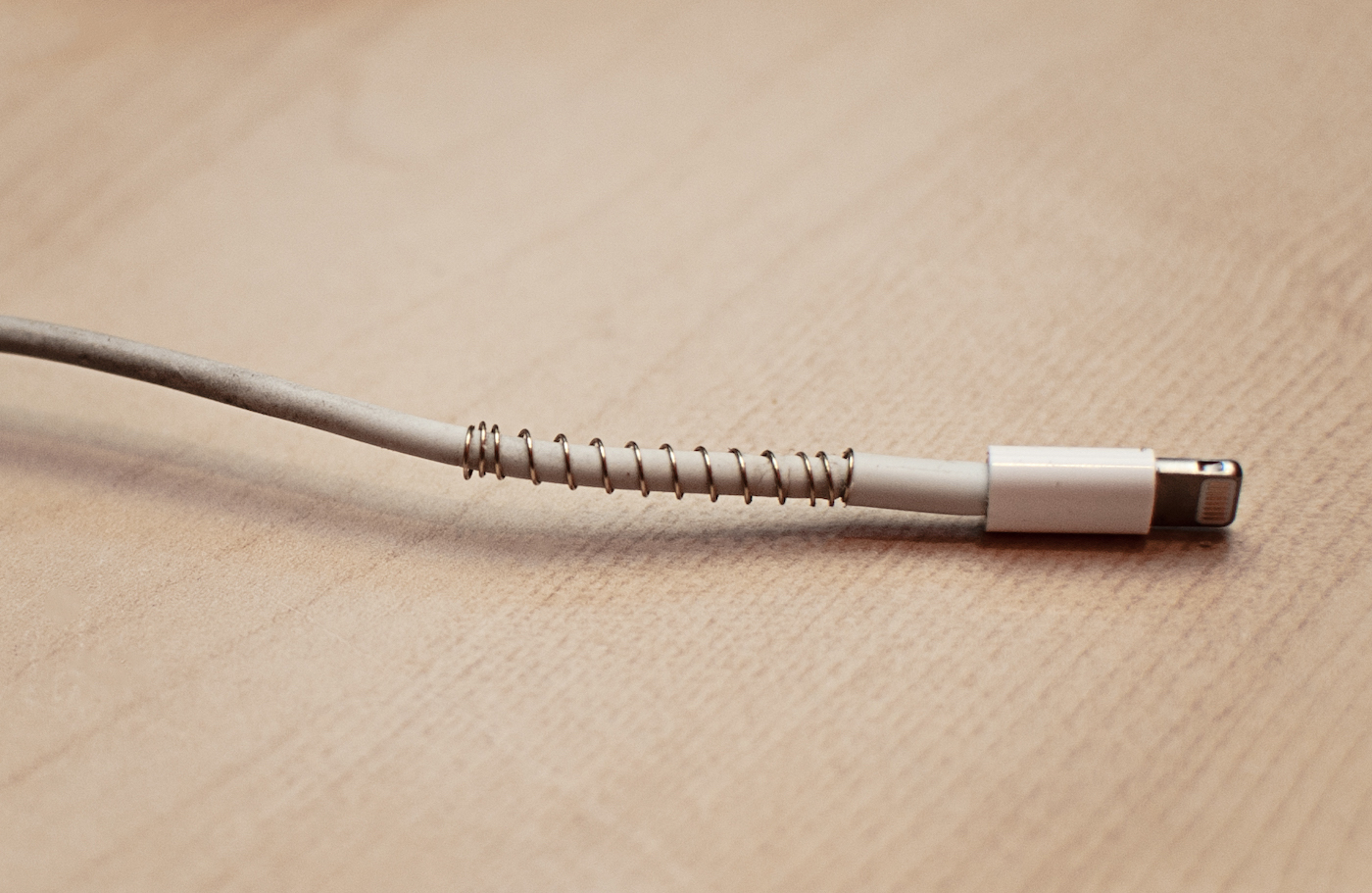 #5 Download Google Maps Offline
Mobile data can be inconsistent when traveling abroad.
You can save an area from Google Maps to your phone or tablet and use it when you're offline.
Here are instructions on how to download Google Maps offline.
#6 Have Your Toiletry Kit Handy
If you travel often, you'll want a toiletry kit handy. A toiletry kit has all your hygiene necessities in one place.
I use a roll-up toiletry kit by lululemon and it saves so much space and holds a lot. It can also hang from any bar or hook and has mesh panels so I can easily see my toiletries.
Use this toiletry kit checklist to create your own kit.
#7 Use Google Translate to Communicate
Download Google Translate onto your mobile phone. It has been so helpful with translating signs, documents, and menus.
It is even great to use when communicating with people. Google Translate has a feature where you can record someone speaking and it will translate into text what they are saying in your native language.
Over the years Google Translate has become very accurate and even understands colloquialisms and slang!
#8 Buy All Flight Add Ons PRIOR to Your Flight
Buying flight add-ons prior to your flight is HIGHLY recommended. Buying add-ons at the airport is NEVER recommended because it is typically more expensive.
For example, adding a carry-on with a budget airline prior to check-in cost me only 18 Euros. At the airport, it would have cost me 50 Euros!
#9 Choose Long Layovers to Explore New Destinations
I love picking long layovers because you get to explore new destinations!
For example, when booking with British Airways, many times we will need to do a layover at the Heathrow Airport in London, UK. We will typically spend 1-2 days in London to check out the city before heading to our next destination on the same itinerary.
Another example is when booking with Alaska Airlines using points, I can do a multi-destination itinerary where I can fly from a starting point, take a layover in Seattle (my hometown), stay on that same layover for up to 6 months, then complete that same itinerary at the final destination. It's such a great hack that saves me points and allows me to travel more!
#10 ALWAYS Mark Your Bag As Fragile
After my luggage was dented by Southwest, I learned to always mark my bag as fragile.
This keeps your suitcase at the top of the luggage pile and cargo handlers will pay more attention to your suitcase.
#11 Travel with Carry-On ONLY
Another way to avoid dented luggage is by keeping it close.
I often travel with a carry-on only because it's cheaper than checking in a bag. I can also easily access my belongings at any time and getting in and out of the airport is much faster.
#12 Shoulder season travel is Best
A great way to save money while traveling is by doing so during "shoulder season." Shoulder season is the period between high and low travel season. The weather is still great but the destination is less crowded this time, plus hotels offer better rates too.
In many destinations, the shoulder seasons are September-November and March-May. Avoid picking peak periods like school breaks and holidays. It's expensive and crowded.
#13 Search for FlightS Using Incognito BrowserS
Turn on "private browser" or "incognito browser" when searching for flights.
Prices fluctuate based on the cookies in your web browser and how many searches you've performed for a specific destination. This is why searching for flights in a private browser (also known as "incognito mode") is a good practice to follow. It prevents your browser from storing your search data from that session.
If you're using Google Chrome, enable Incognito mode by hitting Command + SHIFT + N.
If you're using Firefox or IE, enable a private browser by hitting COMMAND + SHIFT + P.
#14 Book Overnight Flights, Buses, and Trains to Avoid Paying for Lodging
Don't wanna spend money on lodging? Try booking overnight transportation so that you can avoid paying for lodging for that evening.
We especially love overnight or red-eye flights. When arriving at our destination, if it's too early to check in, we leave our bags with the concierge (if available) or left luggage centers and head out to sightsee.
Left luggage are places where you can leave your luggage for a nominal hourly or daily fee.
#15 Get a Credit Card with Airport Lounge Access
Having a credit card with lounge access is great for frequent travelers.
Lounge access comes at the cost of an annual fee, but if you're a frequent traveler, you'll know that travel credit cards offer a bunch of benefits that make traveling easier and more affordable.
Most credit cards will offer lounge access to a network of lounges (such as Priority Pass) and some may even offer access to select restaurants and their own lounges (such as Centurion Lounge or the Capital One Lounge).
#16 Call the Hotel to Book Directly for a Better Rate
Hotel rates may vary differently between websites and even when you call in to book.
Try calling in to book your hotel. You can often negotiate a better deal over the phone. I typically ask what their lowest rate for the next three days would be and book with a credit card over the phone.
#17 Invest in a Universal Adapter
A universal adapter is great to have because it ensures that you can essentially charge your electronics in any country.
I like this universal adapter by Tessan that also has 4 USB ports.
#18 Use Public Transportation to Get Around
Use public transportation when possible. It's cheaper to travel to countries where your currency is stronger. You can save even more money by using public transportation.
In Mexico City, it costs us $7 USD to take an Uber from Centro to Bosque de Chapultepec. The same route costs 50 cents on the train.
And we always love having more money leftover for tacos!
#19 Book a Free Tour
Each time we visit a new city, we take a free tour. The free tours will take you to the main attractions and is a great way to get a good introduction to any destination.
Make sure you bring cash to tip your tour guide. The recommended tip is $10 USD per person.
Real City Tours (image below) in Medellin, Colombia took us to awesome destinations that were typically dangerous for visitors to go without a guide or alone.
View this post on Instagram
#20 Lookup Free Museums and Free Museum Days
Many cities have FREE museums and museums that offer free museum days. Museums are a great way to learn about local culture and see cool artifacts and art.
Some of the coolest museums I've seen to date include the Jumex and Soumaya museums in Mexico City.
#21 Opt for Booking Open Jaw Flights
One travel hack that nobody wants to let you in on is the open-jaw tickets.
Open-jaw tickets are flexible and in most cases an inexpensive way of flying. They are priced as round-trip fares, and almost always less expensive than purchasing two one-way flights between your destinations.
Open jaw flights are when you book with one airline, into one city and out of another. This hack also allows you to travel in between two destinations and still get back to your home or main destination.
#22 Find Happy Hours for Cheaper Food and Drinks
Happy Hours are a great way to save money while traveling. Happy Hours often offer discounted food and drink.
Many businesses have sandwich boards that list their current deals. You can also search businesses on Google to find happy hours within customer reviews.
#23 Sign-Up for Flights Deals
We travel often because we're always looking out for airfare price errors.
Price errors or price mistakes are when an airline or third-party site experiences a pricing glitch and a flight or hotel deal is offered at a ridiculously low rate. They book quickly and some flights may even be cancelled, so it's best to book with a credit card with travel insurance so that you can rebook your flight at the same cost.
Where Do I Find These Flight Deals?
Sign up to these to keep an eye out for flight deals. When you find a good deal, you'll have to act quick. These companies will typically fix the fare as soon as they catch it.
Scott's Cheap Flights (or Jack's Flight Club for UK-based people)
Secret Flying (if you're based out of Europe)
Holiday Pirates
Fly4Free
FlyerTalk Mileage Run (discussion board)
#24 Use Contact Lens Case for Makeup
This hack changed my life! I use contact lens cases for makeup and skincare products. It allows me to keep large-sized bottles at home and only bring what I will actually use and keep my bag lightweight.
#25 Check SeatGuru to Find the Best Seats
We always check SeatGuru when booking flights. SeatGuru will let you know what the best seats are.
#26 Search for "Alternate DestinationS" When Searching for Flight
If the city you're flying in or out of isn't the main hub, consider flying into a bigger city and then connecting to your next city from that destination. It's also a great way to check out a new destination.
Not only will you save money, but you have the potential to earn more mileage points.
For example, we wanted to go to Amsterdam from Berlin. It would have cost us $120 USD per person to fly from Berlin. Instead, we booked a $40 USD flight to Brussels and from there took a bus for only 18 Euros to Amsterdam. We spent a few days checking out Brussels before departing to Amsterdam.
We saved money AND got to check out a new destination! We always check for flights through the Explore feature on Google Flights.
#27 Take Advantage of Credit Card Sign-Up Bonuses
People always ask how we can travel so much. Honestly, it's because my partner and I play the credit card points game.
We typically open up a credit card that has a sign-up bonus that requires a minimum spend. I currently have a Capitol One Venture X card and with a $10,000 minimum spend, I'll earn 100,000 points!
We typically transfer those points to an airline to redeem on international flights. We also transfer to other airlines to maximize our point redemption. We recommend using Award Hacker as a starting point to find cheap flights.
#28 Build Your Itinerary Using Google Maps Trip Planner.
If you're a visual person and want to see what your vacation looks like laid out, we highly recommend using Google Maps Trip Planner. It's free and is a great way to document where you've been.
#29 Don't Exchange Money at the Airport
Airport exchange rates and fees are always the worst! Avoid them at all costs.
Wait till you arrive at your hotel and find a nearby ATM for better exchange rates. We typically find nearby ATMs through a simple Google search.
We highly recommend withdrawing money after you've decided what your budget is and only bringing with you what you think you'll use that day and leaving the rest of your cash in the hotel safe.
We recommend avoiding Euronet ATMs at all costs. They have high fees and terrible exchange rates. Their machines are designed to confuse travelers.
#30 Keep GPS Tracking Turned On While Traveling
This hack has helped me find and retrieve my phone in Da Nang, Vietnam.
We turn on GPS on our phones so that it tracks where we've been or where our phone is if it's lost. I forgot my phone in a restaurant bathroom and was able to reclaim it the next day because I could see its location.
And if someone steals your phone, you can at least see where it is located and potentially get the authorities involved to retrieve it.
We now keep it on all the time so that it documents where we've been and what we've done. It's kinda cool (and creepy) to be able to see all the places we've been.
#31 Take Photos in Burst Mode
Never miss that perfect pose when you shoot in burst mode!
Burst mode allows you to capture tons of frames when posing so that you can choose the perfect photo later.
Don't forget to delete the bad photos, because burst mode typically takes up a lot of space. I try to spend one day a week cleaning up my albums and only keeping the photos I really want.
#32 Create a Shared Album
We use Google One to create a sharable photo album of our adventures. Everyone gets the same link and adds their photos to the album.
It's a great way to get different travel shots from everyone on your trip. It also takes seconds to set up.
I have an account that costs only $10 a mp
#33 Create a Frequent Flyer Account with Every Airline You Travel With
You could potentially be missing out on valuable miles that could go toward your next trip.
Many airlines are also part of airline alliances such as One World or Star Alliance. See if the airline you're booking with qualifies and transfer your points over to your main frequent flyer account.
I personally have memberships with American Airlines, Alaska Airlines, and Delta.
#34 Search for Flights on Budget Flight Search Engines
If you set your filters to "everywhere" or "anywhere" and are flexible with your dates and travel time, you can find really inexpensive flights.
A few of the best flight deal sites include:
#35 Always ask for an upgrade
Join any airline frequent flyer or hotel loyalty programs prior to arriving at your hotel. These programs are typically free.
On the day of check-in, shoot your shot and ask for any upgrades. Try to mention that you're there for an anniversary or honeymoon.
Some hotels may honor those requests for members as long as a higher room category is available.
We were able to get premium seats on our Aeromexico flight to Mexico just by asking!
#36 Book a Private Room in a Hostel to Save Money
If you don't mind staying in a hostel, you can book private rooms for a really cheap rate.
This is a great way to save money and meet other travelers!
We love booking private rooms at Selina, a hostel that has locations all over the world. They have both shared and private rooms. We were able to get a private room in Cusco for only $25 a night!
#37 Invest in a Power Bank
We always travel with a power bank!
We make sure it's charged prior to travel in case we get seats without working outlets.
We also try to pick a power bank that is not too bulky so that it fits in our purse or pocket.
#38 Track Flight Prices in Google Flights
I use this Google Flight feature all the time. If I know an event that requires travel is coming up, I set up a price tracker for that itinerary.
I get emails from Google informing me when a flight cost has increased or decreased. It comes in really handy!
Using this feature, I was able to book my round trip tickets to Mexico City for only $177 from Los Angeles (LAX).
#39 Use an Oversized Scarf as a Blanket
When traveling to warmer destinations, I pack warm weather clothes (ie. shorts, tank tops, swimsuits, etc.). But plane and bus rides can be a little chilly (thanks to the AC and HEPA filters).
I bring a scarf with me that also doubles as a shawl or pareo to wear on the beach.
#40 Hide Additional Personal Items Under Bulky Clothes
Want to sneak on extra personal items? Hide the under your bulky clothes like jackets and sweaters.
I typically wear my fanny pack across my chest under my jacket while carrying a backpack or crossbody bag along with my suitcase. I am able to bring on 2 personal items and carry-on suitcase onto a flight this way.
#41 Leverage Special Occasions for Perks
If you're celebrating a big anniversary or planning a trip for your honeymoon, be sure to let the hotel know in advance.
Hotels often offer free celebratory upgrades such as bottles of champagne, free charcuterie plates, flowers, and other extra-special perks from hotel staff.
#42 Find Trip Inspiration Through Social Media
Use Instagram to inspire your adventures.
Browse through hashtags and geotags to see where people are taking gorgeous photos. Add those places to a folder on Instagram and go to those places!
We also love to Google search for "best instagrammable places in [CITY]" to find inspiration.
#43 Use AirHelp to get compensated for Flight Delays or Canceled flights
We've all been there. You miss a connection because of a delayed flight, or your flight get inexplicably canceled. Just know that the airline has to owe you some kind of compensation.
The problem is that actually getting what you're owed can be a logistical nightmare that involves long wait times, endless phone calls, and unanswered emails. AirHelp essentially plays the middleman by acting on your behalf.
They do charge a fee (which is a percentage of what you're ultimately compensated) but as someone who has used the service successfully, I can say that it is VERY much worth saving you the headache.
Plus, Airhelp knows exactly what you're entitled to based on their expertise, so you'll often end up getting more than you would have received on your own. It's so worth it!
#44 Plan to Do Laundry on Your Trip
To keep luggage weight and baggage costs low, consider doing laundry during your trip.
Make sure you pack detergent and dryer sheets. Most major cities have laundromats and some even have laundry services that charge by weight.
In Mexico City, we used a service that picked up, laundered, and dropped off our laundry for only 130 MXN ($6.50 USD) for 5 kilograms. This is such a time saver and highly recommended if you're traveling light and want fresh clothes.
#45 Use a Pillbox for Jewelry and Small Items
When you're not using a pillbox for pills, consider using it for jewelry and other small items. It's compact and keeps jewelry from tangling and breaking.
#46 Stay Hydrated! Bring a Water Bottle
I always travel with a water bottle. My backpack has a compartment for my bottle so I am never traveling without it.
Pro Tip: Bring tea bags that you can steep and add ice to make iced tea. Most hotels in major cities will have ice machines and coffee makers in your room to boil water. Drinking tea is a great way to ensure you're staying hydrated without drinking boring water.
#47 Bring Your Fire TV Stick
Having a Fire TV stick gives me the opportunity to chill in my room and watch my favorite shows on a lazy night.
I always keep my Fire TV stick in my tech bag. I also make sure to book rooms with HDMI hookups on the TV.
#48 Learn The Art Of Haggling
I grew up in a household where haggling was common. My mom would try to bargain everywhere we went.
I brought this practice with me to Thailand, Korea, and Vietnam and was able to haggle my way through the open markets. I was able to talk a vendor into selling me a handbag for only $60 after lowering it from $250.
Many vendors will also offer discounts for bulk orders. Most also speak enough English to negotiate a sale.
#49 Bring a Zipper Pillow Case or Packable Bag
Instead of using packing cubes, I opt for a pillowcase that closes with a zipper!
This is a great way to pack because it allows you to really compress your belongings into the size of a pillow case (which is coincidentally the size of most carry-on luggage).
You can also stuff the pillowcase with clothes to use as a pillow on your plane ride.
#50 Reserve the Aisle AND Window Seat
When traveling with a friend or partner, book the aisle and window seat.
There may be a chance that by making the middle seat undesirable (no one wants to be sandwiched), someone won't book the middle seat and you and your +1 can end up having the entire row to yourselves.
#51 Wear Shorts with Pockets Under a Dress
We love dresses with pockets and try to purchase those when we can. If a dress doesn't come with pockets, you can simply ADD pockets by wearing pocketed shorts underneath your dress.
Shorts under dresses also help to prevent inner thigh chafing. We go you, girl!
Related: The Dreaded Chub Rub – How to Prevent Chafing
#52 Use the Hotel TV to Charge Your Electronics
Hotel TVs often have USB ports that you can use to charge your electronics.
If you find yourself low on charging ports, check if there is one available on the TV. It's typically on the right side of the screen.
#53 Take a Photo of Your Car
If you're parking in long-term parking while traveling, we recommend taking a photo of your car so that you remember where it is when you return.
#54 Erase Tourists From Your Photos
Here is how you can get photos without random people invading the background of your photos.
Put your camera on a tripod, then take approximately 15 pictures every 10 seconds.
Open all the images in Photoshop ($10 per month) and follow these steps to remove people:
File > Scripts > Statistics
Choose "median"
And voila! You'll get a clean, tourist-free shot!
#55 Housesit
Want free lodging? Become a housesitter and get free accommodation anywhere in the world. You'll typically only be able to board a maximum number of people per stay, so be sure to speak with the owner prior to booking.
Here are websites where you can find housesitting opportunities:
Some of these sites may require a fee, but it will save you tons on lodging costs.
If you found our post on the best travel hacks helpful, please share it on Pinterest. Thanks for your support!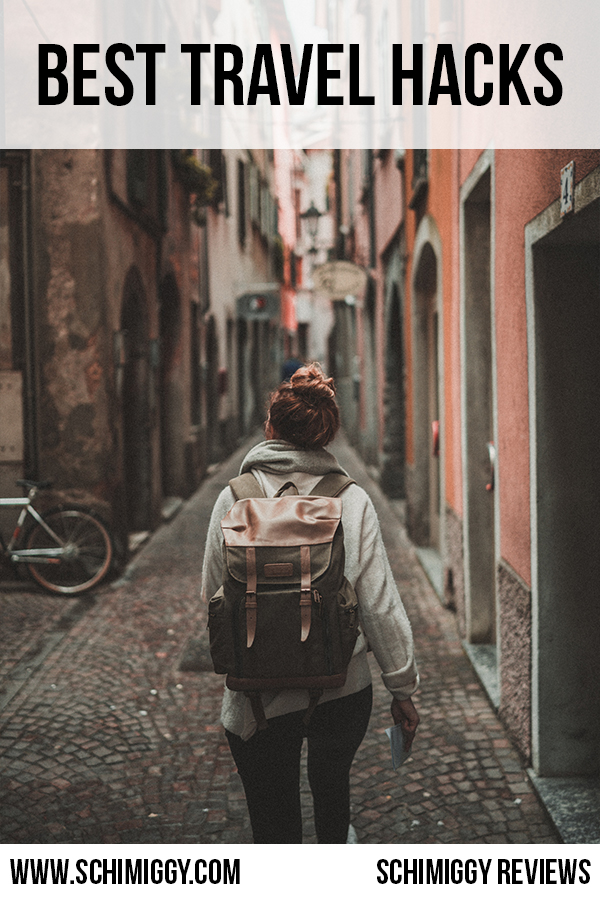 ---
Thank you for visiting today! If you found this encouraging or informative, please connect with us on Instagram, Youtube, Pinterest, Facebook or Twitter. We'd love to meet you!
Sign-up for our monthly newsletter for updates and more. We promise we won't spam you! Feel free to unsubscribe anytime.
For more fitness fashion discounts and offers, please visit our Fitness Instructor Discounts + Brands Directory or favorite brands coupon codes list.
If you're a brand and want to submit a product for us to review, please use this form to get in touch.
This site uses affiliate links. Clicking on or purchasing via an affiliate link may result in commissions for us which help keep the content flowing and lights on at Schimiggy Reviews. You may read more about this in our privacy policy.