Reading Time:
12
minutes
Updated: 6/2/2022 | Porto Travel Guide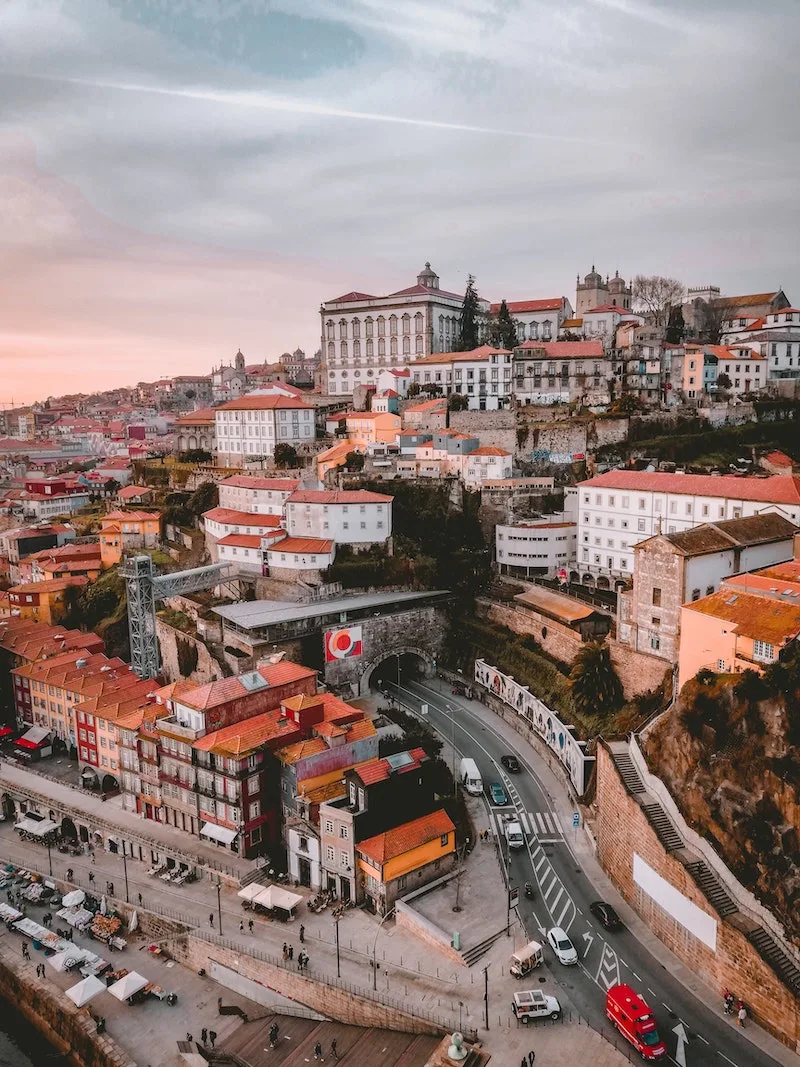 About Porto
Porto is a major city located in Northern Portugal along the Duoro River.
Porto is a port town and is known for its sweet Port wine, seafood dishes, and beautiful structures with azulejos (blue tile) designs. In 1996, the historic center of Porto became a designated a UNESCO World Heritage site.
Here are some things you should know about Porto to help you plan your trip.
Language: Portuguese is the official language of Porto. We also found that many residents also spoke English and understood Spanish speakers.
Currency: The Euro is used in Porto. Many places accept credit cards, but we did run into ONE business that accepted cash only.
How to Get to Porto
Porto is a major hub for northern Portugal, which means it's really well serviced by various international airlines.
If you're coming from outside Europe, many airlines will service Porto's main airport – Francisco Sa Carneiro Airport (code OPO). We took TAP (Portugal's low-cost airline) to get to OPO and then to Rome, Italy.
If you're coming from Europe, the easiest and cheapest option is to book a budget flight on Transavia, Air Berlin, EasyJet, Ryanair, or TAP.
How to Get Around Porto
Walk: Porto has a fairly walkable landscape with bridges linking the north and south sides of the city.
Use Public Transportation: The transport network is made up of the metro, trams, local trains, and buses that help you get just about anywhere in the city. The Andante Tour Card costs €7 and offers unlimited travel on the metro, buses, and trains for a 24 hour period. Trams will cost €3 per journey or 2 days of unlimited travel for €10.
If exploring museums is on your itinerary, we recommend checking out the Porto Card which includes access to the Andante card. From €13 per person, you get unlimited public transport as well as free or discounted access to Porto's popular attractions. Even a port tasting is included in the ticket price.
Uber/Free Now: You can also take Uber or Free Now (Uber competitor) to get around town. You'll have to download the rideshare Apps onto your phone.
Driving: You can drive in Porto but it's hard to find parking and isn't really necessary unless you are going beyond the city and taking a road trip around Portugal.
Where to Stay in Porto
We stayed at the Torel Palace Porto and HIGHLY recommend it. The breakfast buffet is amazing and we got upgraded to an executive suite. Each room is named after a famous writer. It's centrally located and super easy to walk and Uber to and from.
Here are other hotels that we highly recommend booking for your Porto trip.
What to See and Do in Porto
Porto is filled with so many beautiful buildings and things to do and see. Here is our list of must-sees when you are in Porto.
#1 Visit the beautiful blue Churches of Porto
We really enjoyed chasing after all the beautiful blue churches of Porto. The churches are covered in azulejos (blue decorative tiles). The art form was brought to Porto in the 15th century from the East. You'll find many different azulejo designs around Porto.
Church of Souls (Capela das Almas or Santa Catarina) – The facade is awash in nearly 16,000 beautiful blue and white tiles depicting the death of St Francis of Assisi and the martyrdom of Santa Catarina.
Church of Saint Ildefonso (Igreja de Santo Ildefonso) – Large church from the 18th century made in proto-Baroque style. The façade is covered in azulejo tilework from 1932.
Sé do Porto – The Porto Cathedral was built over several centuries, meaning it boasts more than one architectural style. Most notable is its Romanesque nave and rose window.
São Francisco Church – The Baroque-and-Gothic Church of Saint Francis is one you'll want to enter to truly appreciate. The interior is covered in golden gilt woodwork.
Clérigos Church (Igreja de Clérigos) – This Baroque church is most well known for its bell tower. You can purchase a ticket to climb the 249-foot Torre dos Clérigos. From above, you'll get great views of Porto.
The Twin Churches: Igreja Carmo & Igreja Carmelitas – You'll spot these two churches side by side—the Carmo Church and the Carmelite Church—on the corner of Carlos Alberto Square and Rua do Carmo, near the Clérigos Tower. The Carmo is a Baroque-style church with painted tiles on its exterior.

Church of São Francisco
#2 Visit the Charming Neighborhoods of Porto
Ribeira – Known as the heart of Porto, where you'll find colorful houses and cobbled streets. Ribeira is one of Porto's oldest neighborhoods and is a designated Unesco World Heritage site for its historic architecture such as the St Francis Church. Watch Rabelo boats cruise under the giant Dom Luís I Bridge and watch the city lights sparkle against the Duoro River later in the evening.
Beixa – Houses the Romanesque Cathedral of Porto where you can climb 240 steps for skyline views from the Clérigos Tower. You can also visit the Lello Bookstore, which was a major inspiration for JK Rowling's Harry Potter universe. Stop by the São Bento station to see an interior decorated with traditional Portuguese azulejo tiles. There's also a thriving restaurant and bar scene in Baixa.
Foz do Duoro – Fishing village with seafood and a lighthouse for sunset, Fortress São João Baptista da Foz have stood guard over the mouth of the Douro since the 16th century. Wander along the Neoclassical Pergola da Foz promenade, try some fresh local seafood or bask on the long stretch of golden-sand beach.
Miragaia – Miragaia was once the heart of Porto's Jewish and Armenian community, built on a former medieval shipyard. Today, you'll find lively bars and restaurants complete with shimmering river views, as well as zany street art and the pretty São Pedro church.
Vila Nova de Gaia – Across the river has amazing views of Ribeira, head up to Serra do Pilar church, which showcases sunset views over Porto. This area is also popular for wine tasting, al fresco (outdoor) dining and is also where the Gastronomic Restaurant at the Yeatman is located.
Cedofeita – Here you can find the Saturday Porto Belo Market and the oldest church of São Martinho de Cedofeita
Bonfim – If you want a break from Porto's tourist crowds, head to Bonfim, which is connected to the riverbank by a funicular. This quiet residential area lies east of Porto's liveliest neighborhoods, Ribeira and Baixa, and is home to a mix of elderly residents and students who enjoy cheaper housing. Stay among locals in this slowly gentrifying district, where craft beer pubs and hipster coffee shops are just beginning to pop up.
#3 See the Half Rabbit art installation
The Bordalo II Half Rabbit installation is a sight to see! Bordalo II uses mixed media that is often discarded materials from junkyards to create beautiful and sustainable art installations around the world.
#4 Visit Mercado do Bolhão
The Mercado do Bolhão is a perfect destination for foodies. Here you can find lots of vendors offering different types of traditional and modern Portuguese food and beverages.
And while you're here, we recommend checking out Bolhão Central Loft near the marketplace with amazing miradouros (or viewpoints) of Porto.
#5 Walk Down the Avenida Dos Aliados (aka Avenue of the Allies)
Avenida dos Aliados is considered the heart of Porto. Here you'll get amazing views of the Cámara Municipal do Porto and visit the most beautiful McDonalds in the world.
#6 Climb the Clérigos Church and the Bell Tower
We did not climb the tower because we were short on time, but it's a great place to catch a sunset. You can also take awesome photos of the tower from across the street at the public park.
#7 Visit the Livraria Lello Bookstore
Livraria Lello is one of the world's oldest bookstores that has been hosting Portuguese intellectuals since 1906. It's also worth visiting for its architectural beauty.
It's said to be the most beautiful bookstore in the world. The bookstore was designed by Francisco Xavier Esteves in Neo-Gothic style. Within the bookstore, you'll find intricately carved gothic wood-paneling, floor-to-ceiling bookshelves, a stained-glass skylight, and a grand spiraling stairwell.
Livraria Lello was also rumored to be what inspired JK Rowling's Harry Potter series after she spent 2 years living in Porto teaching English.
It costs 5 euros to visit and we recommend coming early to beat the long lines of visitors.
#8 See a Fado Performance
Fado is an intimate Portuguese performance where the music sounds mournful and yearning. It's the soul of Portugal. Fado hails from Lisbon but is now performed in all major Portuguese cities.
If you're looking to attend a fado performance, expect to commit to a show that also includes dinner. The cost varies but is often a bit spendy to attend.
A great alternative to fado is to see an hour-long acoustic performance here in Porto at Casa da Guitarra.
#9 Cross the Dom Luís I Bridge
This huge bridge goes over Duoro River and expands two levels. You can take a Gondola to easily get to the top of the bridge. It's also a great place to watch the sunset over the Duoro River.
#10 Wine tasting in Duoro Valley
The Duoro Valley is known for wineries and its windy roads that are fun to capture on camera, but not so much to actually drive.
It is super windy and you can go on your own to take a day trip with a tour group to Duoro Valley.
#11 Visit the palacio da Bolsa
The Palacio da Bolsa, known as the Stock Exchange Building, is a historical building in Porto. One of the most ornate rooms, the Salão Arabe (or Arabic room) is jaw-droppingly gorgeous.
The palace was built in the 19th century by the city's Commercial Association in Neoclassical style. It is located in the Infante D. Henrique Square in the historical center of Porto, a designated World Heritage Site by UNESCO.
You'll need to buy a ticket to enter the building.
#12 Cais da Ribeira
The Ribeira is located along the Douro riverfront in Porto, and is one of the oldest neighborhoods in the city. It's filled with narrow medieval streets and colorful buildings and has been a UNESCO World Heritage Site since 1996.
#13 Mosteiro da Serra do Pilar
The Monastery of Serra do Pilar is a former monastery located in Vila Nova de Gaia. The monastery is situated on an outcrop with an amazing view of the Dom Luís I Bridge and the historic center of Porto.
You'll need to walk across Dom Luis I Bridge to the opposite side of the Duoro River to get here.
#14 Visit São Bento (Saint Benedict) Train Station
The São Bento Railway Station is a 20th-century railway terminal with amazing azulejos spread across the interior. It's worth a visit if you're arriving by train or just walking by.
#15 Funicular dos Guindais
The Funicular dos Guindais is a great way to get from one part of Porto to another.
The funicular takes you from the steep cliff from Batalha to the downside at Ribeira. It's only a three-minute journey and you'll get amazing views of the Duoro River and Dom Luis I bridge.
A single journey is 2.50 Euros. We recommend walking across to Ribeira and taking the funicular back to Batalha.
#16 Relax at the Gardens of Palácio de Cristal (Crystal Palace)
Landscaped gardens designed in the 19th century with fountains, walking paths, and amazing Douro River views.
We bought a few seafood tins, crackers, and wine and hung out in the gardens.
#17 Visit the most beautiful McDonalds on Aliados Avenue
This Mcdonald's is housed in an iconic 1930s building that once was home to the Imperial Café. As you enter, you are greeted by an eagle statue perched atop the golden McDonald's sign.
Once inside, you'll be surrounded by the ornate art-deco stained glass and the chandeliers hanging from the ceiling. It'll be hard to believe that you're actually in a fast-food restaurant!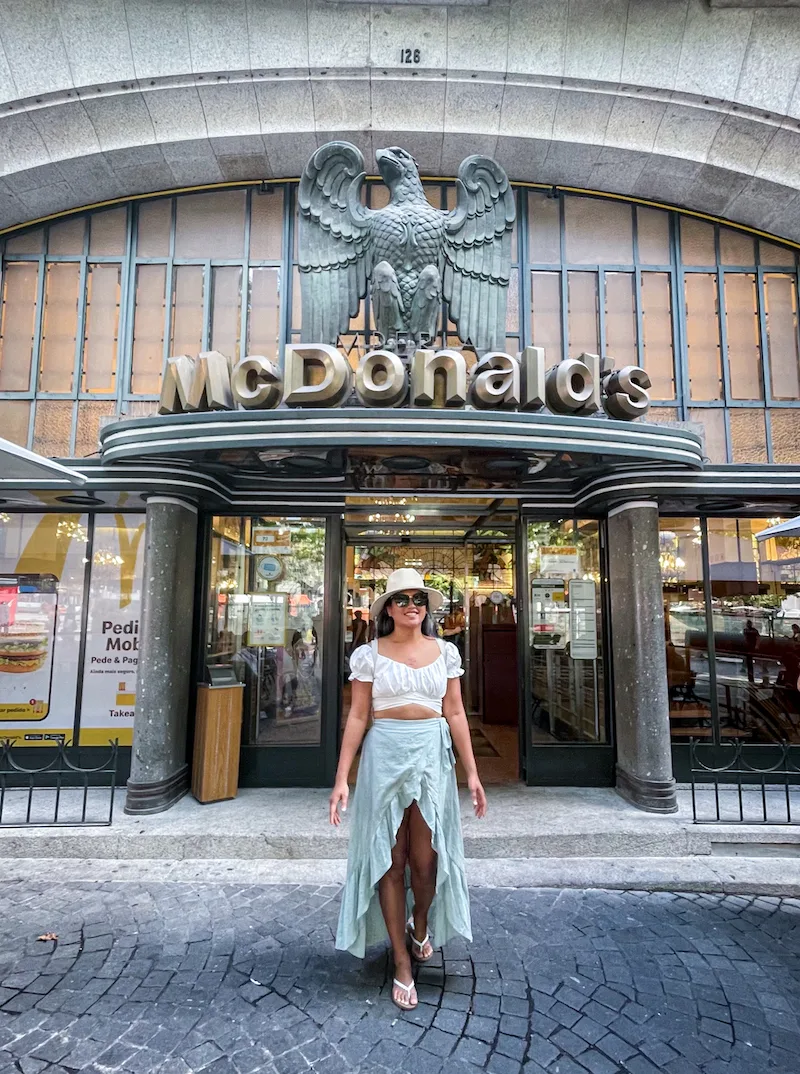 #18 Visit the Beaches of Porto
The best seafood can be found from vendors along Matosinhos beach. We recommend making this a day trip when the weather is hot and beach time is warranted.
#19 Watch the Sunset from these Amazing Viewpoints
If you're like us and looking for a great place to view the sunset, here are our top picks.
Dom Luis I Bridge – A walkable bridge that takes you high enough to watch the sunset over Porto.
Esplanada do Teleferico (Terrace Cable Car)
Felgueiras Lighthouse
Torre dos Clérigos (there is a fee to ascend the tower)
Yeatman Hotel – Grab a cocktail from the bar and watch the sunset from their terrace. You might even spot a peacock!
#20 Muralha Fernandina
The Walls of Dom Fernando, or Fernandina Walls, are medieval fortifications that are great to explore and learn the history of Porto.
#21 Soares dos Reis National Museum
Founded in 1833, it is the first Portuguese national museum exhibiting a wide collection of Portuguese art, including a collection by Portuguese sculptor António Soares dos Reis, from which the museum derives its name.
#22 Celebrate Festa de São João
This Porto celebration lasts for just one night on June 23rd (St John's Eve). It's to commemorate their patron saint, people young and old take to the streets hitting each other with mallets.
What to Eat in Porto
Restaurants
Hungry? We got you covered. Here are our favorite restaurants in Porto!
Adega do Carregal and Abadia
Adego sao nicolao
Assador Típico – Definitely recommend this if you want a hyper-local dining experience. The food is authentic and very affordable.
Bacalhau – The main seafood establishment located along the Douro River that serves up lots of bacalhau (dried salted codfish) dishes.
Bao Boa Asian – The cocktails and Asian food here is amazing. They have pho, or Vietnamese noodle soup, which is super tasty.
Bocalhoeiro Vila Nova de Gaia
Cafe Majestic – Iconic cafe with beautiful interior and exterior. Come here for a coffee beverage or snack.
Cafe Santiago – The best place for a Francesinha sandwich. The Fracesinha is a sandwich on steroids. It comes with ham, sausage, and steak covered with melted cheese and beer sauce (with an optional gooey egg on top). You'll also want to try the Tripas à Moda do Porto (a tripe stew served with beans and rice) here.
DOP – A fine-dining experience by Rui Paula.
Encaixados – Restaurant with typical Portuguese dishes. You have to try their pica pau (meat, pickles, and beer sauce dish), shrimp dish, and steaks. It's super affordable and recently renovated and now has an upstairs area for dining. And if you're brave, add a shot of Aguardente to your meal.
Gastronomic at The Yeatman – The only restaurant in Porto with two Michelin stars. We dined here and LOVED it. We celebrated our anniversary and were taken to the kitchen to meet the chef and dine on an octopus appetizer while in the kitchen. We highly recommend making reservations ahead of time. If you can't get a table here, The Yeatman hotel is still a place worth visiting for a glass of wine and sunset views. You might even see peacocks on their property if you're lucky.
Gazela – Do like Anthony Bourdain and try the cachorro (hot dog in a crispy bun). The hot dog comes with hot oil sauce that is tasty, or you. can also eat it with mayo and ketchup. There are multiple locations around town and they take cash only.
La Ricotta – Yes, it's Italian food in Portugal but very worth it. From the setting to the service to the price and the food itself, we'd eat here again.
Santini Gelato – Come here for delicious gelato ice cream.
Tascö – A great choice for traditional petiscos, or small plates.
Tapabento – This small spot behind the Sao Bento railway station is always busy and serves up delicious Portuguese dishes.
Vinhas D' Alho – This location combines delicious food with traditional Fado at this lovely little spot overlooking the river and Dom Luís I Bridge. It's central, reasonably priced, and just far enough off of the main riverfront walk to not be considered a tourist trap.
Zenith – Come here for brunch! It's a hip cafe located in the centre of Porto. You'll find dishes such as smoothie bowls, eggs, coffee, and a selection of delicious cocktails.
7G Roaster
Rota de Cha
Pasteis de Nata at Confeitaria do Bolhao – Come here for Portugal's famous egg custards.
O Fonso
Sandeira
Viva Creative Kitchen
Visit Rua de Cândido dos Reis for drinks and Portuguese tapas (Petiscos)
Drink Wine in Porto
Walk across the Dom Luís I Bridge and hit up a couple of these popular lodges for both tastings and tours:
Cálem – The most famous and most-visited port cellars.
Taylor's – Offers self-guided tours and tastings and is very popular with visitors.
Sandeman – Probably the most "touristy" option when it comes to distilleries.
Graham's – Offers tours plus a bar with an excellent view across the Duoro River.
Ferreira – Family-owned and operated since 1751.
Noval – Easy to go in and do a tasting. Unfortunately, they do not offer tours.
Bar Hop in Porto
Big Bad Bank Bar (Currently closed but re-opening soon!) – This bar has a bank vault and money bed in it. It's part of the Zero boutique hotel which is also worth checking out.
Golden Oldie (permanently closed)- A craft cocktail bar that looks like it came out of a Great Gatsby scene. Their cocktails are amazing. The bar is located on a strip with other bars that draw a college crowd. It's a great place for drinking and meeting locals.
Gulden Draak Bierhuis Porto
Meridians and Parallels
Royal Cocktail Club – We are obsessed with Royal Cocktail Club! They make the best drinks and their team of veteran bartenders (10+ years) has you covered on all fronts. And did we mention it's one of the top 50 bars. in the world?
Vermuteria de Baixa
If you found our Porto travel guide helpful, please share it on Pinterest. Thanks for your support!
---
Thank you for visiting today! If you found this encouraging or informative, please connect with us on Instagram, Youtube, Pinterest, Facebook or Twitter. We'd love to meet you!
Sign-up for our monthly newsletter for updates and more. We promise we won't spam you! Feel free to unsubscribe anytime.
For more fitness fashion discounts and offers, please visit our Fitness Instructor Discounts + Brands Directory or favorite brands coupon codes list.
If you're a brand and want to submit a product for us to review, please use this form to get in touch.
This site uses affiliate links. Clicking on or purchasing via an affiliate link may result in commissions for us which help keep the content flowing and lights on at Schimiggy Reviews. You may read more about this in our privacy policy.