Reading Time:
5
minutes
Current Yoga Democracy Deals
Get 20% off your orders with code SCHIMIGGY. Shop now >>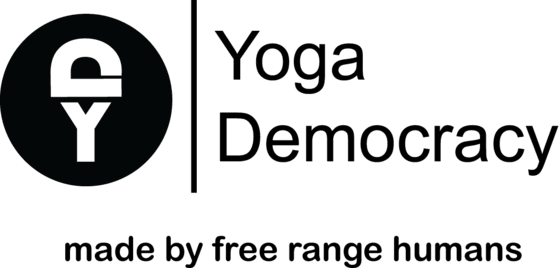 About Yoga Democracy?
Yoga Democracy (YD) started in Arizona with a goal to create sustainable and eco-friendly leggings and more. Natalie Oldroyd, owner and creator of Yoga Democracy wanted to create a company whose philosophy is in alignment with the principles held true to yoga. Drawing from the principle of Ahimsa, meaning "to cause no harm," is the foundation for the mission statement of Yoga Democracy.
Their pants are made of 95% recycled fibers and everything is made in the USA. YD takes pride in their reduced carbon footprint through the use of waterless dying processes and recycled materials that go into the manufacturing of all their products. It appears that a lot of time and thought went into the designing and curating of their products and those efforts alone are very commendable! They also donate 10% of their earnings to non-profit causes which preserve our mother earth.
Review of Yoga Democracy Leggings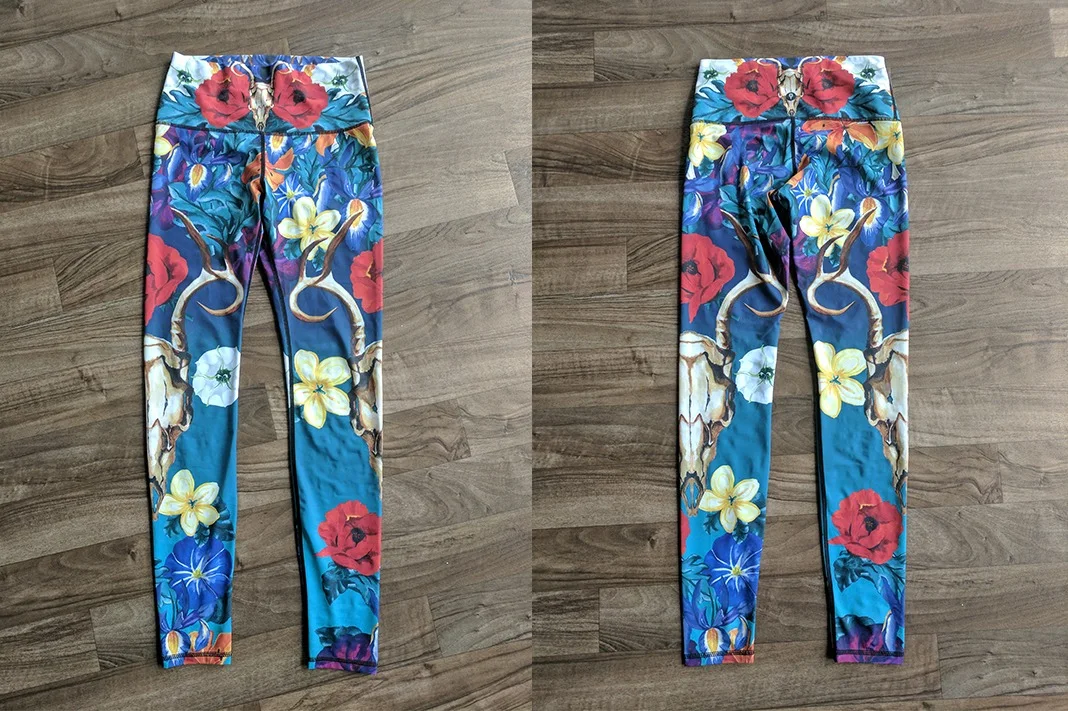 I received the long length Georgia leggings. What caught my eye was the design and bright colors! After reading their size chart, I determined I was a medium. I am a true size 6 in lululemon.
#1 Size: In this review I opted for a size MEDIUM in Yoga Democracy. I normally wear a 6 in lululemon and sized up to a medium per their size chart. By the third wear, the leggings had stretched out and did not feel compressive any longer. I would order TRUE TO SIZE in this brand. My next Yoga Democracy bottoms will be a SMALL.
#2 Style: YD makes long length, crop pants, shorts, and bras. For this post, I will be reviewing the extra long length leggings.
#3 Inseam: YD makes both standard (28″) and extra-long length (32″). I reviewed the extra long leggings in this review. The leg opening was a bit wide and I experienced extra fabric bunching around my ankles (see photo above). The 32″ inseam is great for taller women. I'm 5'5″ and could have benefited from a 1.5″ hem.
#4 Rise: High rise fit with the top of the waistband sitting just above the navel.
#5 Waistband: YD's tall 4.5″ waistband allowed for a comfortable fit and hid my muffin top. It could also be worn folded down for a low rise fit. The waistband is constructed by two flat fell seams down the sides of the waist.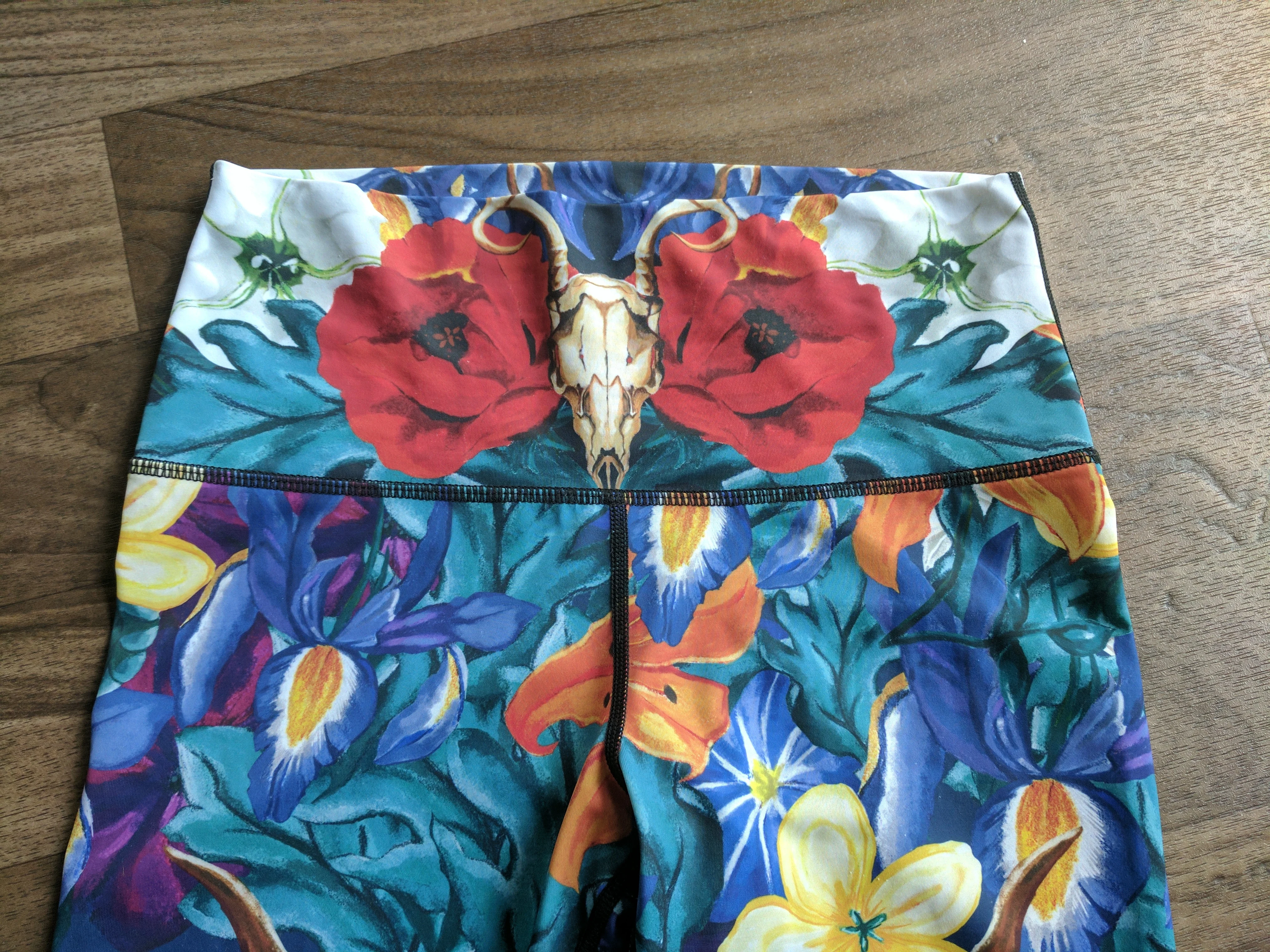 #6 Fabric
Fabric Content: All Yoga Democracy leggings are printed on LYCRA® XTRALIFE fabric. XTRALIFE is an Italian fabric made with recycled fibers. I absolutely love the Georgia O'Keefe inspired design.
Fabric Feel: The fabric feels super soft and silky. I would compare it to Lululemon luxtreme, K-Deer, and Werkshop fabrics. However, Yoga Democracy is slightly softer than Werkshop and does not snag as easily as K-Deer.
Fabric Performance:

While many of us legging fiends are afraid of our beautiful prints stretching and turning white, YD uses a heat baking process to melt the colors into the fibers to prevent prints from being washed out. The colors stay vibrant after many washes.
The fabric is very thin and has quick drying and dry wicking qualities.
The fabric has 4-Way Stretch and contours to the body, fitting like a second skin.
The fabric does not make noise when my thighs brush up against one another (I have this issue with Werkshop).
The fabric is super durable and does not easily snag. I consider it abrasion resistant!

Opacity: The leggings are white backed, however, they are NOT SEE THROUGH (100% Opaque).
Fabric Features:

Yoga Democracy Logo is printed on the back of the waistband.
No pockets.
#7 When to Wear: The thin second skin-like fabric makes it great for heated classes. Fabric is dry wicking, making it great for a hot yoga or bikram class. I bought these thinking I could be warm in them. It's definitely made of a cooler fabric so wearing them as Winter leggings may be ill advised. But I (vata dosha) still do it. #rebel
#8 Cost: Leggings are $75 and crops are $70. Use discount code SCHIMIGGY20 for 20% off your orders at Yoga Democracy.
#9 Gusset: YD pants come with a triangle shaped, single layered gusset.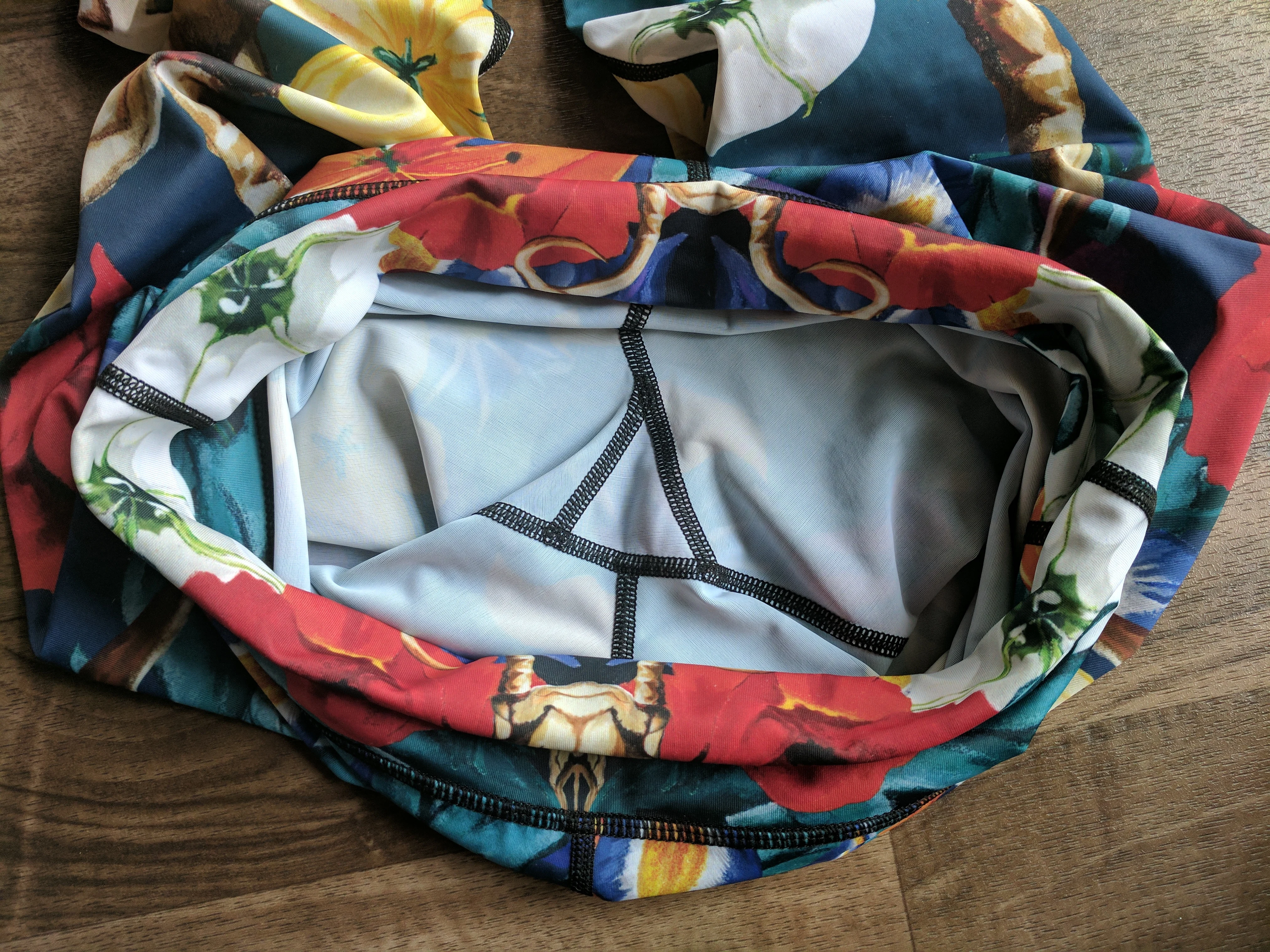 #10 Stitch Seam: YD uses flat seams throughout the pant, allowing for a flat, chafe-free fit.
#11 UPF Protection: Equivalent to 40/50+
#12 Care Instructions: I wash my leggings in cold water and hang to dry. The colors have never faded and because the fabric is thin and light, it dries quickly. I hang to dry on a foldable drying rack such as this one.
Should I Buy Yoga Democracy?
Yes! You totally should! Yoga Democracy is the thinnest fabric I've experienced without it being see-through. The leggings are very durable and will last through many washes and wears. The colors and prints are so beautiful and vibrant. It's like wearing a pair of artwork on your legs. I highly recommend this brand. Remember to order your true size when you purchase!
Where to Buy Yoga Democracy
Yoga Democracy – Use discount code SCHIMIGGY20 for 20% off your orders!
Yoga Democracy Coupon Code or Discount?
Schimiggy's readers can enjoy 20% off your next order using code SCHIMIGGY20.
You can also join their YD LOVE CLUB to earn some major points that translate to credits towards your next order! Get 1,500 points upon opening up your account! That's $15 in savings that you can use right away! Complete more activities to earn points and score potential 25% off coupon code! Also earn 10 points for each $1 spent!
If you're an instructor, sign-up for their PROFESSIONAL program and receive 30% off of your order (up to $1,000 per year). You'll have to re-certify annually and there are no exchanges or refunds!
Oh…and they have NO SALES TAX January! What are you waiting for??? Get on it and let me know what you think of your new YD leggings!
https://www.instagram.com/p/BPuOd1yg_BN/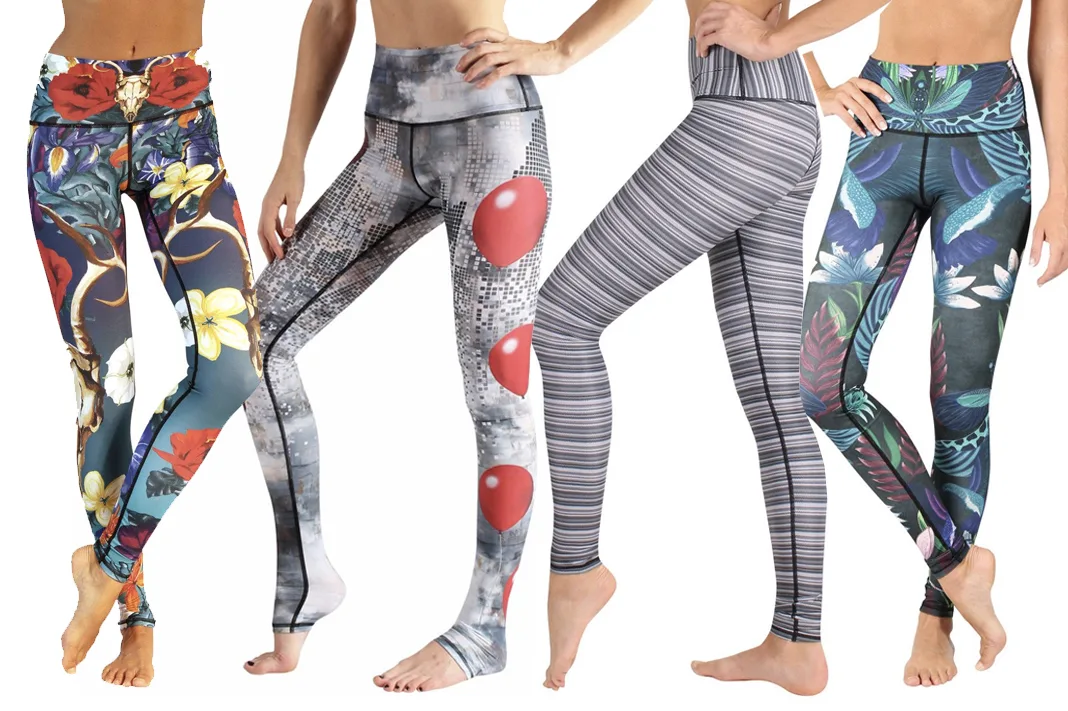 ---
Thank you for visiting today! If you found this encouraging or informative, please connect with us on Instagram, Youtube, Pinterest, Facebook or Twitter. We'd love to meet you!
Sign-up for our monthly newsletter for updates and more. We promise we won't spam you! Feel free to unsubscribe anytime.
For more fitness fashion discounts and offers, please visit our Fitness Instructor Discounts + Brands Directory or favorite brands coupon codes list.
If you're a brand and want to submit a product for us to review, please use this form to get in touch.
This site uses affiliate links. Clicking on or purchasing via an affiliate link may result in commissions for us which help keep the content flowing and lights on at Schimiggy Reviews. You may read more about this in our privacy policy.