Reading Time:
7
minutes
Updated: 8/9/2022 | Lemon Print Dress
On our most recent trip to Positano and the Amalfi Coast, we know we had to match the lemon-filled landscape of this magical destination.
We we went on an extensive hunt for lemon printed dresses, tops, bottoms and everything else we could find. We were impressed at how many brands offered lemon printed garments.
Here are our best picks for lemon-printed dresses. We also included other items like jumpsuits, tops and bottoms below so that you can get creative with your outfits by mix and matching your favorite pieces.
Best Lemon Print Dress Styles
#1 Chicwish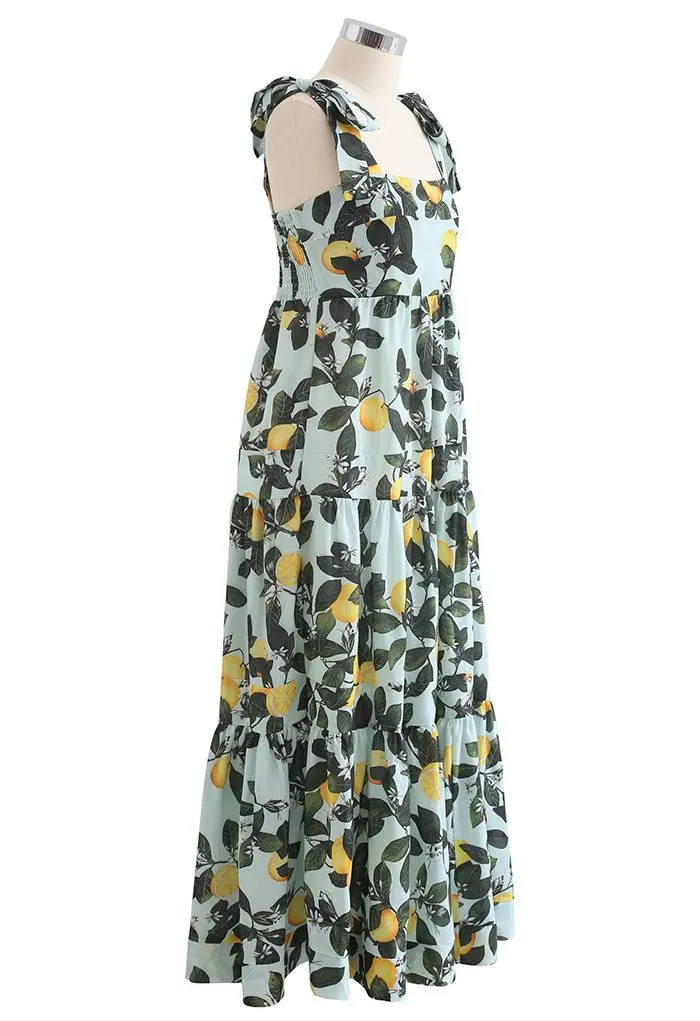 We are OBSESSED with this lemon maxi dress ($72) from Chicwish. It has cute bows and ruched detailing. And the lemons against a blue background make it appear that you're staring at lemon trees against the blue sky.
They recently added even more lemon print apparel, including swimwear.
We recommend sizing up in Chicwish apparel. If you are a size 6 in women's, we recommend going with a size medium in their apparel.
Use code SCHIMIGGY for 15% off all your orders.
Related: Chicwish HONEST Review – Should I Shop at Chicwish?
#2 Juicici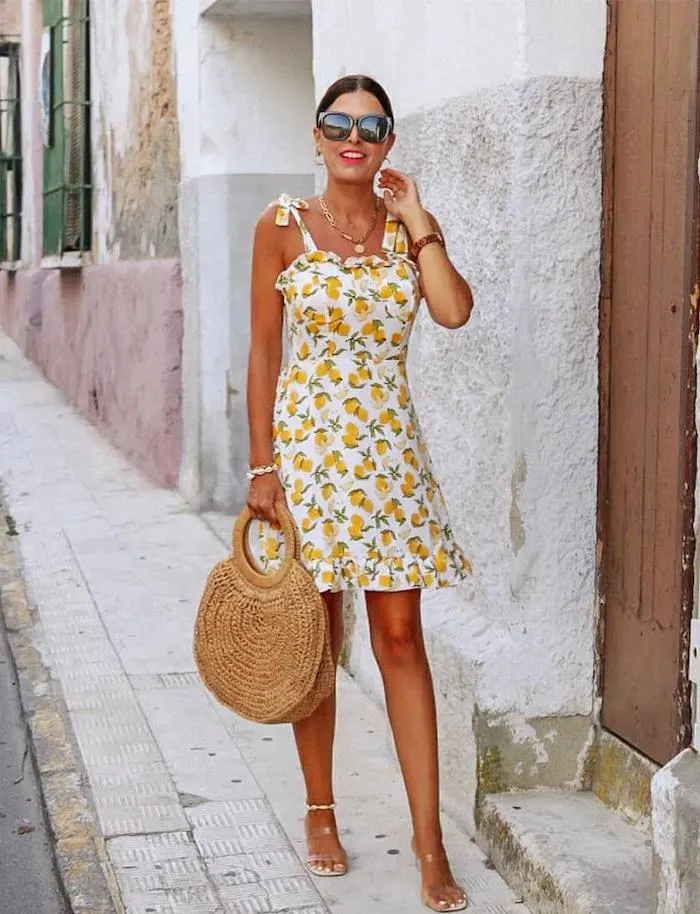 We love this lemon print Lemon Print Frill Trim mini dress ($26) from Juicici. We recommend sizing up in Juicici apparel for the perfect fit.
Use this link or code SCHIMIGGY to save 20% off your orders at Juicici.
#3 Farm Rio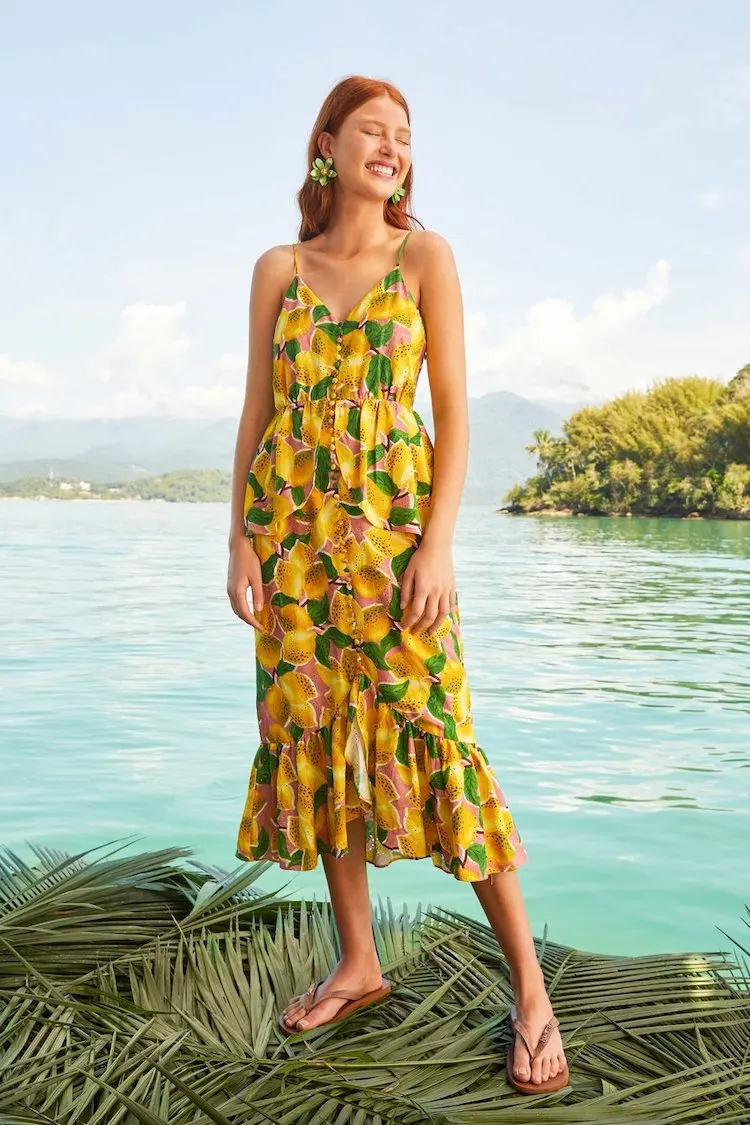 Farm Rio has a delightful Fresh Lemons Ruffled Midi Dress complete with adorable ruffles! We love the mermaid style and flowy material that is perfect for any summer vacation.
You can buy Farm Rio on their website, Nordstrom, and at Anthropologie. We highly recommend sizing up in Farm Rio as their apparel tends to run small.
Read our Farm Rio review here.
#4 Mestiza
Mestiza is a NYC-based women's fashion brand. They offer beautiful dresses that can be worn for many occasions.
Their Odette Midi dress has off-shoulder puff sleeves and a flattering fit and flare silhouette.
And their limoncello print is just adorable! It's perfect for an Italian vacation and Summer weddings.
Read our Mestiza Review and use code SCHIMIGGY to save 10% off all your orders.
#5 Reformation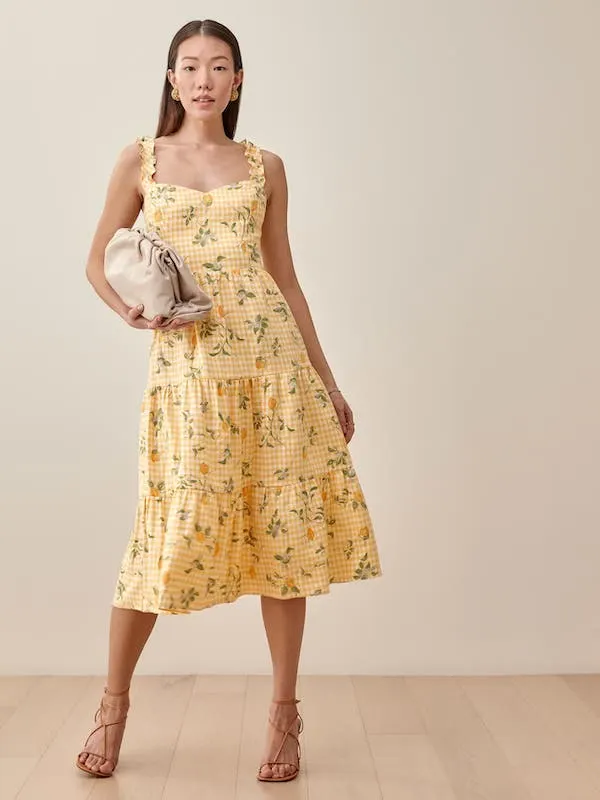 The Montecito Linen Dress by Reformation doesn't necessarily have lemons on it, but it's lemon-colored and perfect for traveling. They also have the Dominique dress with clementines that you'll swoon over as a citrus fan.
Also, you'll be happy to know that Reformation is a super sustainable apparel company with ethical business practices.
#6 Aqua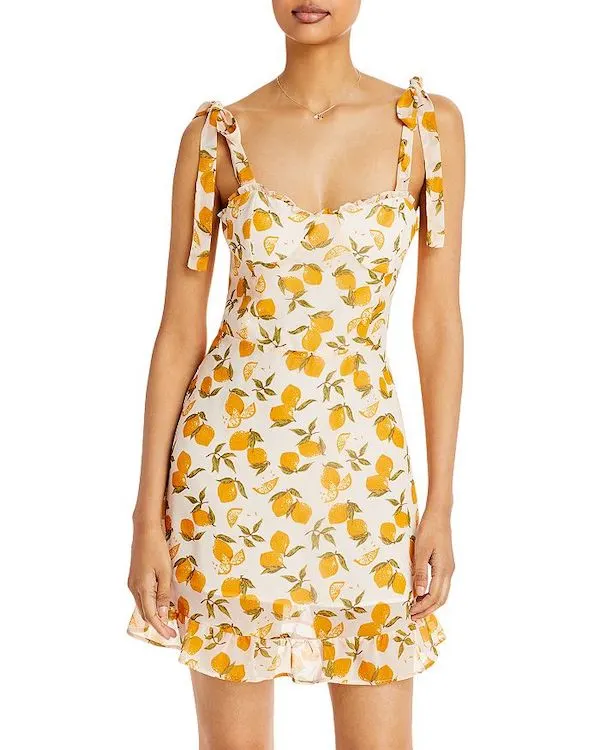 Aqua's Lemon Tree Ruffle Mini Dress is the cutest! It has shoulder ties and ruffles. The short length is perfect for summer outings and date nights. It's also very affordable.
#7 Amazon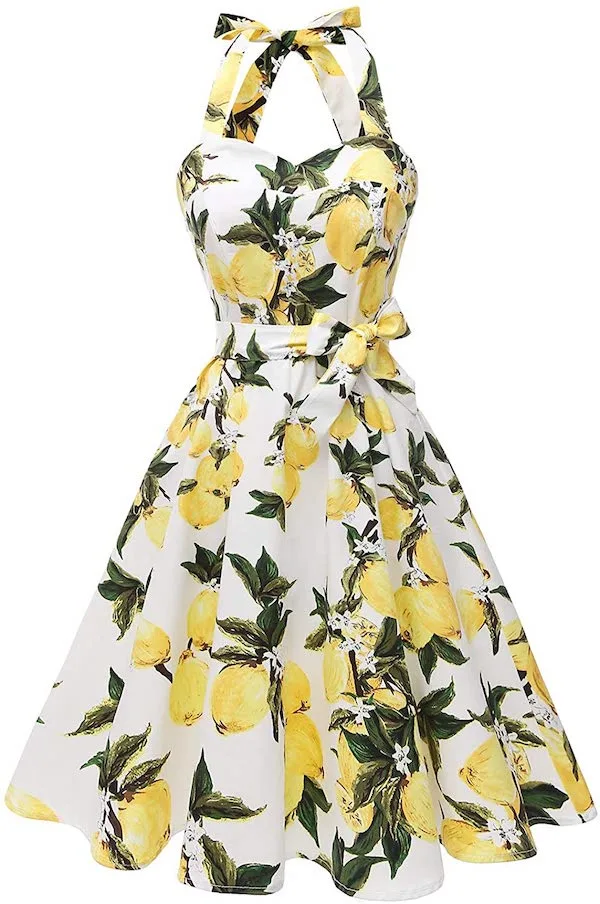 There are a ton of lemon printed dresses on Amazon. Here are the styles we love the most:
#8 Hot Miami Styles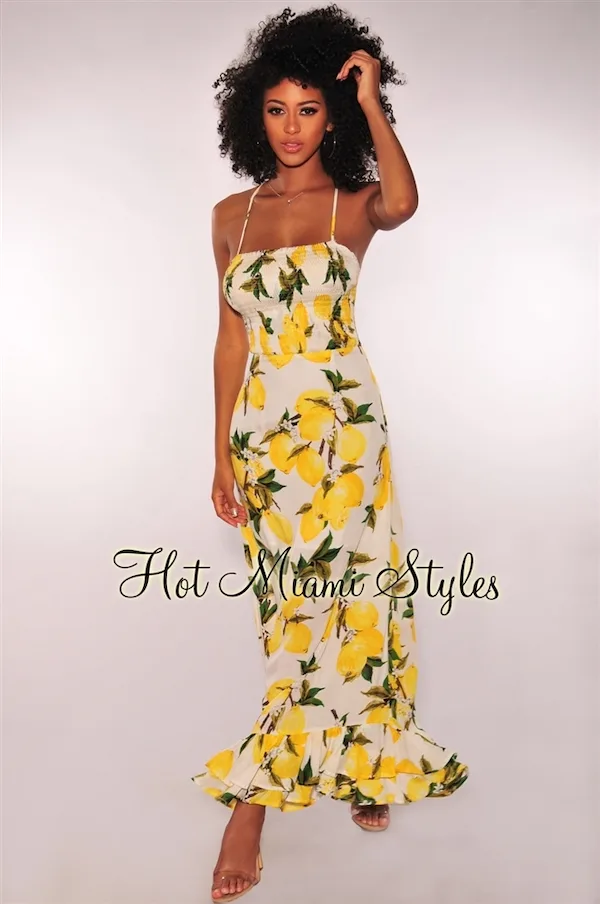 Hot Miami Styles has two lemon dresses that we are head over heels for. There is a smocked strapless dress ($50) and an off shoulder high-low dress ($43).
#9 SHEIN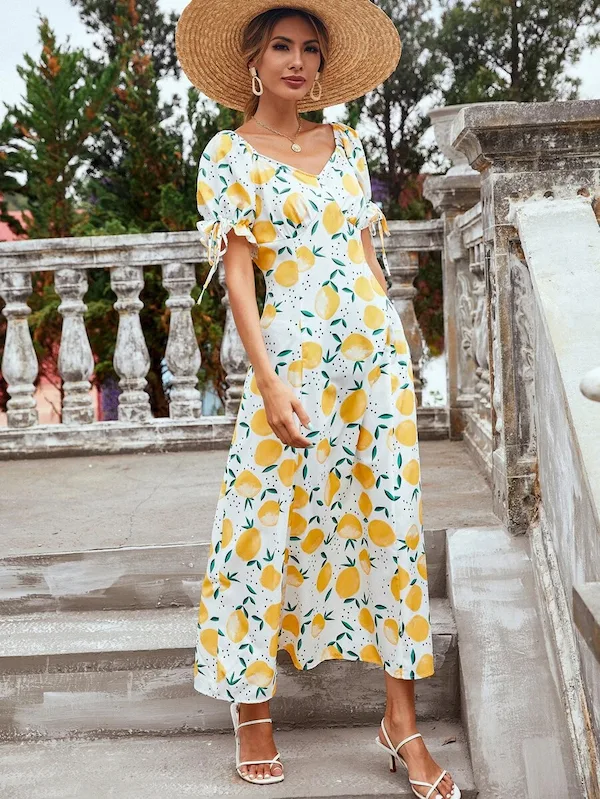 Shein makes super affordable apparel but is also a fast-fashion brand. THey do have a lemon midi dress that is super attractive. We especially love this romantic puff sleeve maxi dress.
#10 Lulu's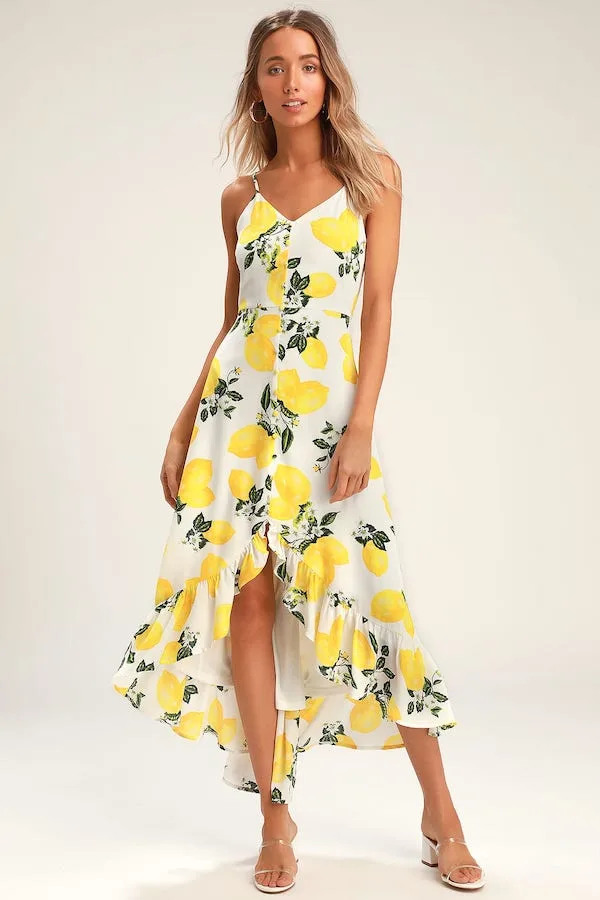 Lulu's Lemon Maxi Dress has a high-low cut, ruffles and buttons along the front. It's super cute and flowy!
#11 VICI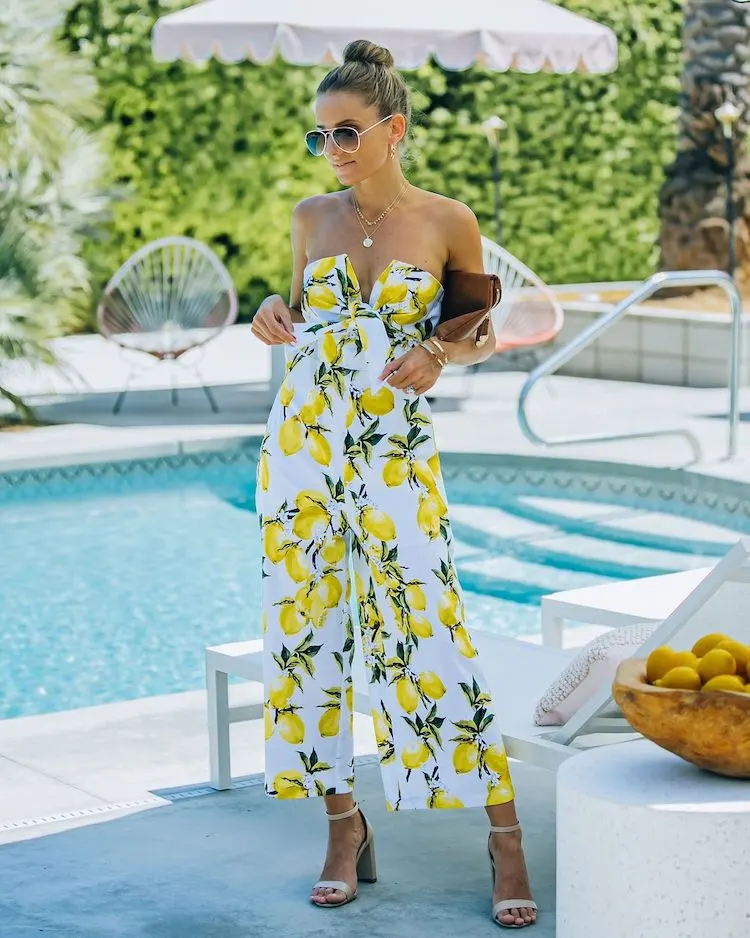 VICI's Lemon Tart Jumpsuit has a cute tie-front detail and is strapless with wide legs.
#12 Few Moda Sunny Dress by Kourt
Few Moda is known for offering inexpensive versions of more expensive brands like Hill House Home, Selkie, or Reformation.
We love their Kourt Sunny lemon print dress that is a dupe of a Reformation dress. It also comes in a pretty blue toile print.
Another lemon print dress that is a replica of Reformation is their Melanie dress which is super cute and has small puff sleeves.
Use this link to save $10 off your first order at Few Moda.
#13 Etsy
Etsy houses tons of designers that make unique lemon print dresses.
Here are some of our favorite styles:
#14 Sugarlips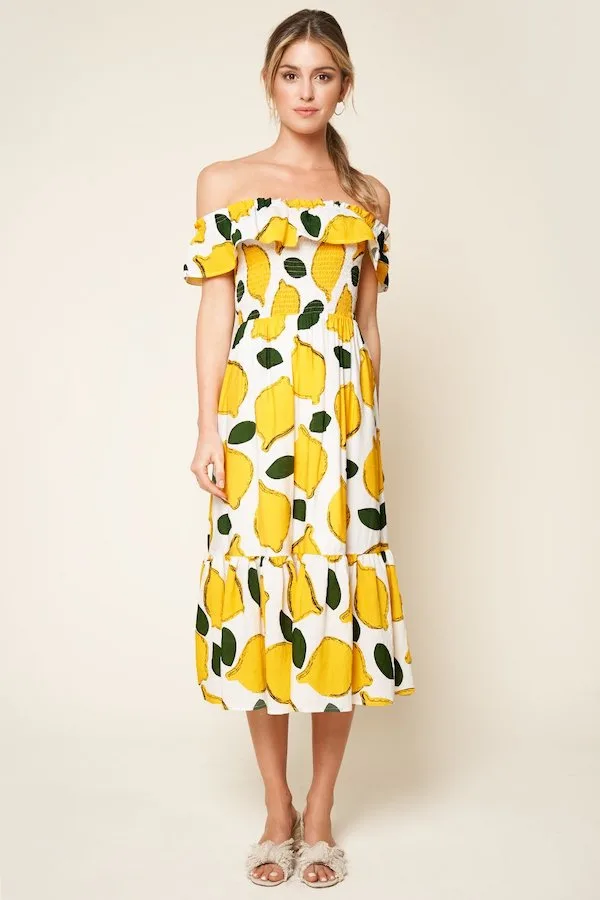 Sugarlips makes a cute off the shoulder midi dress
#15 Soulmia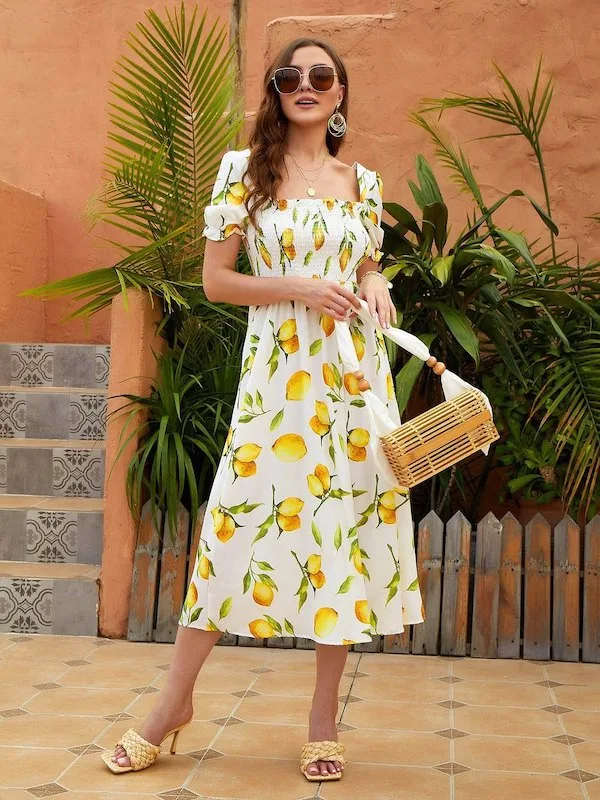 Soulmia's Lemon ruched dress is everything!
#16 Rebecca Taylor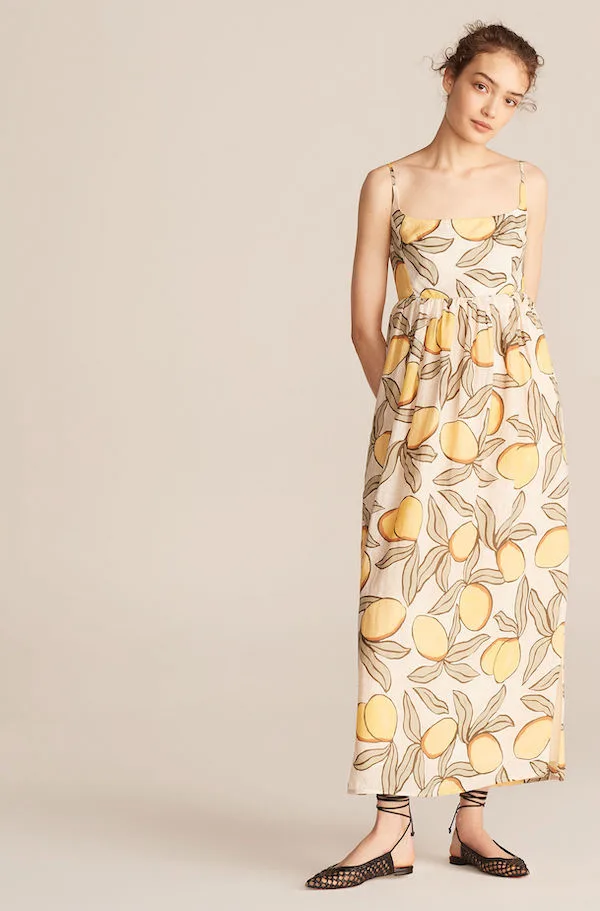 Rebecca Taylor's Lemon Dress has an empire cut and billowy look that is great for expecting moms too!
#17 Kenny Flowers
Kenny Flowers makes fun printed apparel and swimwear for both men and women.
We LOVE their Positano dress ($148). This print is part of their Amalfi collection that includes lemon printed apparel for both men and women.
Make sure to size up because their dresses run small.
#18 Shop by Amy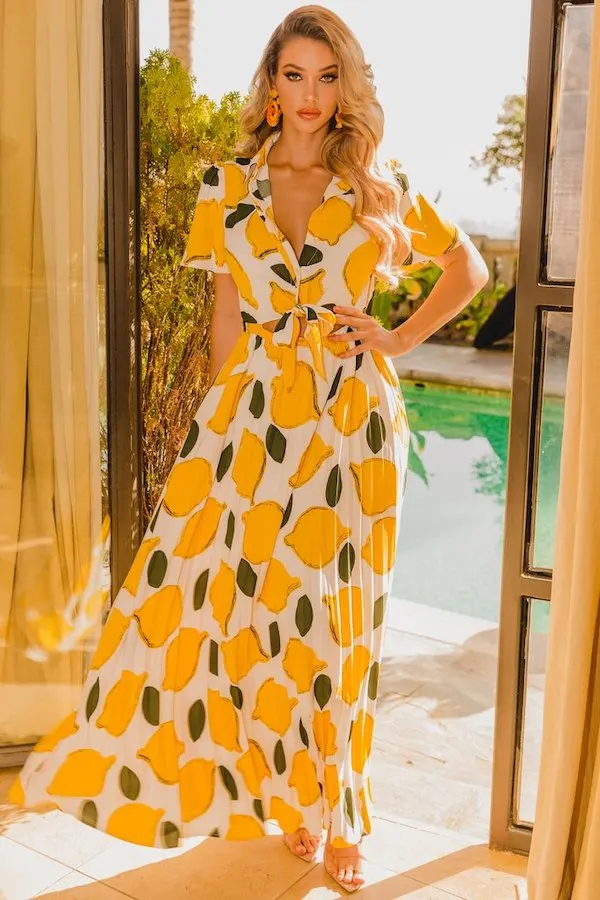 Shop by Amy has a gorgeous lemon print maxi dress. We love the sleeves and tie front design with cutout.
#19 Mod Cloth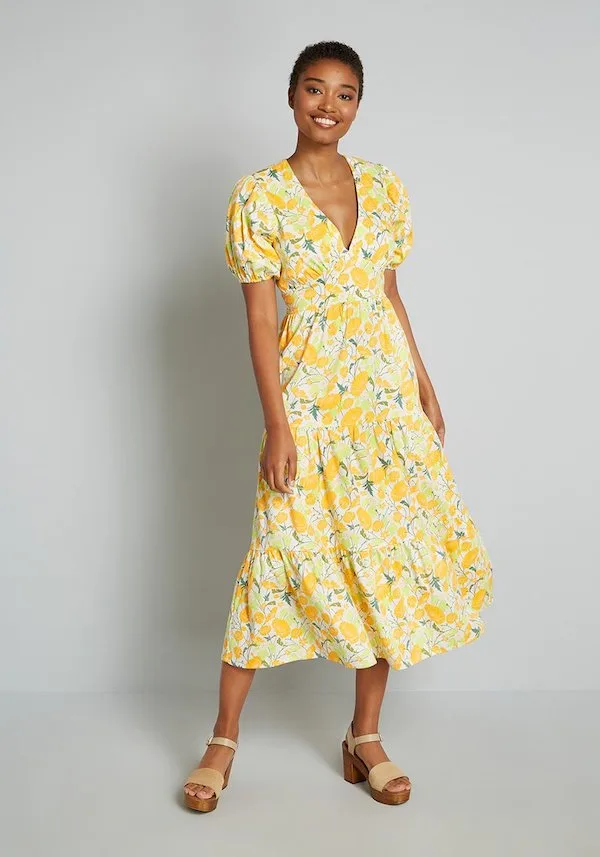 ModCloth has a Beaming like the Sun Midi Dress that is super adorable and fun to wear.
#20 Olivia James the Label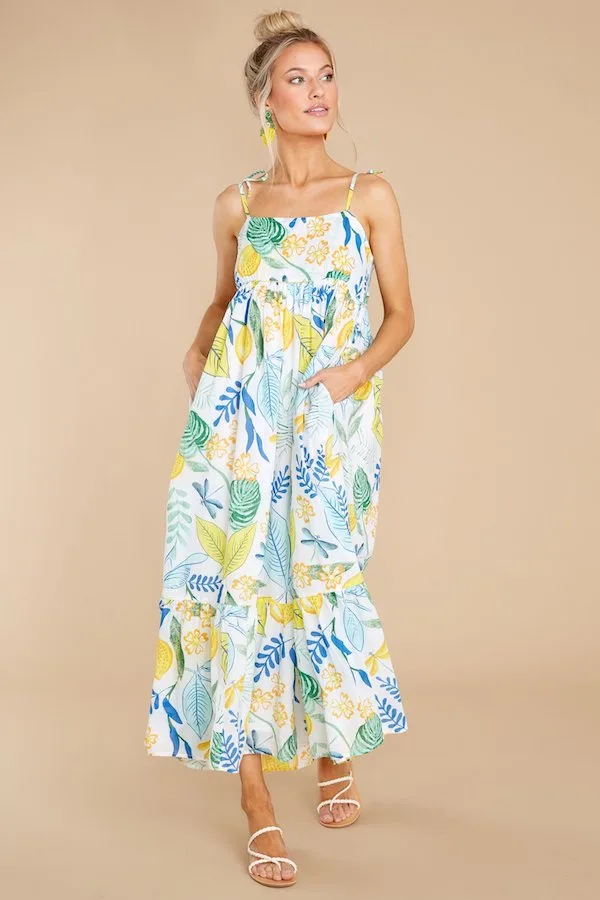 We stumbled upon Olivia James the Label while browsing the Red Dress store. Their Malin print dress is to DIE for and comes in many prints and colors. It's an empire waist dress with side pockets.
#21 Tommy Hilfiger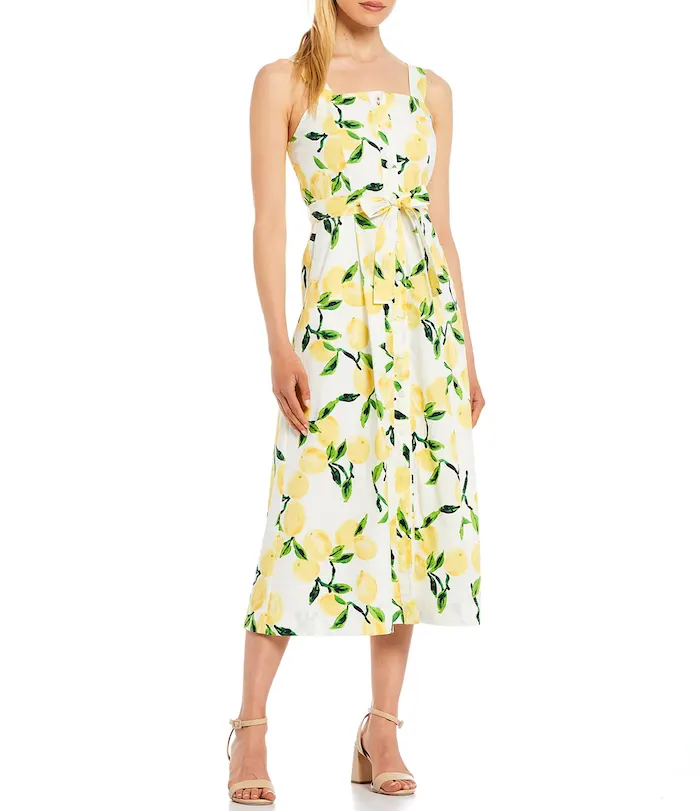 This adorable lemon printed maxi dress ($109) by Tommy Hilfiger is sold exclusively at Dillard's.
#22 Dolce and Gabbana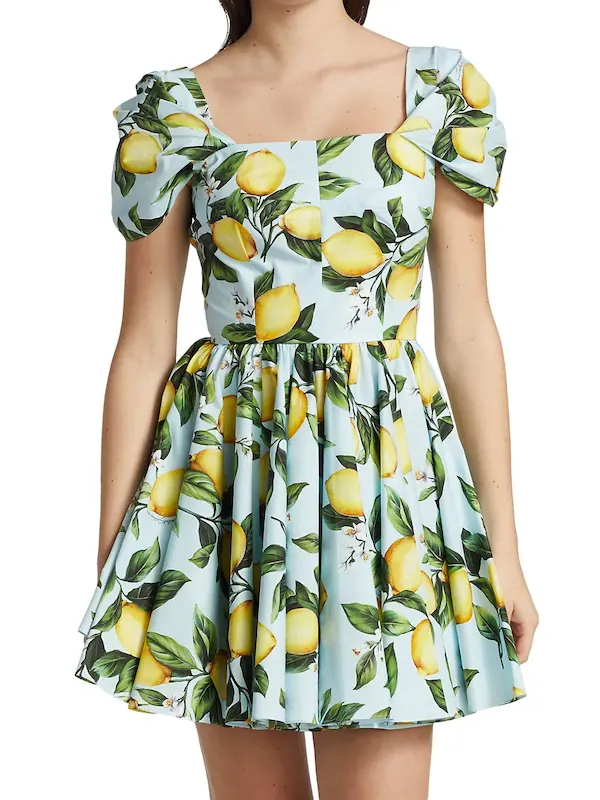 And finally, the famous Dolce & Gabbana's Limoni Tea Dress ($1,895)!
This dress is what started the lemon print craze. We love the lemon print against the blue sky background which is all we were seeing while traveling Sorrento, Positano, and the Amalfi Coast. Take us back now!
The Limoni Tea Dress is exclusive to Saks Fifth Avenue.
And finally, some discontinued dresses that I will be on the hunt for. Lemon dresses are life!
If you found our list of lemon print dresses helpful, please share it on Pinterest. Thanks for your support!
Thank you for visiting today! If you found this encouraging or informative, please connect with us on Instagram or TikTok.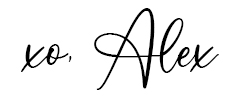 Sign up for our monthly newsletter for updates and more. We promise we won't spam you! Feel free to unsubscribe anytime.
If you're a brand and want to work with us, please visit this page to get in touch.