Reading Time:
4
minutes
Updated: 11/2/2021 | Oka-B Review

Disclaimer: I was gifted product from Oka-B to conduct this review. As always, all thoughts and opinions are my own and 100% honest.
About Oka-B
Oka-B is a women-owned and operated online shoe brand based in Georgia, USA.
In 1984, they began as spa shoe manufacturers who then went on to create a sustainable lifestyle and beach footwear brand for women.
To date, they have created over 35 million pairs of shoes and currently employ 200 workers.
Oka-B Review
I received the following shoes from Oka-B to review in this post:
Bristol Sandals ($30) – The Bristol sandals have a super cute scallop design. I have the salt/white sandals and they go with EVERYTHING.
Neptune T-Strap Sandal ($45) – The T-Strap sandal was not my favorite. I have super narrow feet and my foot felt pretty loose in this style. The sole fit perfectly, but it did feel heavy when worn on my small feet.
Abbie Matte Ballet Flat ($45) – The ballet flats are very cute! I wear them with dresses and jeans and always get compliments. They do require some breaking in. After I wore my shoes approximately 3 times, they finally gave me in and became more comfortable.
When I first received my Oka-B's, they reminded me of Crocs. The material is rubber but the silhouettes were much more stylish than Crocs.
I ended up LOVING my Bristol sandals even though they are one of the few styles that do not come with arch support.
Below I'll discuss the pros and cons of Oka-B to help you decide if this shoe brand is right for you.
Oka-B Pros
True to Size (TTS) – I am a street size 7 and wear as size 7 in both Oka-B sandals and flats. We recommend going with your true size in Oka-B shoes. View their size chart and fit guide for more details.
Sustainably made – The shoes are made from soy bio-based materials which are entirely recyclable. The average pair of Oka-B sandals made this year contain 15-25% recycled material.
Closed-Loop System – Oka-B will accept your used Oka-B sandals and recycle as much of it as they can. Shoes that are free from contamination are recycled for use in new Oka-B products and shoes with contaminants are processed and recycled for use in non-apparel goods. Find the address to return the shoes here.
Made in the USA – Oka-B remains 1% of manufacturers who are still US-based. Their shoes are manufactured in Buford, Georgia. Their location also makes it so that their shoes travel 93 percent less than the average imported shoe, which results in a huge carbon footprint reduction.
Arch support with beaded massage features – Most of their styles come with arch support and beaded texture to help massage the feet.
Free shipping on orders of $100+.
Slip Resistant – All their sandals are guaranteed to be slip-resistant.
Washable – My sandals are easily washable. I run them under water and put them out to dry. They're super durable and are resistant to sun damage and wear.
Wishlist Feature – After you create an account on Oka-B's website, you can use their wishlist feature to keep track of styles that you want.
Oka-B Cons
Not all styles have arch support. I have high arches and my feet are very narrow.
Their T-Strap sandals are not great for people with narrow feet. I felt my foot sliding while wearing the T-Strap sandals.
Their sandals are heavy. This lends to the durability of the material. If you're looking for a lightweight sandal, Oka-B's are not recommended.
Where to Buy Oka-B
Oka-B sells direct to consumer (DTC) through their website.
We highly recommend shopping directly through Oka-B's website so that you can reduce the carbon footprint it takes to get product to your doorstep.
If you're new to Oka-B shoes, we highly recommend checking out their best-selling styles to find a shoe that is perfect for you.
You can also buy Oka-B footwear at the following retailers:
If you found our Oka-B review helpful, please share it on Pinterest. Thanks for your support!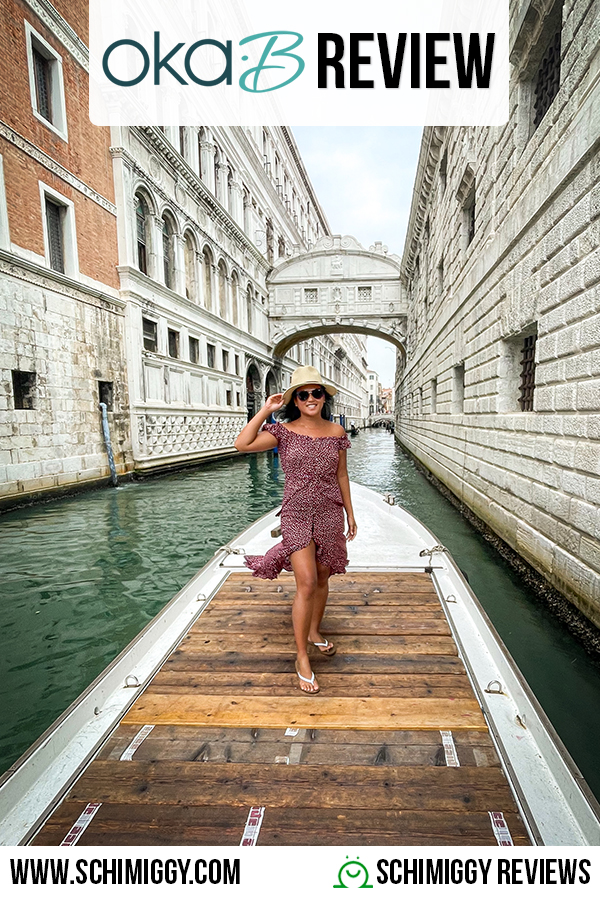 ---
Thank you for visiting today! If you found this encouraging or informative, please connect with us on Instagram, Youtube, Pinterest, Facebook or Twitter. We'd love to meet you!
Sign-up for our monthly newsletter for updates and more. We promise we won't spam you! Feel free to unsubscribe anytime.
For more fitness fashion discounts and offers, please visit our Fitness Instructor Discounts + Brands Directory or favorite brands coupon codes list.
If you're a brand and want to submit a product for us to review, please use this form to get in touch.
This site uses affiliate links. Clicking on or purchasing via an affiliate link may result in commissions for us which help keep the content flowing and lights on at Schimiggy Reviews. You may read more about this in our privacy policy.