Reading Time:
3
minutes
Updated: 12/2/2021 | Lightsail Review + Transfer Services
When it comes to my blog, I am all about saving money and maximizing profits. One of the biggest costs of blogging is hosting.
Related: Complete Guide on How to Start a Blog
Many companies, such as Bluehost Or WP Engine, will offer temporary offers at a low price and then increase rates once your trial period is over. I wanted a long-term, sustainable, and cost-effective solution to my hosting services.
And that's what led me to Lightsail by Amazon Web Services (AWS)!
Lightsail Review
I was using Kinsta and paying $200 a month for hosting services. I knew I was over-paying and that there were services out there that were way cheaper than fully managed companies like Kinsta, WP Engine, or Bluehost.
I had known about Lightsail for a while and finally decided to make the switch over as a birthday gift to myself.
What is Lightsail?
Lightsail is a hosting service provided by Amazon Web Services, or more commonly referred to as the acronym AWS.
It took me a few weeks (lots of learning how to do things within the console), but eventually, I switched over to Lightsail and was able to reduce my monthly hosting costs to $6 a month.
Here is the pricing for hosting your blog on Lightsail:
Can you believe that?!
I am still shook at how much I was able to save by switching over.
If you're looking to save TONS of money on your hosting service, I highly recommend Lightsail.
And….another perk of switching over is that you get to test out Lightsail for the first 3 months FOR FREE!
It's a no-brainer that you should switch over.
How to Switch Over to Lightsail
There are many tutorials on how to do it, but many of them are outdated and may are not a one size fits all bloggers type of tutorials.
I also have a partner who works for AWS so he helped me a lot with switching over. It's not easy and the average blogger may have difficulty doing so. A lot of switching over to Lightsail is manual, and so is the upkeeping.
So, if you'd like to switch over to Lightsail and save tons of money, please reach out to us!
We're offering an opportunity for bloggers with lots of traffic to reduce their hosting costs by hundreds. Our one-time fee to switch over will cost you only $150 and we will get it done within 2-4 business days.
Here are a few quick steps to illustrate how complicated it can be to do it on your own.
Step 1: Create an AWS account in their console.
Step 2: Create a user account with permissions in the AWS console.
Step 3: Launch a Lightsail instance
Step 4: Create a Static IP Address for your Instance
Step 5: Use a website transfer service (such as Migrate Guru or ALl in One WP Migration) to transfer your website over to Lightsail via FTP or other methods.
Step 6: Point your Instance to your DNS record.
Step 7: Use DNS CHECKER to ensure your website has propagated to and is pointing to the Static IP address you set for your Lightsail instance. This may a few hours and up to a day to finalize.
So what do you think? Think you got this? We're always happy to help! Just reach out!
If you found our Lightsail review helpful, please share it on Pinterest. Thanks for your support!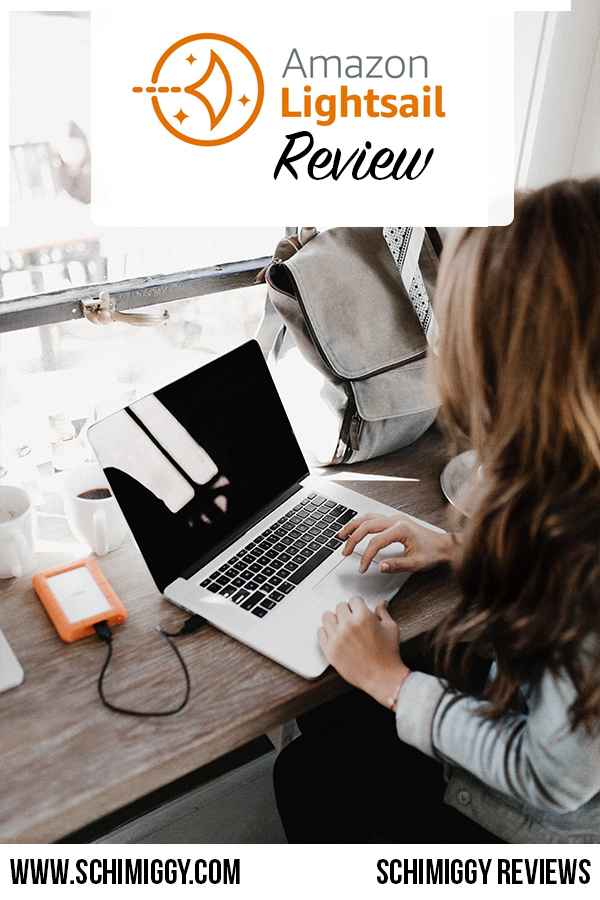 ---
Thank you for visiting today! If you found this encouraging or informative, please connect with us on Instagram, Youtube, Pinterest, Facebook or Twitter. We'd love to meet you!
Sign-up for our monthly newsletter for updates and more. We promise we won't spam you! Feel free to unsubscribe anytime.
For more fitness fashion discounts and offers, please visit our Fitness Instructor Discounts + Brands Directory or favorite brands coupon codes list.
If you're a brand and want to submit a product for us to review, please use this form to get in touch.
This site uses affiliate links. Clicking on or purchasing via an affiliate link may result in commissions for us which help keep the content flowing and lights on at Schimiggy Reviews. You may read more about this in our privacy policy.