Reading Time:
12
minutes
Updated: 12/23/2021 | Oahu Travel Guide
About Oahu
Oahu is home to the largest Hawaiian city and capital, Honolulu. It's a huge melting pot with many sights to see and amazing food to eat.
Below in our Oahu travel guide, we'll share our favorite things to see, do and eat on this beautiful destination. Aloha!
What to See and Do
#1 Take a Hike!
There is nothing better than exploring Oahu on foot. It's a great way to stay fit and see the island from many viewpoints.
The HaʻIkū Stairs or Stairway to Heaven Hike (Temporarily Closed) – This steep hike leads up to stairs that you can walk to get to a high point in Oahu. It includes 3,922 steps and spans along O'ahu's Ko'olau mountain range. Legal access to this hike is has been impossible for a few years now because of land use rights issues, but it remains a popular "forbidden" hike regardless. If you attempt to hike here, expect to be turned away or cited by Honolulu Police. While the state is working on a way to make this hike a public attraction again, we ask that for now you don't put this hike on your to-do list, but choose one of the other stunning hikes we list below. While you may have heard about the Stairway to Heaven hike on Oahu (which is illegal), the Lanikai Pillbox is a lesser known but just as beautiful spot to see the sunrise. It takes about 40 minutes to drive to the beginning of the trail and about an hour by bus. Once you get to the base of the trail, it's a short yet steep hike up to the lookout point.
Makapuʻu Point Lighthouse Trail – A very well-maintained trail that leads to a view of the lighthouse. It tends to be less crowded and the incline is not strenuous. From here you'll also be able to spot whales in the ocean. There are also some tide pools a bit lower on the water's edge that are worth checking out.
Lanikai Pillbox (1.8 miles) – Also known as the Kaiwa Ridge Trail, the Pillbox hike gets its name from the leftover army bunkers that sit atop the hillside. The short but sweet trail gives you an overlook of Lanikai beach, Kailua Beach, Waimanalo beach, and the Koʻolau coast. From the Lanikai Pillbox, you get 360-degree views of Lanikai (left), Waimanalo Beach (right), Kailua (not pictured here), the Mokulua Islands, and the Ko`olau Mountains. Park in the Lanikai neighborhood (follow parking signs, as it is strictly enforced) and find the trailhead across from the Mid Pacific Country Club on Kaelepulu Driver.
Manoa Falls Trail (1.7 miles): An easy out and back trail that ends at the 150-foot Manoa Falls waterfall in the heart of the lush Manoa Valley. Right after Diamond Head Crater, this is one of the best hikes on Oahu and is another place in Hawaii that has been the set for Jurassic Park and Lost. The highlight of the hike is at the very end where you'll find the incredible Manoa Falls, a 150-foot waterfall with a stunning pool. The trailhead is located at the end of Manoa Road adjacent to the Lyon Arboretum. Pay a $5 parking fee.
Diamond Head Crater/Lê' Ahi (1.6 miles): This iconic, heavily trafficked route goes to the top of Diamond Head on a paved road. Near the top, stair climbing is required. The payoff is sweeping views of the Koʻolau Range, the south shore, and a fantastic overlook of Waikīkī and Honolulu. Though it is paved and often completed by kids and families, the end is a steep climb and the temperature tends to be warm (no shade – Bring your Wallaroo hat!). Enjoy the postcard-worthy views of Waikīkī Beach and Honolulu. The Diamond Head trailhead is located inside Diamond Head State Monument. Entry fee required.
Maunawili Falls (2.4 miles): The Maunawili Falls Trailhead will be closed for 2 years for a long-term management and improvement project. The Maunawili falls are still accessible through other, more strenuous, trails. This hike winds its way through the Windward side jungles to a small waterfall with a swimming pool. It is typically wet, soggy, and muddy, so dress accordingly. Wear a bathing suit to swim at the falls. Because you get to take a dip in a secluded swimming hole at the bottom of a small waterfall. The trail begins in a residential neighborhood in Maunawili Valley at the end of Maunawili Road.
Ehukai Pillboxes AKA The Peace Hike (2.1 miles): The North Shore trail is short but steep, gaining almost 700 feet in about a mile. It's named for the big peace sign painted on the pillbox at the summit. You'll get an overlook view of the beaches from the top and it's impressive to see the huge waves roll in from this vantage point! From the two pillboxes, or old war bunkers, you get a great view of the North Shore as well as the Banzai Pipeline and Sunset Beach surf breaks. The trailhead is located adjacent to the Sunset Beach Elementary School, across from Ehukai Beach park.
Waimano Falls (2.8 miles): This trail is unique in that it starts at the top of a ridge and you hike down to the waterfall, which has deep pools and a rope swing. The return is where you'll work your legs, climbing back up the steep hill. Because it is a challenging hike to a hidden waterfall and several swimming holes. The trail beings at the end of Komo Mai Drive above Pacific Palisades.
Koko Head (1.8 miles): Don't let the distance fool you. This short but beautiful hike goes straight up with a gain of nearly 1,000 feet in less than a mile. And what makes it more difficult is the trail is composed of old railway planks. The trail is very popular with locals as an evening workout. Walking at a leisurely pace, you could reach the top of the steep trail in about 30-40 minutes. From there, you can follow the trail to another stellar lookout which will give you an amazing view of the Koolau Mountain Range. We recommend avoiding hiking in the middle of the day as there is no shade. The trailhead is located in Koko Head District Park. Note that the park parking lot is closed overnight, so check hours before arriving.
#2 Check out the Halona Blowhole
Blowholes are fairly common on the islands due to the development of lava tubes from volcanic eruptions. This one, in particular, is a hugely popular attraction on Oahu and worth a visit. As the waves crash in, the lave tubes swell up with after and then shoots the water back out into the sky with incredible force. You might even get sprayed! And if you're lucky, you may even see a rainbow!
They call these blowholes because they resemble the action that whales do to expel water from their bodies, by pushing it through their blowholes!
#3 Spend the day at Hanauma Bay
Hanauma Bay on Oahu is one of the best places to snorkel and even has a Marine Education Center where you can learn about the area's marine life before seeing it in real life. The beaches are typically very crowded but it's still a great place to snorkel and swim due to its shallow waters. If you're lucky, you may even see sea turtles while snorkeling. You're bound to see a lot of colorful fish and coral!
#4 Snorkel with Sea Turtles
Oahu's Turtle Canyon is one of the top spots to snorkel because of how many green sea turtles there are. You can catch a catamaran from Waikiki out into the sea where you can swim alongside these amazing animals while also enjoying the other marine life around. This 2-hour tour comes highly recommended.
Turtle Canyon is a great place to start if you've never snorkeled before, especially if you're preparing for longer snorkeling adventures around the islands. Please keep a 6-foot distance at least, and never touch or try to 'ride' the turtles.
#5 Zipline through Jurassic Park
Alright, so you won't be literally ziplining through a dinosaur-filled Jurassic Park. You can however zipline through Kualoa Ranch, which has some amazing scenes that have been featured in the mega popular movies. I can't think of a better way to get the adrenaline pumping than to be hundreds of feet in the air and imagining a pterodactyl could collide with me at any moment. Obviously if that isn't your thing, simply taking in the gorgeous views as you zipline is great, too. Here's an awesome zip line tour that focuses on exploring the north shore.
#6 Swim with Sharks
I have been obsessed with sharks for as long as I can remember. After all, they are essential to the ocean's survival! If you want to get up close and personal with these incredible animals, consider getting in the water with them and a guide.
You can choose to do it with or without the cage. Yes, you can actually safely swim with sharks, cage-free. There are plenty of options to choose from, so I recommend taking a look and deciding which experience is right for you. This shark dive experience is a superb and safe option.
#7 Look for dolphins and whales in Waianae
If swimming with sharks is a bit much for you, consider heading out to look for dolphins and whales instead. There are plenty of options for tours and many of them have awesome sustainability initiatives. Waianae is one place in particular that is known for having the most dolphins and whales to see in all of Oahu.
#8 Stroll through Ho'omaluhia Botanical Garden
Another great place to take in the impressive plant life is the Ho'omaluhia Botanical Garden on Oahu, which is situated along a 32-acre fresh water lake. This area is huge and has plenty to explore and is one of the many beautiful places to visit around the islands.
I recommend taking a guided tour of the Botanical Garden, which will give you a more in-depth experience. If you fall in love with the garden, you can camp there overnight. Just make sure you make a reservation ahead of time.
#9 Parasail at Waikiki beach
One of the best ways to see the island is from up above. A parasail will take you hundreds of feet up where you can get a 360-degree view of Oahu's beauty. This adventure is definitely something you won't forget. There are a few options for parasailing at Waikiki beach, but this one from Hawaii Activities comes highly recommended.
#10 Learn How to Surf
Waikiki Beach on Oahu is a great spot to take a surf lesson, as the waves tend to be calmer there compared to other beaches. Even if you don't find yourself getting to pro-level after the first couple of attempts, it can be a lot of fun to simply get out onto the water and enjoy the process. Ohana Surf Project is one of the top-rated places to go for a lesson.
#11 Watch the pro surfers
Not into surfing? You can also head over to the North Shore's Waimea Bay to watch pro surfers. They are most active during the winter season. During this season, the waves are so big that the beach isn't even swimmable. This makes great conditions for surf competitions, which you might be able to catch while you're there.
#12 Shop at the Chinatown Sunday market
Every Sunday you can find the large open-air Oahu Market in Honolulu's Chinatown on the west side of the financial district downtown. There you can find local produce and a large selection of Asian groceries. This area is far less touristy than other places on the island and you'll also find a ton of great Chinese, Vietnamese, Malaysian, and other Asian restaurants.
#13 Visit the Dole Pineapple Plantation
The Dole Pineapple Plantation is a great half-day adventure. You arrive at the plantation and can complete the maze or just peruse through their beautifully maintained garden. Afterward, visit the gift shop for a plethora of pineapple-themed and flavored goods.
And DO NOT forget to grab a cup of their pineapple soft serve! It's out of this world!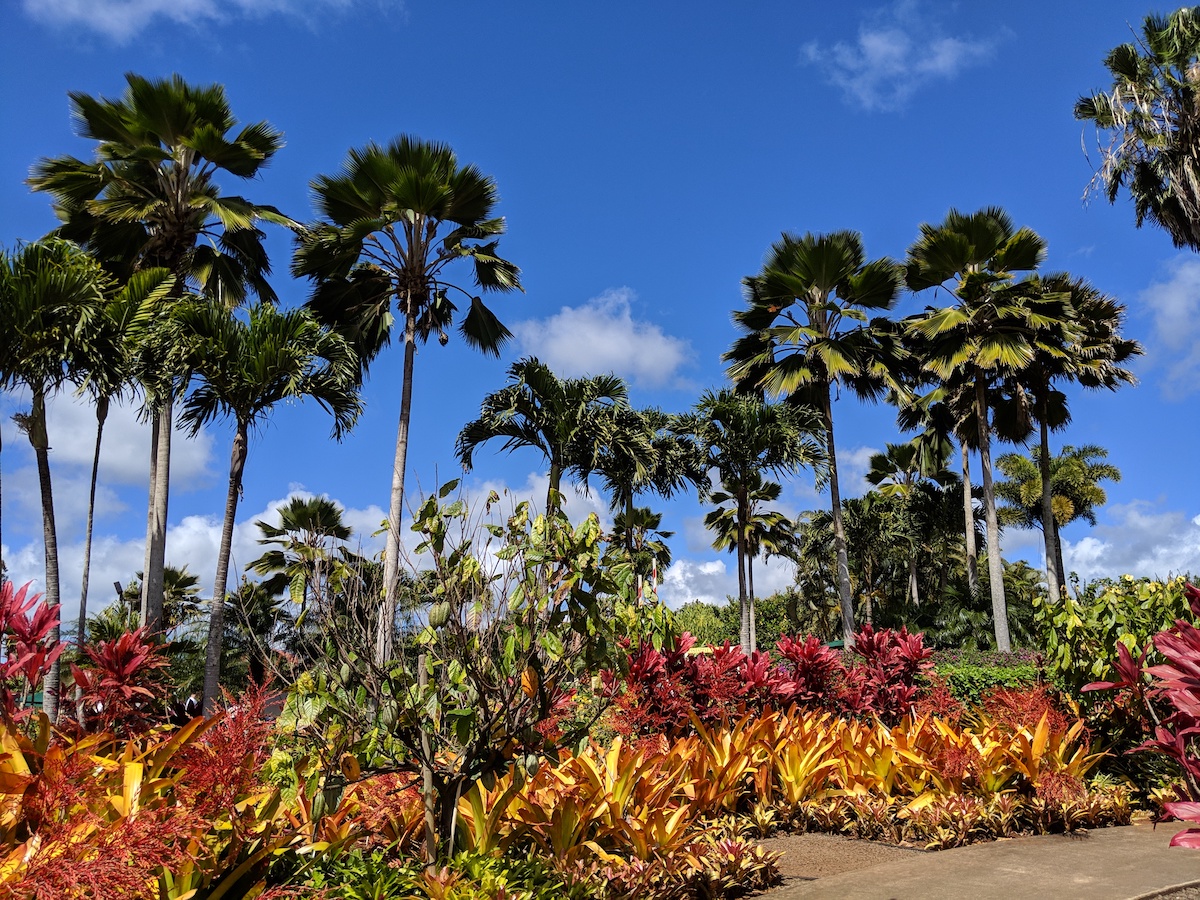 #14 Go out to Chinaman's Hat
Also known as Mokolii Island, this small islet can be accessed via kayak over the serene Kaneohe waters. And if you want to test your stamina and skill, you can try swimming over from Kualoa Regional Park. Once you get there, you can hike around the island and explore its caves and amazing views.
#15 SEe the Island From Above
Helicopter tours are popular all over the Hawaiian islands. Seeing the islands from above is the experience of a lifetime and from the helicopter, you can catch a glimpse of Oahu's best waterfalls, rocky cliffs, craters and so much more.
#16 Swim under the Lulumahu waterfall
This serene waterfall is in the middle of the forest and can be hiked to from the Pali Highway. It only takes about 30 minutes to reach the waterfall from the highway. Just follow the pink ribbons used to mark the trail. Lulumahu is less popular than many of the other waterfalls, so there is a good chance you can enjoy this all to yourself if you come early enough.
The trail is very muddy, so we recommend wearing proper hiking gear and bringing a change of clothing. It's also an unsanctioned hike on private property, so try the other hikes before committing to this one.
#17 Visit the Byodo-In Temple
A UNESCO World Heritage site, this temple is a highly detailed replica of the 1,000-year-old Byodo-In Temple in Uji, Japan. The site itself is serene and boasts some ornate gardens which are worth seeing.
#18 Kayak to Mokulua
Mokulua consists of two small islands that are right off the coast of Oahu. You can get there from either Kailua or Lanikai by kayak, which is a wonderful way to get out onto the water and explore the islands while also getting some exercise. Another option is to rent a paddleboard and paddle over. Kailua Beach Adventures has both kayaks and paddleboards available to rent from Kailua. Only one of the two islands is open to the public–Mokulua Nui. There, you can hike the trails and even go cliff jumping!
Best Places to Eat
Here are our most favorite restaurants that we think are worth noting in our Oahu travel guide. We also sectioned them by the sides of the island where they are located.
South Side/Waikiki
7 Eleven – We come here for the manapua (filled bao buns) and spam musubi (rice sushi made with spam slices). There is no better place to get these snacks. They're also located everywhere on the island.
Diamond Head Market & Grill
Eating House 1849 – We stumbled into this place and discovered it is another restaurant owned by Roy Yamaguchi of Roy's. They have nightly specials and even a prix fixe menu for $50 which is enough to feed two people!
Eggs 'n Things Saratoga – Great breakfast place. They have pineapple syrup for their pancakes!
Fresh Catch Kapahulu
Highway Inn Kaka'ako – Amazing Hawaiian eats! You can get a sampler plate and try all the traditional Hawaiian dishes like laulau pork (porked wrapped in taro leaves and steamed), kahlua pork (underground slow style smoked pork). lomi lomi (salmon poke) and poi (mashed taro paste). Our favorite location is in Kaka'ako because of the colorful street art that you can check out throughout the area.
Kyung's Seafood Inc
Maguro Brothers – This is one of the most recommended places to get poke bowls and can be found in Waikiki. It started as a fish counter in Chinatown and became so popular they had to expand.
Musubi Cafe IYASUME – This is one of the best places to get Masubi. You can get all types here including some vegan and vegetarian friendly options. They have multiple locations throughout Hawaii.
Merriman's – For a fine dining experience, we highly recommend Merriman's. They have a rotating menu and the cocktails are delicious. We ordered the pork chop here and it was so tender and juicy.
Marukame Udon – We were blown away with the udon here. The lines are long but it's worth the wait.
Matcha Stand Maiko – For a delicious treat, head over here for some green tea soft serve!
Ono Seafood – Best poke bowls in Oahu!
Poke Bar
Rainbow Drive-In – Great place for Hawaiian food, but I would not say it's the best.
Restaurant 604 – Great place to dine and take in the views of Pearl Harbor.
Side Street Inn On Da Strip – Amazing Hawaiian eats!
Sweet E's Café – Great place for brunch and breakfast.
Tamura's Fine Wines – Come here for THE BEST POKE! You can order poke by itself or as a poke bowl, which I highly recommend. Their booze is often much cheaper than grocery stores. There are multiple locations around the island.
Uncle Bo's Pupu Bar & Grill
Vintage Island Coffee – Their acai bowls are super delicious (and served in coconuts bowls). But their brunch menu is insane. You can order a taro bagel sandwich!
East Side
Ahi Assasins
Boots & Kimo's Homestyle Kitchen
Cinnamon's – Great place for brunch and breakfast. They have red velvet pancakes!
Ono Steaks and Shrimp Shack
Kalapawai Cafe & Deli
Waiahole Poi Factory
West Side
Longhi's Ko Olina
Monkeypod by Merriman's – Hands down our favorite happy hour! They also have a mai tai topped with lilikoi foam!
North Shore
Fumi's Shrimp Truck – Less busy than Giovanni's and I personally think the flavor is way better! You can try both and let us know what your favorite is.
Giovanni's Shrimp Truck – I prefer Fumi's but Giovanni's is the crowd favorite. There is typically a VERY long line to this food truck because this truck was made famous on TV and by many travel guides.
Kono's Northshore – Kailua
Matusumoto's Hawaiian Shave Ice – Matsumoto's is a great place to get a yummy shave ice treat! They have tons of flavors to choose from. Oh and it's always pronounced "shave ice" and never "shaved ice."
Maui Mike's Fire-Roasted Chicken
If you found our Oahu travel guide helpful, please share it on Pinterest. Thanks for your support!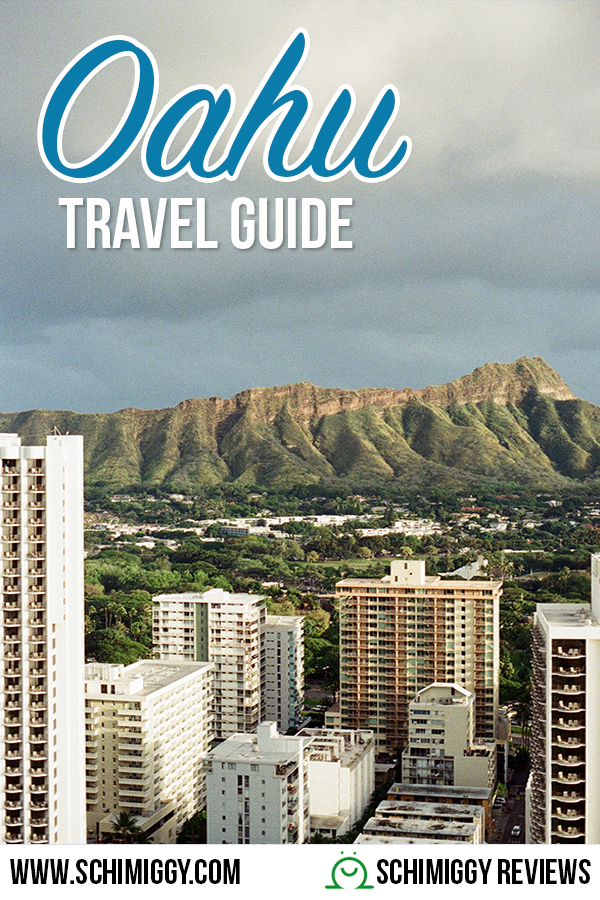 ---
Thank you for visiting today! If you found this encouraging or informative, please connect with us on Instagram, Youtube, Pinterest, Facebook or Twitter. We'd love to meet you!
Sign-up for our monthly newsletter for updates and more. We promise we won't spam you! Feel free to unsubscribe anytime.
For more fitness fashion discounts and offers, please visit our Fitness Instructor Discounts + Brands Directory or favorite brands coupon codes list.
If you're a brand and want to submit a product for us to review, please use this form to get in touch.
This site uses affiliate links. Clicking on or purchasing via an affiliate link may result in commissions for us which help keep the content flowing and lights on at Schimiggy Reviews. You may read more about this in our privacy policy.