Reading Time:
13
minutes
Updated: 10/30/2022 | Milan Travel Guide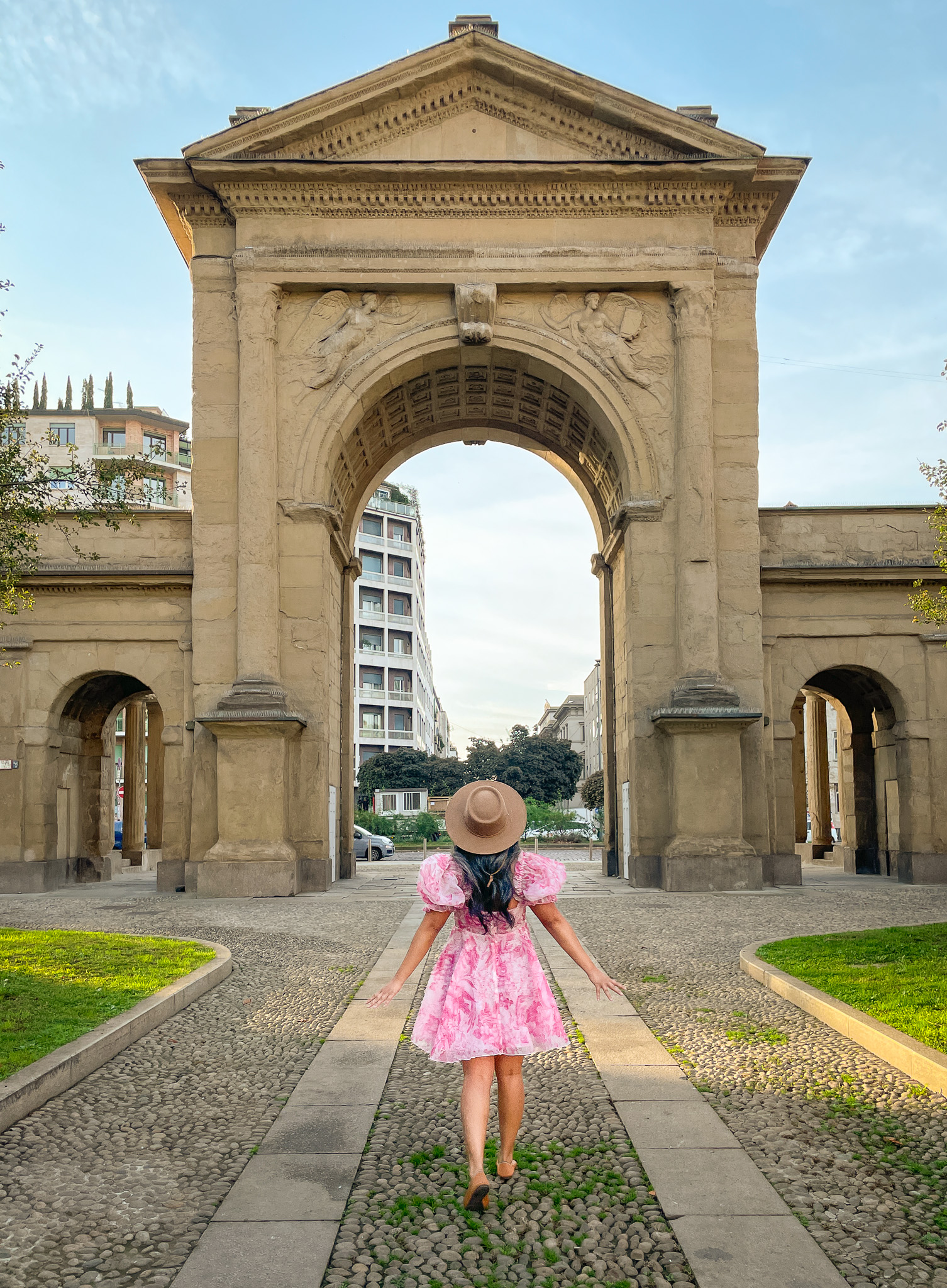 About Milan
Milan is recognized worldwide as one of the four design and fashion capitals of the world. It's also a business hub, as the location of Italy's stock exchange and the third wealthiest EU city after Paris and Madrid.
As the second-largest city in Italy (and home to the second-largest airport in the country), it's a popular destination for travelers and is easy to get to.
Best Time to Go
Milan is led less by seasons, and more by events. Fashion Week and the Salone del Mobile send prices rocketing, but go right after the events — MFW is usually in late February to early March, and again in September, while the Salone del Mobile is in April — and you'll find the city still buzzing, with special events and exhibits, although hotel prices are down and restaurants are taking reservations again.
Currency: Euro (as of 2022, the Euro to USD was 1:1); Many businesses will take credit card (carta) via tap to pay.
Language: Italian; Some people will speak English but not fluently.
How to Get Around Milan
Trains: Along with Rome's Termini, Milano Centrale is the country's main railway station. From here, high-speed trains will take you across northern Italy to places like Venice, Turin, and Genoa, and take you down through Bologna and Florence to Rome. You can buy tickets from their ticket dispensing machines or tap to pay with your mobile phone or credit card. The best way to get to City Center is via the train (Malpensa Express), but you will need to be mindful of pickpockets. They are especially active when trains are packed and work in teams to distract their victims.
Buses or Trams: Milan has very reliable buses and trams that run very regularly. You'll need to download the Milan ATM transit app to purchase tickets. It costs 2 EUR each way or 7 EUR for an entire day.
Walking: A great way to explore the city is on foot, but be mindful that it can be very dangerous at night. There are thieves and robbers who prey on tourists. It's best to take an Uber, train, bus, or tram to get home quickly.
Taxis and Uber: Taxis and Uber drivers are plentiful. You can also use the MiT app to call a taxi.
Where to Stay in Milan
AC Hotel Milan – This hotel is located just a few minutes' walk from the Monumental Cemetery and the Asian quarter. Everything is accessible by foot or public transit.
Aethos Hotel – Located in the Navigli district, this 32-room hotel offers an upscale experience just south of Milan's city center.
What to Do in Milan
#1 Duomo di Milano
Milan's gothic Duomo is the largest church in Italy after St Peter's Basilica in Rome. It's an enormous and intricate project that took over 600 years to complete (started in 1386 but was only completed in 1965 due to the building's intricate design).
Visiting the rooftop is highly recommended. You can take the elevator or walk upstairs to visit the rooftop terraces. Here you'll get a close-up of the hundreds of sculptures that make up the structure as well as impressive city views.
We paid 20 Euros for a package that included an elevator ride to the top with access to the church, museums, and archeological burial sites underneath the church.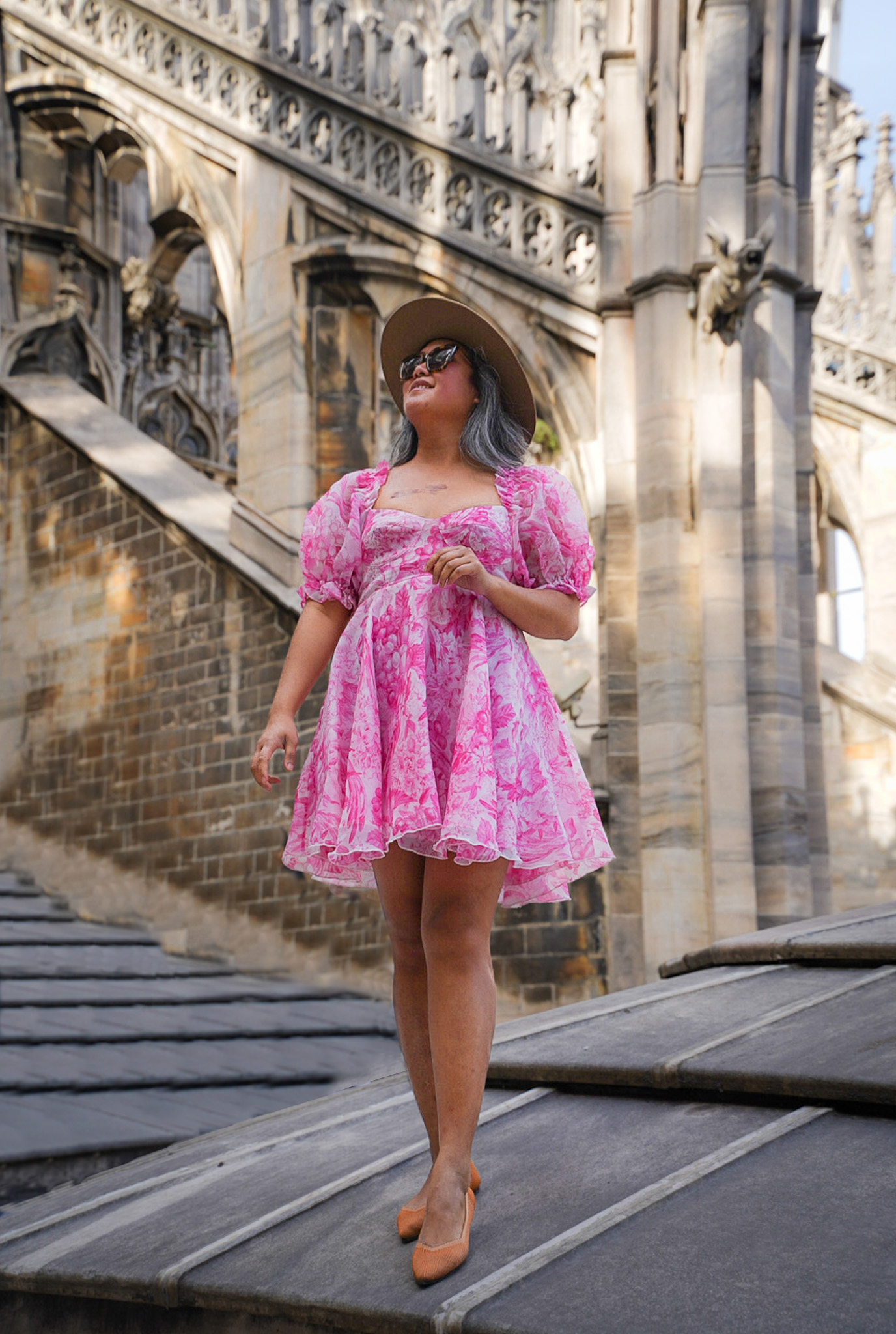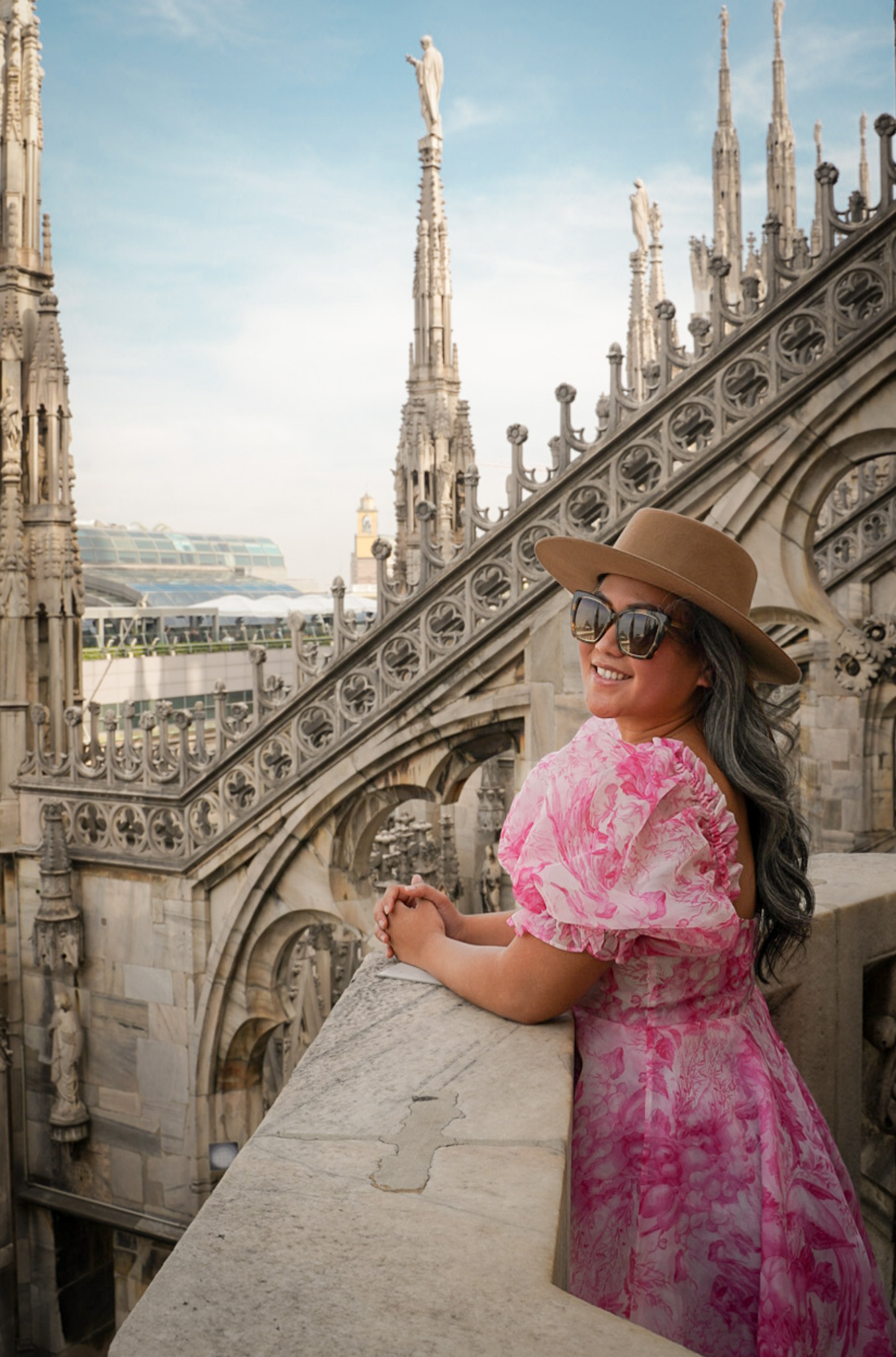 #2 Pinacoteca di Brera Fine Art Gallery
The Brera Gallery is a must-visit if you're an art enthusiast. It's up there in notoriety with the Vatican Museums and Florence's Uffizi.
It's also part of a world-famous academy for up-and-coming artists, which gave its name to the surrounding area. The Brera Gallery houses works by Mantegna, Tintoretto, and Raphael.
#3 Teatro alla Scala
Visit one of the world's most famous opera houses. During the day, you can go on a guided tour to see the interior of the building. One of our favorite attractions was the visit to the Ansaldo Workshops, where sets and costumes are designed and built.
You can also opt to see a performance or show at the theater for an immersive art experience.
#4 See the Last Supper (Cenecolo) by Leonardo Da Vinci
Leonardo da Vinci's "Cenacolo", also known as the "Last Supper", is frescoed on the refectory wall in Santa Maria delle Grazie church.
This 15th-century Leonardo da Vinci masterpiece resides in the church of Santa Maria delle Grazie, which is often just referred to as The Last Supper Museum. The Last Supper, completed around 1498, is remarkably well preserved and historians still haven't solved all its mysteries.
You must book a reserved 15-minute time slot, with tickets going on sale 2-3 months in advance. As one of the most famous paintings in the world, tickets sell out almost as soon as they go on sale, so this is definitely one to plan ahead for.
Tickets cost 15 EUR while guided tours cost around 55 EUR.
#5 Castello Sforzesco (Sforzesco Castle)
Da Vinci came to Milan to work for ruler Ludovico il Moro, whose HQ was this imposing moated castle in the city center. Don't miss the Sala delle Asse, frescoed as a trompe l'oeil forest by Leonardo himself.
Built in the 15th century, this castle was one of the largest citadels in Europe during the 16th-17th centuries. It houses 12 museums and a vast archive of artifacts. Two noteworthy museums include the Museum of Ancient Art, with its armory and tapestry collection, and the Museum Pietà Rondanini, which includes Michelangelo's last completed sculpture (Rondanini Pietà, completed in 1564). The castle entrance is free, but admission to all of the museums costs 5 EUR. A three-day museum pass for all the museums is 12 EUR.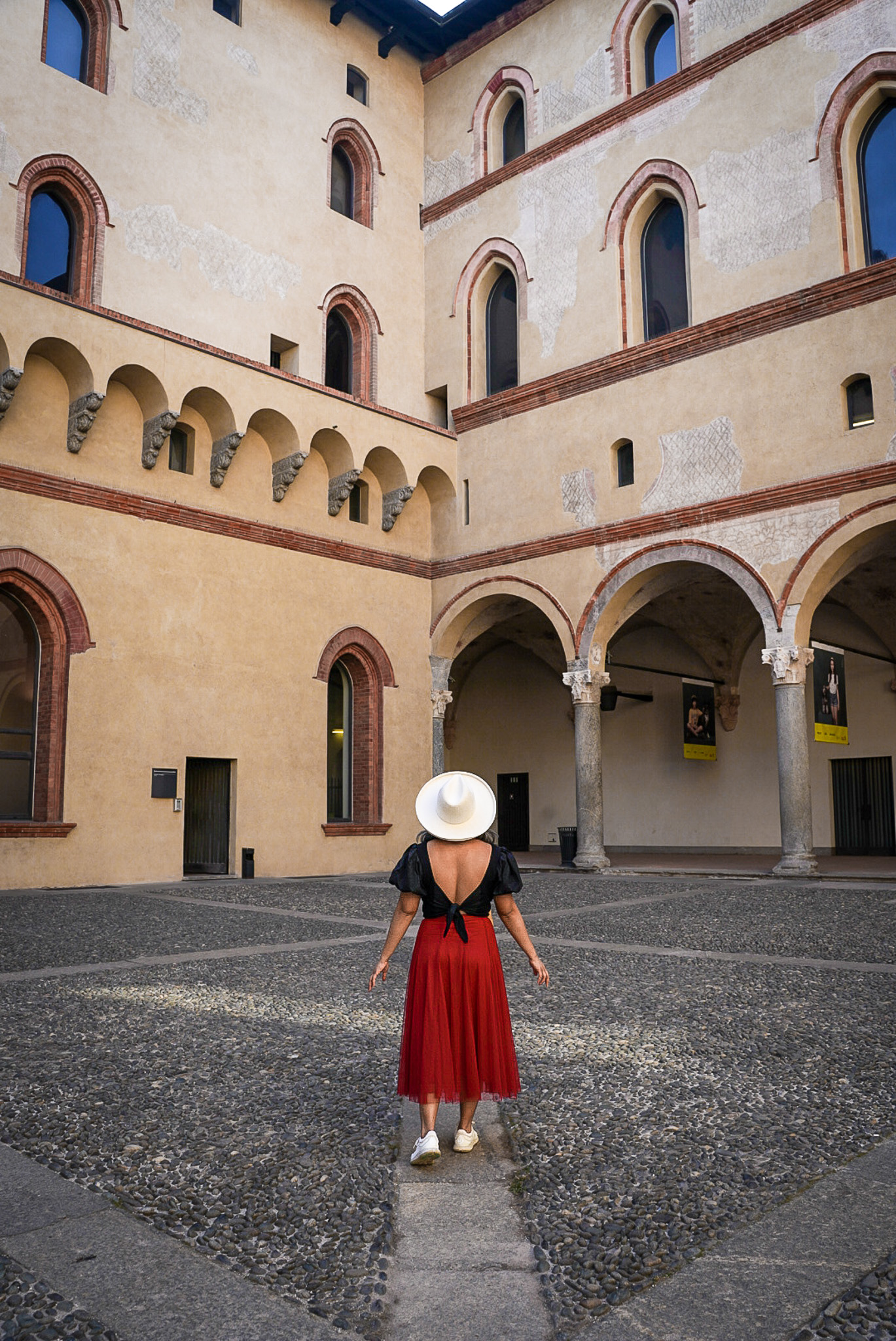 #6 Fondazione Prada
Miuccia Prada has taken an old distillery on the edge of the center, got Rem Koolhaas to renovate it, and filled it with her personal collection of contemporary art. The main complex hosts boundary-pushing temporary exhibitions, while the glass-walled tower contains works by artists from Damien Hurst to Jeff Koons.
#7 Ride a Tram
Rarely is public transport as fun as it is in Milan, where the rattling tram network has rolling stock dating back to 1927 as well as retro trams from the 1950s onwards. The routes cut through the historical center and then circle it.
#8 Pirelli Hangarbicocca
It's worth the 30-minute metro ride out to this breathtaking modern art space owned by the Pirelli tire company.
The enormous former train sheds have incredible rotating installations which interact with the space itself, but there's nothing quite like the permanent installation, Anselm Kiefer's "Seven Celestial Palaces": hulking concrete towers with biblical names, which were designed especially for the hangar.
#9 Vigna di Leonardo (Leonardo's Vinyard)
After you've seen the "Last Supper", head across the road to Leonardo's Vineyard. The vineyard was gifted to Leonardo by the Sforza family as he was working on the famous fresco.
Step through the ancient Casa degli Atellani to the peaceful garden, and, beyond it, a small vineyard planted with Leonardo's grape, the Malvasia di Candia – found through genetic research on the roots.
#10 Bosco Verticale and Piazza Gae Aulenti
Bosco Verticale is a set of vertical apartment buildings with balconies covered in trees and foliage. The structure was built by Stefano Boeri and construction was completed in 2014.
You can get an amazing view of the buildings from the park just across the buildings toward Piazza Gae Aulenti, a circular retail and corporate office complex.
#11 Parco Sempione (Simplon Park)
This is one of Europe's best city parks. The park starts at Castello Sforzesco, running past the Triennale and ending at the Arco della Pace (Arch of Peace). This is the only pseudo-Roman arch that celebrates peace and not war.
#12 Galleria Vittorio Emanuele II
Recognized as one of the world's premier fashion capitals, it should come as no surprise that people from around come here to shop. The Galleria Vittorio Emanuele II is hailed as one of the first and most luxurious shopping malls.
The Galleria Vittorio Emanuele II is an upscale outdoor 19th-century shopping mall that is known for its glass roof, mosaic floors, and sculptures. Here you'll find famous fashion brands such as Louis Vuitton, Prada, Dior, and more along with restaurants and bars.
The most famous bar is the Camperino in Galleria which is known for its aperitivo (happy hour) and offers a great view of the Duomo di Milano from its patio. Reservations are highly recommended if you want to dine here for dinner.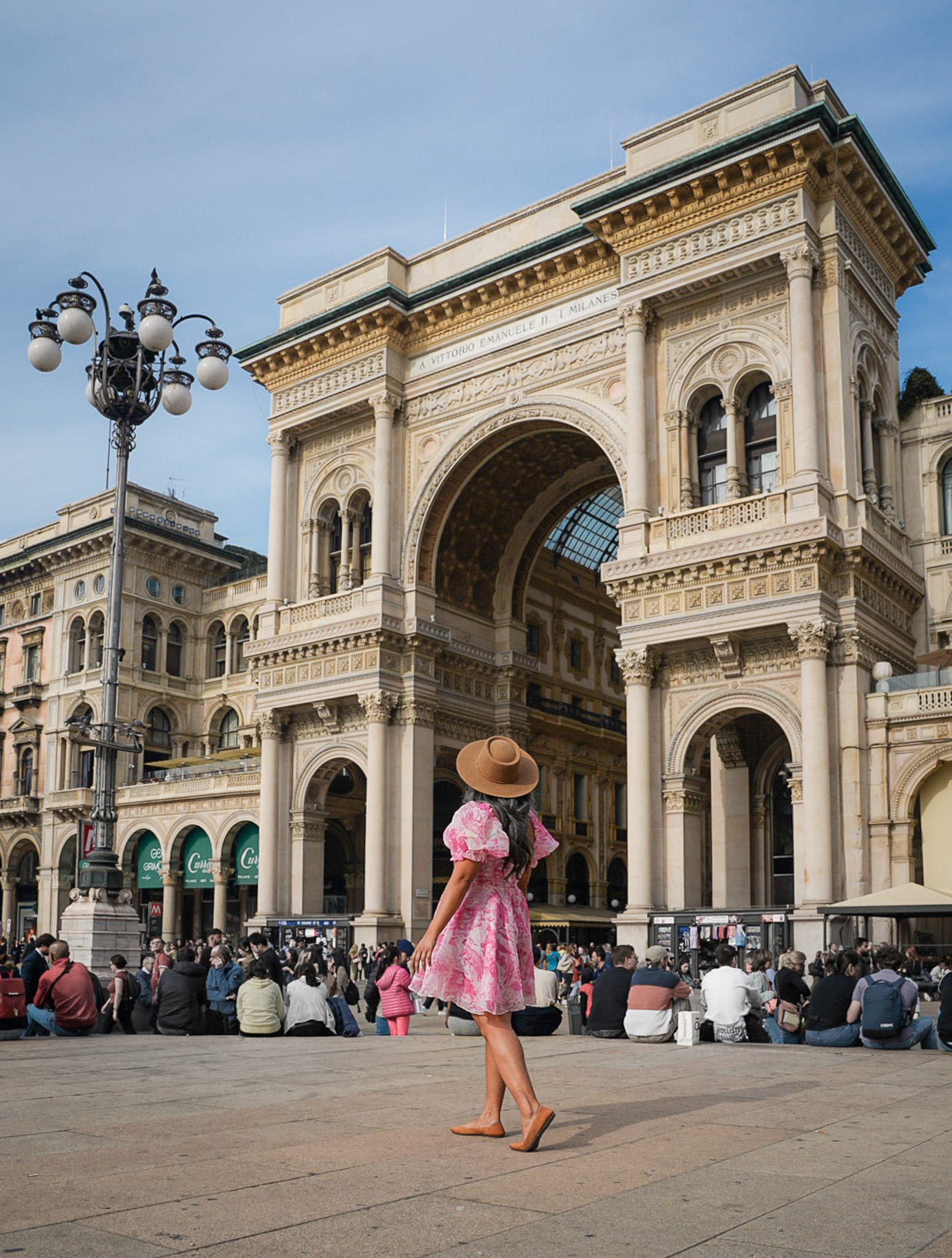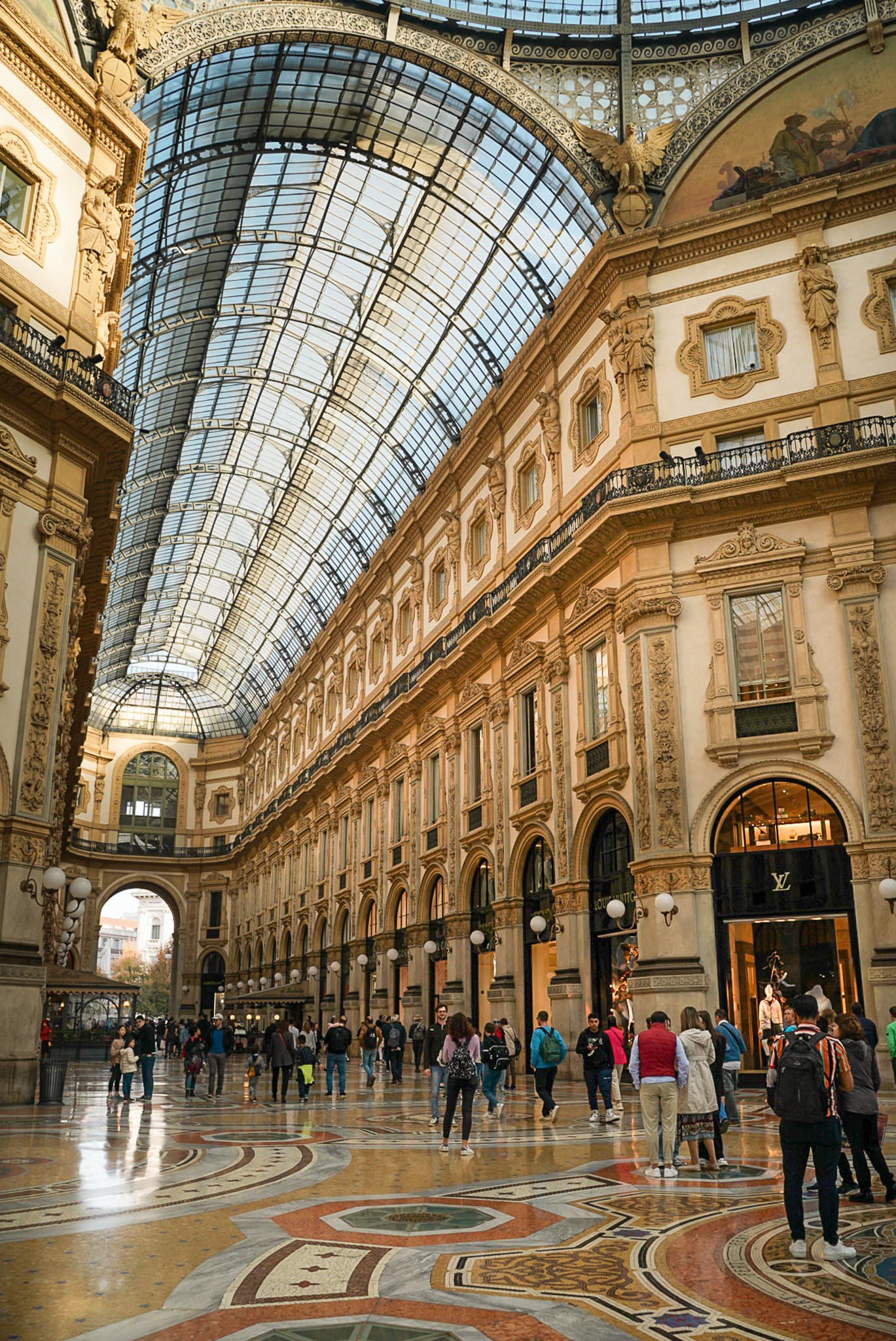 #13 Fratelli Bonvini (Bonvini 1909)
This historic printing shop near the Fondazione Prada was rescued from closure by a group of Milanese (including the founder of Moleskine) who couldn't bear to see it go. You'll find everything from vintage Olivetti typewriters to small-press books, handmade stationery, and fancy fountain pens.
#14 Peck
Stop by Peck before making your journey home. This high-end food shop is where you'll find all of Italy's best ingredients. You can also dine in-store but don't forget to grab some pastries or dried pasta on the way out. They make great souvenirs!
#15 Art Mall Milano
Everything in this bar-slash-gallery is up for sale. The bar offers an excellent aperitivo, so sit back with your aperol spritz and decide what furniture and artwork you'd like to bring home.
#16 Navigli
A bustling neighborhood situated along a canal. Here you'll find plenty of interesting restaurants and bars that stay open late at night.
#17 Stroll Along Corso Como
Corso Como is the main road that offers a lot of shopping, dining, and drinking options. It's a great place to be during the day but can get a little seedy in the evening due to the bustling nightlife there.
We recommend avoiding the clubs if you're traveling solo or in small groups. There are scammers and thieves waiting inside OR outside in groups to target and rob tourists.
My partner was "befriended" by a group of 4 guys who wanted to grab a drink with him. They isolated and took him to an ATM where he was forced to withdraw money for them. It was a terrifying experience and we're glad he did not get physically hurt. Just avoid clubs at all costs, especially post Covid. Crooks in cities seem to be more desperate and unforgiving nowadays.
#18 Milan Central Train Station
Opened in 1931, the Milan Central Train Station was commissioned by Mussolini to showcase the power of his regime. And, thanks to its towering walls, it's still Europe's largest train station by volume. So, if you're traveling through the station, take a few moments to marvel at the grandiose nature of the interior and exterior of the station.
We suggest arriving early since it might take you a while to find your train because the station is so large. The station is also a hotspot for pickpockets.
Story Time!
I was almost pickpocketed on the train. A lady and her daughter or younger sister tried to steal from my purse. The girl created a distraction by jamming the door with her arm while the lady tried to pickpocket my bag underneath a shawl. I looked at her and asked her, "What the f#ck are you doing?" She removed her hand and the duo departed the train at the next stop.
I should have taken a photo of them and reported them to the police but we were rushing to make our train to Lake Como. Be aware, because they work in teams and move from train to train to prey on unsuspecting victims.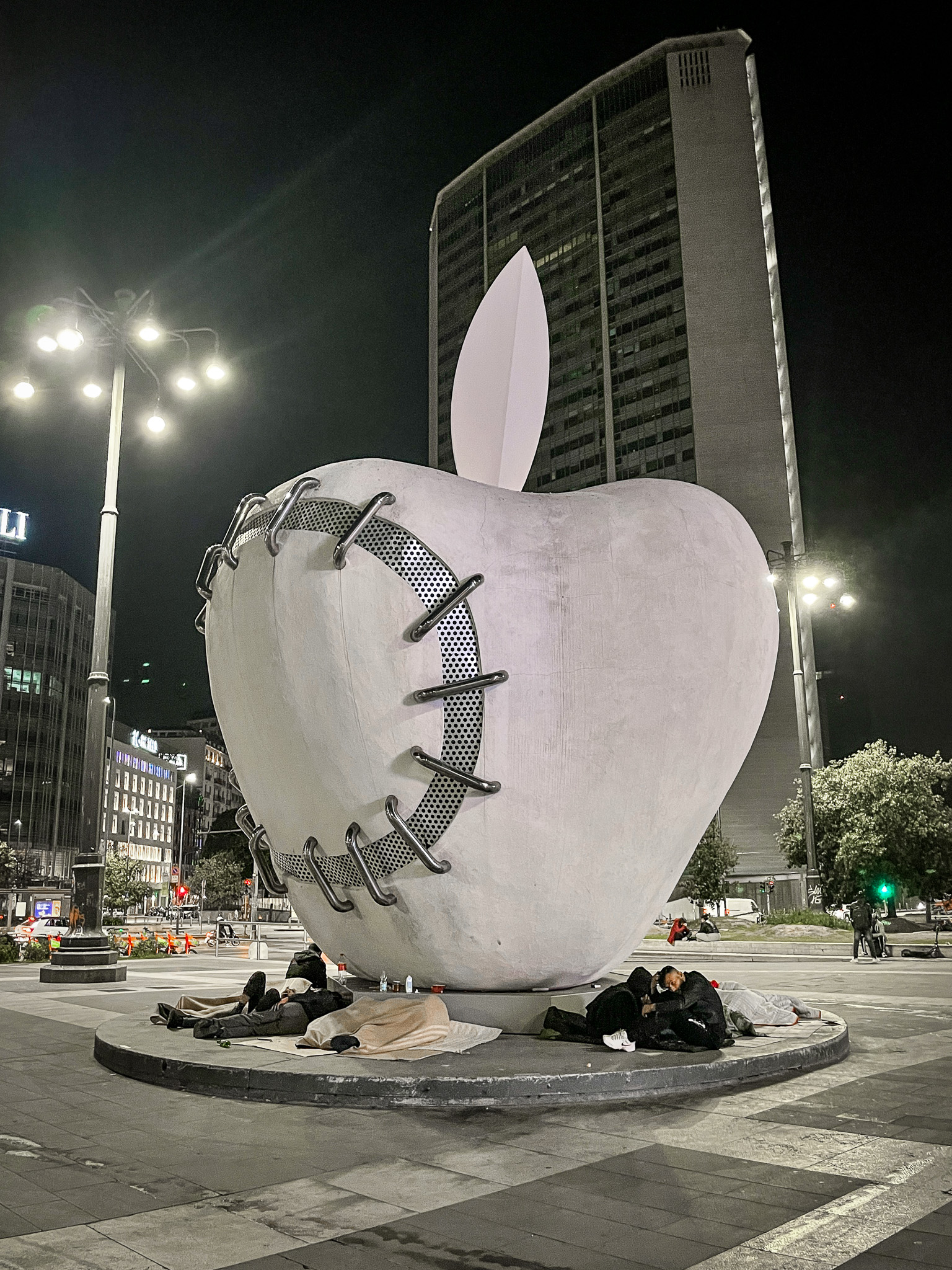 #19 San Bernardino Alle Ossa
This church which dates back to 1210 is famous for its small chapel decorated with numerous human skulls and bones. It's both interesting and creepy so it's worth stopping in if you're in the area.
#20 Wander the Giardini della Guastalla
Known as the Gardens of the Guastalla, these are some of the oldest gardens in Milan.
The gardens date back to the 16th century and have been open to the public since the early 1900s. Amongst the tall stemmed plants and blooming flowers, you'll find a fish bath filled with carp and redfish, marble statues, and an area to play bocce ball.
Giardini della Guastalla is located near the Duomo and is free to visit.
#21 Visit One of the Many Museums of Milan
You can visit all civic museums in 3 days for 12 euros with the Tourist Museum Card.
Tourist Museum Card is an entrance card for museums that grants you access to:
Sforza Castle Museums
Museum of the twentieth century
GAM / Gallery of Modern Art
Archaeological Museum
Civic Aquarium
Natural History Museum
Admission is always free to the following museums:
Crypt of San Giovanni in Conca
Antiquarium Alda Levi
Francesco Messina Museum Study
Boschi Di Stefano House Museum
MUDEC / Museum of Cultures
Museum of the Risorgimento
Palazzo Morando Costume Fashion Image.
#22 Piazza dei Mercanti
This is an outdoor shopping venue that is a great place to hang out and have a picnic. It's right next to the Duomo di Milano.
#23 Visit the Monumental Cemetery
The Monumental Cemetery is beyond impressive and is one of the two largest cemeteries in Milan, Italy. The entrance starts with a view of the tomb of famed novelist, Alessandro Manzoni. As you walk further into the cemetery, you'll encounter sepulchers as big as mansions and small homes.
Designed by the architect Carlo Maciachini (1818–1899) and was made to consolidate a number of small cemeteries scattered around the city into a single location.
The cemetery officially opened in 1866, it has since then been filled with a wide range of contemporary and classical Italian sculptures as well as Greek temples, elaborate obelisks, and other original works such as a scaled-down version of the Trajan's Column.
Many of the tombs were designed by artists such as Adolfo Wildt, Giò Ponti, Arturo Martini, Agenore Fabbri, Lucio Fontana, Medardo Rosso, Giacomo Manzù, Floriano Bodini, and Giò Pomodoro.
Entrance to the cemetery is free and can be completed within 1-2 hours. You can also book a guided tour for around 20 Euros.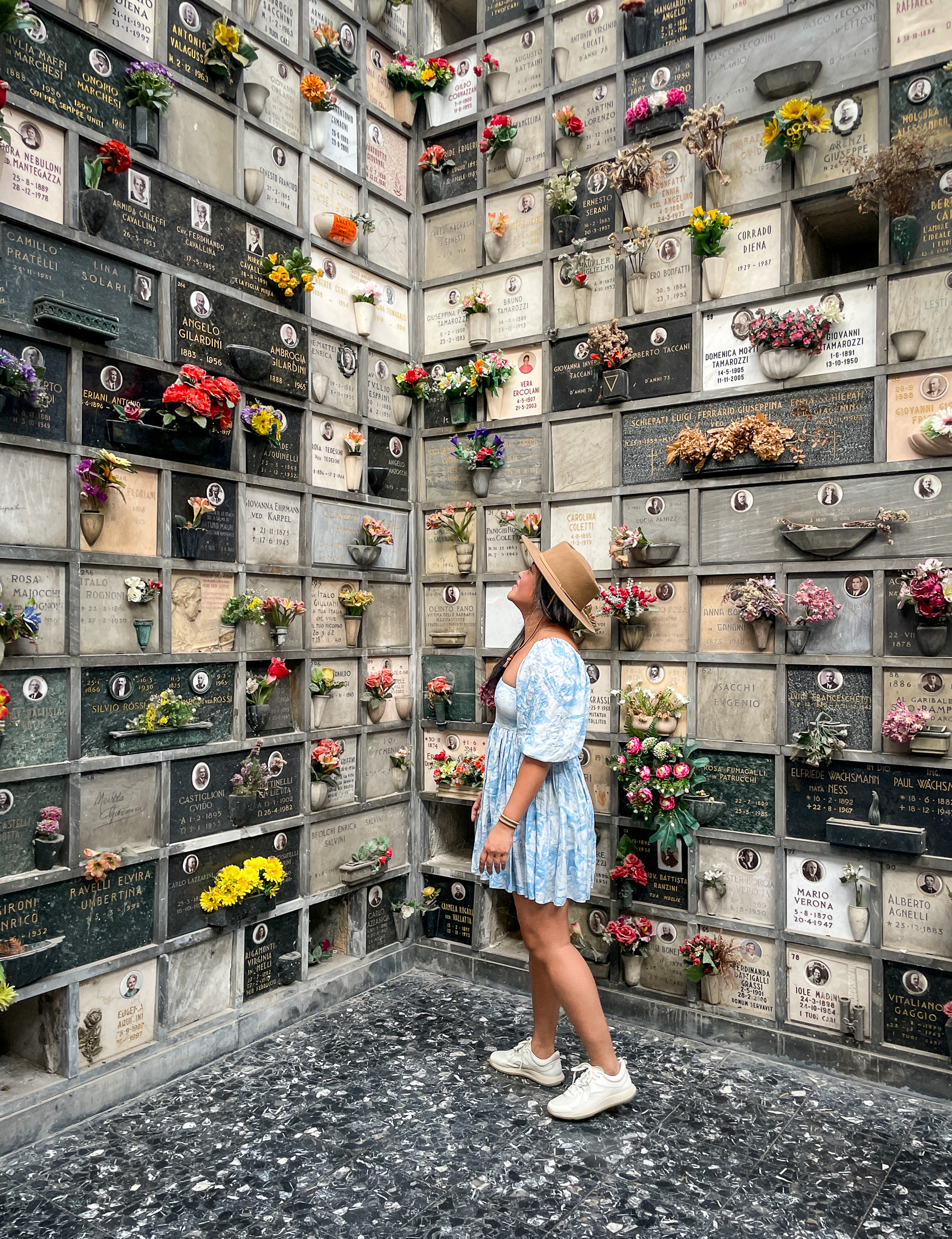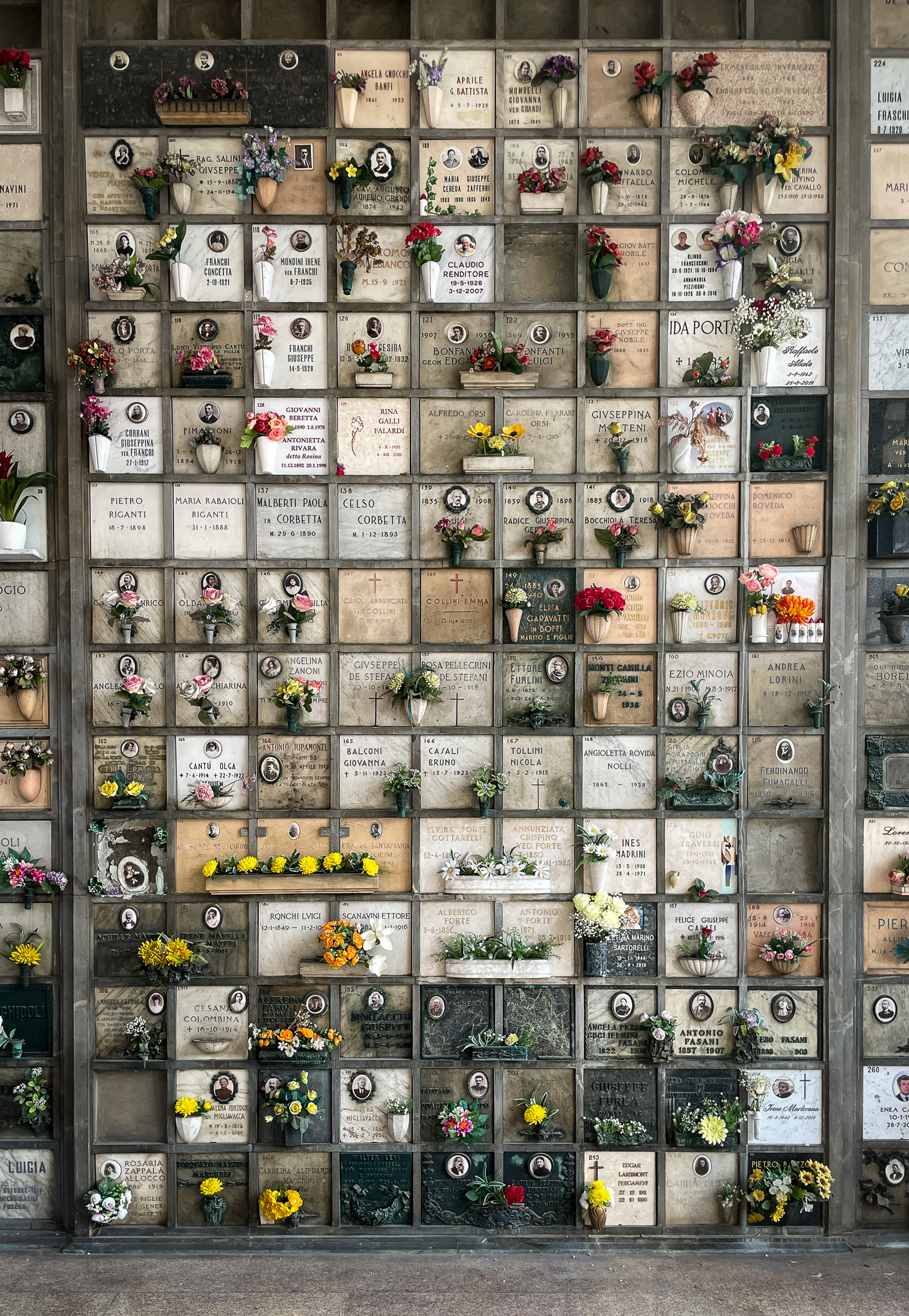 What to Eat in Milan
Cantine Isola – This enoteca has been serving wine and food since 1896.
Carlo e Camilla in Segheria – Elevated Italian fare with a creative cocktail menu.
Ceresio 7 – Fine dining establishment with a tasting menu and inventive cocktail list.
Fioraio Bianchi Caffé – Parisian bistro in the heart of Milan.
Il Brutto Anatroccolo – Which translates to "The Ugly Duckling", is a local favorite that's off the well-trodden tourist path. This menu, which consists of simple yet good traditional dishes, changes almost daily so the food is always fresh. The prices are also very affordable but it's located a bit outside the center of the city.
Joia
La Ravioleria Sarpi
Luini
Marchesi 1824
Miscusi
Nerino 10
Osteria Con Vista
Osteria del Treno – Come here for pasta dishes paired with an excellent wine selection.
Osteria della Gambero Rosso – We had an amazing meal here. They have the cotolleto (fried pork cutlet) as well as other moderately priced pasta and risotto dishes.
Piz
Ratana – The food and atmosphere are both excellent. The mushroom risotto was some of the best I've ever tried!
Risoelatta – This small traditional 1960s Milan-themed restaurant makes delicious pasta and is very popular with locals. It feels like you're dining in an Italian grandmother's house that hasn't been updated in over 50 years.
Rost Eats – I came here because it was open late and they also have PORCHETTA! We also tried their arrosticini (bite-size grilled meat on skewers) and were hooked. It's a great place to get late-night drunk food.
Trattoria da Pino
Volemose Bene
What to Drink in Milan
1930 – A speakeasy bar that is only accessible if you befriend a bartender or host from MAG Cafe in Naviglio. What typically happens is you get a phone number, call to make a res and they send you instructions to find the hidden bar.
Backdoor Bar – Claims to be the world's smallest bar with only 4 seats. They also serve drinks through a window in cups designed to match the name of the drink. They are also part of the MAG Cafe family. Reservations must be made in advance.
Bar Basso – The negroni Sbagliato was invented here in the 70s
Bar Luce
Botanical Club
The Doping Club – Semi secret bar located in the Yard Hotel. You'll have to go there to find it.
MAG Cafe – This super bustling bar is a great place to get craft cocktails.
"wunderkammer" Tencitt
UGO Bar – We loved the inventive cocktails at this chill bar. We easily found seats at the bar counter and befriended the bartender. We highly recommend the Rocketman and Green Negroni.
White Rabbit Speakeasy
Where to Get Coffee?
Aroma Napoletano: Great place for breakfast. They have colorful croissants that you can have with coffee. They also have GIANT croissants if you're super hungry.
Cofficina Ticinese 58: This hole-in-the-wall coffee shop is one of the best in Milan for coffee aficionados. They make great espresso, pour overs, and milk-based coffee drinks. The shop is super cute but it's not very large so there are only a few seats. See On Google Maps
Orsonero: This hip coffee shop feels like something you'd find in Brooklyn or Portland and they back up the image with excellent specialty coffee. They have beans you'll not find elsewhere in Milan. Try the cappuccinos. This is a small shop so there are only about three or four tables. See On Google Maps
G. Cova & C.: The coffee here is easily way above average for Milan (not as good as other "specialty" shops) but it's a great spot with delicious pastries. It's also a nice place to sit for a bit as there are multiple tables. See On Google Maps
Taglio: Taglio is a super cool restaurant but they have an excellent coffee bar that makes some mean coffee. Their restaurant is pretty high-end so it's certainly not a budget place but it's a nice place to stop for some coffee. See On Google Maps
Cova Montenapoleone: Cova Montenapoleone is one of Italy's oldest pastry shops so they make a ton of tasty treats but they also make some solid coffee as well. It's very old-school and classy so it's certainly isn't hip. See On Google Maps
Caffè Napoli: Cafe Napoli has a few locations around Milan — including one near the Duomo. We recommend trying the espresso with cream as it makes it sweeter and creamier. They have a few pastries but this is more of a traditional espresso bar. See On Google Maps
https://www.aromanapoletanomilano.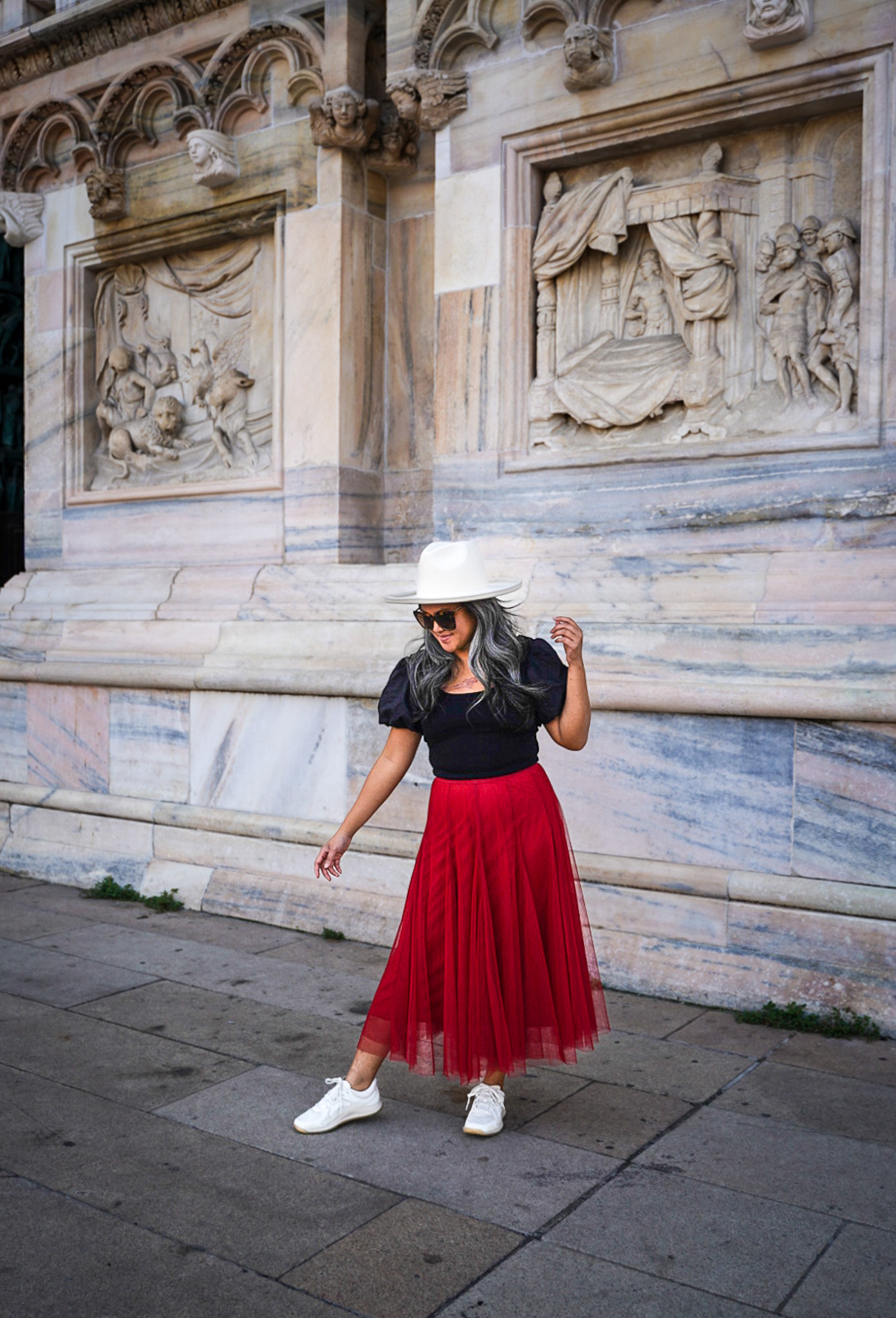 Milan Travel Guide Map
Use our Milan travel guide map when you arrive in the city.
---
Thank you for visiting today! If you found this encouraging or informative, please connect with us on Instagram, Youtube, Pinterest, Facebook or Twitter. We'd love to meet you!
Sign-up for our monthly newsletter for updates and more. We promise we won't spam you! Feel free to unsubscribe anytime.
For more fitness fashion discounts and offers, please visit our Fitness Instructor Discounts + Brands Directory or favorite brands coupon codes list.
If you're a brand and want to submit a product for us to review, please use this form to get in touch.
This site uses affiliate links. Clicking on or purchasing via an affiliate link may result in commissions for us which help keep the content flowing and lights on at Schimiggy Reviews. You may read more about this in our privacy policy.