Reading Time:
8
minutes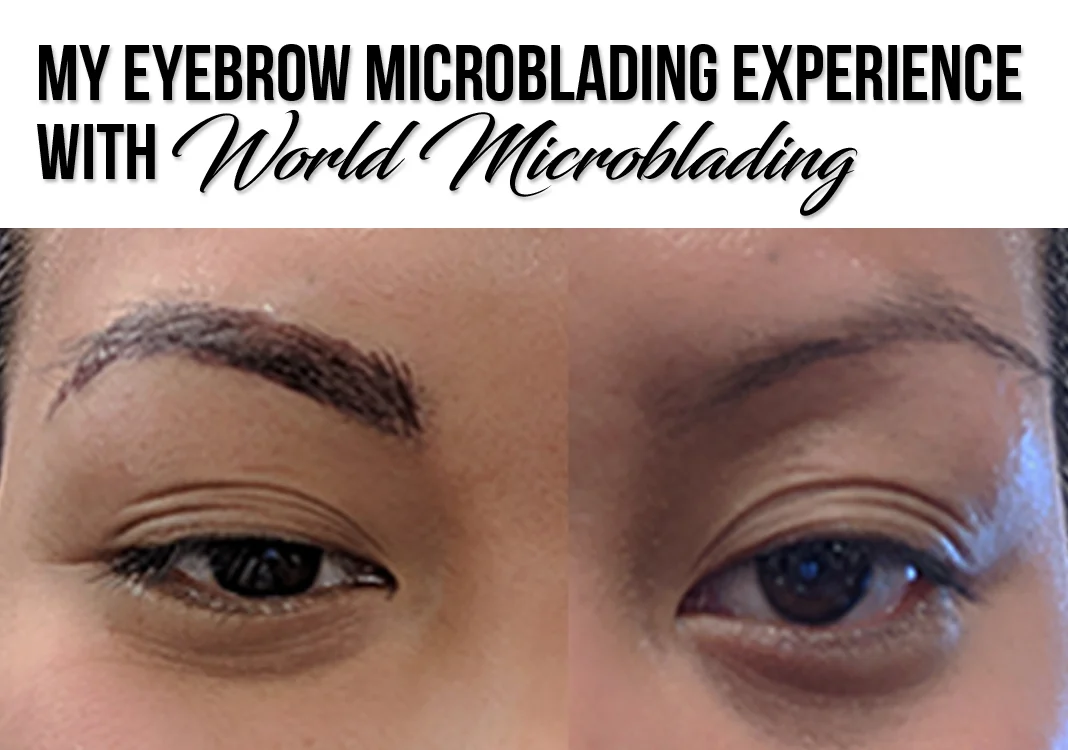 For years I have experienced my eyebrows getting thinner and thinner. This has been due to over-plucking, getting that cool eyebrow piercing back in 2003, and just from getting older. Eyebrows are the most important facial feature. A beautiful set of brows can frame the entire face and direct all the attention exactly where you want it. If you have these eyebrow woes, microblading may be the solution to get your brows looking their best!
What is Microblading?
Microblading is a semi-permanent cosmetic tattooing treatment that fills in sparse (or non-existant) eyebrows. It's been gaining popularity since 2015. The procedure is also known as eyebrow "embroidery." The technique has been around for almost a decade. The Microblading technique utilizes a hand-held tool with needles to apply pigments that create additional, thin hair-like strokes to fill in your brows. Because the procedure is done on the superficial layer of your skin, over time, the color will fade and annual touch-ups may be required to maintain your brows.
Typically a microblading session can cost between $500 to upwards of $1,500. The procedure takes approximately 2 hours and may require additional touch ups. Still, if you're tired of filling in your brows every day, but you want the freedom to be able to change your look every few years, this procedure might be the perfect investment for a temporary beauty fix.
With the sudden popularity to the term microblading, many are led to believe microblading is not a tattoo process. It IS a tattoo process and should be treated with upmost care. Permanent cosmetics, micropigmentation, dermal implantation, microblading/microstroking, eyebrow embroidery, and long-time/long-lasting makeup, are all different names for the same procedure – cosmetic tattooing. Any time color is placed into open skin with any device, it is a tattoo process. This is defined by many well informed regulators, the medical community, and dictionary sources.
How does Microblading work?
Microblading requires the use of a pen tool that holds a row of small sharp needles (made of stainless medical grade steel). See some options of tools here. The needles are dipped into a mixture of dye and then scraped against the eyebrow. As the tool scrapes against the eyebrow, an open wound is created in the epidermal layer and dye is deposited into the open skin, absorbing into the thin hair-like cuts. There may be some bleeding throughout the process. It's very important to follow aftercare procedures closely so that the healing process will result in beautiful and healthy brows. The process should take no more than 1 to 2 hours to complete.
While microblading not last as long as other eyebrow tattooing techniques, it does offer a more natural look. Because it is semi-permanent (uses less dye than other eye brow tattooing techniques), it's a great option for people who don't want to commit to the same look for life. Although it's considered semi-permanent, there is a slight shadow leftover from the microblading procedure once the dye "fades."
My Microblading Experience
I signed up with World Microblading to become a model. I signed up in October 2017 and was contacted on November 24th to be a model on November 26th. I was super excited to get my eyebrows practically tattooed and go from having uneven stray hairs, to fuller looking eyebrows.
I received an e-mail asked me the following questions to determine my eligibility. All of which I responded "no" to.
Are you pregnant or breastfeeding?
Do you have any skin conditions in the brow area?
Do you have any prior tattooing in the brow area?
Are you taking any medications, such as for diabetes or high blood pressure?
They also asked if I were taking any medications and confirm them prior to the procedure.
Before the procedure I was asked to avoid the following activities in the e-mail:
Consuming alcohol 48 hours before the day of the procedure
Drinking caffeine the day of the procedure
I also received a call from the student. Her name is Sandy. She was very accommodating and mentioned that I needed at least 4 hours to complete the procedure. She also confirmed my attendance. I am glad she called because I would have shown up on Monday (per the e-mail) when I needed to be there Sunday. On the day of the procedure, I entered the Courtyard Marriott in Pioneer Square, Seattle, Wash about 5 minutes before my start time of 9:30AM. There were five tables set-up throughout the room and I saw chairs where other models were waiting.
I was eventually greeted by Sandy and she gave me paperwork to fill out. The paperwork asked about my medical history and personal information to possibly get in touch with me after the procedure.
After the paperwork was complete, Sandy applied numbing cream to my eyebrows. at 9:41AM I was ready for the procedure. Sandy and the course instructor took before photos of me next to a blank wall. I was advised to sit on the procedure table and put on a hair net.
At the table Sandy put a piece of eyebrow measauring tape over my forehead and began to draw in my eyebrows to create the perfect eyebrow shape. I asked if I could document my experience and she was all about it. She took a thick peel-off pencil and began to draw my desired eyebrows onto my face. It took about 10 minutes until we found a shape that I was satisfied with. I wanted longer brows with an prominent arch (pictured above). Sandy and the Instructor found a dye color for my skin tone and she began to make the mixture. It was one part dye and 3 drops of a mixing liquid. You can see a complete list of colors with Biotouch dyes.
None of the students used a Golden Ratio Caliper, although I wish they did to help form the perfect brow for my face.
It was now time to lie on the operating table! I laid down and Sandy began to use blade #1 to apply the initial strokes on my left eyebrow. Afterwards, she wiped it clean with water on cotton pad then applied more numbing cream to that brow. She began on brow #2 (my right). In between the blade #1 and #2 applications, the instructor applied more anesthetic to help with the pain and numbing. I pain ranged in the middle for me. I could also feel some bleeding as Sandy was microblading my brows.
Because this was in a class setting, the instructor came by and refined my brows. Her pressure felt lighter than Sandy's, but at the same time I could hear the tearing with every stroke she made. It's a learned skill for sure so I was trying to guide Sandy by explaining the difference between her strokes and the the instructor's.
After enough cuts were created, Sandy applied the dye onto my brows for at least 5 minutes to absorb the dye into my skin. I gotta admit, I looked kind of silly with the big ol' brown brows.
After the process was complete, I could see the immediate difference in how I looked. I definitely felt a confidence boost even though my skin was saying, "ow ow ow!" My brows were still tender and slightly red, but that was to be expected. Sandy gave me aftercare instructions and reconfirmed that I should not allow water to make contact with my brows until after 24 hours. At that point I could gently wash the brows and then apply the ointment to treat the open wounds.
The entire process took 3.5 hours. With time and experience, the process should take at most only 2 hours. The most important part of this process is the aftercare so make sure to pay lots of attention to that phase.
Before this process I was nervous (like seriously). One of my major concerns was scarring. I scar easily and would die if a keloid had formed on my face. The only thing that was most alarming throughout this process was the sound of tearing as the blade scraped against my skin. It sounded much like the tearing of paper.
Before and After Microblading Photos
https://www.instagram.com/p/Bb_tTY7n6Wx/
How long does it take to heal?
The eyebrow area will be slightly red after the procedure and color will appear very dark. This is normal for the procedure and part of the healing process. The color will fade by up to 40% as it heals. In the following days, the eyebrows will continue to be dark and you will notice slight scabbing. Do not pick at the scabs as this may damage the skin and the outcome of the microbladed area.
No down time is required after microblading procedure. It will take approximately 7-14 days for the brows to heal over, and about 1 month for the color to fully set in. You'll notice the color is very light right after the two weeks after healing; the skin will have an opaque milky looking quality to it. This is known as the milk skin and is common in tattooing. This is due to the the tissue still healing from the inside out even though the surface of the skin is healed. The true color of the brows will reveal themselves once it is fully healed in a month's time.
Where can I get Microblading done?
Microblading goes hand in hand with other tattoo and beauty procedures such as eyeliner tattooing, waxing and manicures/pedicures. You can usually find microblading at beauty salons across the entire world.
Things you should look out for when finding the perfect Microblading therapist:
Certification – Where and how was the Therapist certified. Make sure the program is accredited and they have enough hours of experience.
Experience – How many months or years of experience does the therapist have under their belt. Request previous work and look up reviews regarding the establishment or Therapist.
Location – Where do you want to get your procedure done? It can be local or abroad. Many people go to Asia to complete this process because it's significantly cheaper. My friend did it in South Korea for only $200.
Cost – Microblading can cost between $350-$1,500 depending on the Therapist's experience and their location mostly. Some Therapists will offer free touch-ups after your initial session.
Environment – Is it sanitary? Are the materials used up to date and certified? Do they change out used equipment?
Want to learn Microblading?
There are many options to learn Microblading. It's a hot (and new) beauty practice right now so training is costly and ranges from $3,000 to upwards of $6,000 (and not all supplies are included). They claim that after the course you should easily make over $30,000 a month but that would mean you'll need to generate clients. I highly recommend World Microblading because their process was very easy, sanitary and quick.
---
Thanks for tuning in! Have you ever had microblading done? Tell me more about it! Feel free to e-mail me if you have any questions.
If you liked this article, you may like these posts too: