Reading Time:
19
minutes
Updated: 9/5/2022 | Mexico City Travel Guide
About Mexico City
Mexico City, also known as Distrito Federal (Federal District), is Mexico's largest city and the most populous metropolitan area in the Western Hemisphere, or the federal district.
Mexico City is always moving and has plenty to offer visitors. Come stroll through the historic downtown area,visit one of the many museums, and even visit Templo Mayor, the center of Aztec culture.
It is the country's economic and cultural hub, as well as home to the offices of the federal government. The city has many well-known and respected museums, such as the Museo Casa Frida Kahlo and the Museo Nacional de Historia.
Students come from all over to attend area schools, which include the Universidad Nacional Autonoma de Mexico and the Instituto Politecnico Nacional.
Experiencing Mexico City will create memories that you'll never forget. The best way I describe visiting Mexico City is that is essentially ENDLESS.
How to Get to Mexico City
The best way to get to Mexico City is by plane or bus. By plane, you will fly into Benito Juárez International Airport (MEX). We fly with AeroMexico because their flights are dependable and typically affordable compared with other airlines.
We highly recommend checking out Bookaway to find the best fares and routes to Mexico City.
Where to Stay in Mexico City
Gran Hotel Ciudad de México – I loved this little boutique hotel located in Centro Historico. It's super close to all the historic landmarks and you can easily get to other parts of Mexico City via the subway or Uber.
NH Collection Hotel in Reforma – This was our favorite hotel. We used the American Express portal to book and received a $100 USD credit. The location is central to EVERYTHING and we were able to walk to many places.
Sofitel Mexico City Reforma – If you want a luxurious experience, book here. They have a bar on the 38th floor and posh amenities.
How to Get Around Mexico City
On Foot – Exploring Mexico City on foot is entirely possible and ideal! There may be some routes that you'll want to either take with Uber/Cabify or Metro.
By Car – You can rent a car, but parking will be difficult. You can park in lots or pay for hotel parking if it's available. Having a car is convenient if you plan on going to destinations beyond Mexico City often, otherwise a tour or Uber can also take you there.
By Bus -The bus is cheap and will get you places, but it's slower than going by car.
By Metro – This is our FAVORITE way to get around Mexico City. It costs only 5 pesos (or 25 cents) per ride and takes you to many popular destinations. When we're not taking the Metro, we're most likely walking or taking an Uber or Cabify.
By Uber/Cabify – Rideshare program that is pretty affordable for foreigners.
What to Do in Mexico City
Here is a list of the best things to do in Downtown Mexico City (Centro Historico) and throughout the city.
#1 Visit the Zocalo
The Zocalo (or square) is located in Centro Historico. It's very close to the government buildings and here you'll find plenty of cultural attractions.
#2 Visit the Palacio de Bellas Artes
While those other tourists settle for ground-level photos of the Palacio de Bellas Artes, you can get the coolest pics by going to the Sears across the street. Head up to the coffee shop (Cafe de la Gran Ciudad) on the ninth floor, buy a beverage, and sit on the balcony, where you'll be sitting directly across from the palace with an incomparable view.
#3 Templo Mayor
If you're visiting Mexico City, Templo Mayor should be on the top of your list of things to see there.
It is one of the most important and biggest 13th-century Aztec ruins in Mexico. The excavated temple has been through seven phases of enlarging or rebuildings, and excavations are still going on throughout the site.
The Aztecs believed it was the center of the universe and the on-site museum gives great insight into their civilization.
#4 Chapultepec Park
If you thought New York's Central Park was cool, just wait until you see Mexico City's 686 hectare Chapultepec Park, or the Bosques de Chapultepec. Dating back to ancient Aztec times, when the park served as a royal retreat, the trees of the Chapultepec forest are often referred to as the city's lungs.
Inside the park you'll find walking, running, and biking trails, the Chapultepec Zoo, and several museum like the Museum of Anthropology and the Rufino Tamayo Museum.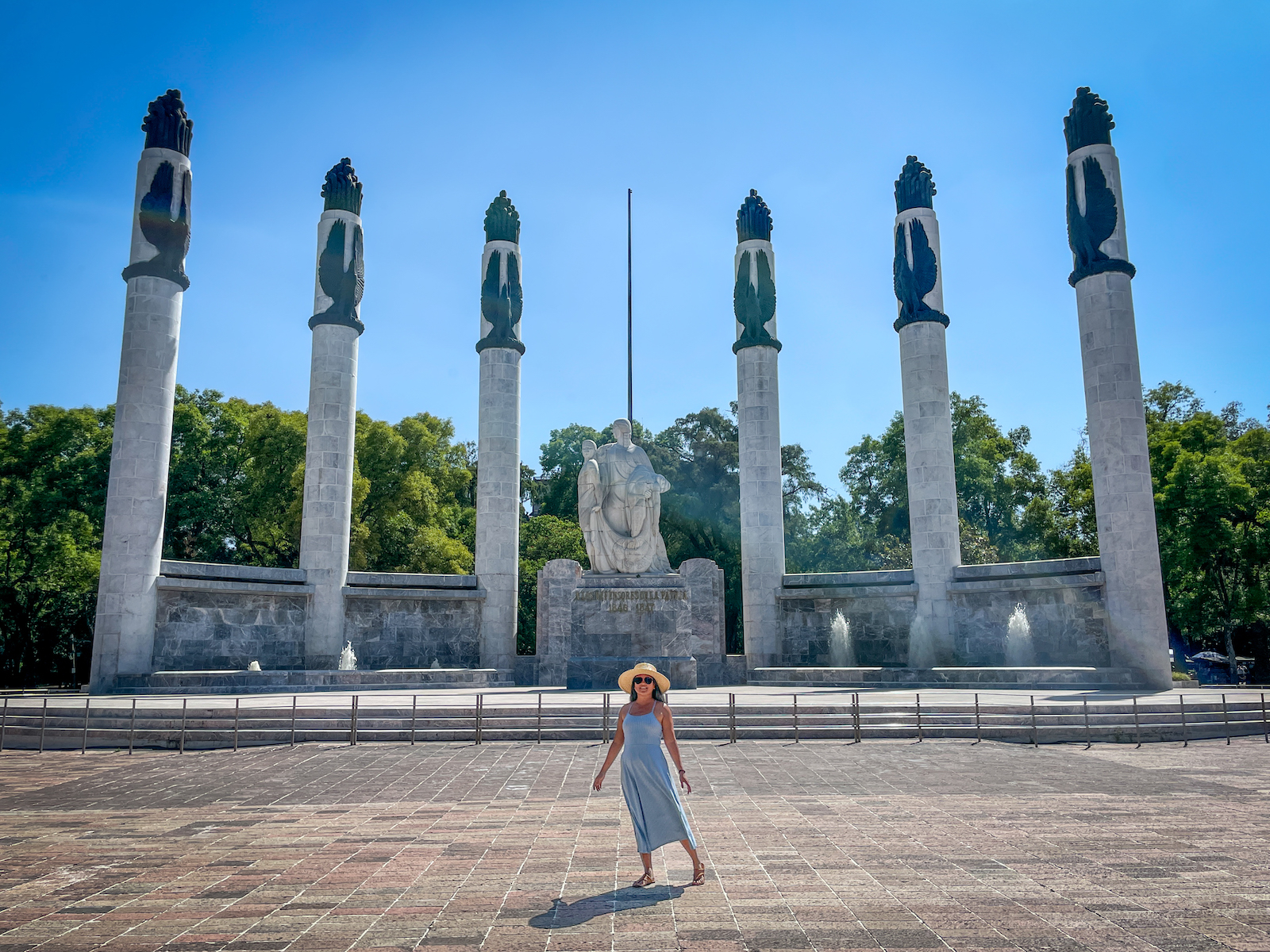 #5 Castillo de Chapultepec
You can also explore the Chapultepec Castle, which has its own entry below on this list of Mexico City things to do. On weekends the park fills with local families, vendors of all kinds, and performers. Just don't come on a Monday, when the park is closed (a mistake I've personally made several times over the years!).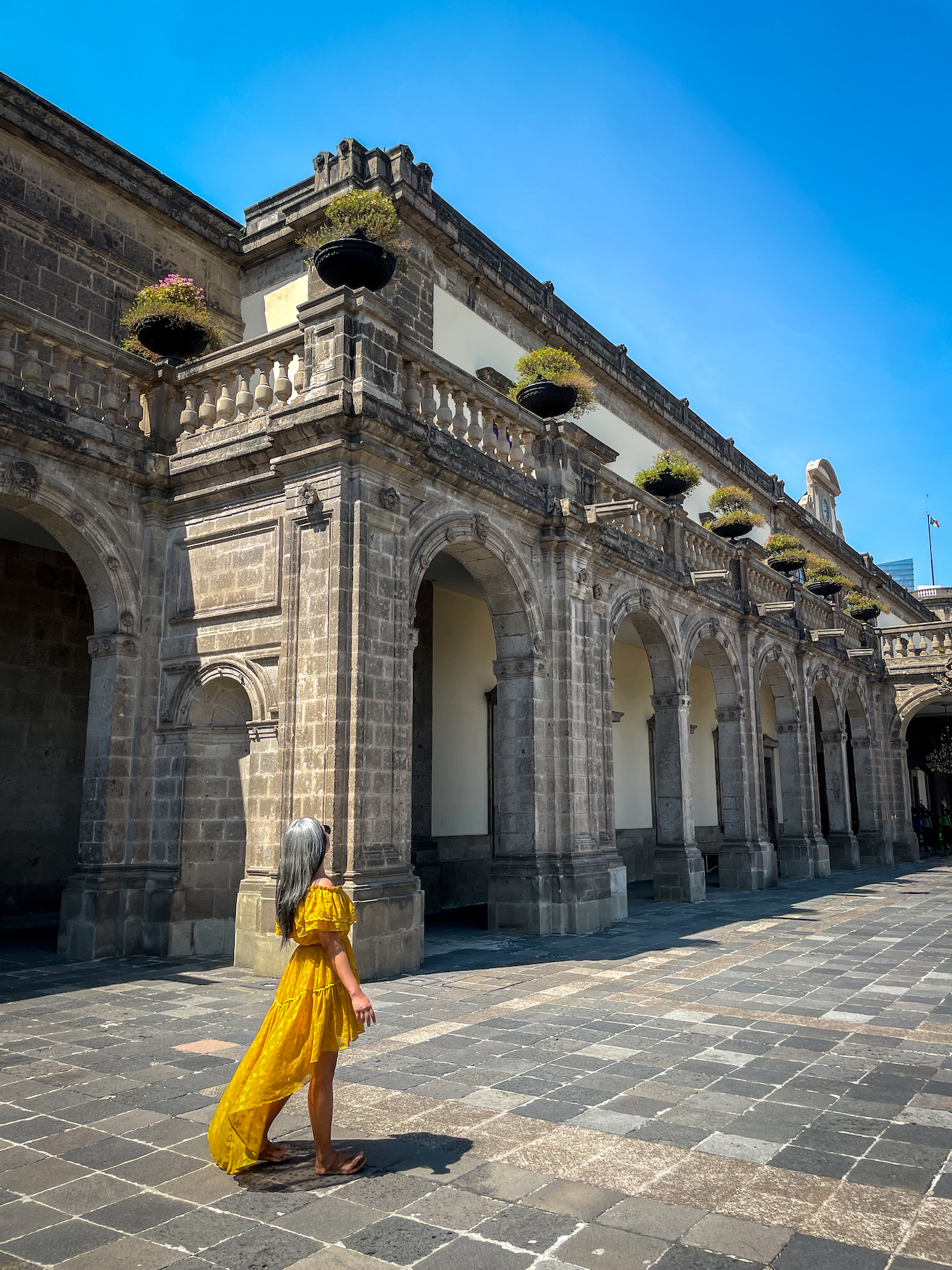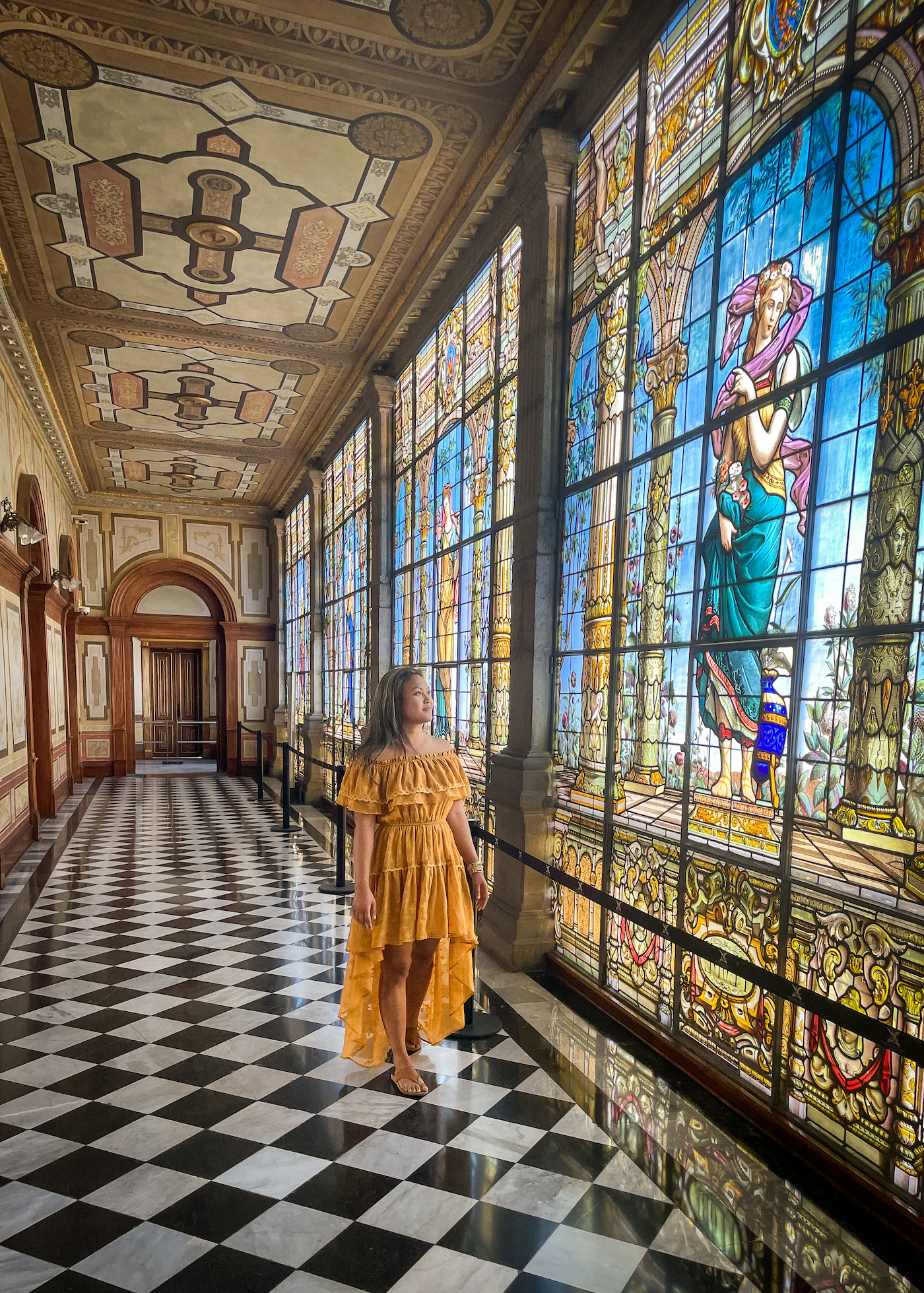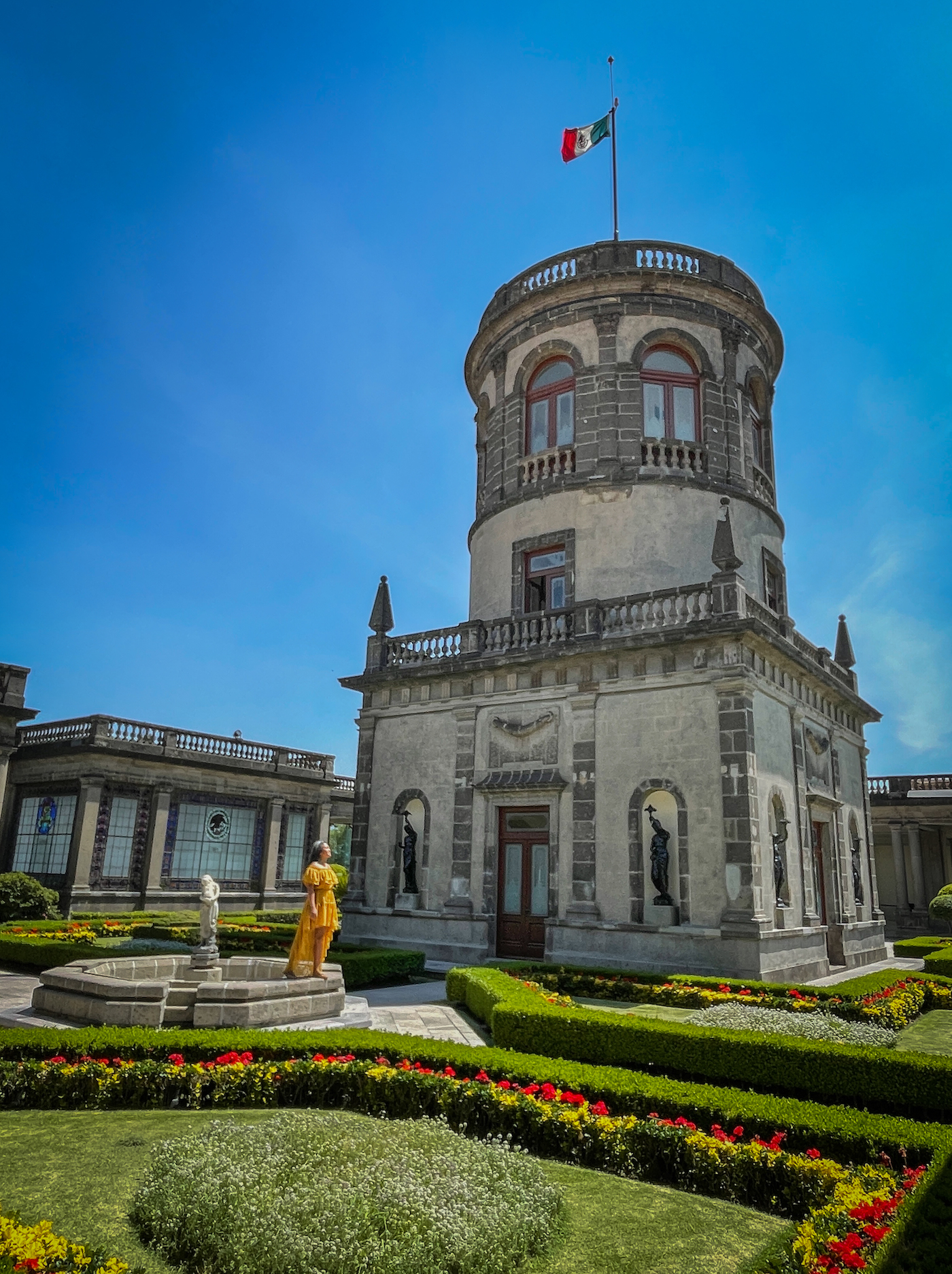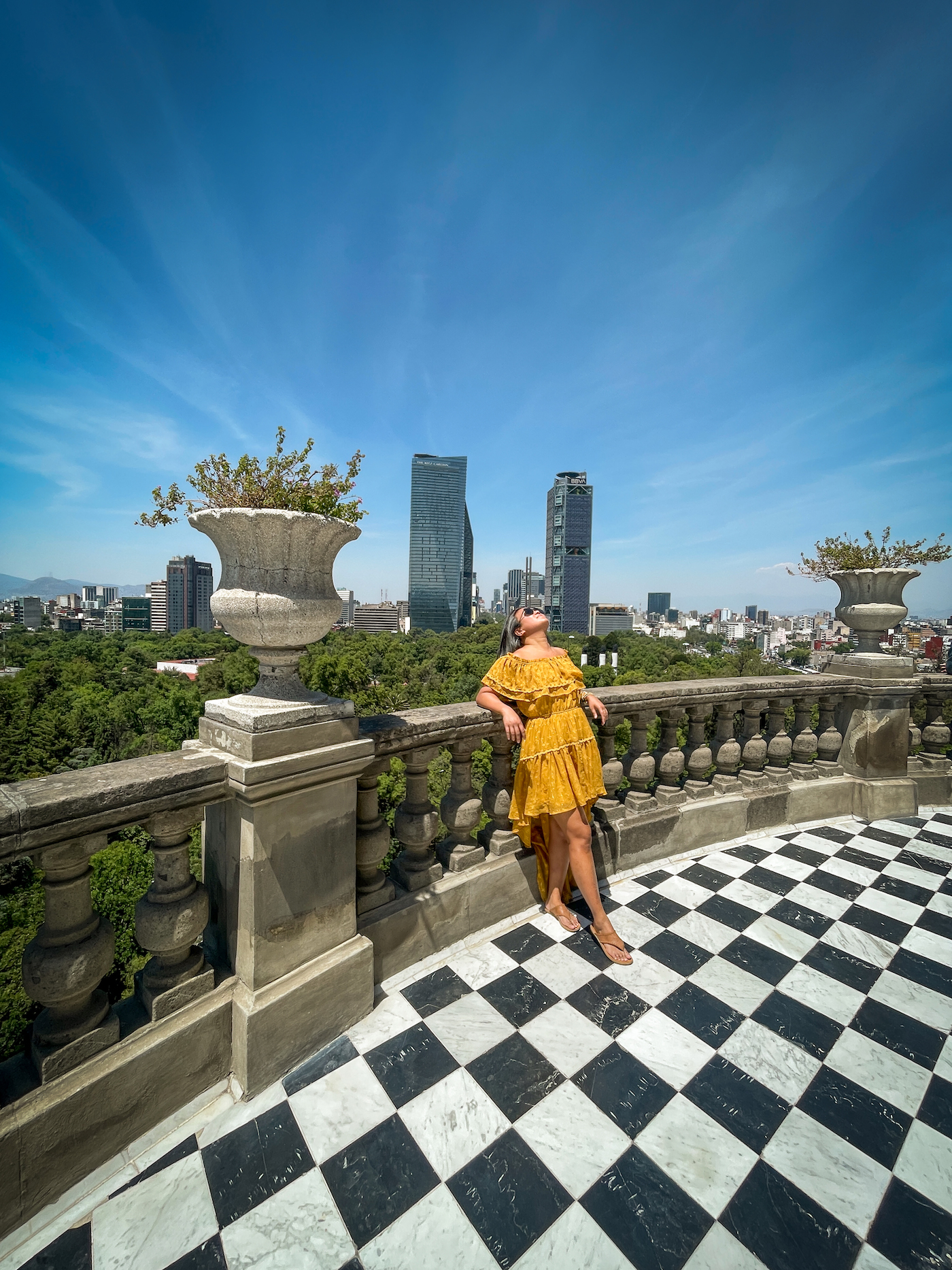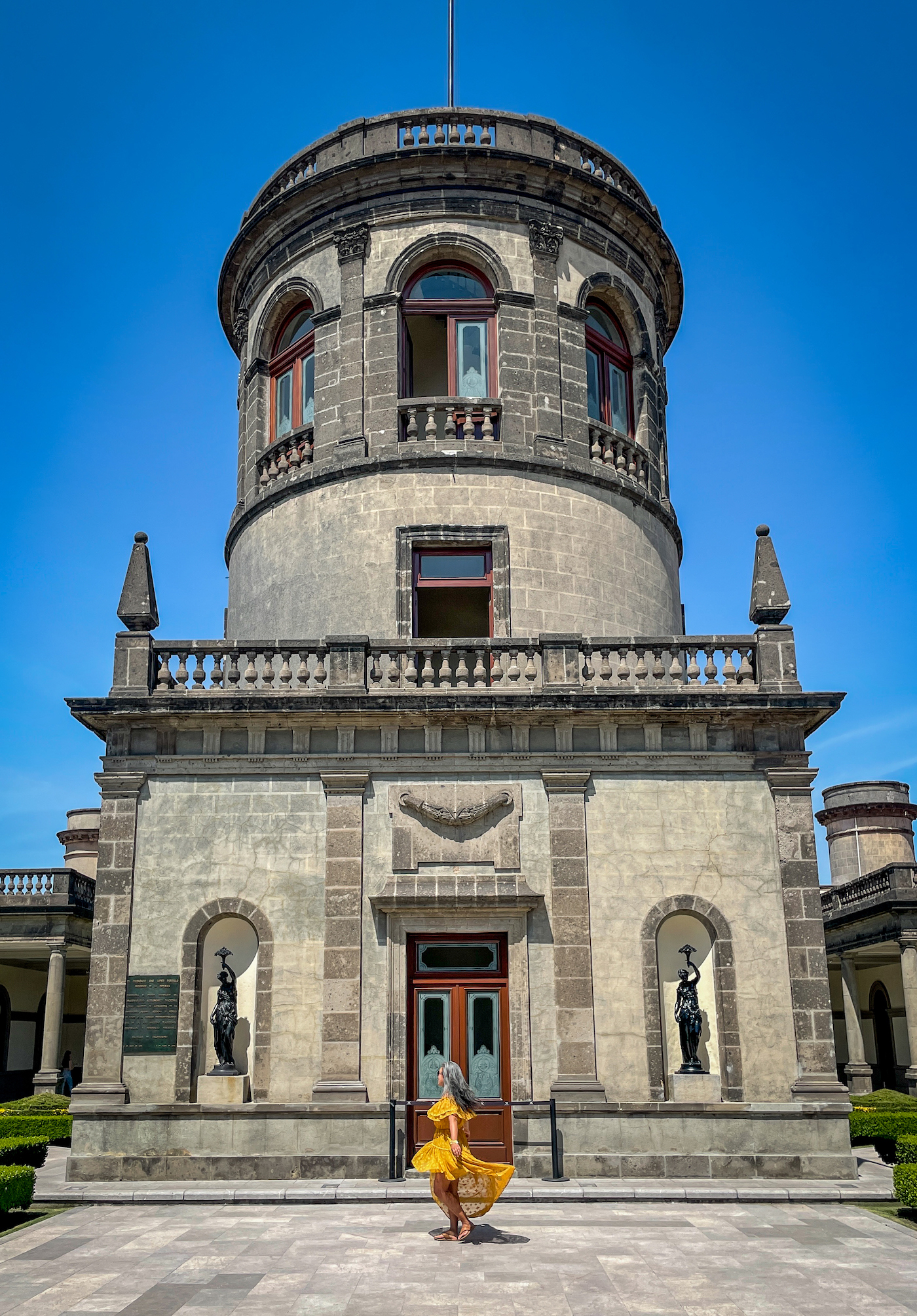 #6 Museo Nacional de Antropologiá (National Anthropolgy Museum)
On the north end of the Bosques de Chapultepec, you'll find the Museo Nacional de Antropología, or National Anthropology Museum.
The museum is home to the most extensive ethnographic collections in Mexico, and a great place to go to learn about the history of Mexico.
It's a massive place with 23 rooms, so set aside about 4-5 hours to enjoy the entire museum.
#6 Visit the Soumaya Museum
The Soumaya Museum is privately owned by billionaire Carlos Slim. It houses an impressive collection of artwork and a ton of Auguste Rodin statues including the Thinker and Gates of Hell.
The plated exterior of the building is simply gorgeous and makes for a good photo backdrop.
It's also free for everyone, every day!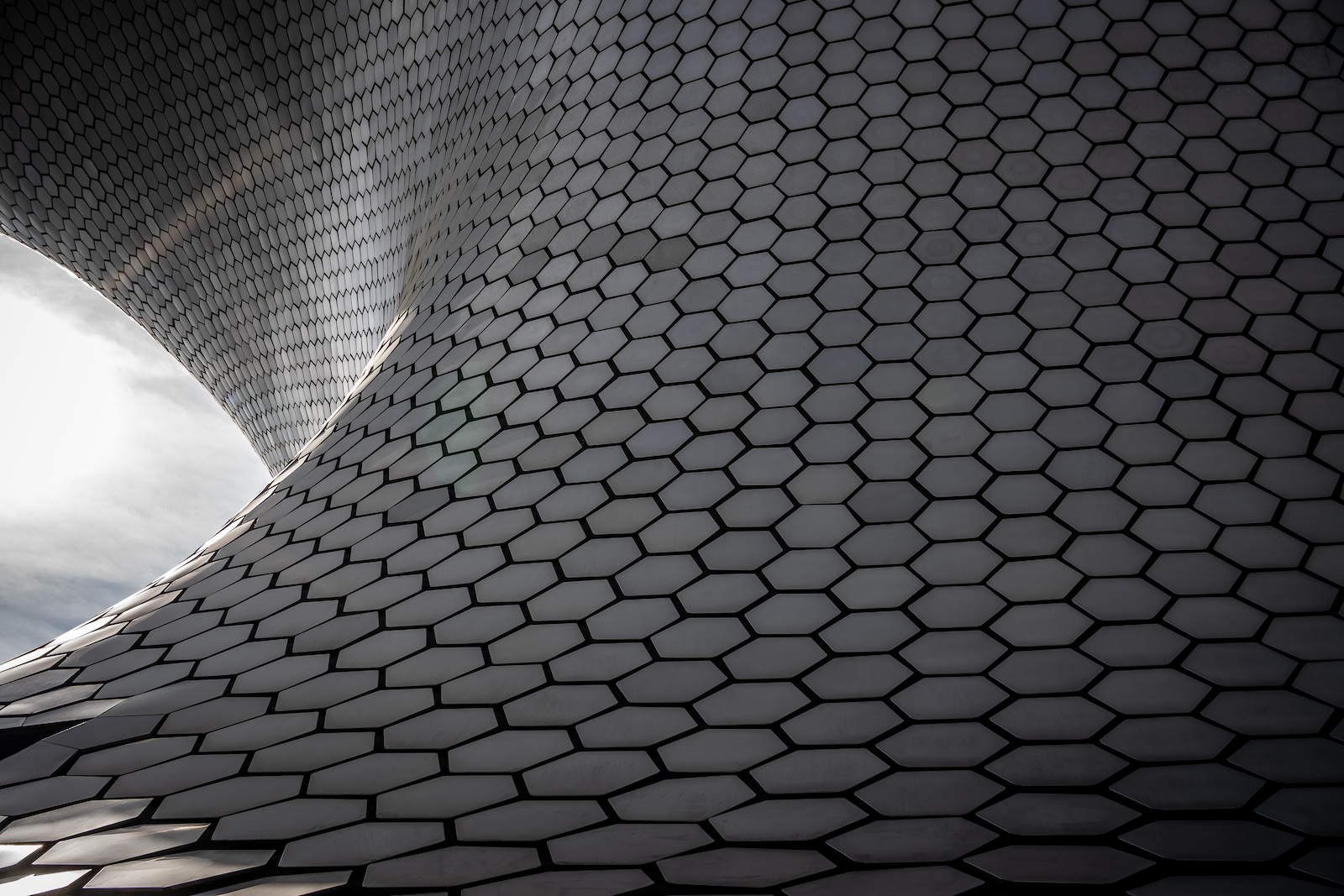 #7 Visit Frida Kahlo's Casa Azul
The Casa Azul, or Blue House, is where Frida Kahlo was born, lived, and died. The home was purchased and donated by her husband Diego Rivera and made into a museum to immortalize her work and incredible life.
Casa Azul is located in Coyoacán, the beautiful and colorful neighborhood in which Frida spent her years growing older.
#8 Watch a Lucha Libre Match at the Arena Coliseo
Go to the Arena Coliseo to watch the famed Lucha Libre matches! The Arena seats as many as 23,300 spectators.
If you want to get in on the action, make sure to buy seats in the first two rows.
You can get here and buy tickets on your own, or get on a tour with Turibus.
#9 Mirador Torre Latinoamerica
Mexico City has a lot to take in, and one of the best places to get spectacular views of the city is from the observation area of the Torre Latinoamerica skyscraper.
The skyscraper is located just a few blocks from the Palacio de Bellas Artes. From above, you'll see amazing views of Mexico City. And if you're not keen on paying the 90 MXN fee to go up, you can also go to the cafe that is two stories below to enjoy the same breathtaking views.
#10 Palacio de Correos de Mexico
If you love gorgeous buildings, you must visit the Golden Post Office (Palacio de Correos de Mexico).
Located across from Palacio de Bellas Artes, Mexico's Correo Mayor (Main Post Office) is one of the most gorgeous postal offices on Earth!
It is still a working post office to this day and you are welcome to come in and peruse the building. We were amazed at how gorgeous the building was.
#11 The House of Tiles or "Casa de los Azulejos"
Situated in the historic district, the Casa de los Azulejos (House of Tiles) is an 18th-century Baroque palace that is used as a upscale shopping center today.
The courtyard interior is worth a visit, but the real attraction is the blue and white tiles that adorn the exterior. It's located right next to the Palacio de Bellas Artes.
#12 Mercado de Artesanías La Ciudadela
If you're looking to shop for local handicrafts or folk art, or just a colorful souvenir to take home from Mexico, definitely check out the market at the Mercado de Artesanías La Ciudadela, close to the historic center.
At this market, you'll find stalls of artists and vendors lined up along the street and hawking their art and wares to locals and travelers alike. Many of the market vendors accept credit cards, but if you're paying in cash pesos you may be able to haggle prices down a bit.
#13 Plaza Garibaldi
Plaza Garibaldi is the place to visit in Mexico City to see mariachi bands, check out a few bars, get in shopping, or just soak in the vibrancy of Mexico City.
Come during the day to grab lunch and listen to the mariachi bands, or come around sunset to spend some time sipping drinks and, you guessed it, listening to mariachi!
#14 Luis Barragán House and Studio
The former home and studio of Pritzker-Prize-winning architect Luis Barragán has been transformed into a museum in Mexico City's Hidalgo District.
Architecture and design lovers frequent the estate to study the artist's ingenious use of color, light, shadow, form, and texture. From the street, you'd never guess the personality that lies inside: The stark-gray façade humbly blends in with neighboring homes, but walk to the interior of the estate and you'll find striking walls in a kaleidoscope of bright colors, fountains, and pools.
#15 Palacio Nacional
Diego Rivera's famous mural The History of Mexico showcases the Aztec era to the conquest to the Revolution to the development of the industry. It's grandiose and captivating, a unique opportunity to learn about Mexico's past. Not to mention it's free: The mural is housed in a distinguished building east of the Zócalo that operates as a government office. Among the office workers milling about, you'll see a mix of local, national, and international tourists who come to be awe-stricken by Rivera's masterpiece.
The National Palace holds the federal executive branch of the Mexican government and sits along Mexico City's main public square, El Zócalo. The palace itself is a massive, ornate building that contains several gardens, murals and fountains. Its highlights are the Diego Rivera murals painted in panoramic style across the palace's walls, which visitors say are a must-see. These murals depict the stages of Mexican history, from pre-Columbian days to the current age.
#16 Cárcamo de Dolores
It's one of the best-kept secrets in the Chapultepec Forest. For many centuries, the Cárcamo de Dolores was the main source of fresh water in the city. In 1951, the Mexican artist Diego Rivera paid tribute to his mural El Agua, Origen de la Vida which decorates the pump building.
The pump was thought up to collect and distribute water from the Lerma river, but it became less important when the amount of water in the walls started to increase. These days, the sound installation Cámara Lambdoma, by Ariel Guzik, allows you to listen to the running water while admiring Rivera's mural.
#17 Basílica de Santa María de Guadalupe
The Basílica de Santa María de Guadalupe (Basilica of Our Lady of Guadalupe) is an important religious site in Mexico City. The first shrine built to honor the Virgin Mary of Guadalupe was erected in 1531 on Tepeyac hill, but the first basilica dedicated to the Virgin Mary was not built until 1695.
However, nearly 300 years' worth of construction and environmental damage threatened the integrity of the basilica, so a new basilica was built on the same plaza in the 1970s.
#18 El Ángel de la Independencia
Flanking the Paseo de la Reforma in downtown Mexico City, El Ángel de la Independencia is a column monument topped by a bronze depiction of the Greek goddess Victory, one of the most beloved symbols of the city.
Originally built to commemorate Mexico's war with Spain for independence, the structure has also evolved into a mausoleum for war heroes. Recent visitors said it is an impressive sight.
#19 Sunday Lagunilla Flea Market
Hands down, my favorite place to shop in Mexico City…If you haven't already booked your travel, plan to be in the city on a Sunday so you can visit this epic antique and flea market.
A historic establishment dating back to the pre-Hispanic era, it's one of the Americas' most important trading posts. Now, you'll find a wide range of worldly treasures, Mexican folk art, and oddities. While Lagunilla Market is a typical market present all days of the week, the flea market is reserved for one lot and only happens Sundays 9-12.
#20 Trotsky Museum
Exiled Russian revolutionary Leon Trotsky lived in Coyoacan in 1940 until he was killed by a Stalin supporter who had gained his trust. Trotsky's study remains exactly as it was on that day when he was attacked. I found this to be a fascinating museum and one of the more underrated places to visit in Mexico City. Even the books and papers on his desk are in their exact positions. Trotsky's tomb is now located in the courtyard.
#21 Museo Jumex
Museo Jumex is another Polanco attraction that features a large private collection of contemporary art that rotates.
Entry for foreigners is only 50 pesos, or roughly $2.50 in USD. We were able to attend the Urs Fischer exhibit for free in May 2022.
#22 UNAM Campus
The National Autonomous University of Mexico (UNAM) is worth a visit as it is a UNESCO World Heritage due to its architecture. Attendance at the school is free for everyone.
Most of the structures were built in the early '50s and incorporated the modern designs of the time with Mexican history. While you're here, stop by the Museo Universitario Arte Contemporaneo to see contemporary art as well.
You'll want to check out the Central Library's dramatic colorful mosaic murals on the outside of the library. The murals are represent different periods in Mexico's history (pre-Hispanic period, colonial period, the modern era, and history of the university).
Visiting the campus is free.
#23 Polyforum Siquieros
The Polyforum (or poliforum) Siquieros is an art gallery and theater that is used to hold receptions and social events and can be seen on your own. The installation is part of the World Trade Center.
Here you will see the mural La Marcha de la Humanidad (the march of humanity), a 360-degree mural considered to be one of the largest murals in the world (8,700 square meters).
It was created by artist David Alfaro Siqueiros in 1960. You'll quickly notice his art style at many other Mexico City attractions.
#24 Casa Organica
While this attraction is currently closed, it's worth a visit once it reopens.
Casa Organica, or the Organic House, was designed by Mexican architect Javier Senosiain. Casa Organica is the amalgamation between architecture and nature. The home is located in Naucalpan de Jaurez, Mexico City.
The home recalls the likes of Jacques Couëlle's familiar grotto-style architectural sculpture in Provence's Mouans-Sartoux formed with similar curves and rounded interiors.
Day Trips from Mexico City
#1 Pyramid of the Sun
The Pyramid of the Sun or officially known as the Teotihuacan Ruins is a must-see if you're into Mexican history. The Teotihuacan Pyramids are located in the pueblo magico of San Juan Teotihuacan and was estimated to be constructed in 200 AD.
By car, the pyramids are about 70 minutes from the city center and can easily be accessed by a tour (typically 9 hours long) or on your own via Uber or Cabify.
We used Uber so that we could leisurely explore the ruins and it cost us $34 USD to get there and only $17 USD to get back to Mexico City. Make sure you bring water, a hat, and sunscreen. There is no shade there and expect to spend around 3-4 hours walking to and around to the different pyramids.
Afterward, we highly recommend dinner or lunch at La Gruta, an upscale Mexican restaurant serving post and pre-Columbian dishes in a cave setting. It's super cool! Reservations are highly recommended as the restaurant books up quickly.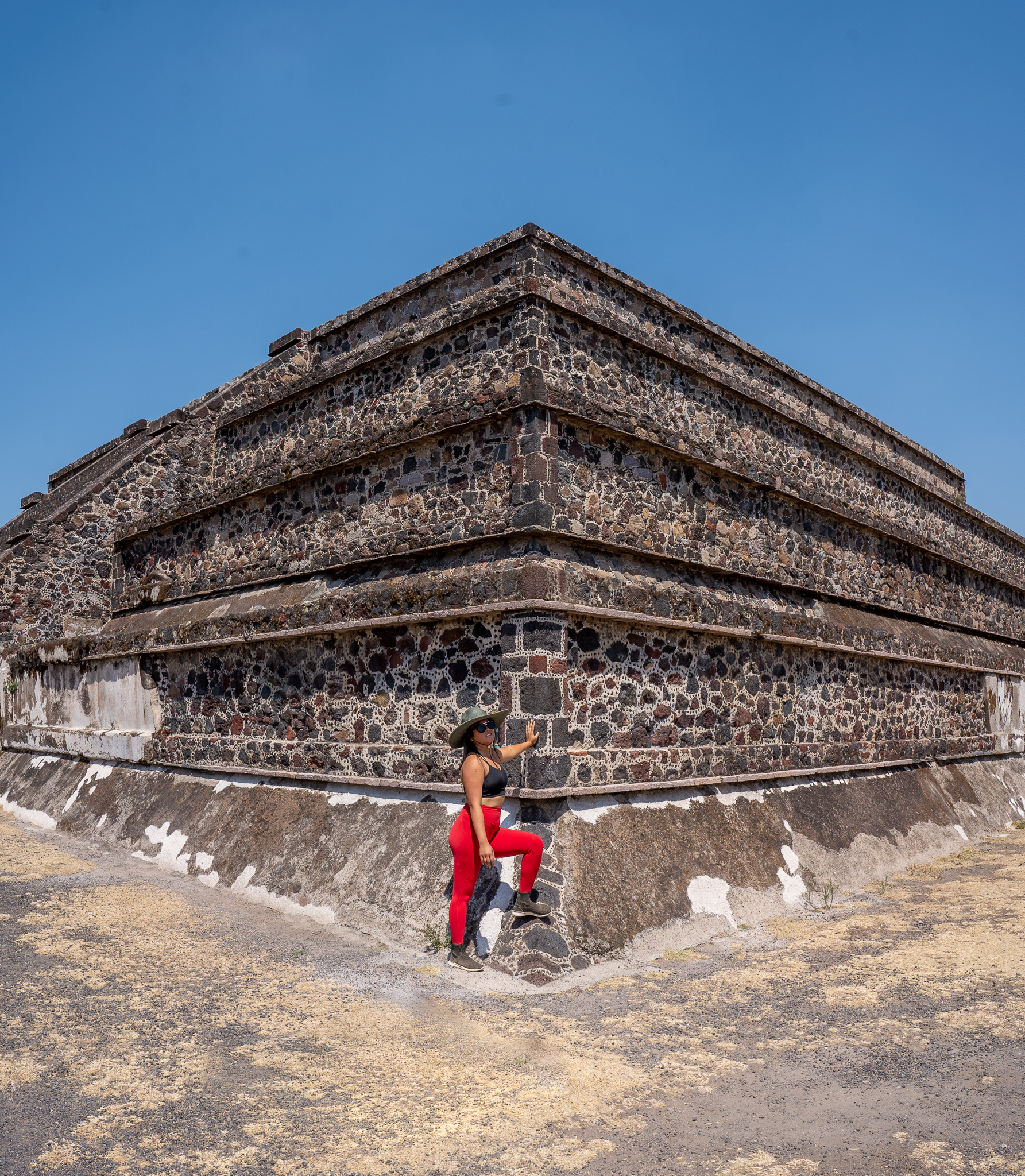 #2 Xochimilco
Xochimilco is a UNESCO world heritage site that is often referred to as the Venice of Mexico.
A visit to Xochimilco involves taking a tour of its canals onboard a colorful trajinera (raft). During the ride, you can try Mexican snacks and drinks and even visit the famous and mysterious Axolotls (pink and black amphibians).
Nearby is the island of the dead dolls. Visit it if you dare!
#3 Hot Springs in Tolantongo
Las Grutas de Tolantongo (pronounced toe-lawn-tong-go), AKA Tolantongo caves, is one of the most Instagram worthy places in Mexico. It is an amazing Mexico City day trip — but only if you go with a group tour — otherwise you'll have to stay the night at a Tolantongo hotel or the Tolantongo campground.
This turquoise water playground sits at 4,200-feet (1,280m) above sea level in Mezquital Canyon in the state of Hidalgo, Mexico. This state is not very popular with tourists, which is a shame because Hidalgo is safe and has many other amazing places, like Pachuca, Huasca de Ocampo and Tula de Allende.
#4 San Miguel de Allende
#5 Huasca de Ocampo (Basaltic Prisms)
Huasca de Ocampo, Mexico, is located in Hidalgo state, about two hours from Mexico City by car.
This magical place is known for their pottery and 16th-century Iglesia de San Juan Bautista, which honors the town's patron saint, John the Baptist.
While here, you have to visit the Prismas Basálticos. It's a towering rock formation with waterfalls fed by the Presa San Antonio dam. It looks magical and stunning!
#6 Pachuca
Pachuca de Soto, Mexico, is the capital of Hidalgo state, located about 90 minutes from Mexico City by car.
When looking for places to visit outside of Mexico City that offer a more local and authentic experience, Pachuca de Soto, usually just called Pachuca, must be on your list. History, colors and culture are three things this city is not short of, so get your camera ready to capture your favorite scenes.
Located in a small valley, Pachuca (pronounced pa-choo-kah) is noted for three things: its charming fluorescent-colored buildings, a UNESCO World Heritage Site, and the picturesque City Center.
#7 Tlaxcala (Mexico Firefly Sanctuary)
Tlaxcala, Mexico, the smallest state in the country, is located about two hours from Mexico City by car.
About a half-hour drive from the city center is Tepotzotlán. This tongue-twister of a city is often confused with the arguably more popular, hippy-influenced village of Tepoztlán, Morelos. However, Tepotzotlán is just as worthy a day trip and in fact has some incredibly cool sights: the Xalpa Aqueduct, built in the 18th century, is a key one, although the historic center also has some fantastic offerings. The Jesuit church in particular is one of the most striking examples of New World Churrigueresque architecture.
#8 Puebla
Close to Cholula is Puebla, the fourth-largest city in Mexico. With 1.4 million residents, Puebla is bigger than Cancun, Acapulco, Tijuana, Puerto Vallarta, and Oaxaca. It's a cool day trip from Mexico City, as you can spend a day checking out the shops, restaurants, and attractions such as the fancy Baroque Museum.
What to Eat in Mexico City
Amaya – Come here for traditional Mexican cuisine.
Azul Historico – Azul Historica is located in Centro and is a popular spot for Mexican cuisine and brunch. Their breakfast dishes are amazing and they offer freshly made blue and yellow corn tortillas. We also highly recommend getting their hot chocolate beverage. It's an experience!
Casa de Toño – They are known for their super fresh and crunchy flautas (also known as taquitos) and pozole. Try the surtido (assorted) where you'll get to taste all the different meats including organ meats.
Churreria El Moro – Great place to get churros and chocolate.
El Huequito – Come here for their mound of Al Pastor that you can then scoop into the pile of tortillas stacked on your plate.
Taqueria El Torito – Hands down the best suadero and tripa tacos in Mexico City! They're crispy, flavorful, loaded with carne, and will only cost you 20 pesos ($1 USD) a taco. It's my FAVORITE. They have multiple locations in Centro and are standing room only. You'll see people line the streets eating multiple tacos at a time.
El Vilsito – This is one of the most famous taquerias in Mexico City. Their Al Pastor is a must when you come here. Try the Gringa, a flour tortilla with cheese, al pastor meat, and a pineapple on top. Order a side of cebollitos (grilled small onions with soy sauce), for more veggies and UMAMI. You won't regret it. Expect to pay 16 MXN per taco.
Tacos los Gueros -Taqueria Los Güeros serves all sorts of tacos, but we highly recommend their tacos de tripa, slow cooked pork intestines fried and sizzling on a tortilla. Expect to pay 13 MXN a taco.
Taqueria Orinoco – This is my favorite sit-down taco restaurant. They have these amazing crunchy potatoes that accompany their larger dishes. They also deliver their food with a tray of hot sauces and lime.
Mercado de la Merced – One of the biggest and most vibrant central markets in Mexico City is Mercado La Merced, and you'll find a bedazzling display of all things Mexican food. Take a walk in the food section for a culinary adventure that you'll never forget. Address: Calle Rosario s/n, Merced Balbuena, 15810 Venustiano Carranza, CDMX, Mexico
Parole – Visit this upscale Italian restaurant in a gorgeous glasshouse setting.
Lorea – Fine dining establishment by Oswald Oliva. His 8 course experience is only $90 USD (1800 MXN) and so worth it! Reservations are recommended.
Los Callejeros – A taco joint near the Zocalo that serves delicious and filling tacos.
Pho King – Surprisingly the pho here was good. Prices are about the same as in the USA. We highly recommend getting the brisket pho. You'll have to ask for fresh veggies because their pho does not come with it on the side.
Pujol – Fine dining establishment by Enrique Olivera who was featured on Chef's Table on Netflix. The food here is an upscale take on traditional Mexican cuisine. We loved their Mole Madre dish with blue corn tortilla and baby corn with ants. And their dessert service is also an experience you should not miss! Make sure to make reservations months before you arrive. The restaurant is always packed!
Quintonil – This is our favorite restaurant in CDMX. It's pricey by very worth it! Make sure to make reservations months before you arrive. Their space is tiny and always packed with business diners.
Tizoncito for Al Pastor Tacos – This Condesa taqueria claims to have invented the al pastor taco in the 1950s. While that's unlikely, Tizoncito does have some of the best al pastor tacos in Mexico City. Thinly-sliced and marinated pork is topped with raw onion, fresh cilantro, and a sliver of sweet pineapple.
Barrio El Tepito – You might be warned by many to not go to El Tepito neighborhood (barrio), but if you dare, you'll find a ton of amazing street food vendors. We recommend going during the daytime and trying everything you see. The food is so good here!
Related: Best Restaurants in Mexico City
Where to Drink in Mexico City
Back Door Bar – Also known as Brooklyn Rippers, this bar serves Italian fare and offers up some consistently delicious craft cocktails. You enter through a storage room door into a cozy den with sofas and an open roof. If you're sensitive to smoke, you may want to avoid this place, otherwise, it's worth it!
Cityzen – I trust any place with 3 different types of carajillos (coffee cocktails). This rooftop bar located on the 38th floor of the Sofitel hotel surprised us with its views and craft cocktails. You'll need to make a reservation or stay in the hotel (just give your room number) to access the rooftop bar.
Fifty Mils – Located in the Four Seasons Hotel in Mexico City. I felt this cocktail bar was just OK. The cocktails tasted good but were not the best I've had in Mexico City. It's still worth a visit if you're looking to try local craft cocktails in an interesting setting.
Handshake Speakeasy – We serendipitously found this World's Top 50 Bars speakeasy while we were staying at the NH hotel! The entrance is marked with the number 13 and it's open every day. Reservations are highly recommended because the space is small and they are always packed. The entire staff consists of experienced bartenders who change roles with each shift so that everyone gets a turn at the bar. The drinks were by far the most creative and interesting for us. We highly recommend the Caprese, Matcha Dame Blanche, Pina Colada, and the Butter Mushroom Old Fashioned.
Hanky Panky – Another World's Top 50 Bars speakeasy with an unforgettable food and beverage menu. Hanky Panky is cool because you'll enter through the back and leave through an unexpected doorway. Reservations are highly recommended in this 40-seat establishment. And while you wait, you can throw back a beer in their restaurant waiting area. We highly recommend trying the Caraivo, a milk-washed coffee cocktail that will leave you speechless.
Licorería Limantour – Another award-winning cocktail bar in CDMX that you should definitely try. Their cocktails are on par with Hanky Panky.
Parker & Lenox – A music and cocktail bar with amazing drinks and great Jazz music.
Phone Bar – Located in Hotel Geneve, this is a great bar for having a casual drink in Zona Rosa. The prices are great and the hotel offers daily tours.
Pulqueria Insurgentes – Pulque lovers rejoice! Come here to try a wide array of pulque, a fermented agave beverage. They have tons of flavors to choose from a lively nightlife including a live band.
Xaman Bar – Ahhhh! This was an unexpected Surprise. Make sure to make reservations otherwise they will seat you at their really uncomfortable bar area.
Visit the speakeasy cigar bar! The 3rd floor of Molière 48 houses one of the most mysterious floors in Polanco. There is a red telephone booth, that with the correct number code (cigar), opens a door onto a terrace that leads to a rum, whisky and cigar heaven. The sign on one of the walls reads, "Gentlemen you may smoke"; in the specific smoking room, they sell cigars from brands like Vegas Robaina de San Luis, Flor de Las Antillas, Toro Gordo, Cohiba and many more from various tobacco brands from all over the world. If your bank balance is big enough, ask for a private cellar to store your purchases.
Mexico City Travel Guide MAP
Use our CDMX travel guide map when you visit. Simply open this link and follow the destinations on your phone.
If you found our Mexico City travel guide helpful, please share it on Pinterest. Thanks for your support!

---
Thank you for visiting today! If you found this encouraging or informative, please connect with us on Instagram, Youtube, Pinterest, Facebook or Twitter. We'd love to meet you!
Sign-up for our monthly newsletter for updates and more. We promise we won't spam you! Feel free to unsubscribe anytime.
For more fitness fashion discounts and offers, please visit our Fitness Instructor Discounts + Brands Directory or favorite brands coupon codes list.
If you're a brand and want to submit a product for us to review, please use this form to get in touch.
This site uses affiliate links. Clicking on or purchasing via an affiliate link may result in commissions for us which help keep the content flowing and lights on at Schimiggy Reviews. You may read more about this in our privacy policy.