Reading Time:
7
minutes
Updated: 4/15/2020 | Lorna Jane Review

About Lorna Jane
Lorna Jane is a women's activewear company based out of Australia. Lorna Jane, who is also the owner an creator of the brand, debuted her sportswear line in 1991. She also first coined the term "activewear" in 1989 when she was in the process of creating the brand.
The
Lorna Jane
logo started out with a single icon (a mesh of the letters L and J). Within two years it evolved to three representing the daily practice of
Move Nourish Believe
. Lorna's belief was that by placing the three icons on all
Lorna Jane
garments, it would inspire the women who wore the product to:
MOVE THEIR BODIES EVERY DAY
NOURISH FROM THE INSIDE OUT

BELIEVE ANYTHING IS POSSIBLE
There are now more than 200 Lorna Jane stores across Australia and the United States, as well as stockists in Europe, the UK, Africa, Asia and the Middle East. Check out this awesome timeline to see how far Lorna Jane has come!
Lorna Jane Review: Leggings + Sports Bra + Tank Top
The first time I EVER tried Lorna Jane leggings was in 2012. I was turned off by how thick and compressive their fabric was. There was barely any give in the pants unless I sized up. I tend to go toward fabrics that have compression but are light and breathable. I stuck to wearing only LJ tanks and bras at first. The sport bras had awesome push up removable pads for a major cleavage boost!
I decided to give Lorna Jane leggings another try more recently after noticing their olive green Flexion Core Ankle Biter Tights in the window. It looked stunning on the mannequin so I figured I'd try it on for size. It might make me look stunning too!
Into the store I go! In their most recent collection in 2016, I found a matching bra and a cute navy tank top with straps. And voila, I had put together a complete LJ outfit inspired by Pacific Northwest (PNW) living. I'm absolutely in love with the ensemble!
Below is our Lorna Jane review for each of the following items.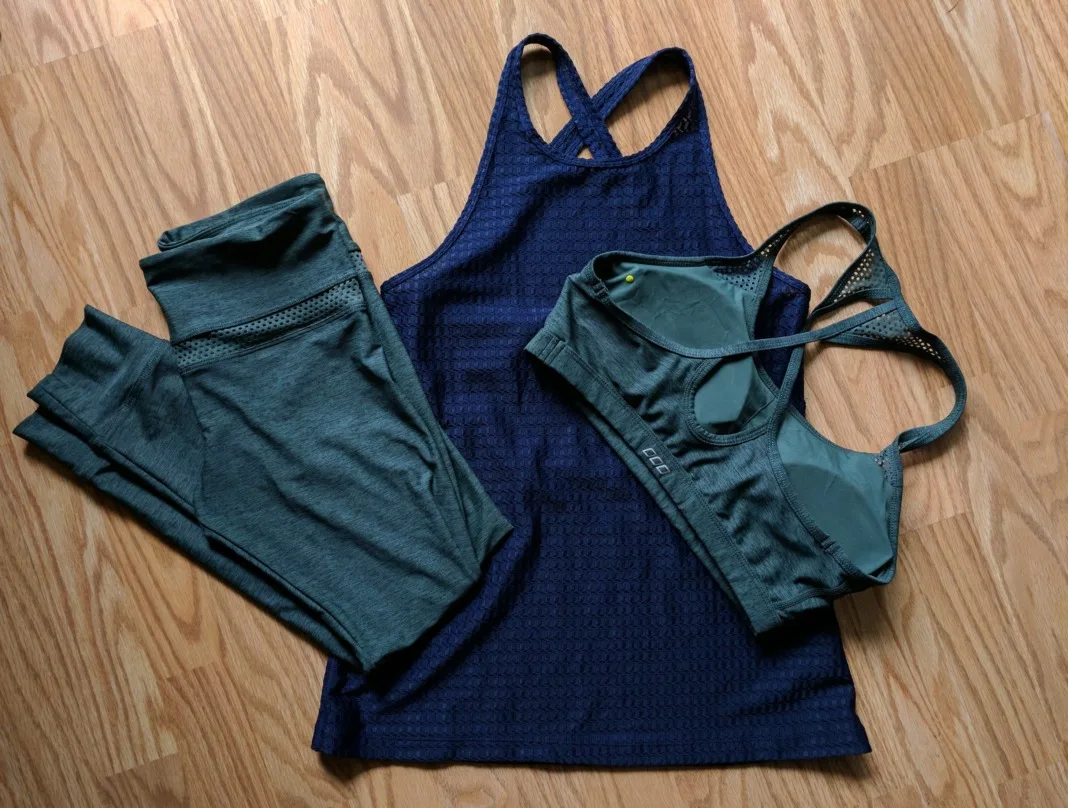 #1 Size: LJ offers sizes ranging from XS to XL. After feeling the material of the pant, I decided to try on a size Small. It fit snugly. I also tried but the medium but needed more compression.
After two wears, the size Small fabric began to give and now it fits perfectly! I would advise trying on both sizes and then determining if you want a more compressive or looser fit. I am a size 6 in lululemon for reference.
#2 Style: I am focusing on the ankle biter length legging in this review. LJ offers shorts, capri/crop, ankle biter length and long length leggings.
#3 Inseam: 27″ inseam and ends an inch above my ankle, giving my ankles some breathing room.
#4 Rise: My leggings are high rise and sit 1″ below the belly button.
#5 Waistband: My flexion leggings offer a tall waistband measuring 3.5″. The waistband is also reinforced with active core stability to shape and smooth key areas. This prevents muffin top and any issues with sagging bottoms. I also love the seam at the top of the waistband, which in my experience usually means that leggings will stay in place.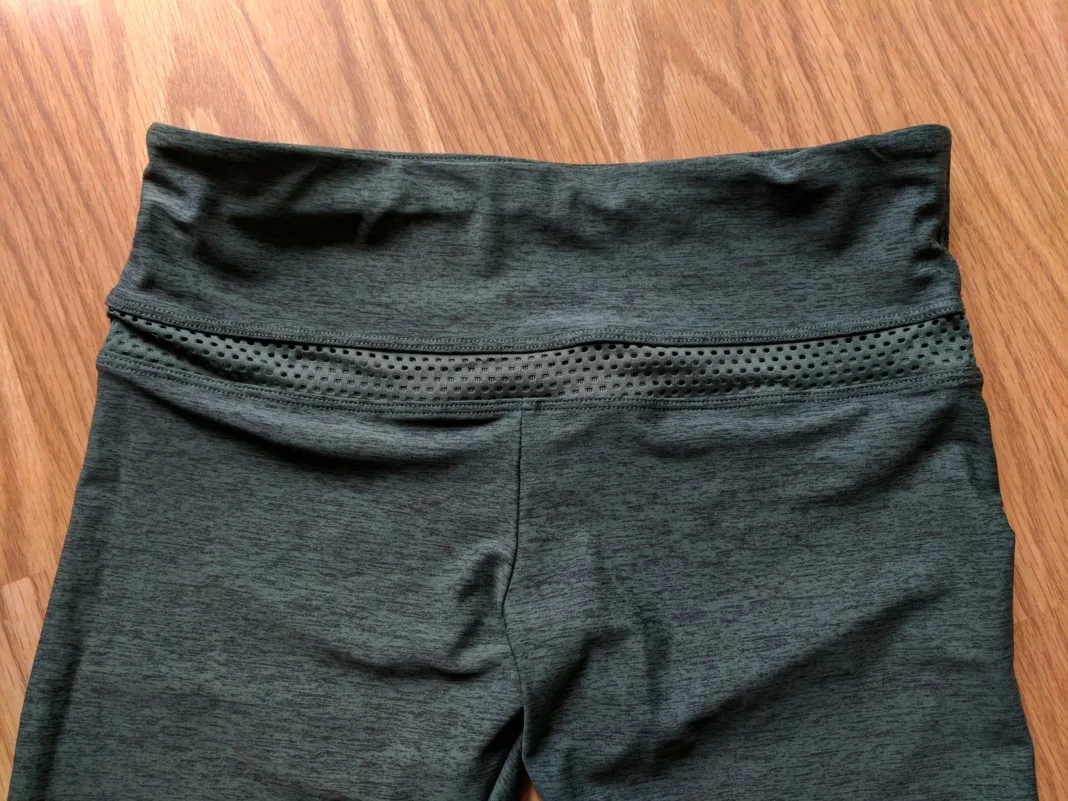 #6 Fabric:
Made with LJ Excel™ fabric giving you a smooth and silky feel.
Fabric does not pill!
100% opaque and not white backed.
LJ Excel fabric is moisture wicking and breathabl, keeping you cool and dry!
LJ promises their fabric is shrink and fade resistant.
4-way stretch for easy movements
Fabric is quick drying and lightweight.
One waistband pocket at left hip.
Lorna Jane logo on back
Waistband comes with elastic band for a stay put fit.
#7 When to Wear: Lorna Jane makes clothing for any occasion, exercise and sport because she herself does it all. LJ offers varying levels of support for women of all body shapes and sizes.
#8 Cost: The Flexion Leggings cost $106 as do most of their leggings. Sometimes they will offer a FREE pair of leggings if you purchase $300 or more in-store and online. Sign-up for their email notifications if you want to be updated with current offers.
#9 Gusset: LJ leggings come with a + shaped gusset made with overlocked seams.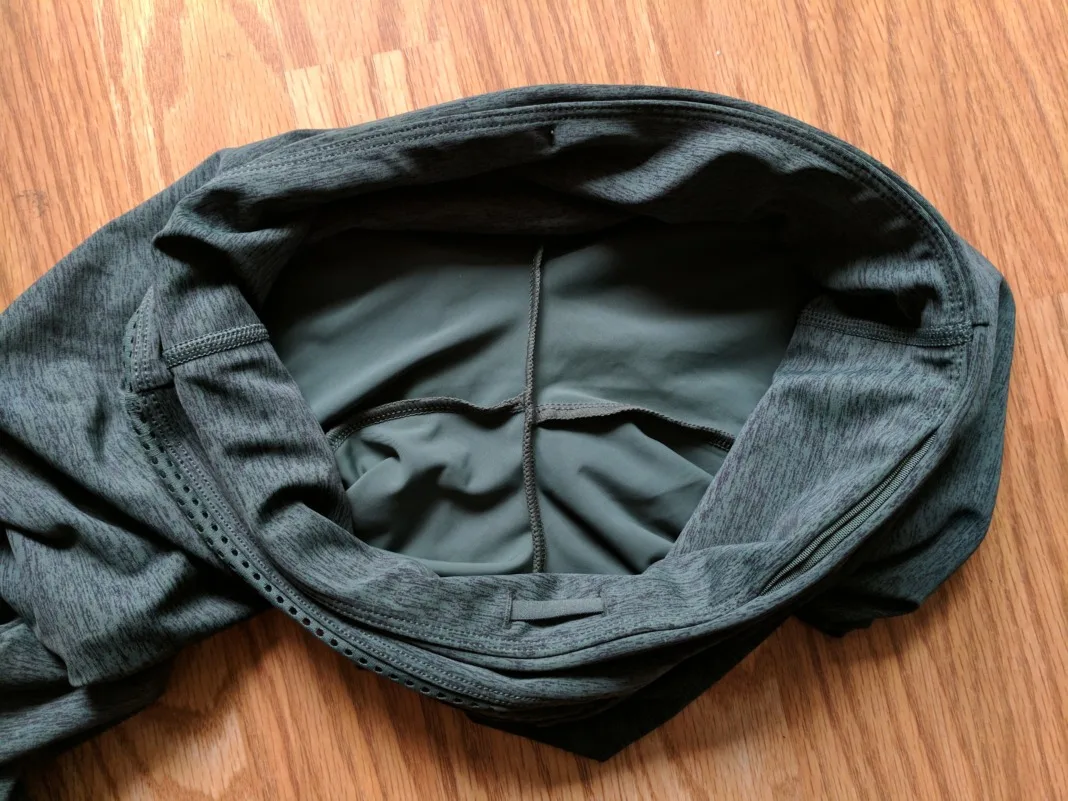 #10 Stitch Seam: My Flexion Core Leggings are sewn together with overlock stitches.
#11 UPF Protection: LJ's fabrics offer SPF 30+ protection!
#12 Made in CHINA. Their manufacturing partner is a WRAP (Worldwide Responsible Accredited Production) certified business and ensures that all sustainable and ethical business practices are upheld.
#13 Care Instructions: Machine wash cold without bleach or fabric softener. Hang or lay flat to dry afterwards. The fabric LJ Excel fabric is quick drying. For more care instructions, visit their site here.
At first glance, I was not impressed with this tank on the racks. I have a scar on my chest so I figured I'd try it anyway to cover my scar (not that I really care to cover it but sometimes it's nice be a little more conservative in my down dogs. I was blown away by the try on. The front was simple, but the back of the tank was stunning! The way it lined up with the band of the Flexion Sports Bra looked very sexy and unique. This tank comes in two colors but only the navy is available. I am fond of all of JL's tank tops but one can only own so many!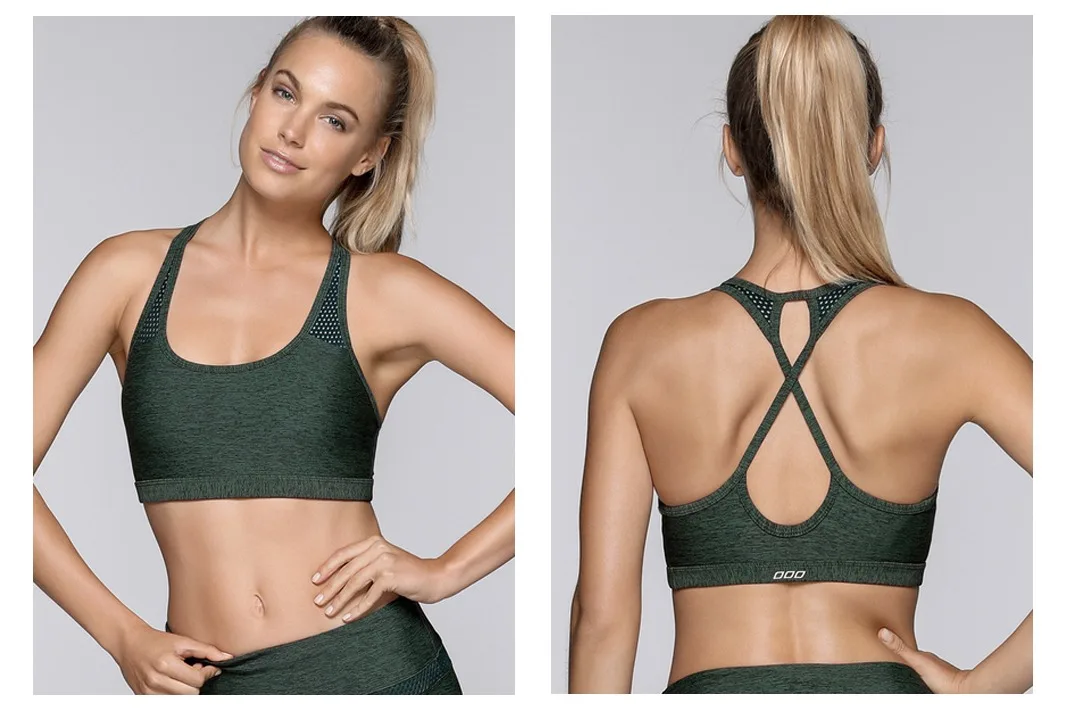 LJ made a top to match the bottoms I bought! I am a size 8 in Lululemon and bought the Flexion Sports Bra in a size Medium. What I love most about Lorna Jane sports bras are their push up bra pads. The LJ Active fabric is smooth and silky feeling, making it quick drying as well. This bra is designed for high-intensity workouts, but I also wear it casually. I wore it for my trip to Machu Picchu and it proved to be comfortable yet functional. The fabric is dry wicking, which was helpful during the downpours on the mountain.
And ALL THE INSPIRATIONAL PRINTED TANKS
YES! Buy all their inspiration tanks! Here are a few of my current faves! I also have one that says "Yay Mondays!" The eternal optimist is me is shining through each time I wear it.
Should I Buy Lorna Jane?
Absolutely! I love how creative and flatteringly sexy LJ's designs are. I love that I am able to wear them to different environments and workouts as well. I can easily see myself wearing this outfit onto my paddleboard.
I do wish they had a gusset of any kind just so that I am not freaking out about my crotch seam ripping. So far it hasn't occurred (crossing fingers)!
LJ's price points are high but the quality and design of each piece is definitely worth it! LJ offers sales all the time, so it might be worth it to visit the store once in a while to check out markdowns and any in-store offerings. Lorna has been in the game since the late 80s and I believe she knows what she is doing in terms of creating effective and gorgeous activewear. I would even go as far to say that the quality of LJ is far superior to Lululemon.
Lorna Jane Discounts and Coupon Codes
Lorna Jane rarely offers discount codes, but they do offer additional 20-30% off of sale items online and in-store form time to time. They also have warehouse sale events and an awesome Swap Shop program.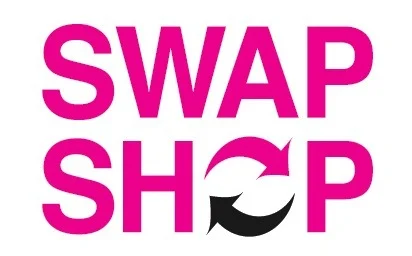 The Swap Shop invites shoppers to donate up to 3 used pieces of athletic wear in return for $5 credit for each item. That's $15 off your next purchase! You can take advantage of this discount once per day. The $15 can only be applied towards regular priced items. All items are donated to the Salvation Army.
Lorna Jane also offers 20% teacher discounts and a V.I.W loyalty program. Simply spend $300 or more in one transaction and automatically enroll into their VIW program. The program offers 10% off all purchases as well as free shipping online. Memberships are assigned to your account within 7 days and your benefits will apply automatically.
If you buy directly from Lorna Jane, they have an exchange only policy. If you're new to LJ, try buying from other retailers who offer returns. I have been wearing LJ for quite some time and feel comfortable shopping directly from them.
Where to Buy Lorna Jane
You can buy Lorna Jane activewear from the following retailers:
I look forward to seeing more LJ in my and your closets! Let me know what you think in the comments section.
If you enjoyed our Lorna Jane review, please share it on Pinterest. Thank you!
---
Thank you for visiting today! If you found this encouraging or informative, please connect with us on Instagram, Youtube, Pinterest, Facebook or Twitter. We'd love to meet you!
Sign-up for our monthly newsletter for updates and more. We promise we won't spam you! Feel free to unsubscribe anytime.
For more fitness fashion discounts and offers, please visit our Fitness Instructor Discounts + Brands Directory or favorite brands coupon codes list.
If you're a brand and want to submit a product for us to review, please use this form to get in touch.
This site uses affiliate links. Clicking on or purchasing via an affiliate link may result in commissions for us which help keep the content flowing and lights on at Schimiggy Reviews. You may read more about this in our privacy policy.