Reading Time:
17
minutes
Updated: 2/26/2022 | Cappadocia Travel Guide
Disclaimer: We received complimentary tours from Voyager Balloons and Kapadokya Dayim to include in our travel guide. As always, all thoughts and opinions are 100% our own and honest.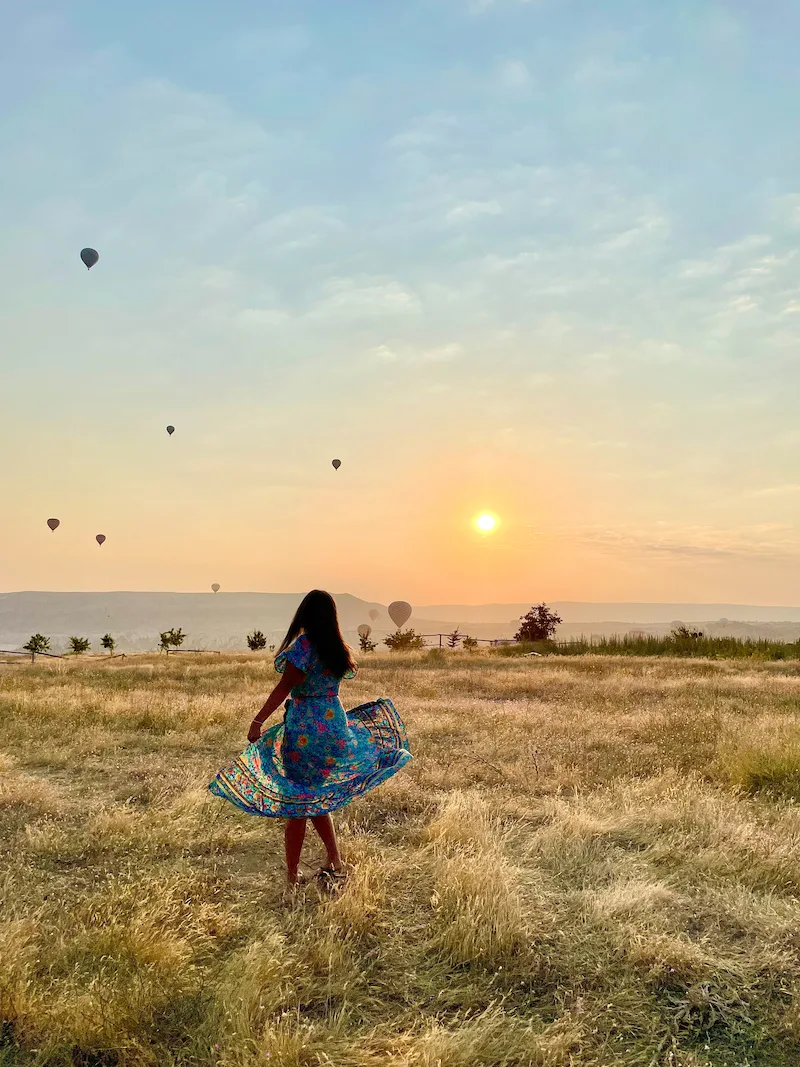 Cappadocia, or Kapadokya, is a World Heritage UNESCO site filled with dreamy, out-of-this-world landscapes. Seeing this Star Wars like destination has been on our bucket list for a very long time. We were so stoked to finally get a chance to see it.
About Cappadocia
Historically, Cappadocia Turkey is known for being the location where Christians settled during the Hittite era (1800 through 1200 B.C.) and sought refuge from the hostile prosecution by the Roman Empire. While seeking refuge in the area, they carved thousands of houses, churches, monasteries, and even pigeon caves into the limestone mountains, thus creating Cappadocia's fairytale landscape that millions flock to explore each year.
Situated in central Turkey, Cappadocia is unlike any other destination I have been to. Its unique landscape of mushroom-capped fairy chimneys, cave houses, rock castles, pastel-colored valleys, and historic underground cities make it a destination that you will remember for a long time.
Cappadocia refers to an entire region in Turkey. The three most popular towns include Goreme, Uchisar, and Urgup. The entire region also includes the cities of Aksaray, Avanos, Nevsehir, Kirsehir, Nigde, and Kayseri.
Our Cappadocia travel guide will cover everything you need to plan a successful trip. We'll go over the information that you need to know about Cappadocia, where to book a cave hotel, what landmarks to visit and what activities you need to do.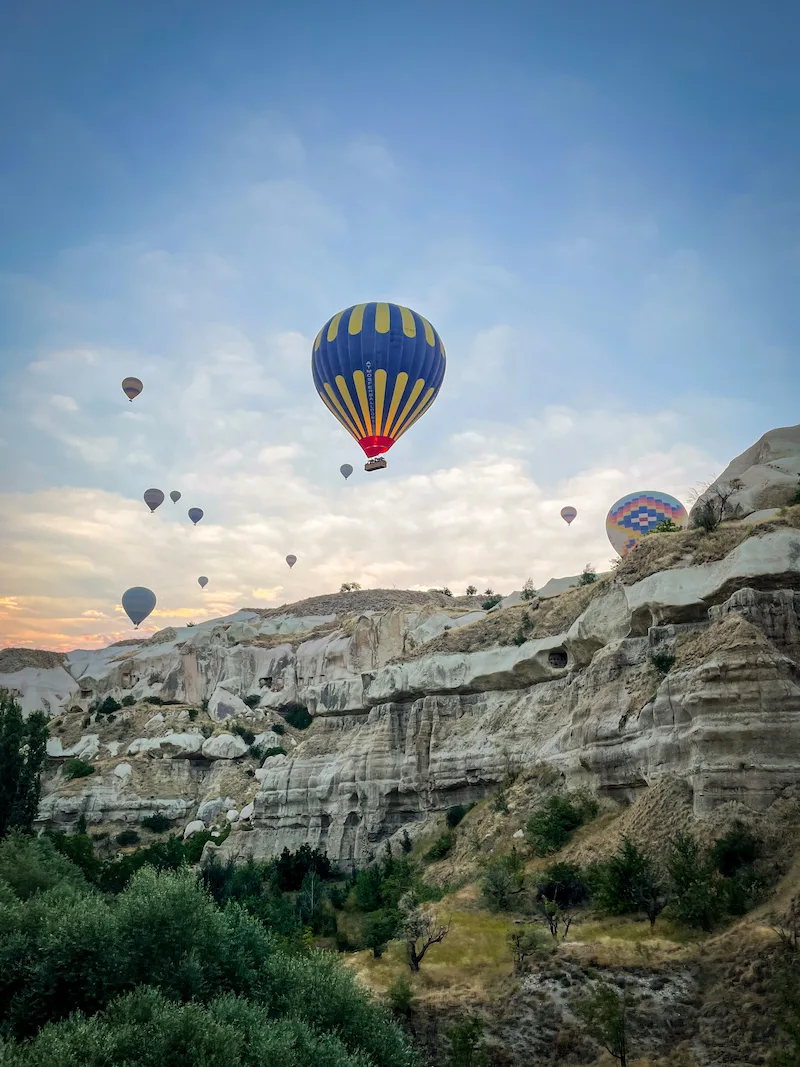 What is the best time to visit Cappadocia?
Turkey experiences hot summers and very cold winters. The busiest seasons are in July and August where it is hot during the day and very comfortable in the evenings.
If you want to avoid the crowds, go during less busy months known as the shoulder season, meaning either Spring or Autumn (April, May, and mid-September through mid-November).
If you decide to go during the winter season (December through February), here are some things you can expect:
The air temperature can drop significantly, so make sure to bring really warm clothing with you.
The winter season means more balloons cancelations. Plan to stay at least 4-5.
Prices for hotels, flights, restaurants and activities are much cheaper then usual during the low-season.
Enjoy the main touristic spots without crowds.
What languages are spoken in Turkey?
Turkish people speak Turkish. Many people in the tourism industry will speak both Turkish and English. You will find that many Cappadocia residents do not speak English fluently or at all.
What currency is used in Turkey?
Most Cappadocia establishments will accept credit cards or cash. They will accept USD, Euros, or Turkish Lira (abbreviated as TRY).
When we visited in July 2021, $1 USD was equivalent to 8 TRY.
How to Get to Cappadocia
If you are coming from Istanbul, you would have to fly into either Kayseri (the main airport) or Nevsehir. From Kayseri, it's about an hour drive to the majority of cave hotels. Most hotels will help you arrange for a transfer from the airport to your hotel in Cappadocia for 75 Lira per person.
We flew with Pegasus and Turkish Airlines while traveling in and out of Cappadocia. Our flights were very affordable and cost under $50 USD per person.
Do I need a VISA to travel to Turkey?
You will need an e-visa to travel to Turkey. It's super easy to obtain. Just apply online, pay the fee and you'll receive a download link to the document as soon as payment is made. only takes a couple of minutes. I did it on the day of departure, but I highly recommend doing it a few days prior in case you run into any mobile connectivity issues.
What Electrical Plug Type is Used in Cappadocia?
Turkey uses a 220V, 50Hz. Socket Type F. It's the socket that is indented into the wall and accepts plugs with two round prongs.
We highly recommend using this European converter by Tessan. It's super cheap and has lasted us traveling to Europe and South America multiple times.
What's the Best Way to get around Cappadocia?
There are many ways to get around Cappadocia. We highly recommend booking a tour or renting your own car to explore Cappadocia at your leisure.
Here are the ways you can explore and get around Cappadocia:
Walking – If you're staying in Goreme, you'll be able to easily access many attractions on foot. You can walk to Rose Valley and Lover's Hill (a sunrise viewpoint that costs 3 Lira on foot and 10 Lira if you decide to drive up to the viewpoint).
Rent a Car – You can opt to book a tour or rent a car and do your own tour. We recommend renting one once you are in town. It cost us 300 Lira (30 euros or $37 USD) per day when we booked in town with Hiro Travel Agency. There are also companies that rent out colorful classic cars so that you can drive around Cappadocia in style. If you decide to rent a car, you will need an International Drivers License which can be obtained through AAA.
Private Driver – The most comfortable and efficient way to explore Cappadocia is to hire a private driver. Prices for a 4-8 hour tour start at $60 USD. If you have a couple of friends joining you, this can be very economical. If your group is larger than 3 persons, you can hire a private van to get around.
Scooter – Renting a scooter in Goreme can be cost-effective for couples and solo travelers. Rental prices run about $30-$40 USD per day.
ATV – Quad biking is a fun way to see Cappadocia and the terrain is perfect for it. We recommend booking an ATV tour with HIRO Tour Travel Agency located in Goreme town. We did the sunset ATV tour for only $28 USD. ATV rentals for private use are not permitted. You can only ride an ATV on a guided tour. This rule was implemented due to fatal accidents that occurred in the past.
Group Tour – There are lots of Cappadocia group tours that you can join. These typically include hotel pickup, lunch, and a full day of sightseeing. We recommend bringing snacks and water on your tour to stay hydrated and comfortable. We took a tour with Hiro Travel Agency for only 40 Euros for the Green Tour.
Horseback – This is another fun way to go sightseeing in Cappadocia. You can find 2-hour horseback riding tours online starting at $50 USD.
Is Cappadocia Safe to Travel To?
Cappadocia is very safe to travel to. We stayed in town late at night and were able to walk around without any problems.
The only thing we found annoying was travel company operators who are male would offer us a free night ATV tour with wine and a bonfire. We agreed to a night tour with a particular company and it ended up being the male operator wanting to party with my friend and me (two female travelers). We were lucky enough to be able to get a ride back to our cave hotel before things got too uncomfortable.
Where to Stay in Capadoccia
We highly recommend staying in a cave hotel in Goreme. Goreme has over 350 cave hotels and has the best view of the balloons. The balloons come closest to the town of Goreme because it's located in the center of Cappadocia. Goreme is also super walkable and you'll find plenty of things to do when you're not exploring the rest of Cappadocia.
We stayed 4 nights in Cappadocia and were able to do everything on our itinerary with a slow day to relax and recharge at a hammam (Turkish bathhouse).
Another option is to stay in the town of Uchisar. Uchisar is a 10 min drive away and has more luxurious hotels. Uchisar is still stunning nonetheless but the balloons are a further way when they go up at sunrise. You can also split your time staying between two cities to experience both areas.
Regardless of where you stay, you are guaranteed a lodging experience like none other! Almost all the cave hotels are built into fairy chimneys and have the dreamiest backdrops with balloons and pastel-colored mountains. It's so unreal!
We also visited Avanos and Urgup but do not recommend them. They do not have interesting cave hotels and these cities start to get pretty slow in the evenings. We do recommend visiting Urgup for cheap souvenirs though.
Top Ten Cappadocia Hotels
Here are our top 10 hotel picks in Cappadocia. We aimed for centrally located cave hotels in Goreme town with amazing rooftops with plush couches, pillows, breakfast, and more!
We recommend booking one to two months in advance because cave hotels have a limited number of rooms and sell out very quickly.
We created a list of our favorite Cappadocia hotels here.
What to Do and See in Capadoccia
Cappadocia is packed with things to see and do. We highly recommend trying both a tour and renting a car to explore on your own so that you get a feel of what both experiences are like.
Cappadocia Tour Packages
Most tour companies will offer tour packages that include the Red and Green tours, which are most popular. There is also the blue and gold tour, but that will require a private driver and are not as popular.
Here is a map that shows you what destinations are included in the different tour packages. We recommend saving this image on Pinterest for referencing later.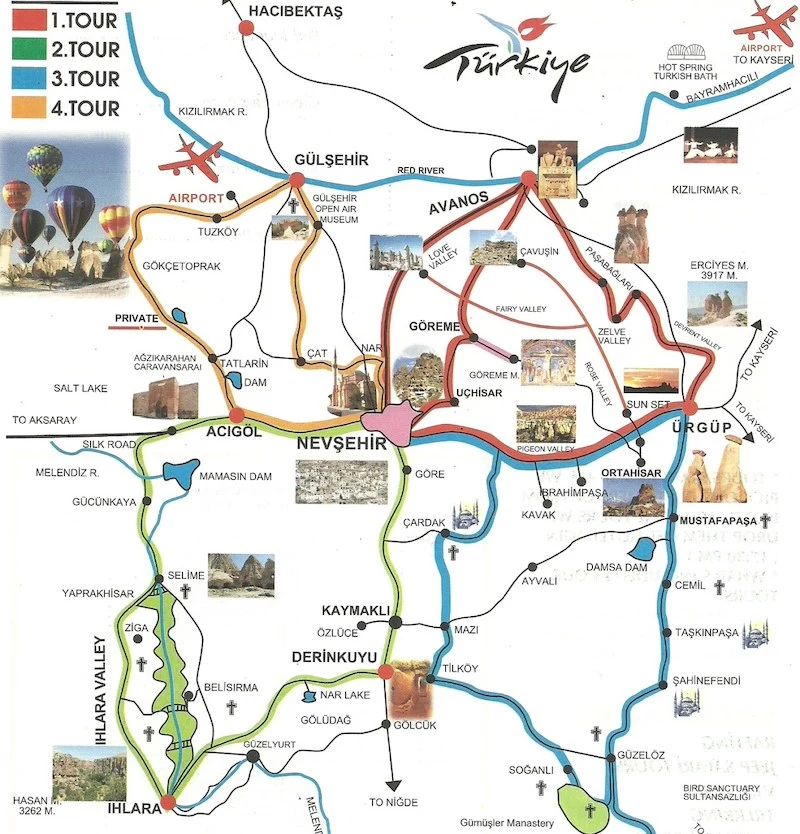 Below are activities we highly recommend doing while in Cappadocia.
#1 Take a Hot Air Balloon ride
If there is one thing you MUST DO, it's a hot air balloon ride in Cappadocia. Hot air balloon tours are held 365 days a year when the weather permits. Departure points and routes of the flights may vary depending on the weather and who your balloon conductor is.
If it is too windy, which happened on one of the four days we were in Cappadocia, the balloons will not be permitted to go up. The good thing is that the next day if balloons are permitted to take flight, the sky will be filled with them! This makes for a pretty backdrop on a cave hotel balcony. We had friends who were unable to make their balloon rides because it was too windy throughout their entire trip and all balloons were canceled. We highly recommend staying in Cappadocia for at least 3 days to ensure you can make it up in a hot air balloon.
You'll be able to see Urgup, Goreme, and Avanos and all the beautiful pastel landscapes from above. The balloon rides are approximately 1 hour long and if you're lucky, you'll go up before sunrise. At the end of your ride, you'll get a champagne toast and hopefully walk away with new friends!
We highly recommend booking with Voyager Balloons. They have the most comfortable baskets and we were the second balloon to go up on the day we took flight.
And if heights aren't your thing, you can have the best views of the hot air balloons in the town of Goreme. In the summertime, expect to be on the balconies around 5 AM to catch the balloons as they rise into the air around sunrise at 5:30 AM.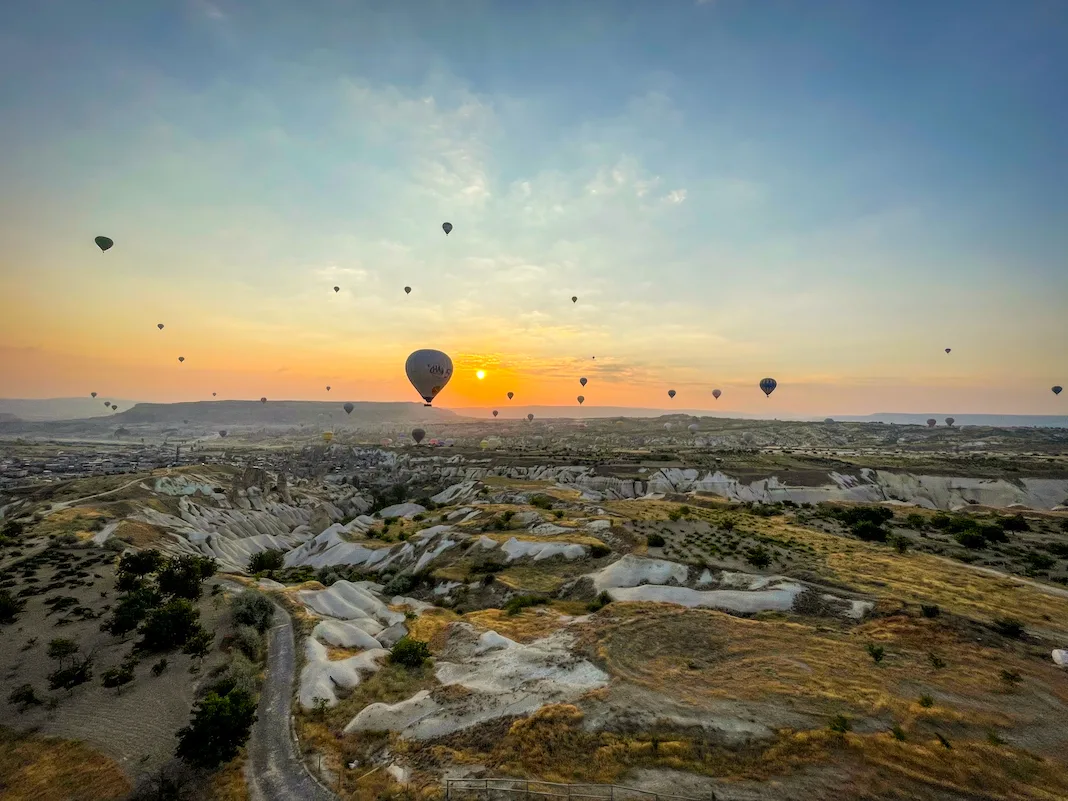 #2 Devrent Valley (Imaginary Valley)
This is a valley with many uniquely shaped natural rock formations. They remind me of Hershey's Kisses!
Some of them look like the typical chimney rocks, while others are shaped like animals or people. The most popular formation is Camel Rock which gets its name from the two humps shapes that resemble a camel.
Devrent Valley is part of the Cappadocia Red Tour.
#3
Monks Valley (Pasabag)
As the name implies, Monks Valley was inhabited by monks in ancient times who carved their own homes and windows into the steep chimney-shaped rocks.
This stop is included on the Cappadocia Red Tour.
#4
Love Valley
This valley gets its name from the natural penis-shaped rocks. There are a bunch of short and easy trails in the valley if you wish to hike it.
We took a sunset ATV tour and even took some photos on the Instagrammable swings provided by Ask Vadisi Salincak Cafe with the phallic rocks in the background.
Love Valley is also part of the Cappadocia Red Tour.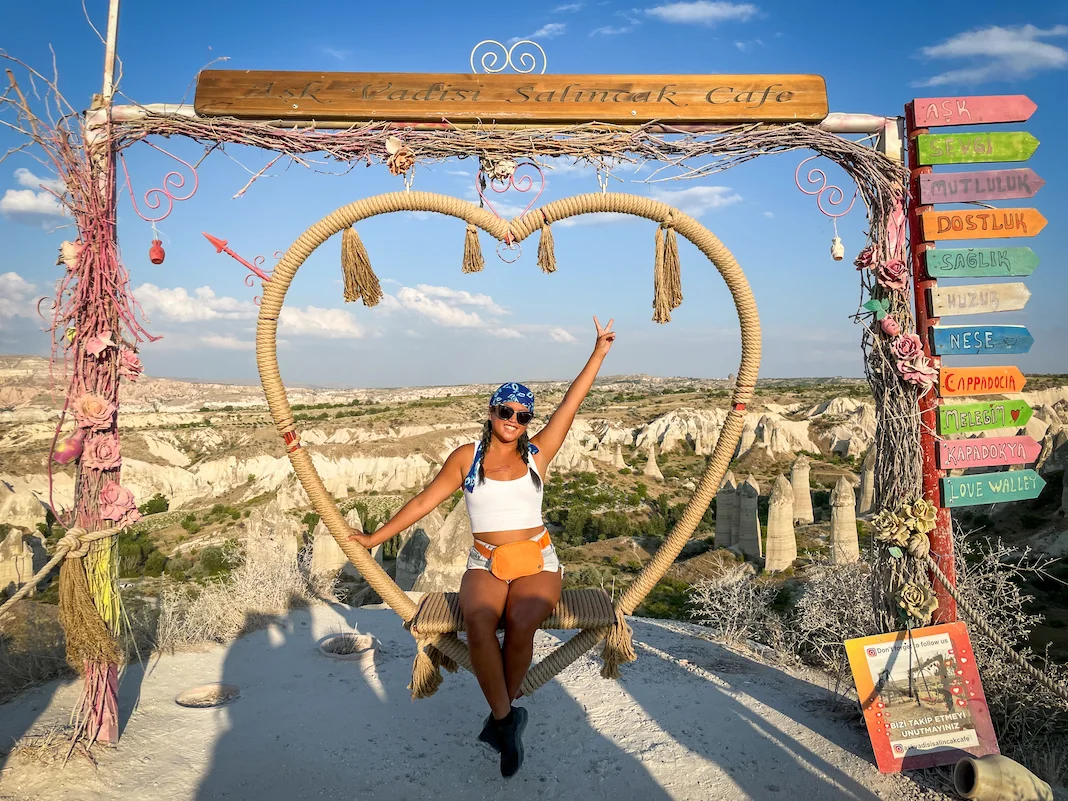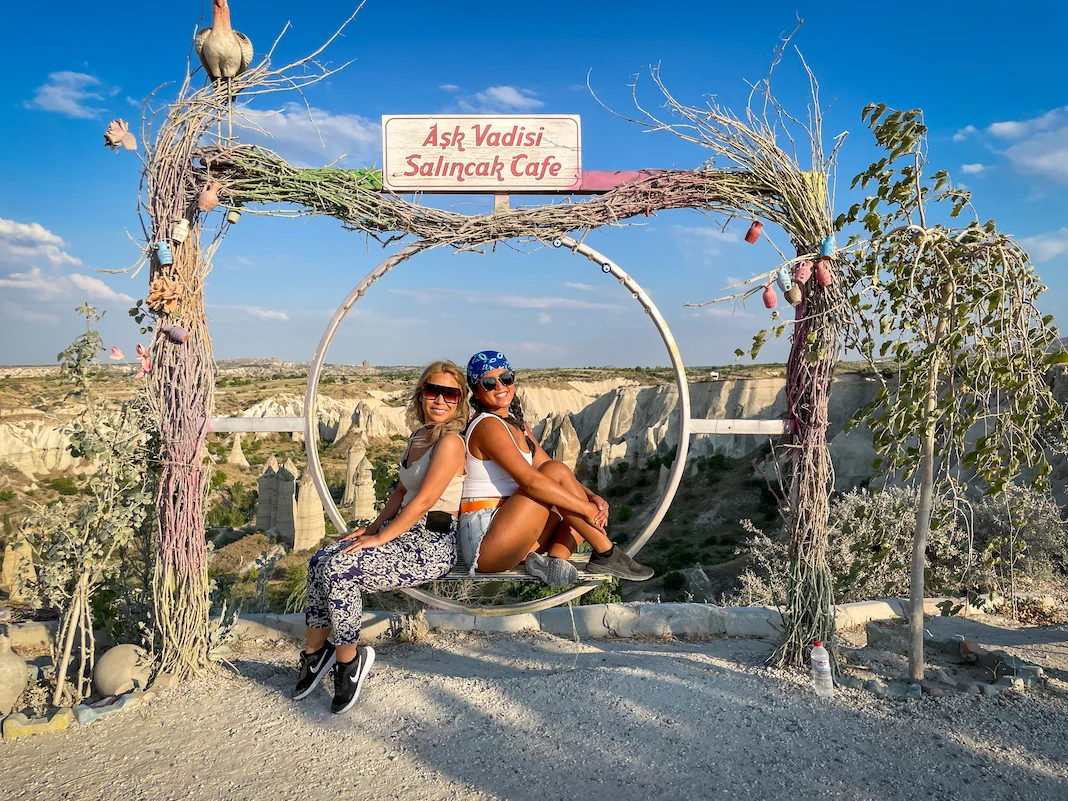 #5 Goreme Open Air Museum
This area is full of cave churches from the 11th and 12th centuries. You can go inside them and check out some of the awesome frescoes.
The Goreme Open Air Museum is part of the Cappadocia Red Tour and you'll typically have one hour to spend exploring this destination.
#6 Zelve Open Air Museum
Zelve is another open air museum that is typically visited when you see Pasabag because the ticket to Pasabag also includes entry into Zelve.
We recommend going on your own to visit Zelve because it is not part of any tour packages. You can also visit Pasabag for a second time while you're at it. The cost to enter both sites is 25 Lira.
#7 Uchisar Castle
Uchisar is a town just southwest of Goreme. Its main landmark is a 60-meter tall castle mountain that was carved into the rocks.
It's the highest point in Cappadocia Turkey and you can get some awesome panoramic views from the top of the tower.
Uchisar Castle is part of the Cappadocia Red Tour. If you decide to visit this location on your own, we recommend driving up to the plaza and paying for parking, and walking up to see the castle. You'll have to pay an entry fee to ascend to the top of the castle.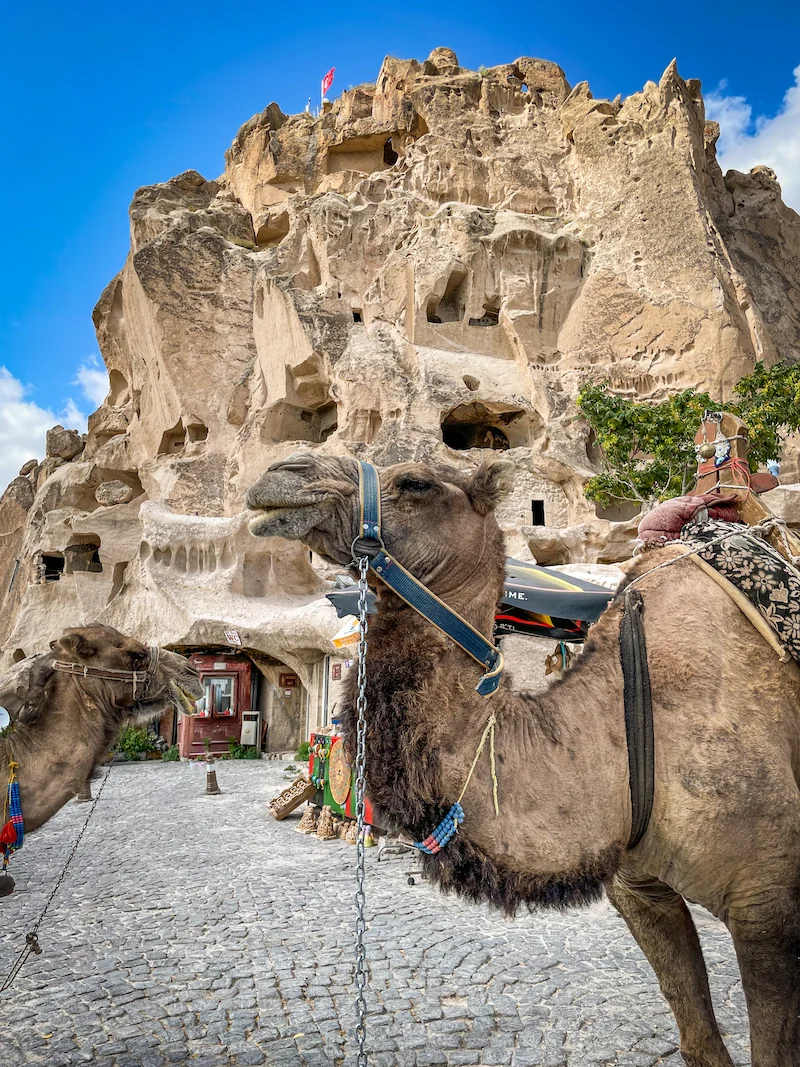 #8 Derinkuyu Underground City
There are 36 underground cities in Cappadocia and the widest one is Derinkuyu.
Derinkuyu is 85 meters deep in the ground and it has stables, storage rooms, churches, a tomb, a wine-making room, and thousands of ventilation ducts that help keep fresh air flowing through the underground city. The city was once home to over 20,000 people along with their livestock. It's super fun to explore how people lived during that era.
You should exercise caution when visiting. Some tunnels are very narrow and low. If you are claustrophobic, this attraction may not be for you.
Derinkuyu is part of the Cappadocia Green Tour. Some tour companies may go to Kaymakli underground city instead. Kaymakli is the deepest underground city while Derinkuyu is the widest.
You can also take a local bus from Goreme to Derinkuyu Underground City and includes one transfer and will take approximately 45 minutes.
#9 Ihlara Valley
This is a 100-meter deep valley formed by the Melendiz River. It's a nice day tour where you can leisurely hike and get lunch at the cafe along the river or at the end of the hike when you exit the valley.
At one time, this valley was home to 80,000 people, and thousands of their cave houses and churches can still be visited in the rock walls.
The Ihlara Valley trek is also part of the Cappadocia Green Tour. We recommend visiting in the Fall season (mid-October) where you can see gorgeous gradients of red, orange and yellow fall colors throughout the valley.
#10 Selime Monastery
This is the largest religious structure in the Cappadocia area and is reminiscent of a Star Wars set. You can explore the inside of most of the buildings which date back to the 8th or 9th centuries.
The Selime Monastery is part of the Cappadocia Green Tour.
#11 Pigeon Valley
This is a great hiking valley near Uchisar with lots of easy walking trails that wind through the chimney rocks and cave houses.
The chimney rocks were carved out by humans and turned into pigeon houses. They used pigeon manure to fertilize the farmlands in Cappadocia. The pigeons would nest in the chimney rocks and their poop would be collected for farming. You can easily spot pigeon rocks by the multiple holes carved into the rocks and looks like Swiss cheese.
Pigeon Valley is the first stop on the Cappadocia Green Tour. You can also see the pigeon rocks during a hot air balloon ride.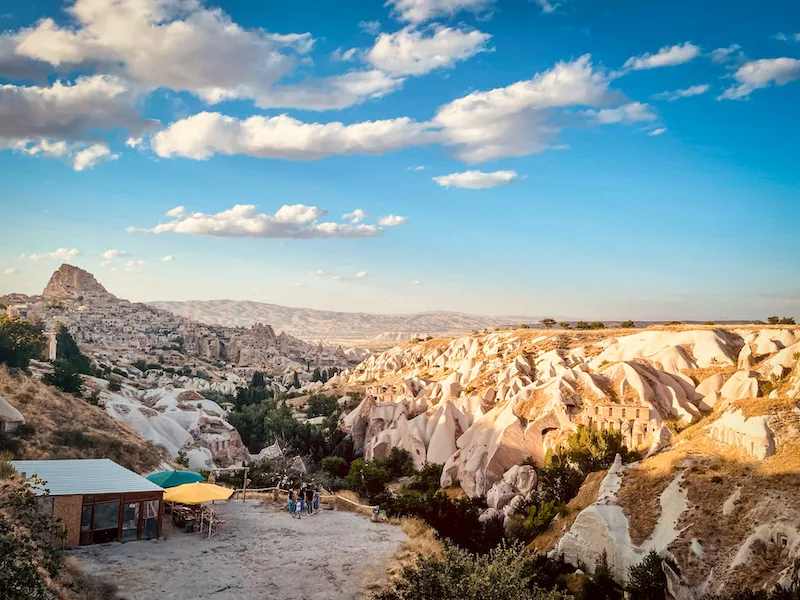 #12 Lovers Hill for Sunrise and Sunset
This panoramic viewpoint in Goreme Town is the perfect spot to watch the sunrise and sunset. Unfortunately, it gets very crowded during both times.
Despite the crowds, it is one of the best spots in Cappadocia to take photos with hot air balloons in the backdrop. You are often above the balloons and can spot Uchisar Castle, Red Valley and panoramic views of Goreme town.
#13 Cavusin Castle
Cavusin Castle is super easy to scale and has an amazing lookout for sunset. We were brave enough to climb some sketchy rocks but it was so worth it.
We visited the castle on a sunset ATV tour with Hiro Travel Agency. We highly recommend revisiting the castle on your own so that you can enjoy the sunset without having to rush to get back to the tour.
#14 Visit the most famous carpet shop in Cappadocia
In the center of Goreme, you'll find Galerie Ikham, one of the most famous carpet shops in the world! When you walk into the space, you'll see layers upon layers of beautiful carpets.
Many visitors visit this store for the sole purpose of taking photos against the beautiful carpeted backdrop. There is a cost to take photos with your own equipment. It's free if you purchase a souvenir.
You can also opt to buy one of their photo packages with a professional photographer or drone camera photos.
#15 ROse Valley
Rose Valley was probably one of my most favorite landmarks. The valley stretches for miles and glows with gradients of pastel pink and reds. We stopped by the valley during our sunset ATV tour.
You can also visit Rose valley as part of the Green Tour.
What to Eat in Cappadocia
We can't forget to tell you about our favorite restaurants. We love to travel for awesome sights and bites.
Here are our top restaurant picks in Cappadocia that you MUST try. They are organized by city.
Goreme Restaurants
Dibek – They offer testi kebab (pottery kebab dish with rice) and mezes. You can dine at one of their tables or opt for plush floor seating. You can also keep warm next to the fireplace.
Organic Wine Cave – They offer pottery kebabs (or testi kebab) that are broke open with a miniature hammer. The meat is super tender and flavorful. We highly recommend ending your meal with their rice pudding. They also have an amazing Sangria that is their bartender's specialty. You can also request a non-alcoholic Sangria. It was so good we came back twice!
Seten – Enjoy awesome rooftop views complete with a live band during dinner. They offer a variety of Anatolian and Turkish dishes are prepared from locally sourced ingredients using traditional cooking techniques. We highly recommend trying yaprak sarma (rice wrapped in vine leaves and cooked in a tandir oven), çiçek dolması (Göreme stuffed squash flowers), and their lamb pot pie. We also loved their non-alcoholic Coconut Kiss mocktail.
Topdeck Cave Restaurant – This Cappadocia restaurant is super cozy with only ten tables. The food is delicious and affordable.
Viewpoint Cafe and Bar – Get amazing panoramic views of Goreme. We loved their chicken fajitas and baked sea bream. At the end of our meal, the owner gifted us a Cappadocia magnet!
Panda Restaurant – We did not dine here, but they have an AWESOME carpet nook that you'll want to take pictures in and colorful stairs that lead into the restaurant. They serve pizza and pasta dishes and we saw tons of families dining with kids.
Peking Chinese Restaurant – We enjoyed pickled fish, dumplings, and fried green beans. The portions are huge, so get ready to have leftovers or share with friends!
Pumpkin Restaurant and Art Gallery – Try their 3-course tasting menu for only 80 TRY (8 euros or 10 USD). This is a small, friendly restaurant with fixed menus from 80 TL per person. The price of the menu is fixed but not always what's on them – so you might want to call in advance to see what their main dish is.
Avanos Restaurants
Lezzet Sofrasi – Enjoy classic Turkish dishes in this casual establishment. It's located along the river and bridge in Avanos.
Seyyah Han – This is the best spot to dine in Avanos. You can enjoy wonderful views from their terrace.
Uranos Sarıkaya Restaurant – This Cappadocian restaurant offers delicious both food and live entertainment during dinner. Enjoy a folk show with alcoholic beverages during dinner. They are known for their testi kebab.
Uchisar Restaurants
Elai – At this French-meets-Turkish restaurant, set near the stone-carved Uçhisar Castle, all of the tables overlook green valleys and snow-covered peaks.
Lil'a – Lil'a is an elegantly decorated restaurant with a terrace located in the Museum Hotel. Chef Mustafa Buyukhan crafts a menu that offers modern interpretations of classical Turkish dishes with amazing presentation. You'll have to dress up when you dine here, so we highly suggest you dine here if you have a special occasion or want a romantic experience. Their menu is extensive, and both the atmosphere and presentation of the food are wonderful. Some of their most popular dishes include pit-roasted duck or lamb shank. They change their menu often and reservations are recommended. And if you're interested, you can take cooking classes offered by the chef himself!
Seki Restaurant – This is a great Cappadocian restaurant located inside the Argos Hotel. You'll also be able to enjoy the view, tasting menu, and even a wine cellar where you can sample wine prior to purchasing. They also offer wine tasting tours if you've already had dinner or lunch. It's important to note that they don't offer tasting menus late at night. We highly recommend making a reservations if you decide to dine here.
Saklı Konak (Hidden Mansion) – The Hidden Mansion is one of the best restaurants in Uçhisar. We recommend going for dinner where you can try their testi kebab (clay pot kebab). Reservations are highly recommended.
Kadıneli Restaurant – This restaurant offers affordable and delicious Cappadocian dishes. You'll find local cuisine items which include Turkish dumplings (manti), stuffed grape leaves (yaprak sarma), and pancakes (gozleme). It's located a short walk from Uchisar square.
O Agacin Alti – This cafe is famous for its tree-based evil eyes and is a wonderful place to visit to take a coffee break and to take in the beautiful view.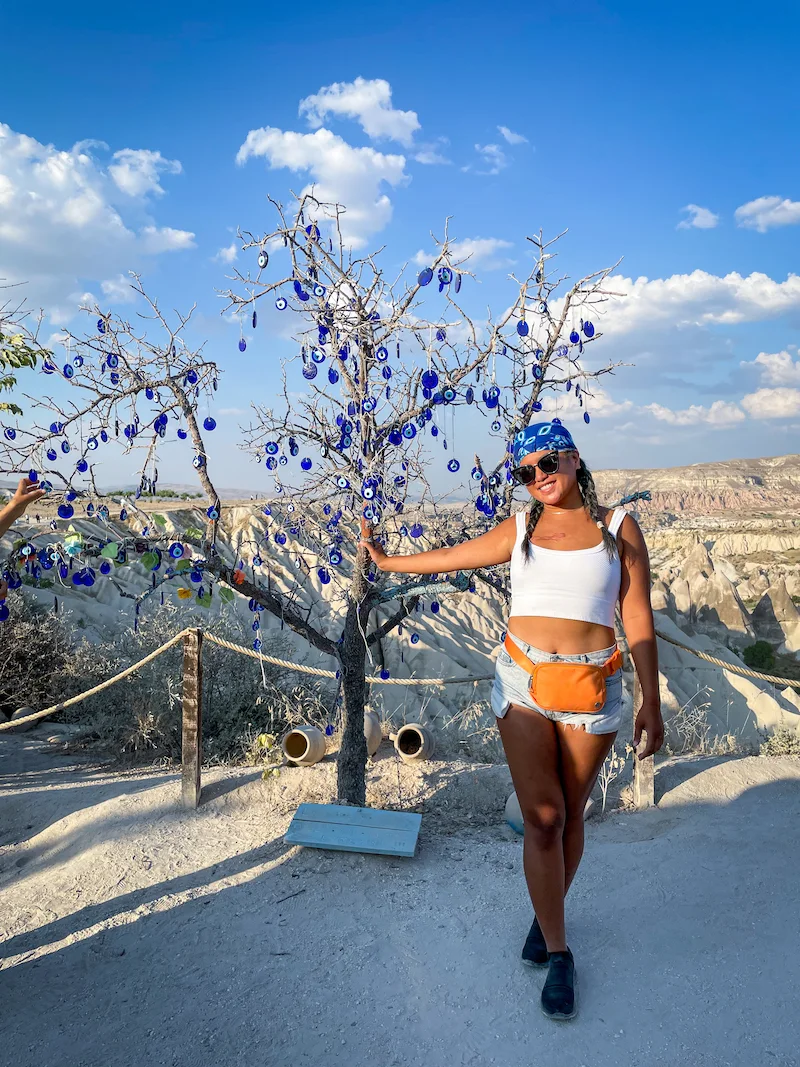 What to Wear in Cappadocia
In the Summer, we recommend wearing breathable and lightweight clothing. You may need a jacket if you're headed to the balloons early in the AM. I had a Turkish bath towel that kept me warm throughout the morning of our balloon flight.
When riding an ATV, I recommend wearing shorts and a tank top if it's warm and staying bundled with a jacket and leggings when it's cold. You will also want to bring a bandanna or face mask, because dust will be in your face the entire time.
If you're headed there in the Fall or Winter, I highly recommend warm clothing such as a coat and long dresses. You may also want to bring scarves and gloves because it will be chilly.
If you found our Cappadocia travel guide helpful, please share it on Pinterest. Thanks for your support!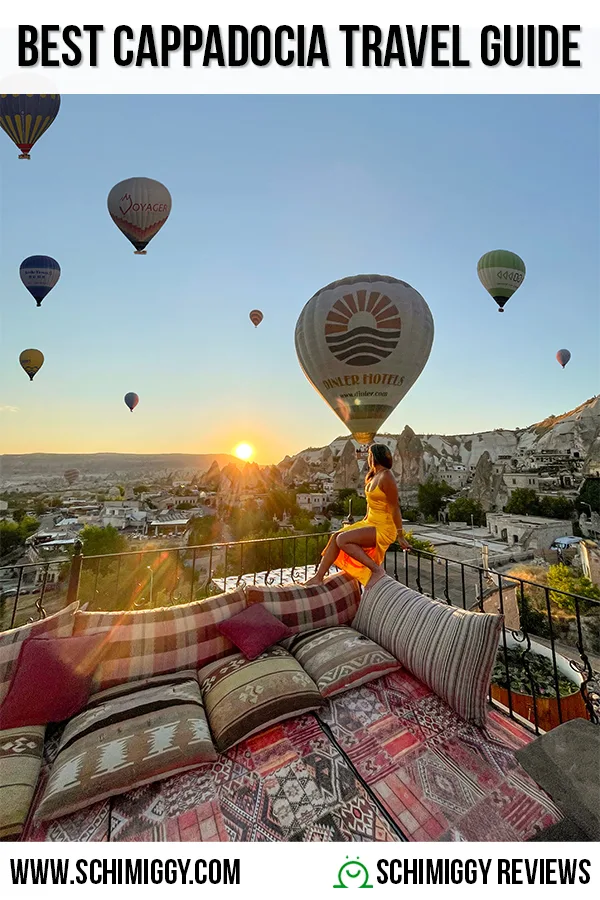 Thank you for visiting today! If you found this encouraging or informative, please connect with us on Instagram or TikTok.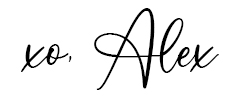 Sign up for our monthly newsletter for updates and more. We promise we won't spam you! Feel free to unsubscribe anytime.
If you're a brand and want to work with us, please visit this page to get in touch.