Reading Time:
5
minutes

I am so excited to announce the Inner Fire Elevate Your Movement Collection from this Spring 2018. The collection introduces pastel hues and in my favorite color – GREEN! The entire collection looks edgier and would totally appeal to someone living in an urban setting (think New York City, Chicago or Downtown Seattle).
About Inner Fire
Inner Fire is a global activewear brand based out of Vancouver, British Columbia. The brand is owned by #bossgirl Leah Emmott. Leah designs and creates her products locally in BC. Her commitment to quality, the environment and other human beings is reflected in all aspects of her business. With her cruelty free and eco-friendly business model, it's no surprise that many yogis love to wear Inner Fire. Check out my Inner Fire review below!
Never heard of Inner Fire before? You can read my previous reviews here:
Inner Fire Review + Giveaway: Elevate Your Movement Collection
I was invited by the Inner Fire team to review an outfit from the Elevate Your Movement collection! I am stoked to represent Inner Fire through Schimiggy Reviews. They offered me a bra, leggings and a tank top. My favorite part about this new collection are their GODDESS tank tops! I saw Kali and was sold! Below is the outfit I chose.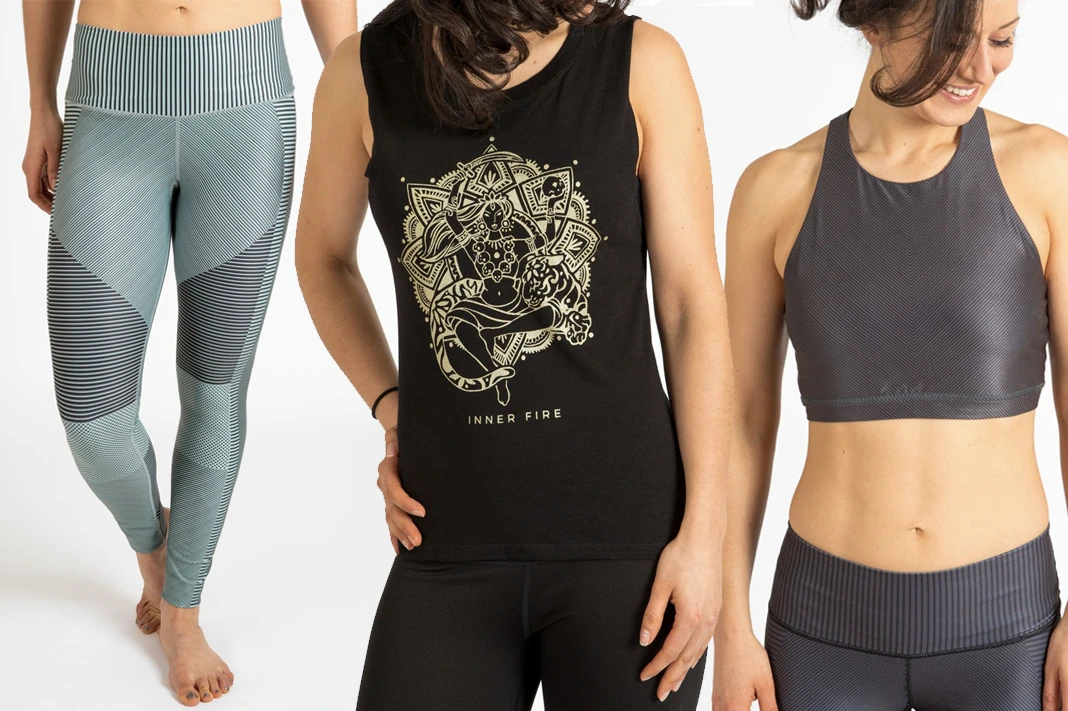 Mint Moto Leggings ($76 USD)
Kali Muscle Tank ($29 USD)
Shine Bra in Moto Black ($52)
#1 Size: Inner Fire runs similar to Lululemon. I wear a size S/6 in Inner Fire. I am also a size 6 in Lululemon. The Mint Moto leggings seemed a bit looser than previous Inner Fire leggings I have owned. I did not have any issue with slippage and the leggings looked great on. I could have sized down to a 4. From my previous experience with Inner Fire, their leggings do stretch over time, however not by much.
#2 Style: I am reviewing the long leggings, tank tops and sports bras in this post. Inner Fire also creates crops, shorts, bras, tanks, and sweaters.
#3 Inseam: The inseam of the size S/6 long leggings is 29″
#4 Rise: The leggings are high rise and fit .5″ below my navel. It cannot be worn fold over because the logo and other information is printed onto the inner waistband.
#5 Waistband: All Inner Fire bottoms are constructed with a tall waistband measuring 3″. There's also a small elastic reinforcement at top of the waistband so you don't have to worry about your pants sliding down ever.
#6 Fabric
Fabric Content:

Made From BPA-Free Recycled Water Bottles (88% Recycled Polyester, 12% Spandex)
Specialized printing process means creates a no waste printing process and colors will remain vibrant (no fading or bleeding). The leggings are white-backed.

Fabric Feel: Inner Fire fabric is thick and compressive. Inner Fire feels similar to Flexi Lexi leggings.
Fabric Performance:

The fabric is treated with naturally derived anti-microbial treatment for moisture wicking, anti-pill, and anti-stink properties.
The fabric has 4-way stretch and contours to the body.

Opacity: Inner Fire leggings are 100% opaque. They are white backed (printed on white fabric) and are thick enough to be opaque yet breathable for heated activities (think hot yoga).
Fabric Features:

Inner Fire designs are scaled to their silhouettes (crops vs leggings).
There is a logo on the side calf of a pant.
Inner fire does not have pockets.
Inner Fire product information is printed on the back side of the waistband.
#7 When to Wear: Inner Fire can be worn for any sport. They are quick to dry making them great for sweaty and wet activities.
#8 Cost: Leggings cost $74 and crops are $69. Use code SYNews15 for 15% off your orders!
#9 Gusset: Inner Fire uses a diamond-shaped, single layer gusset that is sewn into the pant using flat-locked seams. The gusset is single layered.
#10 Stitch Seam: Flat locked seams area used throughout Inner Fire leggings. Enjoy a chafe-free fit!
#11 UPF Protection: SPF 50+, making them great for water activities!
#12 Designed and made in Vancouver, British Columbia.
#13 Care Instructions: I machine wash my Inner Fire pieces in cold water and hand to dry on a drying rack. I hang to dry on a foldable drying rack such as this one.
Should I Buy Inner Fire?
Most definitely! You'll fall in love over and over again when you wear Inner Fire. Leah keeps a majority of her patterns stocked year round and releases new leggings twice a year (Spring/Summer and Fall/Winter collections). She's totally community oriented so drop her a line and say Hello! She's been a great friend and I'd love to see where the brand goes in the near future.
Where to Buy Inner Fire
For a limited time, Inner Fire is offering 20% off their Elevate Your Movement collection. Use code ELEVATE20 to redeem the offer. Offer expired 4/16/2018.
You can also buy Inner Fire using the following codes.
Amazon – Use code ALEXTRAN for 15% off your orders!
Inner Fire – Use code SYNews15 or SCHIMIGGY for 15% off your orders!
Inner Fire Giveaway: Enter to win $100 CAD to INNER FIRE
Ok, before you go anywhere, I wanted to invite you to enter my INNER FIRE GIVEAWAY! Complete the following activities and enter to win a $100 CAD gift card to shop at Inner Fire. Check it out and good luck! Contest begins April 11th and runs through midnight April 21st, 2018. Anyone can enter and this contest is offered worldwide.
Follow @MyInnerFire and @Schimiggy on Instagram and leave your Instagram username in the comments section so that we can follow-up.
Leave a comment below and tell us which print you'd like!
Winner will be announced on April 22nd, 2018. Good luck!
Thank you for visiting today! If you found this encouraging or informative, please connect with us on Instagram or TikTok.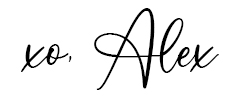 Sign up for our monthly newsletter for updates and more. We promise we won't spam you! Feel free to unsubscribe anytime.
If you're a brand and want to work with us, please visit this page to get in touch.