Reading Time:
11
minutes
Updated: 9/5/2022 | Istanbul Travel Guide
If I had to choose one city that connects the West and the East, the choice would be Istanbul, Turkey.
This city has been a crossroads of civilizations for centuries, and its rich history is evident in its art, architecture, food, and people. Istanbul is truly a melting pot of cultures, and there is no better place to experience this than in its vibrant and colorful bazaars.
Most people who travel to Istanbul typically plan a trip out to Cappadocia as well. Read our Cappadocia travel guide to plan your trip.
Interested in how to organize perfect three days in this amazing city? Here is our Istanbul travel guide.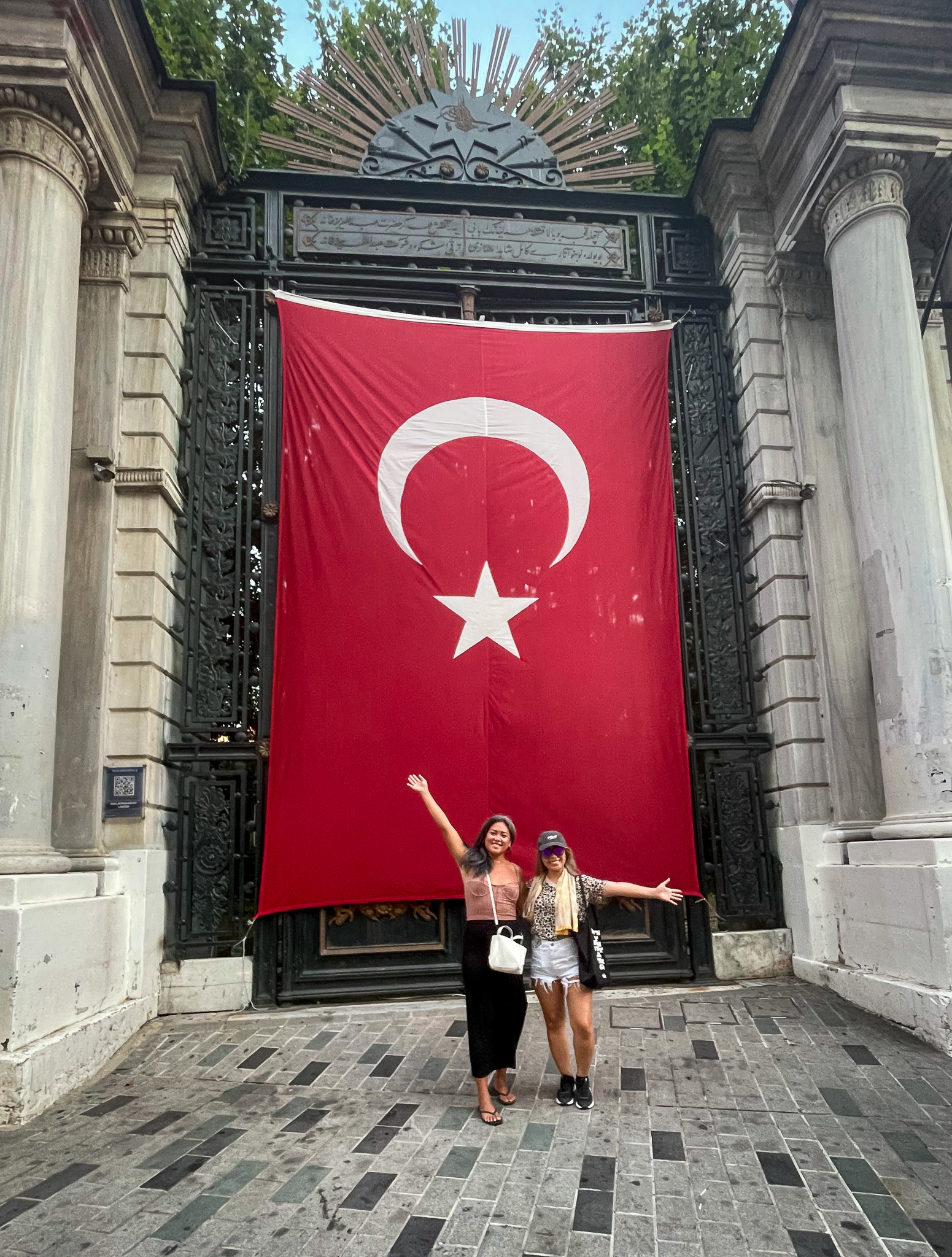 Day One
Start With a Delicious Turkish Breakfast
There is no better way to jump with joy into your first day in legendary Istanbul than to enjoy the typical Turkish breakfast. Forget about ordering separate dishes – it's not the way you should follow. Apart from that, ask for a set of Turkish appetizers served on separate ramekins and plates. Wait for a while and prepare for the feast for the palate.
Soon the waiter will bring you a dozen of mini dishes. There is no strict rule, but you'll surely get some fresh fruits and vegetables (tomatoes, cucumbers, olives), bread, cheese (like peynir and kaşar), french fries, sausages, eggs (boiled or mixed with tomatoes), honey, jams, sesame paste (tahini), nuts, delicacies, and so on. Be sure to order Turkish tea too!
If you need an energy kick after such a feast, ask for traditional Turkish coffee. It is steamed in the sand, very dense, strong, and sweet. Now you're ready to explore the city.
Our favorite places for Turkish breakfast include:
Admire Her Majesty, Hagia Sophia
Hagia Sophia (also known as the Aya Sofya or Hagia Sofia) is one of the most iconic buildings in the world. Situated in Sultanahmet, this ancient Byzantine cathedral-turned-mosque-turned-museum-turned-mosque-again is one of the most visited sights in Istanbul.
Built in 537 AD, Hagia Sophia was the largest cathedral in the world for almost a thousand years, and it remains the world's fourth largest church to this day. After the city fell to the Ottoman Turks in 1453, it was converted into a mosque and then became a museum in 1935. In 2020 president of Turkey, Recep Tayyip Erdogan, converted Hagia Sophia into a mosque again.
The vast interior space is breathtaking, with its soaring central dome flanked by two semi-domes. The beautiful mosaics and Islamic calligraphy are also well worth admiring.
Hagia Sophia is open every day except Monday, and there is an entrance fee of TRY 40 (about $6 USD). The building is also closed during worship hours which occur five times throughout the day.
A great spot to visit the Hagia Sophia from above is Seven Hills Restaurant. It's free or you can go for Turkish breakfast.
Visit it just after breakfast as it is the best time to avoid the rush.
The Blue Mosque
Not far from Hagia Sophia, you can find the Sultan Ahmed Mosque (Sultan Ahmet Camii), popularly known as the Blue Mosque for its beautiful blue Iznik tiles.
The mosque was built in the early 1600s by Sultan Ahmed I, and is still an active place of worship today. It's one of the most popular tourist attractions in Istanbul, so be sure to get there early to avoid the crowds.
There is an interesting story behind the mosque's minarets. As you'll notice, there are six minarets (while regular mosques have from 1 to 4). The king of Turkey, Sultan Ahmed I, had initially only wanted four. When the architect pointed this out to him, the Sultan is said to have replied that he would build two more, just to spite those who did not think his first four were enough.
This decision was very controversial as the only mosque with six minarets was located in Mecca – the holiest city in Islam. After the protest of the whole Muslim world, Ahmet I made an exquisite PR move – he founded and built the seventh minaret in the Holly Mosque in Mecca. Smart move, Sultan!
The Blue Mosque is open every day except Friday, and there is no entrance fee.
Make sure you dress conservatively when you visit the Blue Mosque and Hagia Sophia. Shoulders and legs must be covered and headwear is required.
Topkapi Palace
The secrets of the seraglio will be revealed during your visit to the opulent Ottoman Topkapı Palace complex in Istanbul's Old City.
Generations of bad sultans lived here with their concubines and courtiers between 1465 and 1830, and extravagant relics of their folly, excess, patronage, diplomacy, and war are remembered everywhere you look.
Highlights include the huge Harem where concubines and mistresses lived, the impressive Imperial Council Chamber, the object-laden Imperial Treasury, and an extravagant Marble Terrace.
Cool Off with a Dondurma
Dondurma is a type of ice cream originating from Erzurum city in Eastern Turkey. It's made with salep, a flour made from orchid roots, which gives the ice cream its chewy consistency.
Dondurma is usually flavored with mastic, a resin extracted from the mastic tree, which gives it a slightly piney taste. You can find dondurma vendors all around Istanbul, and it's definitely worth trying!
It's also not only about eating dondurma, but the way it is prepared and served is also a kind of show. The ice cream vendors are masters of their craft and love to entertain the crowd while they work by doing tricks before serving you a cone of delicious ice cream.
Visit the Basilica Cistern
The Basilica Cistern (or Yerebatan Sarnıçı) is one of Istanbul's most unique and atmospheric places. This ancient underground water storage facility was built in the 6th century and could hold up to 80,000 cubic meters (21 million gallons) of water.
The cistern is now open to the public, and its eerie setting has been used as a filming location for several movies, including James Bond's "From Russia with Love".
To get there, take the tram to the stop called "Sultanahmet", and it's a 5-10 minute walk from there. The entrance fee is TRY 20 (about $3 USD).
Hungry? Get some delicious Turkish food!
I'm a huge fan of Turkish cuisine. It is incredibly diverse, and you can find dishes to suit all tastes.
Some of my favorite Turkish dishes include:
Iskender kebab: A type of doner kebab served with bread, tomato sauce, and yogurt.
Pide: A kind of Turkish pizza, often topped with meat, cheese, and vegetables.
Durum: A meat and veggie wrap that is very similar to a skinny burrito. It's super flavorful and served with a wedge of lemon and pickled peppers.
Lahmacun: A thin piece of dough topped w

ith minced meat, vegetables, and spices.

Kofte: Seasoned ground meat, shaped into balls or patties, and grilled or baked.
Meze: A selection of small dishes, typically served as starters. Turkish breakfast is served meze style.
Manti: Turkish ravioli, stuffed with cheese and served with yogurt and garlic sauce.
Dolma: Stuffed vegetables, usually vine leaves, peppers, or eggplants.
Kokorec: Grilled lamb intestines. It's a pretty controversial dish that has so many fans as well as haters. We personally love it.
Gözleme: A type of flatbread stuffed with various fillings (my favorite is potato and cheese).
Karnıyarık: Roasted eggplant stuffed with ground meat, garlic, and tomatoes.
And for dessert, you should definitely try:
Baklava: A sweet pastry made with layers of filo dough, nuts, honey, and syrup.
Turkish delight: A type of candy made with sugar, nuts, and spices. It's often shaped into squares and consumed with tea or coffee.
Day Two
Get Lost in the Grand Bazaar + Spice Bazaar
The Grand Bazaar is one of the world's largest and oldest covered markets, with over 58 streets and 4,000 shops. It's a great place to find souvenirs, gifts, and Turkish handicrafts.
Be sure to bargain! The prices are usually quite high at first, but if you're polite and persistent, you can get a good deal (at almost 80% off). You'll spend a few hours there wandering around and looking for the best deals.
And nearby is the Spice Bazaar (Mısır Çarşısı) which is typically visited when people see the Grand Bazaar.
The Grand Bazaar and Spice Bazaar are open every day except Sundays and the best time to go is in the morning.
Pro tip: Go to the top of Büyük Valide Han to admire the outstanding view of the Grand Bazaar from the rooftop of this 400-year caravanserai.
Indulge in a Traditional Turkish Bath
A Turkish bath (or hamam/hammam) is a great way to relax and rejuvenate. It's like a sauna, but with the added benefits of being scrubbed and massaged from head to toe by an expert.
There are many Turkish baths in Istanbul, but one of the best is the Cagaloglu Hamam, which was built in 1741. The entrance fee is TRY 90 (about $15 USD), and it includes the use of the sauna, steam room, pool, and relaxation area. A complete massage plus scrub will cost you around $120 USD.
Reservations are highly recommended and many hamams take same-day reservations.
Our favorite Hammams include:
Take a Walk to Galata Bridge
Galata Bridge is one of Istanbul's most iconic landmarks. This pedestrian bridge spans the Golden Horn, and it's a great place to take a walk, enjoy the views, and watch the boats go by.
If you're feeling hungry, there are many small restaurants on the bridge where you can get fresh seafood. The top food experience is Balik Ekmek – a grilled fish sandwich. You can get it from one of the small stands on the Galata Bridge for around TRY 10 (less than $2 USD).
Watch the Sunset from Galata Tower
Galata Tower is one of Istanbul's most iconic landmarks. Built in 1348, it's a great place to get a panoramic view of the city.
The tower is open every day from 9 am to 8 pm (9 pm in summer), and the entrance fee is TRY 20 (about $3 USD).
Day Three
Explore Balat district
Balat is a historic neighborhood on the bank of the Golden Horn. It was once the home of Istanbul's Jewish community, and many of the buildings reflect this.
Today, Balat is a bit run down, and most of the residents have moved out, but its architecture and atmosphere are still worth a visit.
Be sure to check out the Balat Synagogue, built in 1453. It's the oldest synagogue in Istanbul and one of the few that survived the destruction of the city's Jewish community in the 1930s and 1940s.
The best time to visit Balat is during daylight hours. Many of the streets are narrow, and there are few streetlights, so it can be difficult to navigate after dark.
View this post on Instagram
Visit the Chora Church
The Chora Church is a Byzantine-era church that was converted into a mosque in the 15th century. It's now a museum, and it's one of the most beautiful places in Istanbul.
The church is famous for its mosaics and frescoes, depicting scenes from Jesus Christ's life. The entrance fee is TRY 30 (about $5 USD).
The Chora Church is open every day from 9am to 5pm. It's best to visit in the morning or afternoon, as the light is better for viewing the mosaics.
Have Lunch at a Local Restaurant
After exploring Balat and the Chora Church, head to one of the neighborhood's many local restaurants for lunch. You'll find plenty of good, cheap food here.
Some of my favorite places to eat in Balat are Ali Usta Koftecisi (a kofte restaurant), Kantin (a local canteen), and Imren Baklava (for dessert).
Take a Ferry ride on the Bosphorus
No trip to Istanbul is complete without a ride on the Bosphorus, the strait that separates Europe from Asia. You can take a public ferry from Eminonu (the terminal next to the Galata Bridge) to any number of destinations along the coast.
A one-way ticket is TRY 4 (about $0.60 USD), and the journey takes about an hour. The best time to go is in the late afternoon, so you can watch the sunset over the city.
There are boat tours to experience the Bosphorus river, but they are expensive compared to public boats which are just as enjoyable.
Visit the Orkatoy Mosque
Located just before the Bosphorus Bridge, the Ortaköy Camii (Ortaköy Mosque) is one of the most picturesque settings in all of Istanbul. Indeed, The bridge in the background are often used to demonstrate that particular Istanbul juxtaposition of traditional and modern.
Explore the Beyoglu District
Beyoglu is Istanbul's modern, cosmopolitan center. It's home to many of the city's best restaurants, bars, and clubs, and its main shopping street, Istiklal Street.
Start your day with a walk down Istiklal Street. This pedestrian street is lined with cafes, restaurants, shops, and nightclubs.
If you're interested in shopping, there are plenty of places to find Turkish souvenirs on Istiklal Street. But for something more unique, head to the Cukurcuma neighborhood, just off Istiklal Street. This is where you'll find Istanbul's antique shops and art galleries.
In the afternoon, take a break from sightseeing and relax at one of Istanbul's many parks or gardens. Some of my favorites are Taksim Square, Gulhane Park, and Yildiz Park.
We also visited Miniaturk, which is a theme park that has smaller models of all of Turkey's most important landmarks and attractions. We highly recommend coming here to learn about Turkish civilization and get inspiration for your next Turkish destination.
And that's it! Three days is the perfect amount of time to explore Istanbul. With its rich history, culture, and food, there's something for everyone in this vibrant city.
Istanbul Travel Guide MAP
Use our Istanbul Travel Guide Map when you get to the city. Simply open up this link on your mobile phone and follow the locations on the map.
If you found our Istanbul Travel Guide helpful, please share it on Pinterest. Thanks for your support!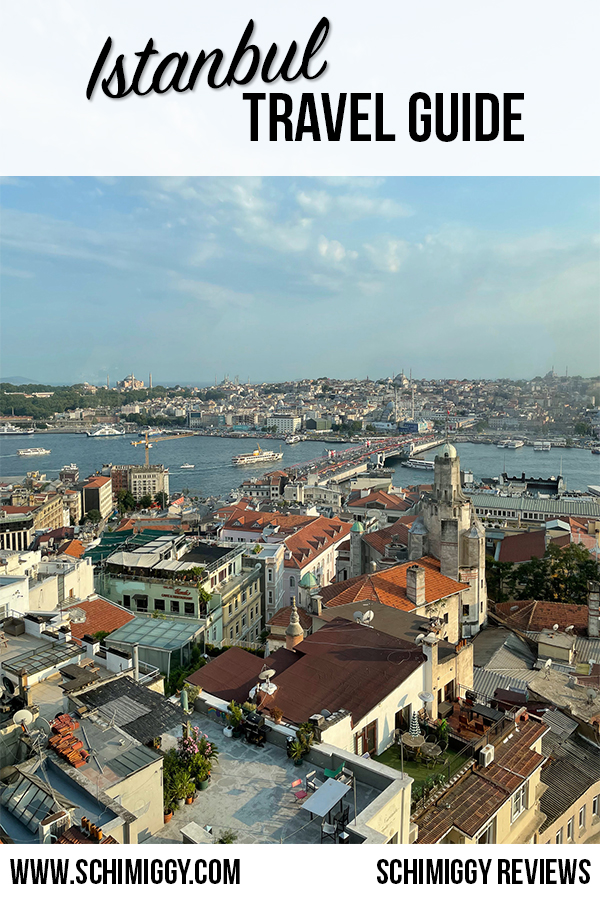 Author Bio
Michal Jonca is a travel, food, and trail running passionate who visited 40+ countries on four continents. He is a Travel Leader for the adventurous travel company Solisci and the Community Manager at PhotoAiD.
Only this year, he enjoyed his workation in Thailand, Turkey, and the Caucasus mountains.
---
Thank you for visiting today! If you found this encouraging or informative, please connect with us on Instagram, Youtube, Pinterest, Facebook or Twitter. We'd love to meet you!
Sign-up for our monthly newsletter for updates and more. We promise we won't spam you! Feel free to unsubscribe anytime.
For more fitness fashion discounts and offers, please visit our Fitness Instructor Discounts + Brands Directory or favorite brands coupon codes list.
If you're a brand and want to submit a product for us to review, please use this form to get in touch.
This site uses affiliate links. Clicking on or purchasing via an affiliate link may result in commissions for us which help keep the content flowing and lights on at Schimiggy Reviews. You may read more about this in our privacy policy.