Reading Time:
4
minutes
Mask wearing is here to stay. As we weather through this global pandemic, we need to do our part to keep others and those we dearly love safe and healthy. Masks are now largely required indoors at all times and in places with large gatherings.
The loops on your face mask can become painful with prolonged wear. The straps tug on the back of your ears and can cause headaches, strain and sometimes even aggravate your skin and cause rashes and acne (known as "mascne").
Prolonged wearing of masks can also make mask wearing sweaty and stinky.
Here are some tips to help make mask wearing more comfortable and sanitary.
How to Make Your Mask More Comfortable
#1 Get a Proper Fitting Mask
People come in all shapes and sizes. And fortunately, so do masks!
Choosing a properly fitting mask will make all the difference. Many brands will offer different sizes and even size charts to help you find the perfect fit.
When choosing a mask, make it fits snug but not tight.
#2 Materials Matter
What your mask is made of matters a lot. Masks that are not breathable can get gross easily and cause acne or rashes.
Cotton masks are the most breathable. We also love masks with mesh panels and layers to facilitate airflow.
Cotton masks that we like include those made by MiliMili and on Etsy.
#3 Use a Mask Chain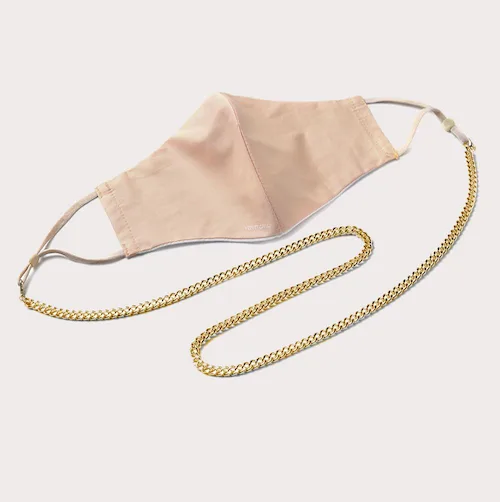 A mask chain not only makes your mask look cooler, it also keeps your mask around your neck when not worn. This also helps to prevent losing or misplacing your mask.
We love the mask chains by Velvet Caviar. They make fun printed masks with insertable filters.
Use code SCHIMIGGY to save 20% off all your orders at Velvet Caviar.
You can also shop for mask chains and lanyards on Express and Etsy.
#4 Wear Headbands with Mask Buttons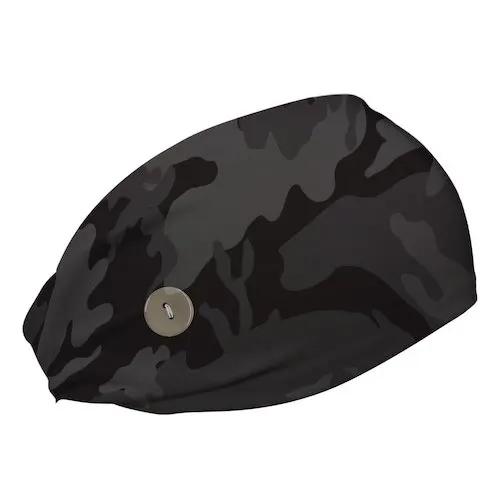 Many headband companies have started offering headbands with buttons for your mask. The buttons prevent your mask ear loops from aggravating the back of your ears. It also helps to tame flyaways and keep your hair out of your face.
Bani Bands makes awesome stay-put headbands with buttons for your mask.
#5 Use a Mask That Ties in the Back
Masks with back ties reduce pressure on the ears and can also be worn around the neck when no on the face.
Masks with ties that we love are ones made by MiliMili and on Etsy.
#6 Use a Mask Saver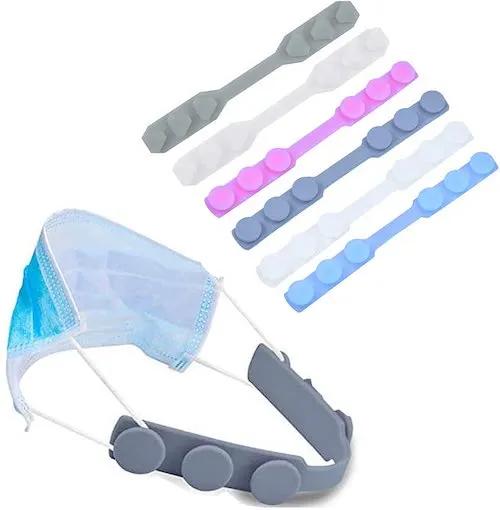 Mask savers connect to your mask loops so that they sit further behind your ears at the back of your head. The savers can be made from silicone, plastic, or a simple strip of fabric with buttons sewn onto it.
We recommend Evglow mask straps which are made from silicone and come in a pack for 6 for the whole family.
#7 Wear this Mask Bandana by Scout Designs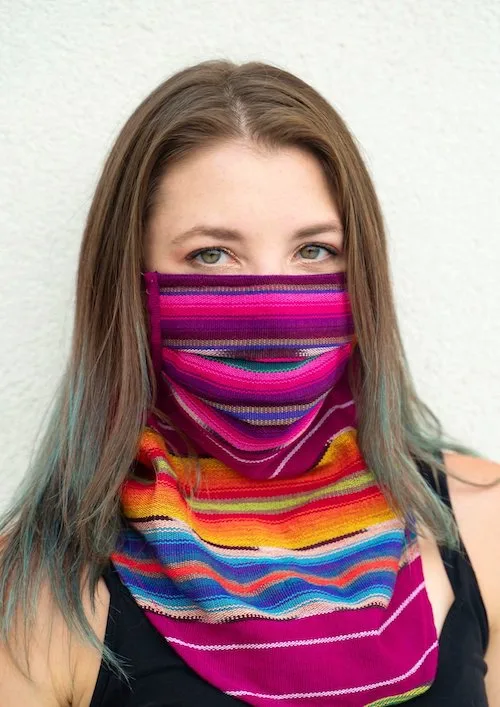 We LOVE this mask + bandana combo by Scout Designs! When the mask is not over your face, it will stay in place via the bandana.
Simply snap the bandana around your neck and wear it as a scarf without your mask. We love it because it also keeps our necks warm in the wintertime.
#8 Opt to Wear a Gaiter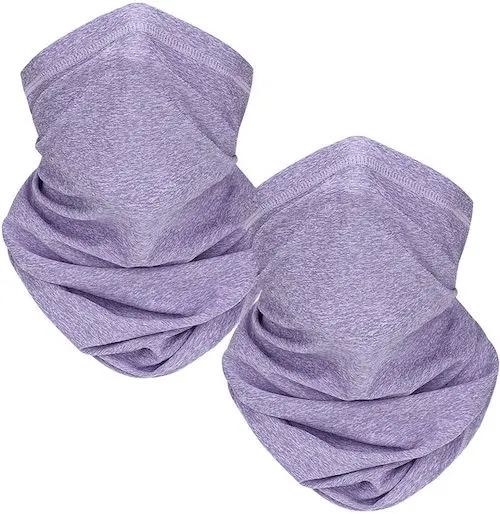 A face gaiter is a good alternative to the traditional face mask. It can also be worn over your face or as a scarf around your neck.
They're typically made from stretchy fabrics and can have many colors and designs to suit your style.
#9 Be Aware of Your Skincare and Makeup Products
Taking proper care of your skin can also aid in comfortable mask wearing.
If you have dry skin, we recommend using a moisturizer before wearing a mask. This can help prevent skin irritation from where the mask rubs against your face.
If you have oily skin, we recommend avoiding liquid foundation or anything comedogenic (products that can clog your pores) as it can clog your skin AND mask. Clogged skin can lead to acne breakouts. A clogged mask can reduce airflow.
#10 Wash Your Masks Often
It's best to have a few masks on hand so that you can cycle through them when they start to get dirty and stinky. We typically wear our masks 3-5 times before throwing them into the wash.
You can hand or machine wash your masks in a garment wash bag and then hang dry so that they last a very long time. Machine drying your masks can cause the elastic fibers on the loops to break down and eventually become too loose or snap.
We always recommend changing your mask if it feels gross.
#11 Don't Share Masks
Always AVOID sharing masks with friends, family and strangers. Best practice is to have a few on hand so that you can cycle through them. You never truly know where someone has been or who they have been in contact with.
Have your own mask just to be safe!
If you enjoyed our How to Make Your Mask More Comfortable post, please share it on Pinterest! Thank you!
Thank you for visiting today! If you found this encouraging or informative, please connect with us on Instagram or TikTok.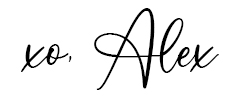 Sign up for our monthly newsletter for updates and more. We promise we won't spam you! Feel free to unsubscribe anytime.
If you're a brand and want to work with us, please visit this page to get in touch.