Reading Time:
3
minutes
A clutch bag is a great accessory for completing your outfit. A clutch bag is compact, discreet and often prevents you from carrying non-essentials. Essentially, reducing the clutter you lug around in your bags.
What to look for when buying a clutch purse
The right bag can make a difference to any outfit and can elevate it to the next level. Choosing the wrong one, on the other hand, can do the complete opposite.
Not only does it have the potential to totally ruin your look, but it can also be completely impractical. Because while a bag can be a true fashion statement, it also has a specific function to perform and that is frankly, to make your life easier!
The right bag needs to look the part, suit your outfit of the day, and also needs to be able to house all your essentials in an accessible way. Especially right now with the need for items such as a face mask and hand sanitizer!
Let's take a look at the things you need to look out for when searching for a clutch purse.
Will the style stand the test of time?
Fashions come and go and some of them can be quite dramatic and make a real statement. That's great if that's what you want it for, and even if the particular trend fades, as long as you still love it you can continue to wear it whenever you fancy.
But sometimes, if you want to spend a little more on buying a better quality of bag, such as a designer one, you might want to choose a more classic style so that it will still be on point in years to come.
Is the size appropriate for your needs?
We've already mentioned the additional requirements of face masks and hand sanitizer that are needed these days, but what about the rest of your stuff? If you're buying a clutch bag to go with an evening dress then you might not need an awful lot of space because you won't be taking that much with you.
But if you are going to an event that might be lasting longer or is less formal, the chances are you might want a few extra items such as your keys, purse, mobile phone and make-up. Try to bear all these in mind when buying your next clutch.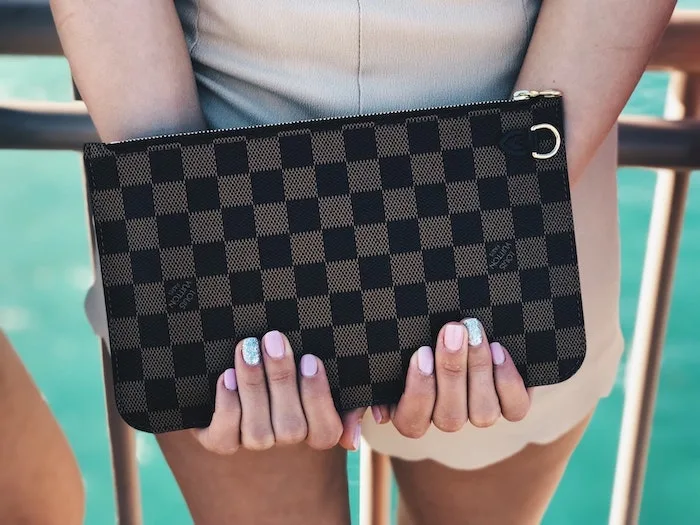 How versatile is it?
You might be looking for a very specific bag for a very specific event to complete any outfit that you are planning meticulously. But think beyond that. The last thing you want to do is spend a fortune on a designer clutch bag only for it to remain in your wardrobe after its first outing.
Try to get one that you can use in different circumstances so you get the most enjoyment out of it. Buying the bag is a huge part of the fun, but taking a bag you love out and about is far better! You could even get a clutch with a removable shoulder strap to make it easier to carry for different events.
There is a huge range of clutch bags for sale so you may feel spoilt for choice. Consider what you need it for as well as what you want it for and you'll make the right choice for you.
---
Thank you for visiting today! If you found this encouraging or informative, please connect with us on Instagram, Youtube, Pinterest, Facebook or Twitter. We'd love to meet you!
Sign-up for our monthly newsletter for updates and more. We promise we won't spam you! Feel free to unsubscribe anytime.
For more fitness fashion discounts and offers, please visit our Fitness Instructor Discounts + Brands Directory or favorite brands coupon codes list.
If you're a brand and want to submit a product for us to review, please use this form to get in touch.
This site uses affiliate links. Clicking on or purchasing via an affiliate link may result in commissions for us which help keep the content flowing and lights on at Schimiggy Reviews. You may read more about this in our privacy policy.