Reading Time:
4
minutes
I just stumbled upon the London Pop collection by L'URV Activewear and my admiration for houndstooth patterns resurfaced. I have a few houndstooth leggings in my current collection, but it never hurts to add a few more. After drooling over their London Pop capsule for a considerable amount of time I think it's time to give it a go!
I've also included houndstooth activewear from other reputable brands as well. Check them out below!
#1 L'URV London Pop Collection
Seriously, isn't this collection to die for? L'URV is an Australian based company that offers high tech fabrics and slimming silhouettes. Buy L'URV on Carbon38 and use code SHMGY25 for 25% off all your first order of $100+.
#2 Body Angel Activewear
Finally bit the bullet and purchased the Rainbow Houndstooth leggings by Body Angel Activewear. I am OBSESSED with these. They also have a black and white printed houndstooth leggings with back pockets. Their leggings go for $94 a pair. Check out my Body Angel Activewear review.
#3 Alo Yoga
Alo Yoga offers their Airbrushed Houndstooth leggings in several colors. Their leggings cost $104 but you can definitely find it for cheaper. The houndstooth print is bigger and looks more subtle. Buy Alo Yoga on Amazon, Carbon38 and at Nordstrom.
#4 Liquido Activewear
Liquido Active offers a long length houndstooth print. I love their buttery soft fabric. Liquido leggings are $84 but they run out of their prints very quickly. Check out my Liquido Active reviews.
#5 Burd Activewear
I love love LOVE the ombre purple houndstooth leggings by Burd Activewear! Burd is based out of Singapore and offers activewear for women. The sizing runs true to size. Their leggings cost $75 SGD + shipping fees from Singapore. Check out my review of Burd Activewear review.
#6 Brazil Pants
Brazil Pants offers a houndstooth printed leggings for only $55! I love the stretchy Brazilian fabric that hugs onto the body.
#7 Noli Yoga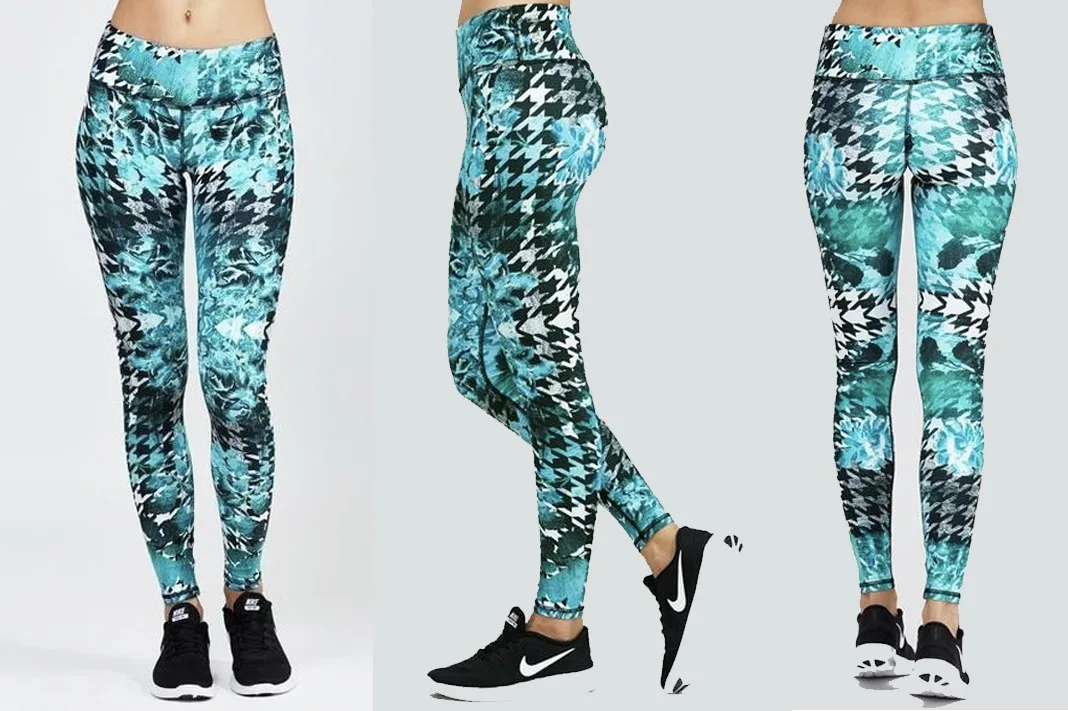 Noli Yoga took the traditional pattern and added their own twist by blending flowers into their houndstooth pattern. I've never tried Noli Yoga before, but might do so just because this print is unique and appealing. Their leggings go for $74 but they are always offering deals.
#8 Goldsheep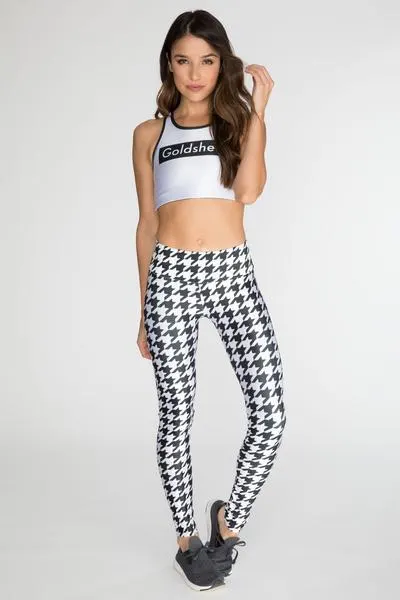 Goldsheep makes cute houndstooth leggings with a high waistband. Their leggings go for $98. Buy Goldsheep at Evolve Fitwear and use code SCHIMIGGY for 10% off.
#9 Terez
Terez makes fun and whimsy leggings. I love their soft and shimmery fabrics. Their leggings also come in standard (short) and tall waistbands. Buy Terez on Carbon38 and on their online retail store.
#10 Lululemon Houndstooth Ombre Wunder Under Pants
lululemon also offered their own ombre houndstooth rendition in the Wunder Under Pant (WUP) silhouette. The pattern was very subtle and for some reason the leggings did not call out to me.
What other brands have Houndstooth patterns? Tell me in the comments. Would love to find out and possibly do a review!
---
For more fitness fashion discounts and deals, please visit my Fitness Instructor Discounts + Brands page.