Reading Time:
5
minutes
2021 seems to be the year when much of the world is coming back to life. That's a wonderful thing to see. The pandemic has been difficult to endure, and in the US alone, the death toll is rapidly nearing 600,000.
The vaccines have made it possible for most people to gradually resume their lives, though. Some of those who have an immunocompromised condition are still wary about being in public spaces with no masks, but overall, many countries have managed to control the situation for the most part. This means many people are traveling again, with some heading toward long-awaited vacations this summer.
Others are visiting relatives they haven't seen in a long time. As flights fill up and there are more cars on the roads again, the travel and tourism industries can come back from the brink.
If you plan on traveling this year, particularly for vacation, you might wonder whether you should stay within the US or go abroad. Remember that some countries are not letting American citizens enter yet, so you'll need to look carefully at travel restrictions before you get beyond the planning phase.
At some point soon, though, any remaining travel restrictions should ease. When that happens, you can visit foreign countries again, as well as traveling within the US. Should you do it, though?
There are reasons to stay within the US when you travel and equally compelling ones for going abroad. Let's look at some pros and cons regarding each of those options.
Pros of Traveling Within the US
Let's start by talking about some benefits of exclusively US travel. There are certainly a ton of viable vacation destinations in America.
You might head to New York, Los Angeles, Dallas, New Orleans, Las Vegas, and many more. If you want something fun but more inexpensive, you can go somewhere like Branson, MO, and check out their famed attractions, such as Silver Dollar City, the popular amusement park.
Whatever you choose, though, one major plus is that you can get there by car, and many times, you can't do that if you want to travel abroad. It's true you can get into Mexico or Canada by car, but you might feel a little nervous about doing so. If you're not the most confident driver, you may think about the fact that foreign countries often have driving laws with which you might not be familiar.
If you don't like flying, though, you can visit virtually anywhere within the continental United States, and you can drive there. It will be a long drive if you're heading from one side of the country to the other, but if you have a phobia about flying, you can avoid it entirely this way.
Other Good Points About Travel Within the US
If you stay within the US when you travel, you might also like it that English is the most common language which people speak. There are certainly plenty of US citizens that speak other languages, but in most places you go, you can easily communicate with the locals.
That need not be the determining factor when you decide where you want to visit or go on vacation, but most people find it nice. It can disorient you if you're trying to communicate with those around you, and you can't do it because hardly anyone you can find speaks English.
Also, even if you stay within the United States for your entire life and you never travel internationally, you can visit cities, towns, and states that differ from one another dramatically. For instance, New York City seems like a universe away from the West Coast. The United States features majestic redwood forests, dry, arid regions like Arizona and New Mexico, and swamplands like Louisiana.
You can enjoy all kinds of cuisine in the United States without ever leaving it since so many immigrants have arrived here over the years and added their flavor to our collective melting pot. You can find amusement parks, sporting venues, opera houses, Broadway-style shows, and a myriad of other entertainments. Truly, the US has a ton to offer if you take the time to look for it.
The Pros of Going Abroad
Of course, there's also an entire world out there beyond America's borders. Think of the world's great cities, like Paris, London, Milan, Venice, Tokyo, Amsterdam, or Dublin.
Some people feel like you are not genuinely cultured unless you leave the US at some point. You might see all fifty states, but until you leave the US and start filling up your passport with some foreign stamps, you are not one of the world's citizens.
Leaving America might intimidate you a little bit, but it's also a way to explore cultures that are hardly like your own at all. That appeals to many people. Maybe you've grown up around the same kind of individuals all your life, and you wonder what other cultures are like. You can find that out first-hand when you step into a larger world that's diverse and enthralling.
You might start by visiting our northern and southern neighbors, Canada and Mexico. Canada has several wonderful cities, like Toronto and Vancouver. Mexico has tourist destinations like Cancun and Mexico City, but it also has more out-of-the-way places that are farther from the border.
Related: Complete Tulum Mexico Travel Guide
If you enjoy your Canadian and Mexican adventures, you might visit some of Europe's most popular cities next. If you go to London, you'll find that nearly everyone speaks English, and that's certainly easier on you when you try to communicate.
Ireland is English-speaking as well, so you might head over to Dublin and visit the Guinness factory. You can enjoy a fresh pint at the end of the tour while looking out over the entire city.
If you enjoy this type of excursion, you can travel even further next time. You might visit Tokyo next, or India. Think of the sights you'll see and the stories you can tell.
Potential Downsides of Going Abroad
Of course, some people might worry about certain things when they go abroad. We already mentioned the potential language barrier. If you go somewhere in Asia, for instance, you might find some people who speak English, but probably not all that many. You might have trouble getting around if all the signs are in a foreign language.
Also, if you visit another country, you might know a little bit about it, based on what you've read in books or online. The reality is, though, you don't know many subtleties about the culture.
You might say or do something that offends someone. Presumably, you wouldn't do it on purpose, but there are distinct cultural differences that can get you in trouble before you realize it.
You might get yourself into some danger by entering a neighborhood that's rougher than you realize. If you leave a tourist area and find yourself in a back alley, someone might try to rob you. There are always pickpockets who are after your valuables, and in some parts of the world, you have to worry about things like sexual assault as well.
Also, on the whole, traveling to a foreign country costs more than US travel. There are ways you can reduce the trip costs, like flying economy and staying in less luxurious hotels, but if you want a cheaper vacation, staying in the US is almost always your best move.
Making Your Decision
The good news is there's never anything that can force you to visit a foreign country if you don't want to do it. This is about your personal comfort level and what appeals to you.
Maybe you don't feel like you can afford to travel internationally when you're younger. You might have to wait until you retire before you can put enough money away for a little overseas exploration. If you do not have enough cash to travel abroad, you don't want to put yourself in debt just because you want to see what's out there.
A time might come, though, when you feel like the world is calling you. Maybe you meet someone who has been to many foreign countries, and they tell you amazing tales of the things they've seen and done. You may envy them, and that might be the catalyst that sends you on a more ambitious journey than any you have undertaken before.
If you marry someone or have a long-time partner, you also may choose to visit a foreign country for the first time with them. If you both have some trepidation about leaving the US, where you are comfortable, you might find that doing it together makes it easier and more fun for you.
You can live your entire life in the States and be perfectly happy, but many people would agree that you should try visiting another country at least one time. It's a nice thing to look back on in your later years.
Thank you for visiting today! If you found this encouraging or informative, please connect with us on Instagram or TikTok.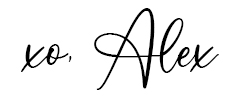 Sign up for our monthly newsletter for updates and more. We promise we won't spam you! Feel free to unsubscribe anytime.
If you're a brand and want to work with us, please visit this page to get in touch.