Reading Time:
5
minutes
Updated: 4/17/2023 | CVG Constantly Varied Gear Review

Disclaimer: I received products from CVG to review. As always, all thoughts and opinions are mine and 100% honest.
About Constantly Varied Gear (CVG)
Constantly Varied Gear (CVG) is owned by Mark and Rachael Arruda. They create high-quality men and women's activewear at affordable prices.
CVG is a small family business operating out of New Bedford, Massachusetts. The company started in 2014 by pressing shirts in their basement and has since grown to serve over 100,000 happy customers worldwide!
Beyond their mission to provide quality apparel to the fitness community, they also offer fitness guides and connect with CVG enthusiasts through their fitness FB group. Their goal is to help people reach their fitness goals and feel great and healthy in the best apparel.
Constantly Varied Gear Review
I received an opportunity to review CVG on my blog! I heard about them through Facebook and when I reached out, they were happy to collaborate.
We'll be reviewing the following products in this review: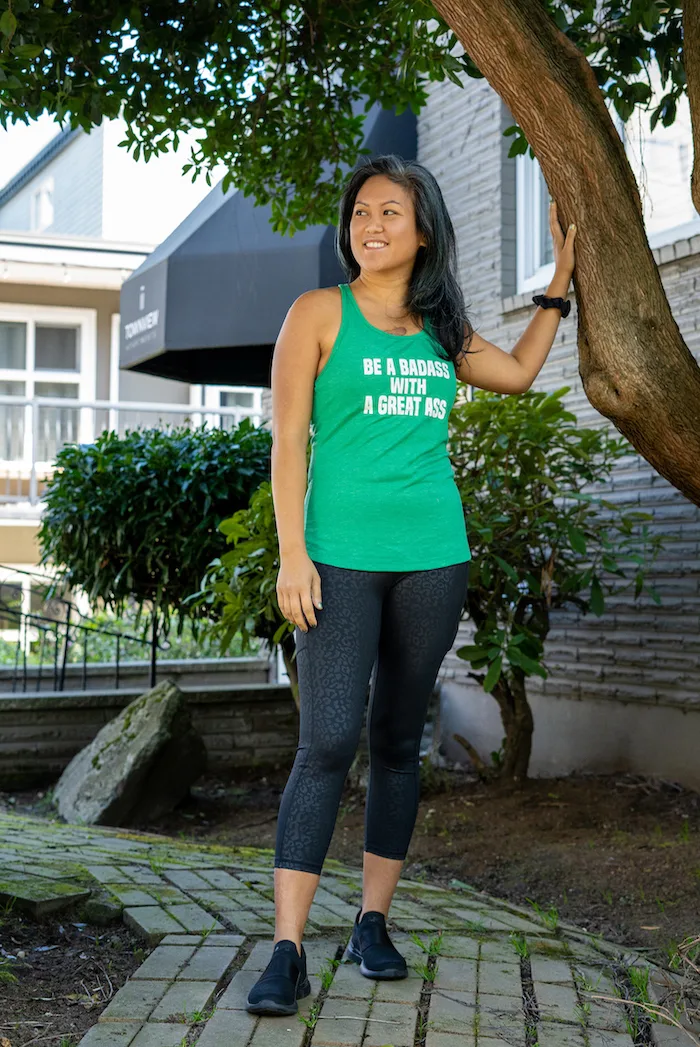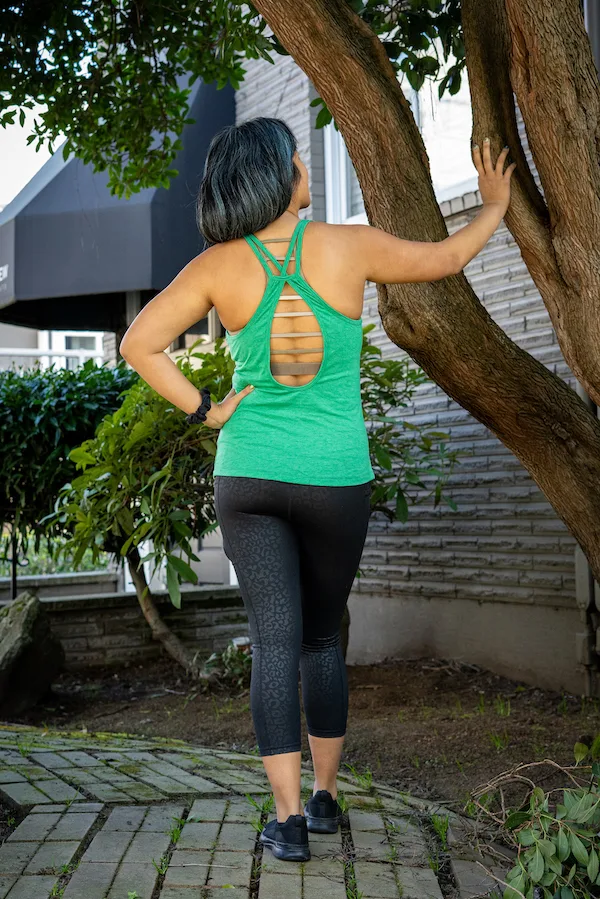 #1 How Does CVG Sizing Run?
I went with CVG's size chart and got all the pieces in a size medium.
I sized up to a medium in the tank top and it fit me perfectly! It was also already pre-shrunk. I typically wear a size 6-8 in tops.
The medium crops fit well but I would have sized down for more compression. I wear a size 6 in lululemon for size reference.
I received the shorts in size medium and they ran larger than the crop leggings. They would fit a size 8-10 US, but definitely not a size 6 per their size chart. I recommend sizing down in their shorts if you're in between sizes.
#2 What Styles Are Offered at CVG?
CVG makes long and crop leggings, shorts, tank tops, sports bras and leisurewear (hoodies and sweatpants). They make apparel for both men and women.
#3 What is the Inseam of CVG Bottoms?
CVG bottoms come in crop length with a 22.5″ inseam. The shorts come in 2.5″ and 5″ inseams. I reviewed the 5″ inseam which comes with a rubber adhesive that keeps the shorts from rolling up.
#4 How High is the Rise on CVG Bottoms?
The medium bottoms come with 9″ front rise and 10.25″ back rise. This allows the pants to sit very high on the waist and provides a lot of coverage.
#5 How Tall is the Waistband on CVG Bottoms?
CVG waistbands are 4.5″ tall and can be folded over. The high waistband keeps the leggings from slipping down.
The crops have a seam at the top of the waistband which allows the pants to stay while you move.
#6 Fabric Content and Performance
Fabric Content: Polyester and Spandex blend made from recycled water bottles.
Fabric Feel: The fabric used on CVG bottoms are super soft, spongey and stretchy. The fabric feels similar to Inner Fire.
Fabric Performance:

Quick Drying
Dry Wicking
4-Way Stretch
Does not pill.
Compressive (if you size down)

Opacity: CVG fabric is SQUAT PROOF. They are 100% opaque and even the white-backed (designs are printed on white fabric) will never expose your bum.
Fabric Features:

No visible logos
Two side pockets
The 5″ shorts come with a rubber adhesive to prevent the shorts from rolling up.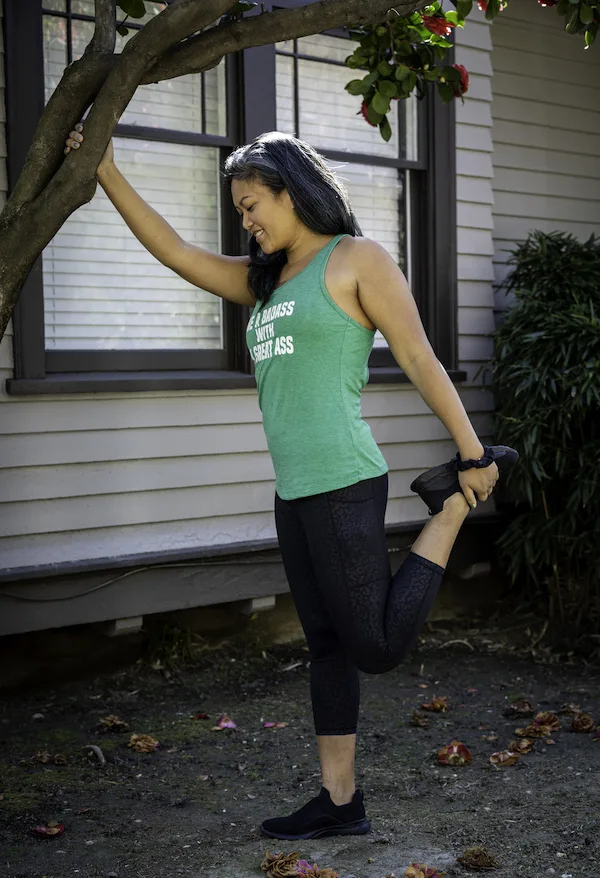 #7 When to Wear CVG?
CVG is designed for high-impact and sweaty sports. Their apparel is great for Cross Fit, weight lifting, HIIT, running, and much more.
We also wear our leggings to yoga and when we want to go hands ps (thanks to all the pockets!).
#8 How Much Does CVG Cost?
CVG bottoms are $45-$90. Tank tops are $29.99.
They often have deals. Sign-up for their e-mails for discounts and new product announcements.
#9 Do CVG Bottoms Have a Gusset?
CVG shorts are made with an H-shaped gusset.
The crop leggings are made with a single-layered, triangle gusset.
#10 What Seams are Used On CVG Apparel?
CVG uses flat fell seams on their bottoms for a chafe free fit.
Their tank tops are made with flat fell (flat) and overlocked seams. It does not affect me during my workouts.
#11 Does CVG Have UPF Protection?
Not disclosed.
#12 Where is CVG Made?
CVG apparel is made in China and designed in Massachusetts, USA.
#13 How Do I Wash My CVG?
We recommend machine washing on cold with like colors and fabrics then hang drying on a foldable drying rack such as this one.
Avoid bleach and washing or hot water, as it can ruin the fabric and make it less elastic and fade.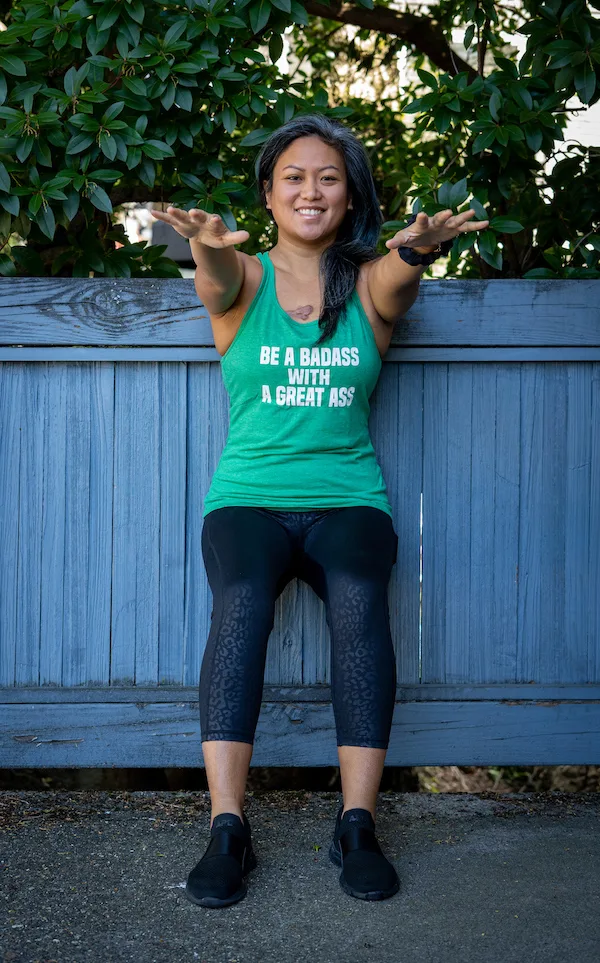 Should I Buy Constantly Varied Gear?
We highly recommend CVG!
The quality is superb and we love that the apparel is more affordable than other popular brands.
If you love squats, you can rest assured your bums are safe in CVG. Their fabric is 100% opaque (even their white-backed fabrics).
They're also eco-friendly and made with water bottles. We always recommend investing in companies that practice responsible manufacturing.
Where to Buy Constantly Varied Gear
Shop for CVG apparel directly on their website. Use this link to save $10 off your first order at CVG.
Sign-up for their e-mail list to receive special offers and new product announcements.
Did you enjoy our Constantly Varied Gear review? Please share it on Pinterest!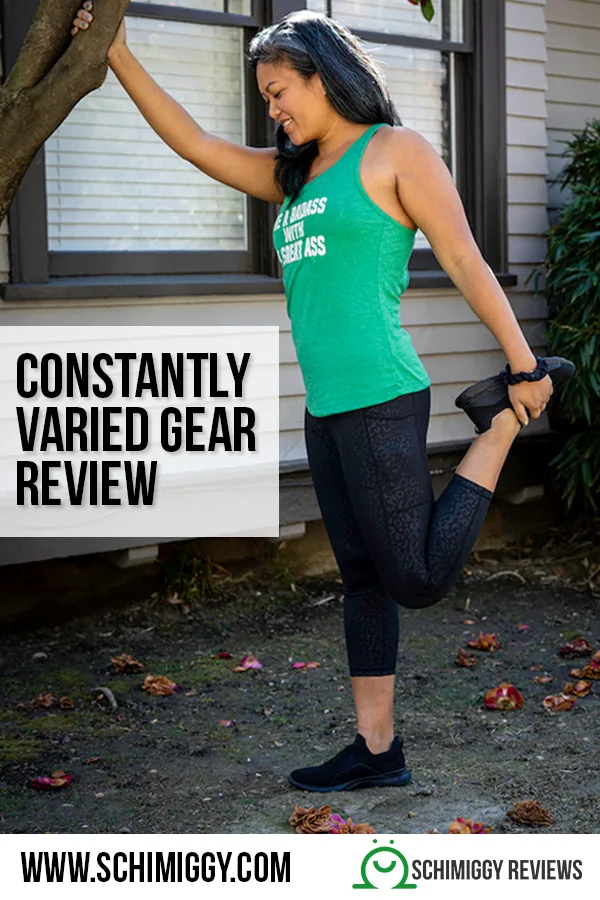 ---
Thank you for visiting today! If you found this encouraging or informative, please connect with us on Instagram, Youtube, Pinterest, Facebook or Twitter. We'd love to meet you!
Sign-up for our monthly newsletter for updates and more. We promise we won't spam you! Feel free to unsubscribe anytime.
For more fitness fashion discounts and offers, please visit our Fitness Instructor Discounts + Brands Directory or favorite brands coupon codes list.
If you're a brand and want to submit a product for us to review, please use this form to get in touch.
This site uses affiliate links. Clicking on or purchasing via an affiliate link may result in commissions for us which help keep the content flowing and lights on at Schimiggy Reviews. You may read more about this in our privacy policy.