Reading Time:
6
minutes
Updated: 1/26/2021 | Best lululemon Dupes
While we highly recommend buying from lululemon directly, sometimes it can be hard on the wallet. lulu is by no means the most affordable, but it's one of the best activewear brands on the market.
If you want to stay fashionable without breaking the bank, we've rounded up some options for those who love lululemon but need to stick to a budget.
Here is our roundup of the best lululemon dupes. You'll find that they're high-quality, significantly cheaper, and come in many colors and patterns to choose from.
#1 Align Pants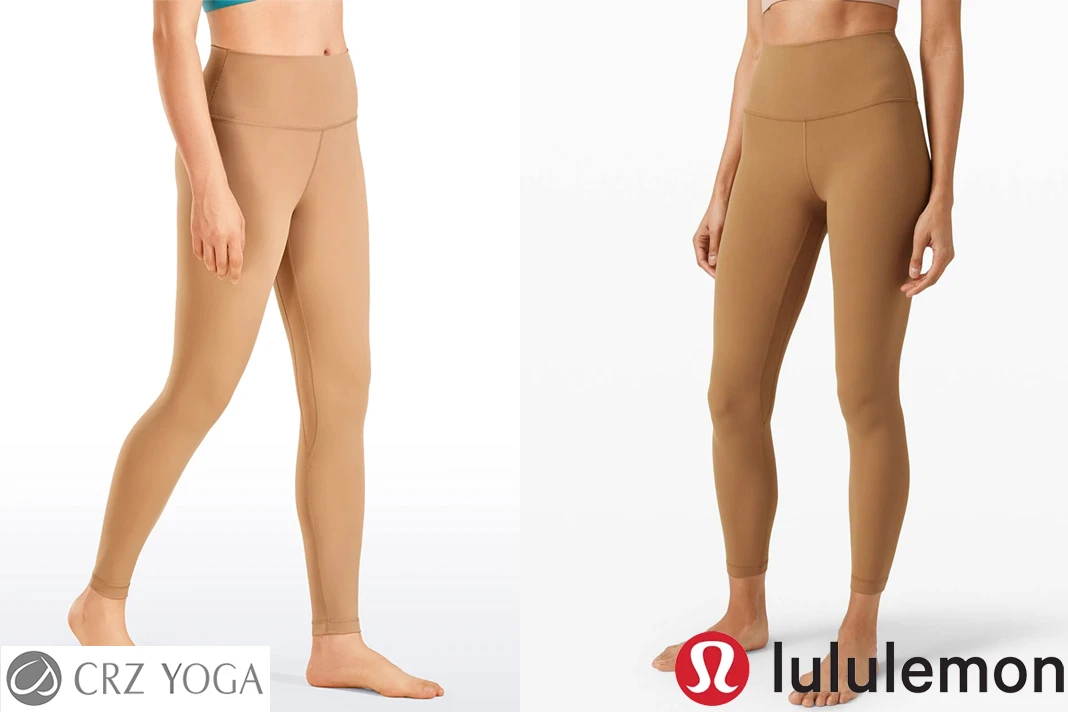 We compared the CRZ Yoga Naked Feel leggings ($30) and lululemon Align pants ($98) side by side.
The price and performance of CRZ Yoga were impressive. It's a great budget legging with a soft fabric that can easily replace Align's Nulu fabric.
Personally, we prefer Aligns better due to the buttery, matte fabric and naked sensation fit.
Use code SCHIMIGGY for 8% off all your orders at CRZ Yoga.
You may also want to check out Colorfulkoala, their leggings came in a close second to CRZ Yoga.
Related: CRZ Yoga Review – lululemon Dupe Leggings
#2 Cates Tee
The lululemon Cates Tee ($48-$58) is probaby one of the best investments we've ever made.
When we saw that CRZ Yoga made their own rendition of the Cates Tee, we had to give it a try. At only $20, we were impressed that it offered the same performance for a fraction of the cost.
#3 Energy Long Line Bra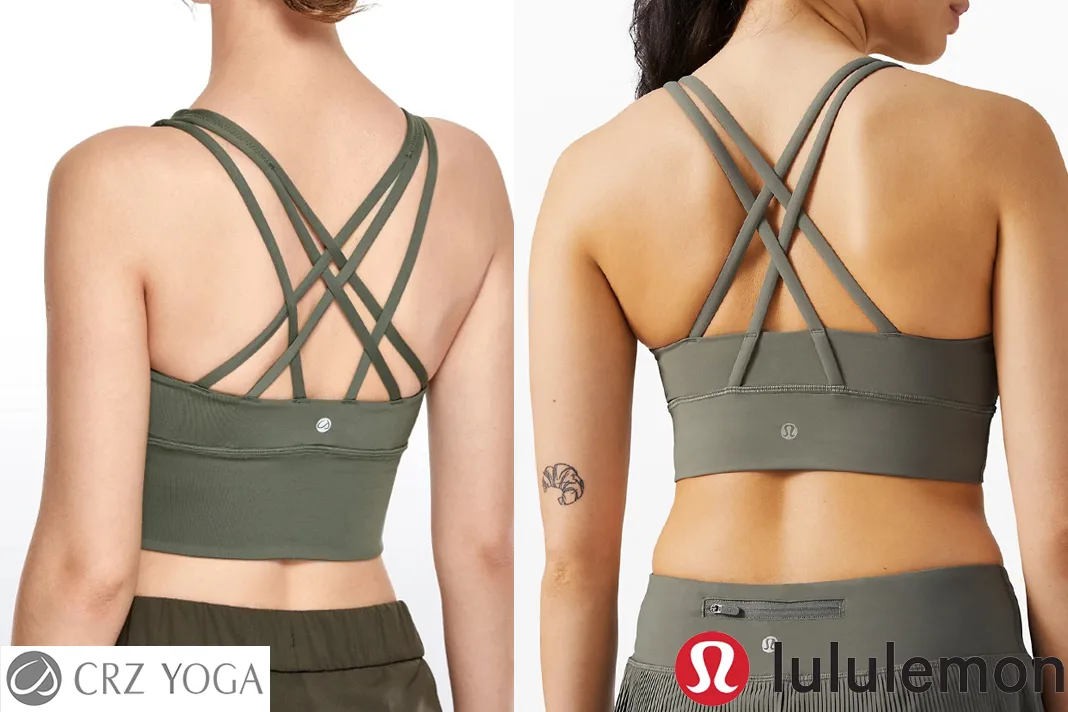 CRZ Yoga's strappy long line bra ($24) is a great dupe to lululemon's Energy Bra ($58-$68).
It's a fraction of the cost and the fabric is buttery soft, yet offers a lot of support and comes with removable cups.
#4 Free to Be Wild Bra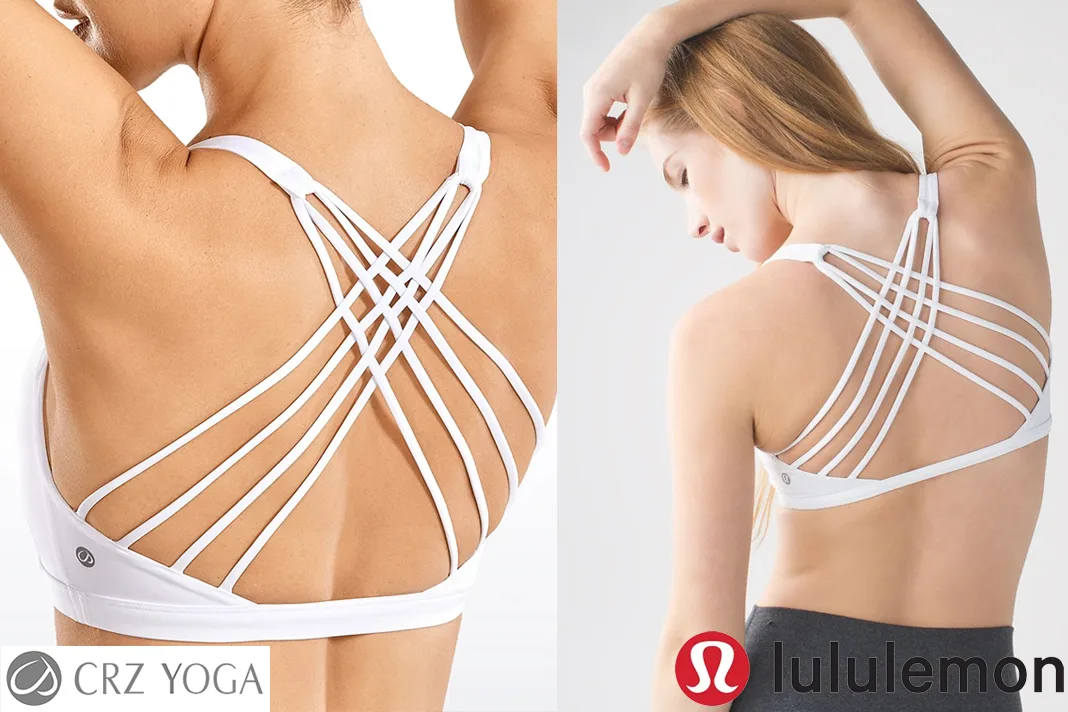 CRZ Yoga's Free Feeling Strappy Sports Bra ($22) is an exact dupe of lululemon's Free to Be Wild FTBW bra ($48).
We definitely consider this bra one of the best lululemon dupes.
#5 Swiftly Long Sleeve Top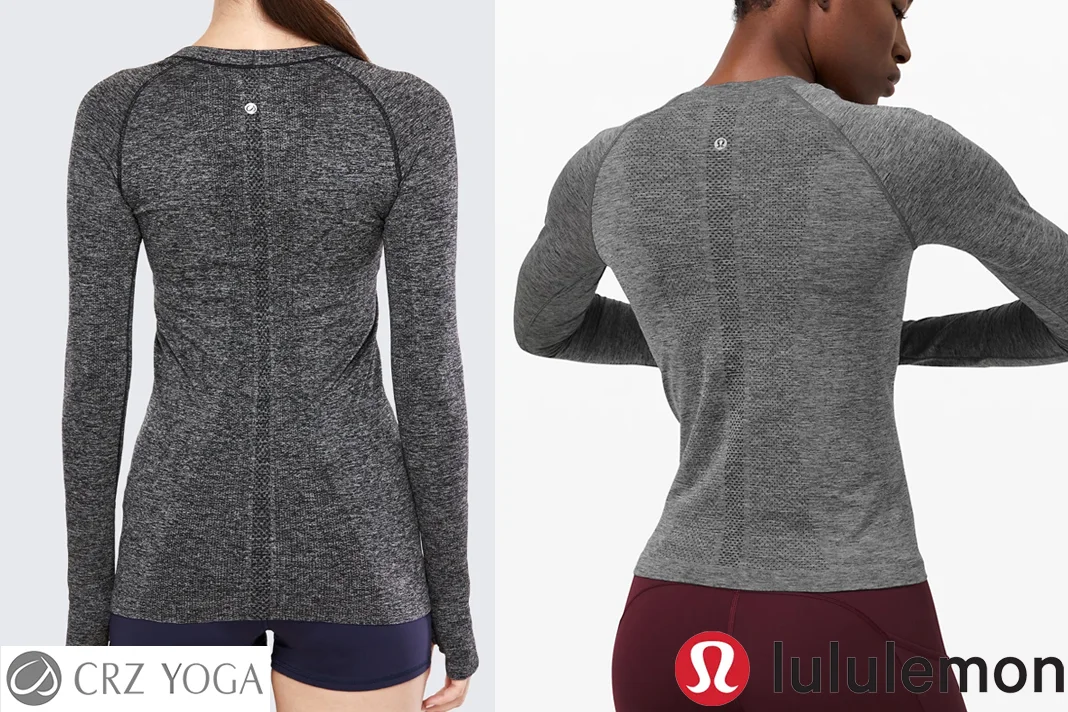 CRZ Yoga's seamless long sleeve top ($24) is a dupe of lululemon's Swiftly Long Sleeve tops ($78-$88).
From the marled fabric, knit design, logo placement, and even including the thumbholes.
CRZ Yoga also makes dupe versions of the Swiftly Short Sleeve ($18) and Sleeveless ($16).
#6 Power Y Tank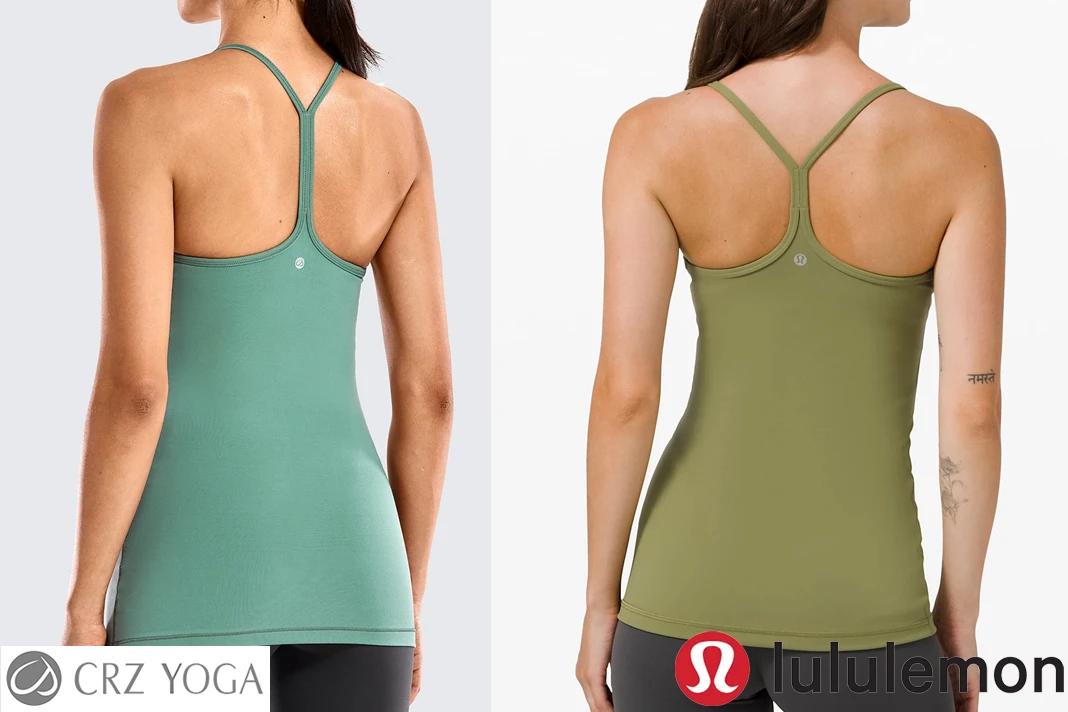 CRZ Yoga makes an exact dupe of the lululemon Power Y tank top ($54).
Their Cottony Soft Y-Back Tank ($24) and Speedy Seamless Y-Back Tank ($22) are identical from the cut and even some colors of the Power Y tank.
They also make a dupe of the Power Y bra ($22).
#7 Define Jacket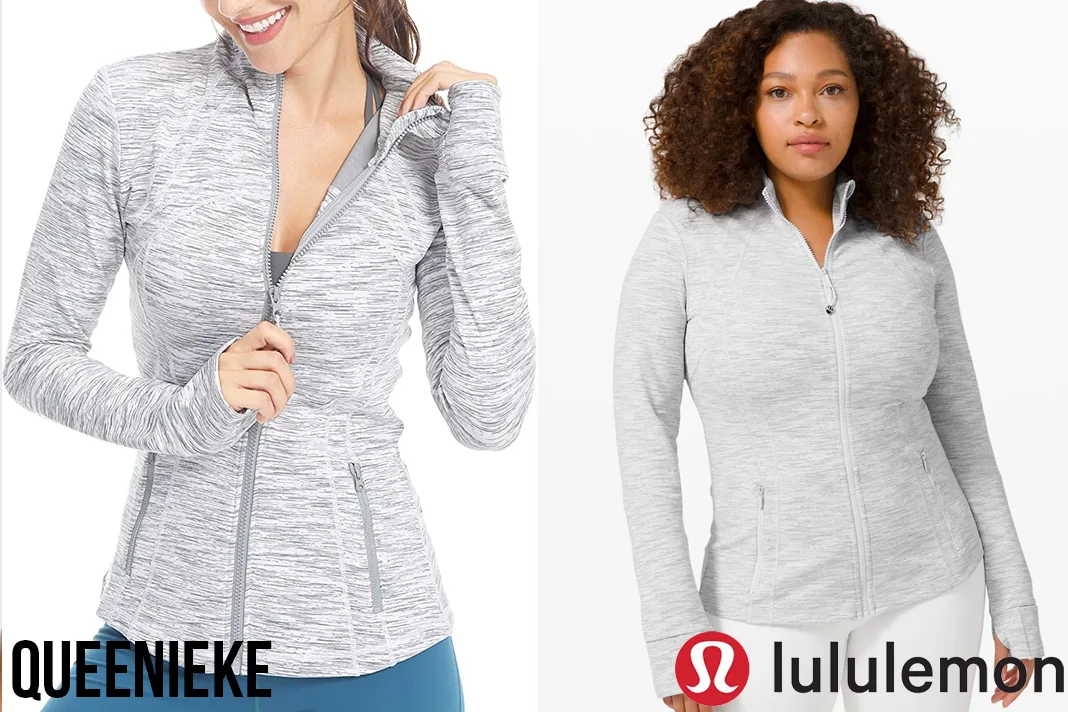 Queenieke didn't' even bother giving their Define Jacket dupe another name.
It's an exact replica of the lululemon Define Jacket. It has the OM shape in front and even the top yoke flap in the back of the jacket.
#8 Scuba Hoodie Jacket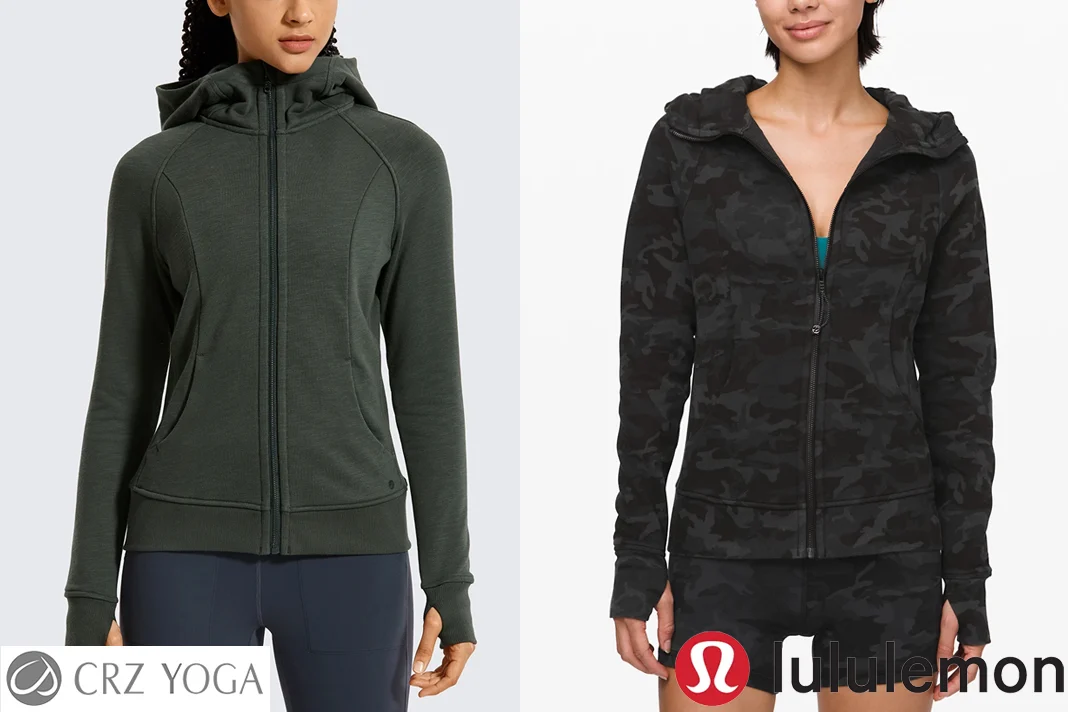 CRZ Yoga's Cotton Terry Full Zip Hoodie ($48) is a dupe of lululemon's Scuba Hoodie ($118).
#9 On the Fly Shorts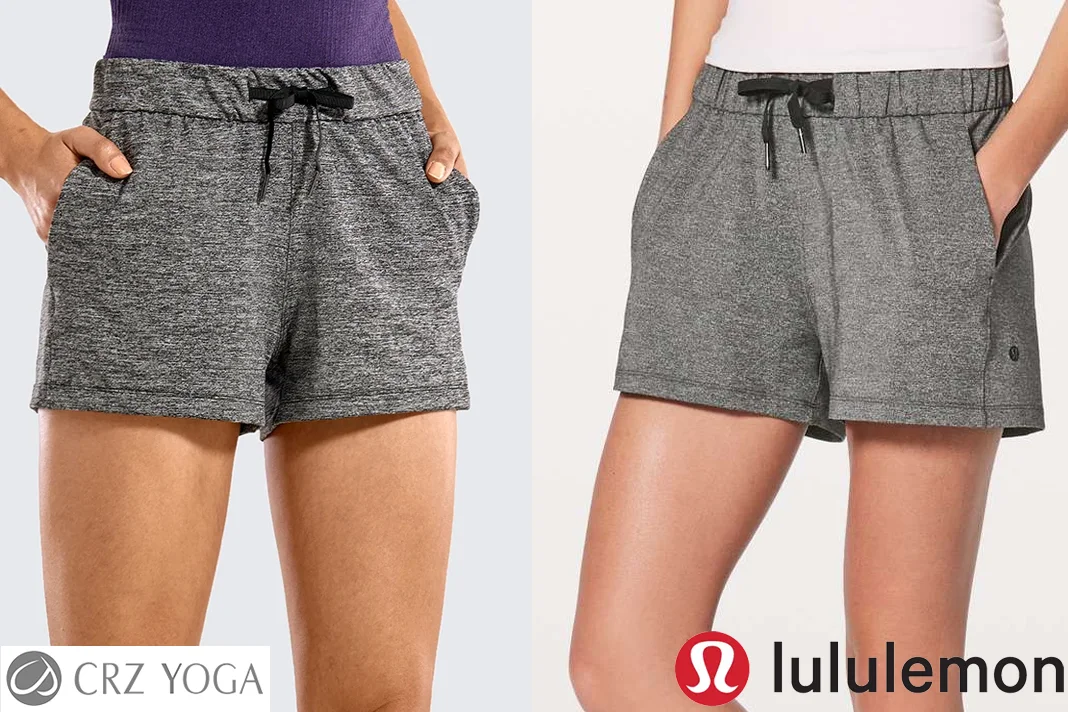 CRZ Yoga's Stretch Drawstring Travel Shorts ($22) is a dupe of the lululemon On the Fly Shorts ($58).
#10 Speed Shorts
CRZ Yoga's feathery-fit shorts ($24) are almost an exact dupe of lululemon's Speed Shorts ($58).
#11 Align Jogger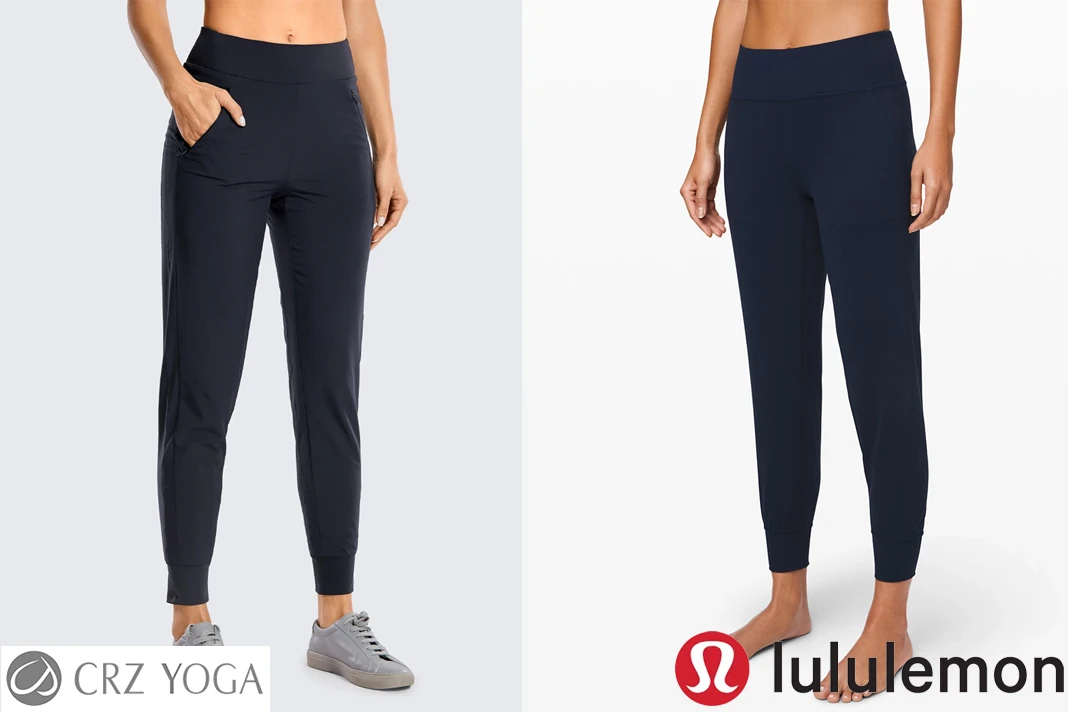 CRZ Yoga's feathery-fit joggers ($30) are an exact dupe of lululemon's Align Joggers ($98).
#12 Fast & Free Tights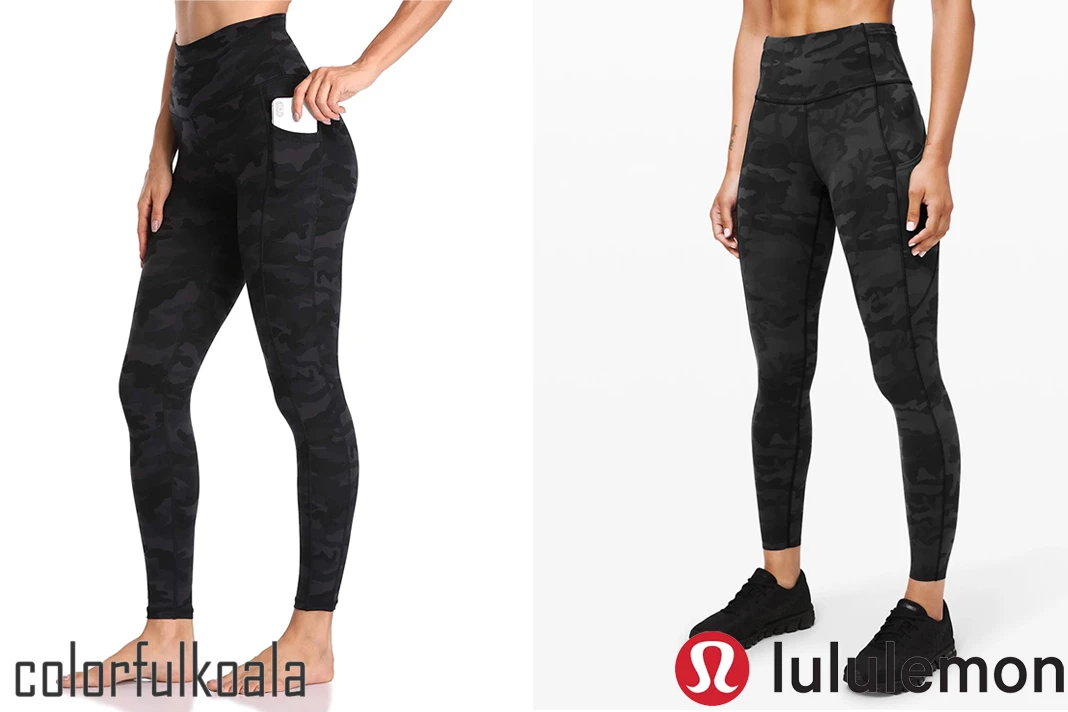 Colorfulkoala makes a pocket legging ($28) that is very similar to lululemon's Fast & Free tights ($128), however, there are some noticeable differences such as no outer waistband pockets and front seams that do not extend onto the waistband.
They're a UK based brand that is known for emulating many of lulu's popular silhouettes.
#13 Align Crop Tank Top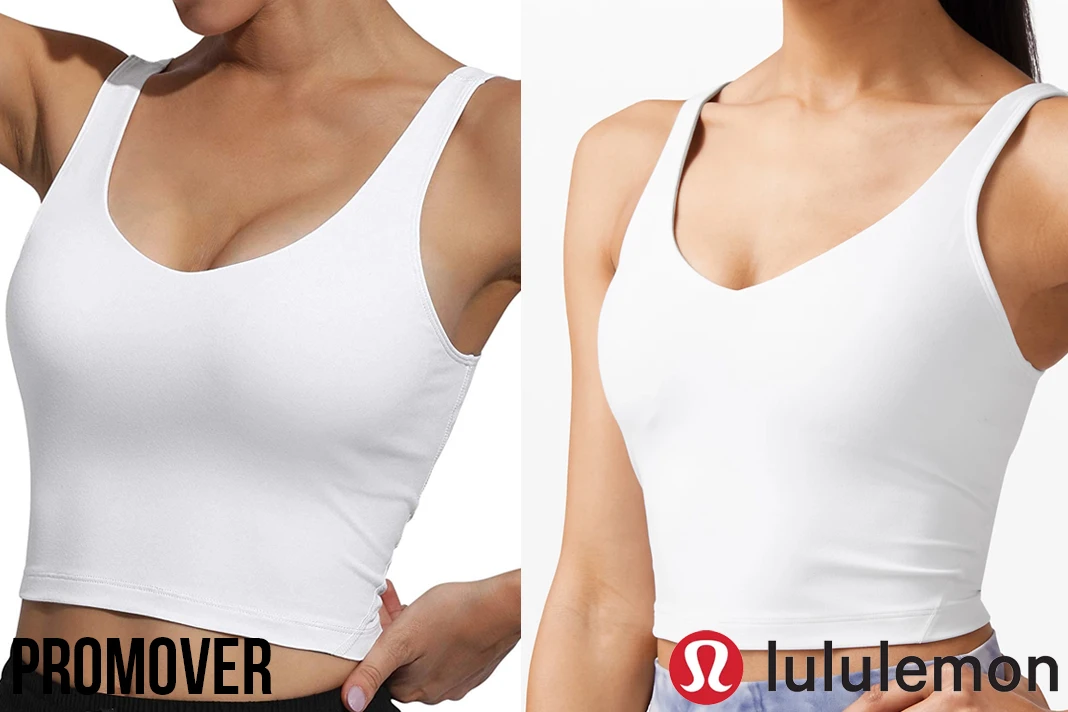 When lululemon Align crop tank tops ($58) were released, they flew off the shelves quickly. They also came in limited colors.
I opted for a dupe made by Promover and have worn the top pretty often! The fabric is not as buttery soft, but the silhouette looks almost identical.
I finally got a chance to compare it to the real deal and the quality and fit are very close. The only difference is lulu's version is made with the buttery soft Nulu fabric.
Other brands that sell similar Align Tank dupes include CRZ Yoga, Lavento, The Gym People, and Raisevern.
#14 Crescent Tee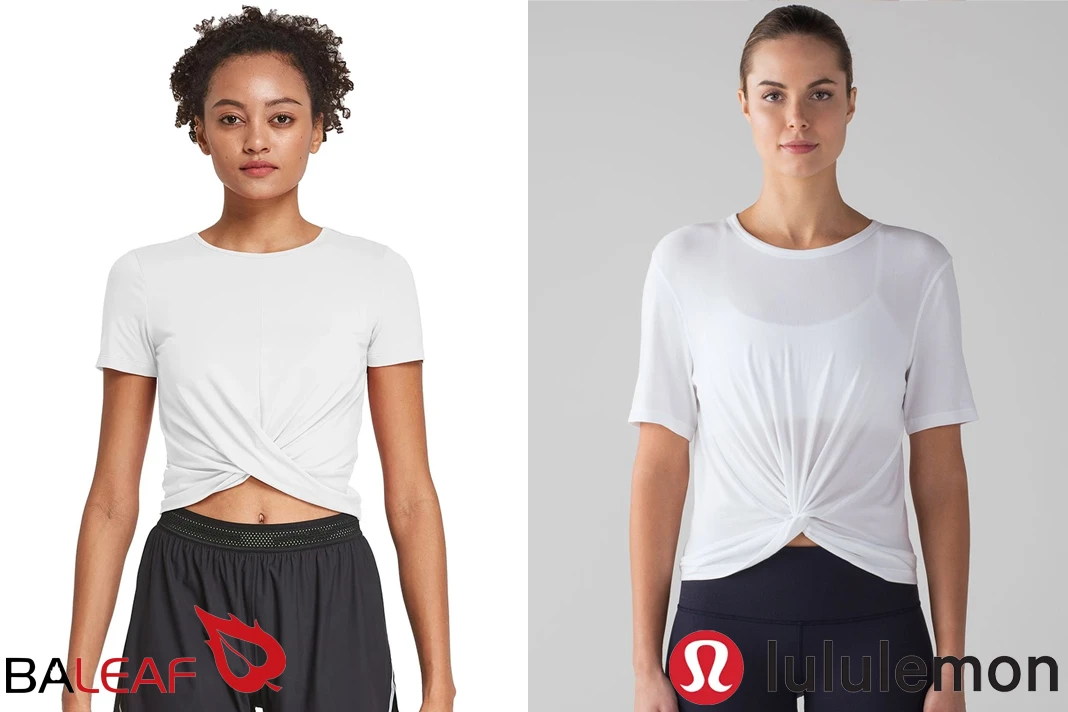 Baleaf's crewneck mesh cross wrap crop top ($19) is a great dupe for lululemon's Crescent Tee ($48).
We recommend sizing up in Baleaf apparel.
Use code SCHIMIGGY15 to save 15% off all your orders at Baleaf.
#15 On the Fly Pants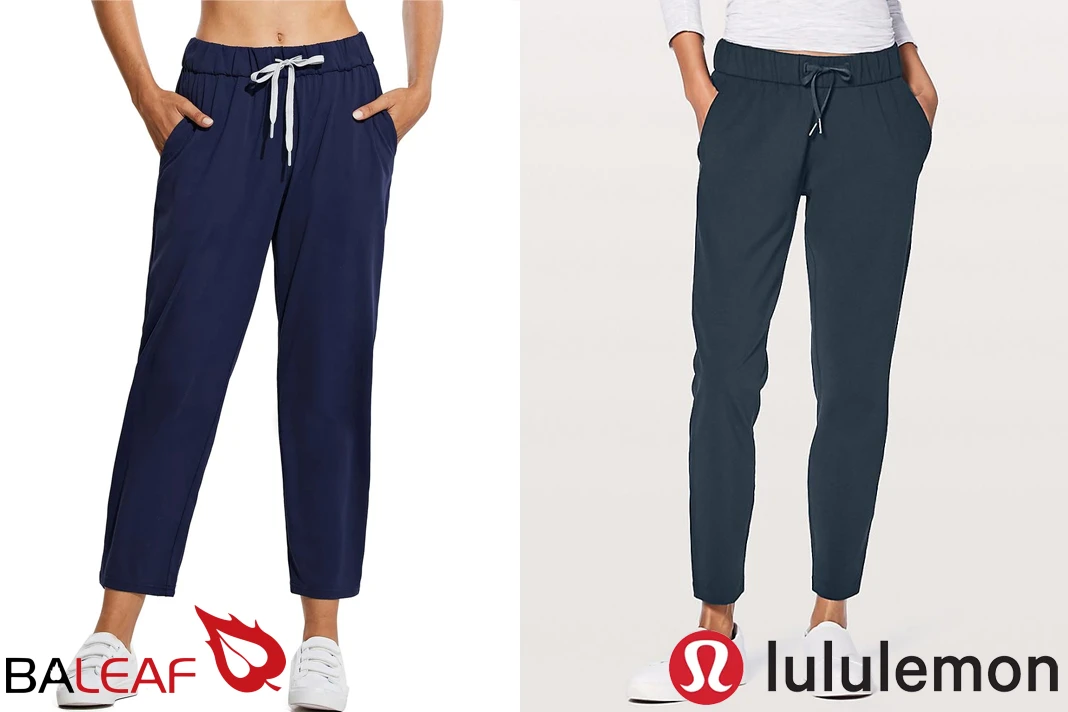 Baleaf has tapered pocketed ankle length pants ($32) that are similar to the lululemon On the Fly (OTF) Pants ($98).
Use code SCHIMIGGY15 for 15% off your orders at Baleaf.
#16 Hottie Hot Shorts
CRZ Yoga also makes a dupe of lululemon's H0ttie Hot Shorts ($58). Their Feathery Fit Running Shorts are a near exact rendition and even comes in 2.5″ and 4″ lengths.
#17 Pace Rival Skirt
CRZ Yoga Feathery Fit Mid-Rise Tennis SKirt ($32) is a dupe of lululemon Pace Rival Skirt ($58).
#18 Wunder Under Pant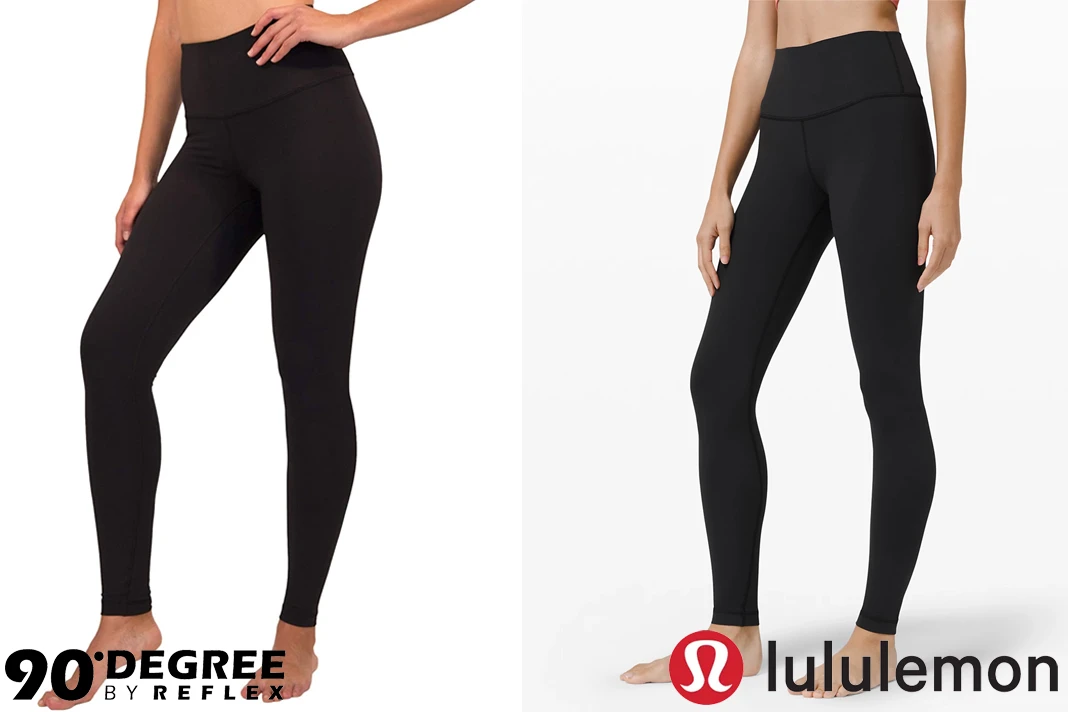 90 Degree Reflex makes dupes of the lululemon Wunder Under Pant (WUP) and crop (WUC). Their fabric is similar to Luon but does not pill as easily or hold its shape as well.
90 Degree Reflex leggings can be purchased directly from their website, on Amazon and Nordstorm Rack.
Another brand that makes a good WUP/WUC dupe is Baleaf. We recommend sizing up in Baleaf. You may want to give them a try too!
If you enjoyed our post on best lululemon dupes, please share it on Pinterest! Thank you!

Want to know more about lululemon?
We have an entire resource page dedicated to everything lululemon related. Please check it out!
If there are any other topics you'd like us to shed some light on, please let us know!
---
Thank you for visiting today! If you found this encouraging or informative, please connect with us on Instagram, Youtube, Pinterest, Facebook or Twitter. We'd love to meet you!
Sign-up for our monthly newsletter for updates and more. We promise we won't spam you! Feel free to unsubscribe anytime.
For more fitness fashion discounts and offers, please visit our Fitness Instructor Discounts + Brands Directory or favorite brands coupon codes list.
If you're a brand and want to submit a product for us to review, please use this form to get in touch.
This site uses affiliate links. Clicking on or purchasing via an affiliate link may result in commissions for us which help keep the content flowing and lights on at Schimiggy Reviews. You may read more about this in our privacy policy.