Reading Time:
6
minutes
Updated: 3/13/2020 | Cards and Decks for Intention Setting and Reflection
Intention setting can often be tricky. We have SO many intentions and goals throughout our life, and when life gets busy, our intentions often sit on the back burner.
A great way to set intentions for yourself or in your workshops and yoga classes is with intention setting and self-reflection decks!
Deck of cards are easy to digest and to distribute in class. It also adds a personal touch to your workshops and classes.
The team at Schimiggy Reviews tested these decks in our classes and highly recommend them. Here are our best picks for intention setting ad reflection cards that you can use in your personal practice or with others. Use them in your yoga classes and beyond!
#1 Affirmation Cards by Legendary Life
This Affirmation deck by Legendary Life offers 120 affirmations that are great for intention setting and energy manifestation.
Choose from 6 different life categories or mix the deck up and choose a random card. You'll love exploring different activities and possibilities for connecting on a deeper level.
#2 Mindfulness Cards: Simple Practices for Everyday Life
Buy Mindfulness Cards on Amazon, Paper Source, Uncommon Goods and Wordery.
#3 HuMandalas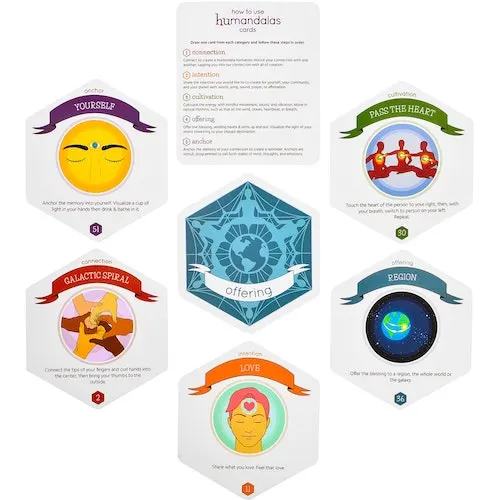 The HuMandalas deck is designed to connect with yourself and the community around you. It's a great way to create a group experience.
We love the 2+ person cards, which require participants to get out of their comfort zone to connect at a deeper and more meaningful level.
Use coupon code SCHIMIGGY to save 10% off your orders at HuMandalas.
#4 Art of the Panda
Art of the Panda cards come in a set of 50 inspirations and meditations for daily life.
You can also download the accompanying app and follow the meditations whenever you need them.
#5 Reflection Deck by Holstee
Holstee's Reflection deck is a great game you can use to get to know friends and even strangers better.
The card has two questions. The question on the card's white side is an ice-breaker and the question on the colored section of the card asks a much deeper open-ended question.
It's a fun deck that will get you to find more meaning in life.
Buy the Holstee Reflection deck on Amazon or Etsy.
#6 Rebel Deck
The Rebel Deck is a hilarious way to set intentions inside and beyond the yoga studio. One side of the card offers an affirmation and the other side explains how you can apply it to your life.
They currently offer a regular deck, couple's deck and game deck. Check them all out!
#7 Mindful Messages

The Mindful Messages deck offers daily affirmations and opportunities to practice mindfulness throughout your day.
The set is great for both kids and adults. We love that the cards are very colorful too!
#8 The Universe Has Your Back
The Universe Has Your Back deck helps to transform fear into strength.
The cards are beautifully designed with phrases that will help you get about your day with confidence and hope.
#9 Cosmic Cards
We are obsessed!!!
Cosmic Cards are beautifully designed cards by Julie Catona of Future Illustrations. Her Cosmic Cards deck offers affirmations, quotes and intentions you can use in yoga class and beyond.
Choose from different decks, expansion packs and even a holographic set. Continuously inspire yourself with this affirmation deck from the future.
#10 May You Know Joy Intention and Meditation Decks
May You Know Joy was created by Adrienne Inne, a meditation and mindfulness expert. Her decks are great for setting mindfulness and intention when you need it most.
When using the decks in your class, have everyone choose a card (either randomly or their choice) and have them read it aloud 2-3 times. Place the card on your mat either face up or down and flow with it through class.
#11 Stress Less Cards
The Stress Less cards by Sunny Presents offers 50 Mindfulness & Meditation exercises that help to relieve stress and anxiety.
Each card prompts you to participate in an activity that helps to calm and clear the mind.
We use these cards towards the end of yoga class. Students are encouraged to take the last 5 minutes of class to follow the instruction on the cards. They can even do the activity at home prior to bedtime to aid with sleeping.
#12 Renegade Mama
Renegade Mama cards are great for reflection and affirmations. The whimsical artwork makes the deck even more fun to use.
Use our link to save 10% off your orders at Renegade Mama. Alternatively, you can use code SCHIMIGGY during checkout to save 10%.
#13 Pema Chödrön's Compassion Cards
Pema Chodron's Compassion Cards offer daily teachings that help to nurture the heart, soul and mind.
In class, students can randomly select a card and read it to themselves. The teachings can occur in class and go beyond the yoga mat.
#14 Everyday Peace Cards
The Everyday Peace Cards by Thich Nhat Hanh offers 108 mindfulness meditations to foster peace and awareness in your life.
Thich Nhat Hanh is one of the best-known Buddhist teachers in the world. His teachings are known to transform lives and promote peace around the world.
#15 Art of Attention: Yoga Healing Cards
The Art of Attention: Yoga Healing Cards by Elena Brower and Erica Jago offer powerful affirmations for daily living.
Each card is designed by Erica Jago and imprinted with teachings by the duo.
#16 Contemplation Cards
A tool for introspection and positive intention, these cards feature powerful one-word affirmations. Users are invited to reflect on these key concepts by choosing a card daily or whenever they seek guidance or inspiration.
Stored in a little keepsake box with magnetic closure and a window for displaying individual cards, this deck is perfect for anyone interested in self-development and mindful living.
#17 Empowering Questions & Affirmation Cards by Dessie
Dessie makes a 60 card deck that is filled with affirmations and empowering questions.
The cards are beautifully designed with peaceful and inspiring imagery.
#18 Sweet-Ass Affirmations Deck by Rage Create
Rage Create makes a Sweet-Ass Affirmation Deck that is fun to use alone or with friends!
The cards will do doubt make you laugh and have fun while setting intentions and goals.
Use coupon code SCHIMIGGY20 to save 20% off at Rage Create.
If you'd like to add your deck of cards to this list, please reach out to us. We'd love to work with you!
Thank you for visiting today! If you found this encouraging or informative, please connect with us on Instagram or TikTok.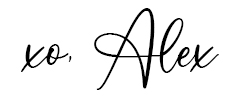 Sign up for our monthly newsletter for updates and more. We promise we won't spam you! Feel free to unsubscribe anytime.
If you're a brand and want to work with us, please visit this page to get in touch.