Reading Time:
4
minutes
Updated: 1/4/2023 | Online Multiplayer Games
During this crazy pandemic, staying in touch virtually is ever more important. It makes us realize what we took for granted and be thankful for the things that we do have.
Shelter in place orders have been implemented in various cities and countries. It's an effort to reduce the number of COVID-19 infections and transmissions.
If you're in an area where shelter in place has been mandated, here is our list of favorite online multiplayer games you can play with your friends and family anytime and anywhere. All you need is a mobile phone, internet connection, download the Apps and create an account!
Games to Play on Your Mobile Phone While in Isolation
#1 HouseParty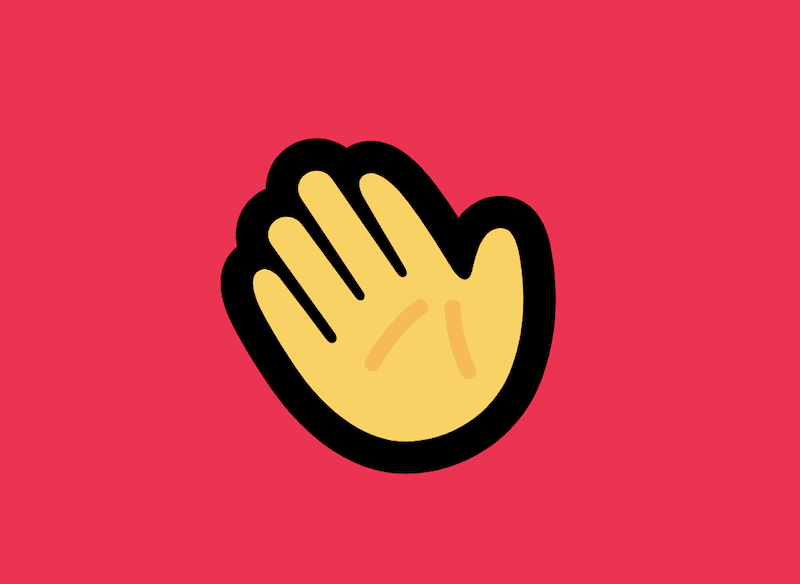 HouseParty allows you to chat and play games with friends. They have games like Heads Up, Draw Something, Chips and Guac (similar to Apples to Apples), Trivia categories and more.
Some of the questions and prompts do repeat. The App can be laggy when the servers start to get overloaded. This typically happens in large groups or later in the day when people are free to play games.
#2 Cardz Mania
Cardz Mania has solo and multiplayer card games. We love playing Oh Hell. They also have other games like Hearts, Rummy, Spider and Solitaire.
#3 Codenames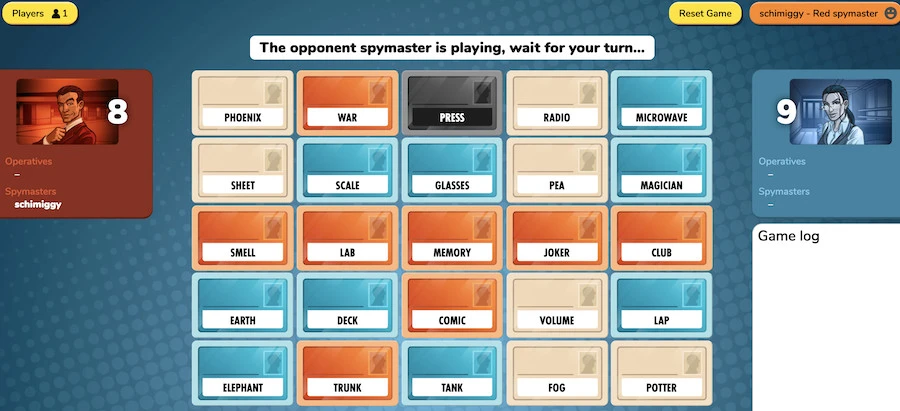 Play Codenames! Codenames is a super fun game where you, the Spymaster, give a clue and your teammates have to guess what the correct word or words are.
You can also choose from different languages. Simply create an identifier or let the game generate one for you. Send the Spymasters the link and play in two teams to strategize and guess your team's words.
#4 Among Us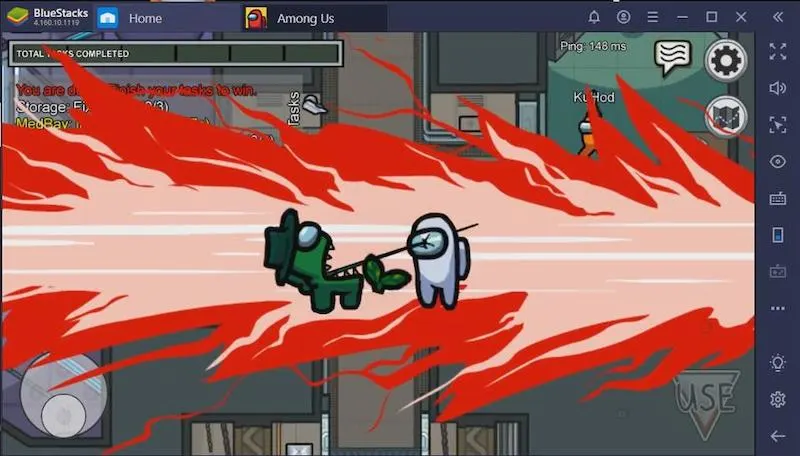 Among Us is an awesome multiplayer game (up to 10 players) that can be played through your phone or on Steam. There is one Imposter who is trying to kill and sabotage the crew. You will need to find and eject the imposter before they kill everyone!
Download the Among Us App through your Apple or Google marketplace.
#5 STFH Drinking Game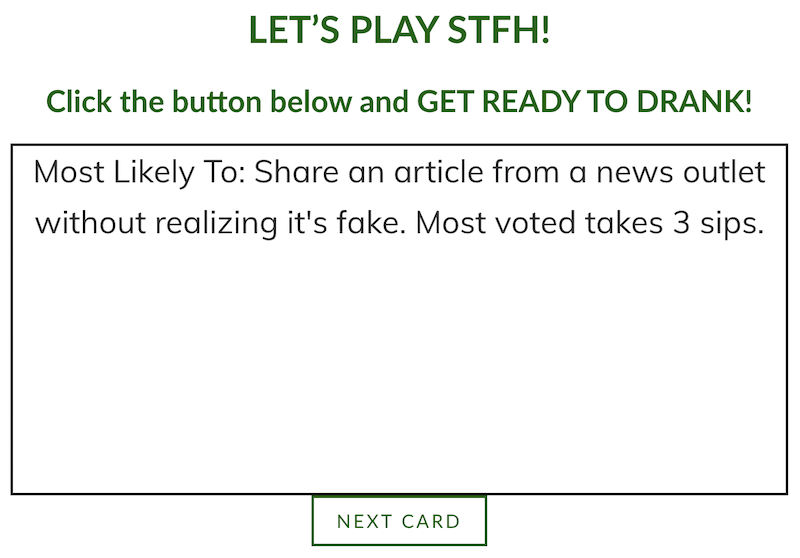 The Stay the Fuck Home drinking game is fun for the 21+ crowd. Read the instructions and then scroll down to the card generator to start playing.
This game is also similar to popular AZN Flush drinking game, but it's quarantine themed!
#6 All Bad Cards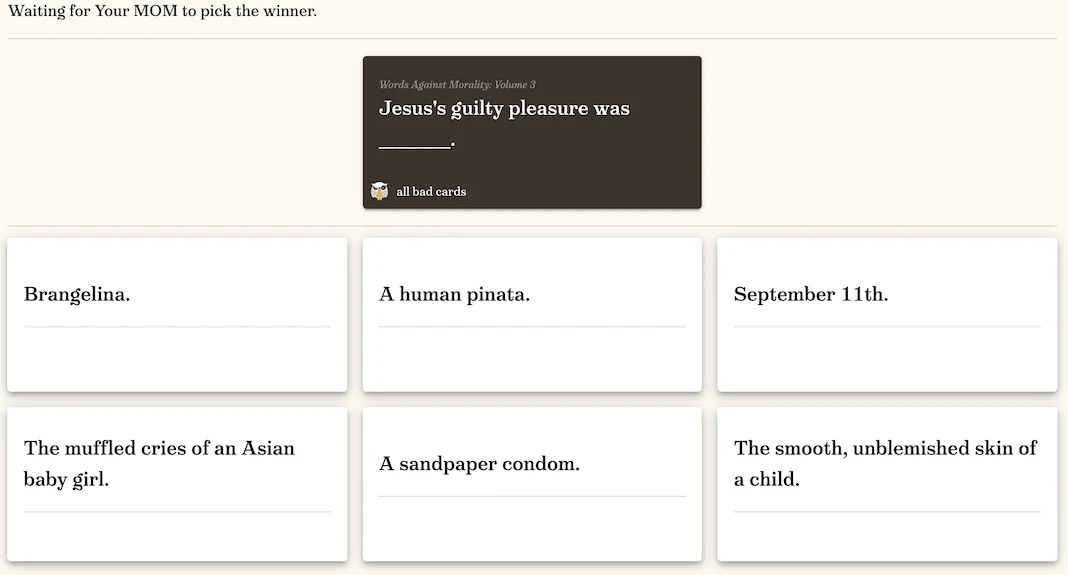 All Bad Cards is a Cards Against Humanity (CAH) dupe, except the cards you get to pick are WORSE than CAH. Don't worry, you can choose to play the family friendly version of the game.
#7 Words With Friends
Download Words With Friends and play this Scrabble-like game on your mobile phones.
#8 Monikers
We LOVE Monikers! It's a combo of Taboo and charades.
You play in two teams with three rounds (using the same cards all three rounds) that require:
Describing the key phrase without using any of the words within the phrase.
Using one word to describe the key phrase
And finally, acting what is on the card, like charades!
This online version requires you to play on a mobile phone, but can also be played on a desktop or a tablet. Simply pass the device to the next person once your time is up.
When playing Monikers on Zoom, you can pass the screen control to the next person once it's their turn.
And once we can all hang out and play in person, you can buy the Monikers card game here. There are various decks so the possibilities are endless.
#9 Skribbl
Play Skribbl (AKA Pictionary) with strangers or create a room to play with your friends.
#10 UNO!
UNO! is a fun card game you can play with friends online. You'll have to download the game onto your phone and invite friends to play with you. You can also play with strangers online.
#11 Multiplayer Games on Games Games
Games Games has free multiplayer games. Browse through their list of games and pick one to play with your friends and family.
#12 Online Gambling
If you're missing the casinos, try online gambling. Online gambling is just as fun and much cheaper than going into the casino. You can pay for as little as a £10 no-deposit bonus.
#13 Create Your Own Card Game
Can't find a card game that you love online? Using Playing Cards, you can also create your own card game.
Playing Cards offers some prompts that randomly generate a 52 card game for you. You can also customize the card game card by card and change the layout of the playing board.
Do you have any online multiplayer games you'd like to add? Send us an e-mail and we'll share it with our readers. Thank you!
If you enjoyed our article on online multiplayer games, please share it on Pinterest!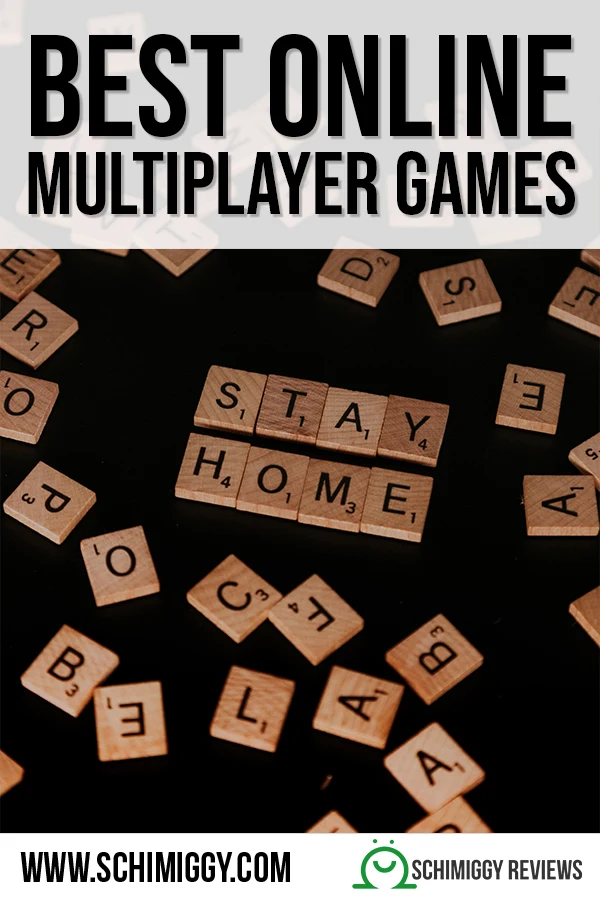 Thank you for visiting today! If you found this encouraging or informative, please connect with us on Instagram or TikTok.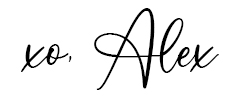 Sign up for our monthly newsletter for updates and more. We promise we won't spam you! Feel free to unsubscribe anytime.
If you're a brand and want to work with us, please visit this page to get in touch.