Reading Time:
6
minutes
Updated: 2/17/2021 | Best High Waist Leggings
If you're like me, a tall waistband is a requirement for leggings. Anything not covering my navel will immediately slip down and be rendered useless.
Benefits of High Waist Leggings and Pants
Supports the Waist – If your pants are made right, the waistband will hug everything in and make your waistline appear slimmer, make you look taller, and hide the dreaded muffin top. A muffin top is when your hips spill over the top seam of a waistband and it literally looks like the top part of a muffin.
Prevent slippage while moving. Have you ever bent down and accidentally displayed your crack to the world? Well, the high waist fit can prevent that.
Stow Your Belongings – Some high rise pants offer an added hidden pocket that's big enough for your phone, keys and ID and credit cards. Who needs handbags anymore?
Give a Booty Lift – I see major booty lift with most of my high waisted leggings. The tall waistband sits further up and creates compression against the booty and gives it a subtle lift. Some leggings are even designed to purposely fit tighter around the waist to create a more noticeable booty lift.
Best High Waist Legging Brands
We've chosen the following brands based on the quality of design, fair workplace conditions, and eco-friendly and sustainable manufacturing practices. We only want to share high-quality and eco-conscious brands and products with our readers.
#1 Girlfriend Collective Compression Leggings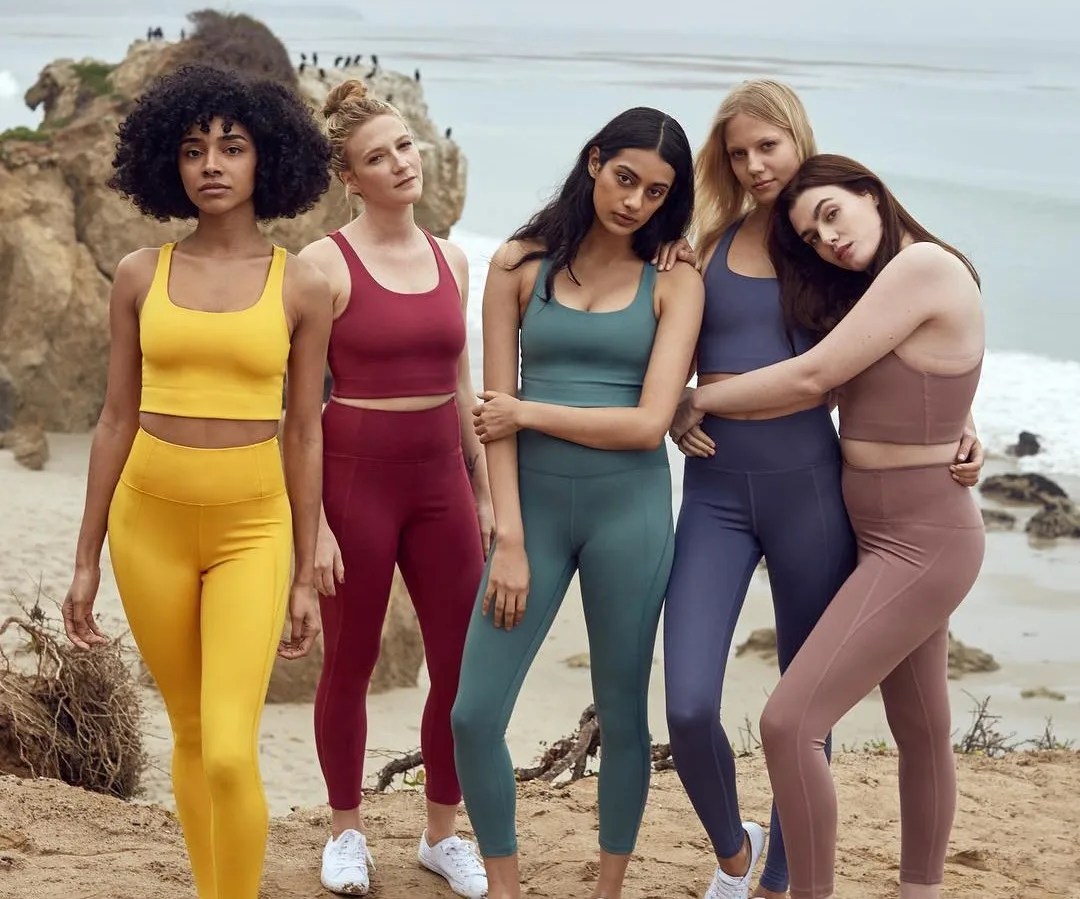 We are obsessed with Girlfriend Collective. Not only are they super eco-friendly and sustainable, they come in a slew of colors and matching bra and crop tops.
Each pair of leggings are made with 28 certified used water bottles. They also have a closed-loop system where you can send in your old Girlfriend Leggings and get a 15% discount on new pants.
Read our reviews of Girlfriend Collective here.>>
Get $10 off your first order of $95 at Girlfriend Collective.>>
#2 Zella Live In Leggings
For a while, Zella only offered their popular Live In leggings in a medium rise. When they released their high waist version, I was over the moon.
Zella stays put and does run a bit tight. If you're in between sizes, we recommend sizing up.
Read our Zella reviews here.>>
#3 Lululemon Align Leggings
lululemon Align pants are made with their proprietary buttery soft Nulu fabric. It feels spongey and is super soft, so it gently hugs against your body and stays put.
The waistband has an inner pocket and the waistbands come in extra tall and tall heights.
Only gripe we have with these leggings are that they tend to pill.
Read our lululemon Align pants review.>>
#4 Athleta Salutation Leggings
Athleta's Salutation leggings are made with their buttery soft Powervita fabric. The high waistband also has an inner pocket to stow your keys and cards.
Read our Athleta reviews here.>>
#5 Davy Piper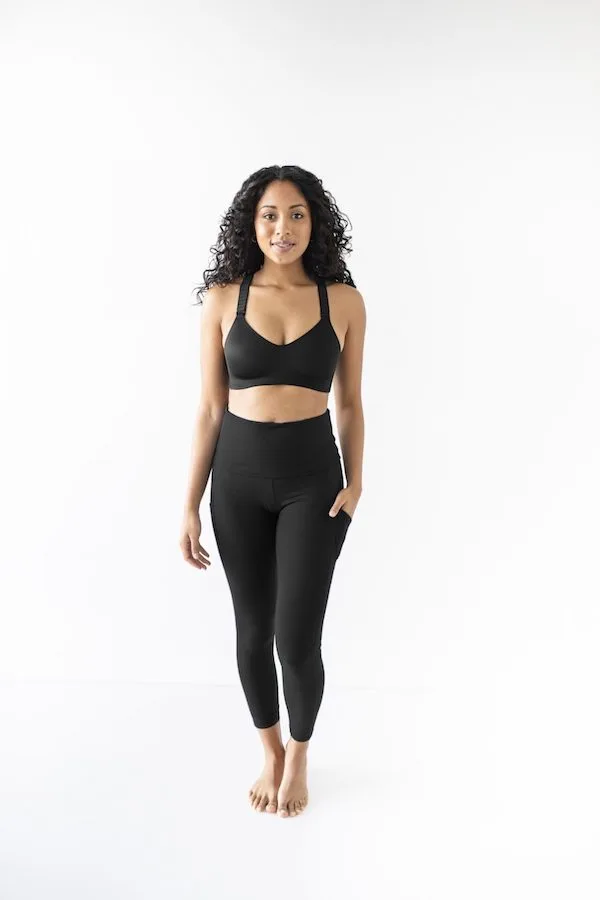 Davy Piper is a conscious apparel brand for women. They offer the Louisa high-waisted leggings ($90) with a pocket option. The fabric is buttery soft and it comes in black and blue.
The waistband is super high and looks great with a crop top.
#6 Beyond Yoga
Beyond Yoga makes all their tights with a high-waist design. They're a woman-owned and operated company that is size-inclusive as well.
We love their soft space dye fabric!
Read our Beyond Yoga Reviews.>>
#7 Carbon38
Carbon38 makes their Takara leggings with tall waistbands that are reinforced with an inner elastic band. This means your leggings are never going anywhere.
They're also some of the sexiest leggings you'll probably ever wear. The Takara leggings also come with medium waistbands.
Read our Carbon38 reviews here.>>
Get 15% off at Carbon38 with code SHMGY25.>>
#8 lululemon Fast & Free Leggings
lululemon Fast & Free Tights ($128) are a fan favorite. The leggings are made with Nulux, a buttery soft and quick-wicking fabric that offers a naked feel.
They're great for light to medium impact sports. The side pockets also allow you to go hands-free.
Read our lululemon Fast & Free Tights review here.>>
#9 Terez Tall Waistband Leggings
Terez offers both tall and regular waistbands. Their leggings come in various prints and the fabric although white-backed, does not stretch much.
We recommend sizing up in Terez.
Read our Terez Tall Band Leggings review here.>>
#10 WERKSHOP
WERKSHOP's Athleisure leggings are some of my favorites! The Athleisure fabric is super soft and fits like a second skin.
If you're a yogi or love wearing beautiful hand-drawn leggings, WERKSHOP is for you.
Get $10 off at WERKSHOP when you use code SCHIMIGGY.>>
#11 Athleta Elation Tights
Athleta's Elation tights are similar to the Salutation tights minus the side pockets. Elation tights are also made with their buttery soft Powervita fabric.
#12 EVCR
EVCR makes affordable leggings ($24) that come in various prints and solid colors. We love EVCR because they're very sturdy and affordable.
The tall waistband allows the leggings to stay put. They also make their pants with tall and extra tall waistbands.
Get 10% off at EVCR. Shop Now>>
#13 Leonisa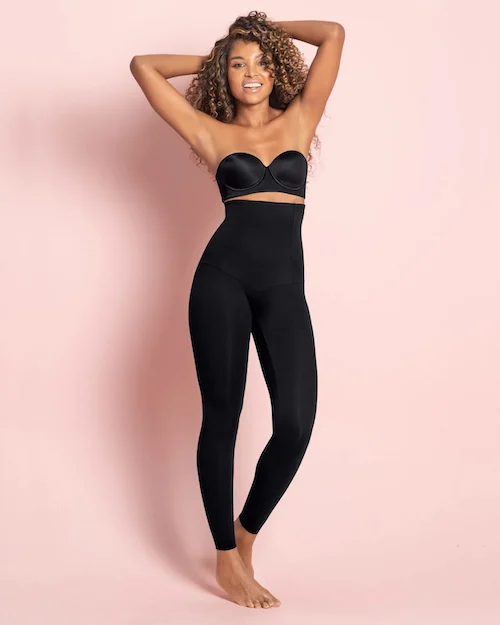 Not only does Leonisa make comfortable bras and shapewear, but they also make figure-flattering high-waist leggings ($75).
Their high-waist design will prevent your leggings from ever sliding down. The leggings also come in lots of colors to choose from.
Brands with high waistbands but did not make the cut include:
These following brands, unfortunately, did not make the cut because even though with the tall waistband, I still had issues with slippage. I still wear them though because the designs are awesome and they're eco-friendly brands that I love supporting.
When Should You Avoid High Waist Leggings?
For some people, a high rise fit may not look or feel good. Here are some reasons why.
Short torsos – high waisted pants make short torsos look even shorter and the pants end up looking like they're devouring your ribcage. One remedy is to fold the waistband over or opt for medium or low rise leggings.
Pregnancy – High rise pants are good up to a certain point in your term. However, proper maternity leggings should eventually be worn to appropriately support your body through pregnancy. SPANX and Beyond Yoga have some great options for expecting mothers.
Related: Best Maternity Leggings and Yoga Pants
Final Thoughts
High waist leggings solve a lot of our problems. It's definitely been a game-changer for us at Schimiggy Reviews.
Did you enjoy our roundup of the best high-waist leggings? We hope so!
Take the anonymous survey or leave your comments down below and let us know what your favorite high-waist leggings brands are.
Thank you for visiting today! If you found this encouraging or informative, please connect with us on Instagram or TikTok.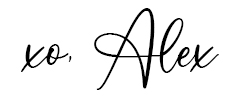 Sign up for our monthly newsletter for updates and more. We promise we won't spam you! Feel free to unsubscribe anytime.
If you're a brand and want to work with us, please visit this page to get in touch.