Reading Time:
3
minutes
Updated: 2/25/2023 | Best Places to Get Chirashi in Seattle
Chirashi is an entire sushi experience in a single bowl. It's also one of our favorite ways to consume sushi. If you've seen it on a menu and wondered what it is, we've got you covered.
Chirashi, or chirashizushi (ちらし寿司), is a classic style of sushi. It's a bed of sushi rice and ingredients "scattered" over the top in a decorative manner. Raw fish, tamago (egg), shiitake mushrooms, kanpyo (calabash shavings), and oboro (crumbled shrimp paste) are common chirashi ingredients.
Chirashi is often packed into a shallow rectangular or circular lacquerware box.
There are even vegan options that are served on holidays. Those are typically made with both pickled and fresh veggies atop sushi rice.
Below, we'll share our favorite places to grab a bowl of Chirashi in Seattle.
Best Places to Get Chirashi in Seattle
#1 Donburi Station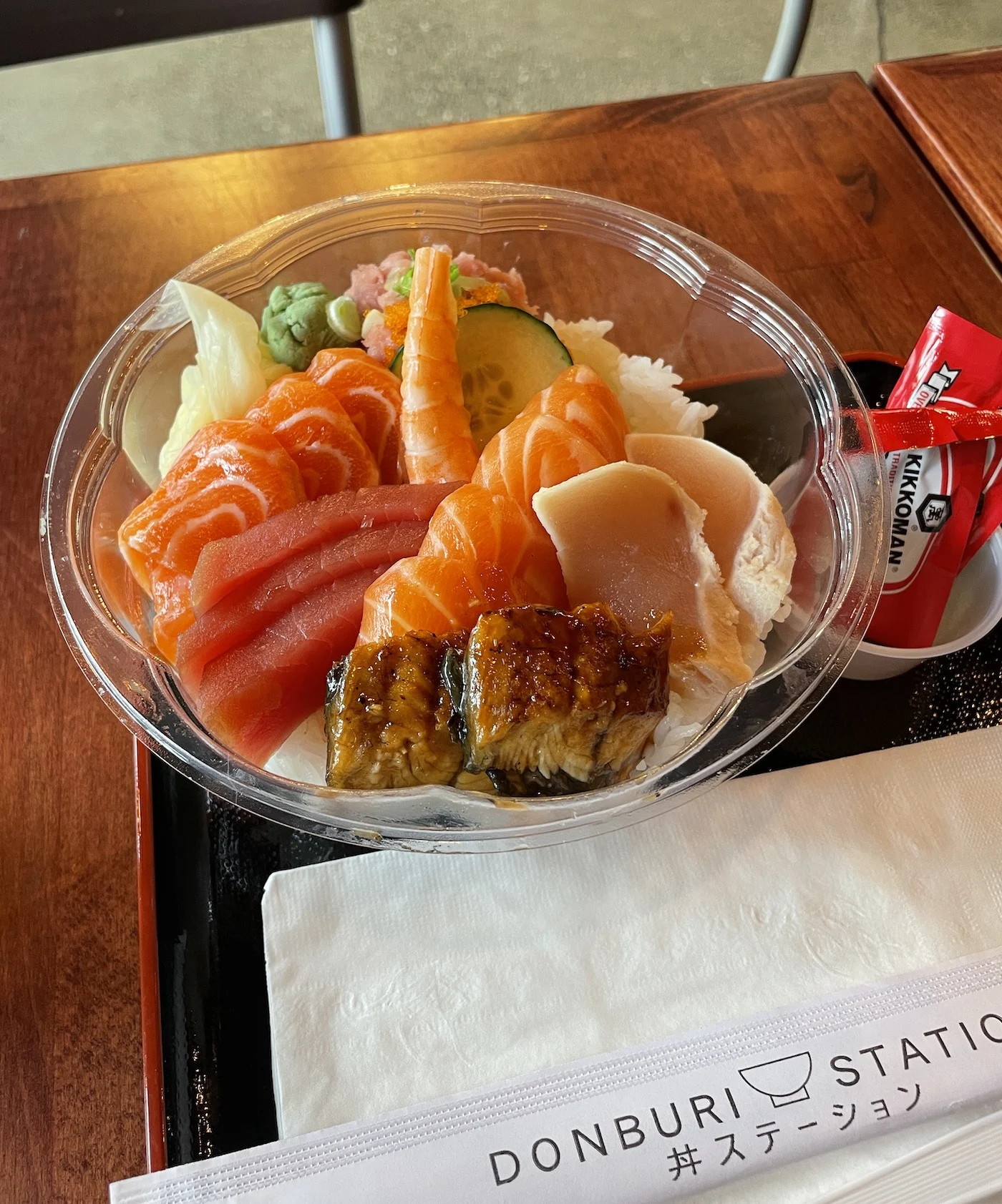 Donburi Station has locations in Bellevue and Georgetown. We recommend their chirashi and salmon don bowls. The fish is fresh and the service is quick.
They also have an amazing pork curry that you can order on the side to eat with any leftover sushi rice.
#2 Kudedon
Kudedon is located in Seattle's Finance District in Downtown. Their sushi bowls are impressive in both flavor and presentation.
We highly recommend the Negitoro & Creamy Salmon (pictured) and Sake Ikura bowls.
For beef eaters, they offer a Sukiyaki Beef bowl that comes with a perfectly cooked runny poached egg.
Watch our Kudedon Instagram Reel to see all the bowls we devoured.
Mention code SCHIMIGGY when you dine at Kudedon for 20% off!
#3 Maneki
Maneki is the longest-standing sushi restaurant in Seattle and has been serving Japanese fare since 1904.
They offer a traditional chirashi bowl that is simple yet delicious.
Visit their location in Seattle's Chinatown International District (CID).
#4 Japonessa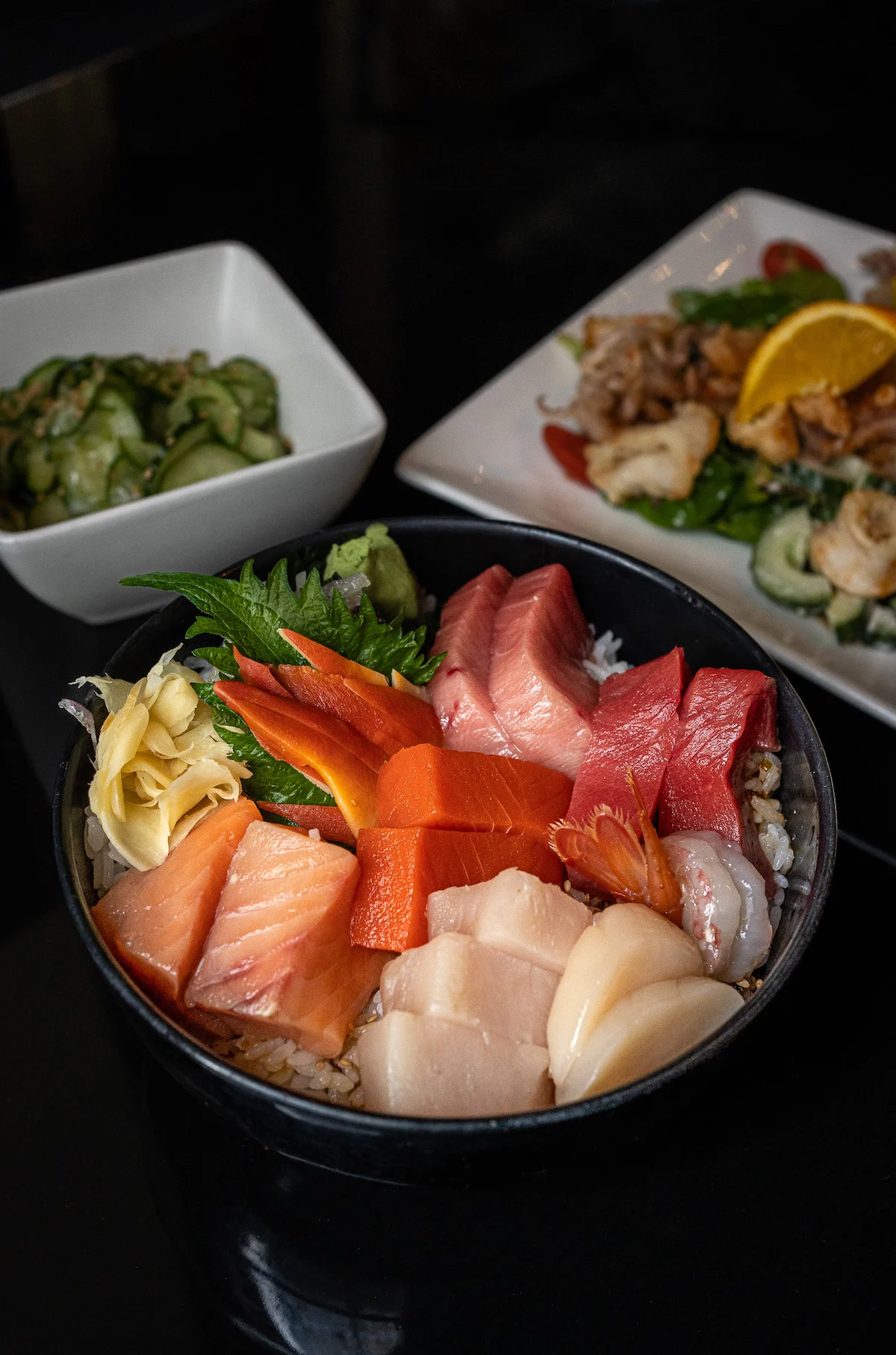 While you can order a happy hour-sized chirashi at Japonessa, where we really think they shine is with their full-sized chirashi bowl.
Their selection of mouth-watering and silky fish makes it one of the best tasting and freshest chirashi bowls you'll find in Seattle.
Visit their locations in Downtown Seattle and Bellevue.
#5 Wasabi
Wasabi is located in Downtown Seattle and offers a happy hour and full-sized chirashi bowls. Their pieces of fish are thick and creamy. Their prices are also very reasonable.
#6 Seattle Fish Guys
Seattle Fish Guys is a fish market that sells seafood dishes for takeout and delivery.
Their Salmon don and Chirashi bowls are prepared daily. They also make poke bowls to order.
#7 Umi Sake House
Umi Sake House is located in Belltown and has an awesome menu featuring sushi items such as nigiri, sashimi, tempura, salmon kama (cheeks), and more.
They also have an amazing happy hour menu.
#8 Musashi's
Musashi offers a traditional Chirashi bowl with an assortment of fish that is fresh and flavorful.
They have two locations in Chinatown International District (CID) and Wallingford. Personally, we love how our chirashi bowls are prepared at the Wallingford location.
Let Us Know!
If you know of a chirashi bowl that we have to try, DM us and let us know! We're always open to trying new places.
If you found our article on the best places to get chirashi helpful, please share it. Thanks for your support!
---
Thank you for visiting today! If you found this encouraging or informative, please connect with us on Instagram, Youtube, Pinterest, Facebook or Twitter. We'd love to meet you!
Sign-up for our monthly newsletter for updates and more. We promise we won't spam you! Feel free to unsubscribe anytime.
For more fitness fashion discounts and offers, please visit our Fitness Instructor Discounts + Brands Directory or favorite brands coupon codes list.
If you're a brand and want to submit a product for us to review, please use this form to get in touch.
This site uses affiliate links. Clicking on or purchasing via an affiliate link may result in commissions for us which help keep the content flowing and lights on at Schimiggy Reviews. You may read more about this in our privacy policy.