Reading Time:
4
minutes
Smooth, glowing, and healthy skin is what everyone wants. There are different products you can use, but if it fails to work, then the CDB balm is exactly what you should consider.
Today, CBD balm has become a popular skincare remedy for anyone with skin problems. The products in CBD nourish the skin and prevent various skin conditions.
How Does CBD Balm Work on Your Skin?
CBD balm has many benefits when used on the skin. However, the rate of absorption into the bloodstream is extremely low. This means that you should apply it by rubbing and massaging on your skin's surface.
When you rub the CBD balm, you stimulate the nerves in that area, thus reducing pain and discomfort.
A combination of both the rubbing action and the CBD balm properties increases its benefits of relieving pain and inflammation. Though CBD can get into the bloodstream through the skin, it doesn't cause any harm.
The properties of CBD and other nurturing effects make CBD balm one of the best options for your skin. Today, it's available practically everywhere, but you can get the best Koi CBD products available online.
Here are five amazing benefits of using CBD balm.
1. May Relieve Pain
According to the research, the collective benefit of CBD is relieving pain. The body consists of a particular system referred to as the endocannabinoid system. The functions of this system include regulating the immune system, your appetite, sleep, and pain.
Therefore, whenever the body creates the endocannabinoids, the neurotransmitters get attached to the cannabinoid receptors in the body's nervous system. This results in inflammation, which eventually turns into chronic pain.
The use of CBD balm helps reduce pain and inflammation by reacting with the endocannabinoid receptors. You simply need to rub it on the skin, and the pain eases within a few minutes.
2. Helps to Moisturize Your Skin
Is your skin dry and itchy? Applying the CBD oil balms is the solution to your dry skin. CBD balm usually contains fatty acids supplements, including omega 3 and 6, which are suitable for moisturizing the dry skin.
The good thing with using the CBD balm oil on your skin is that it works well even for sensitive skin. This is because CBD balm contains anti-inflammatory products that help with skin nourishment and reduce any problem related to sensitive skin. Also, applying CBD may trigger your skin to produce more oil, making it moisturized at all times.
3. Can Heal Acne
Acne is a skin problem generally caused by dead skin cells, too much oil on the skin pores, and dirt. So when the skin is blocked, the bacteria in the hair follicles accumulate and multiplies, causing acne inflammation.
Accumulation of bacteria on the skin causes red blemishes. Therefore, it's necessary to ensure that your skin is always clean to protect it from a bacterial infection that may result in acne. It's also essential to apply an oil that doesn't clog the skin pores.
CBD balms contain all the properties that prevent acne on your skin. These properties include anti-inflammatory and oil production effects.
CBD targets acne-causing cells and can reduce its effects on your skin. Besides, CBD is therapeutic and keeps your skin free of dryness, irritation, or red blemishes.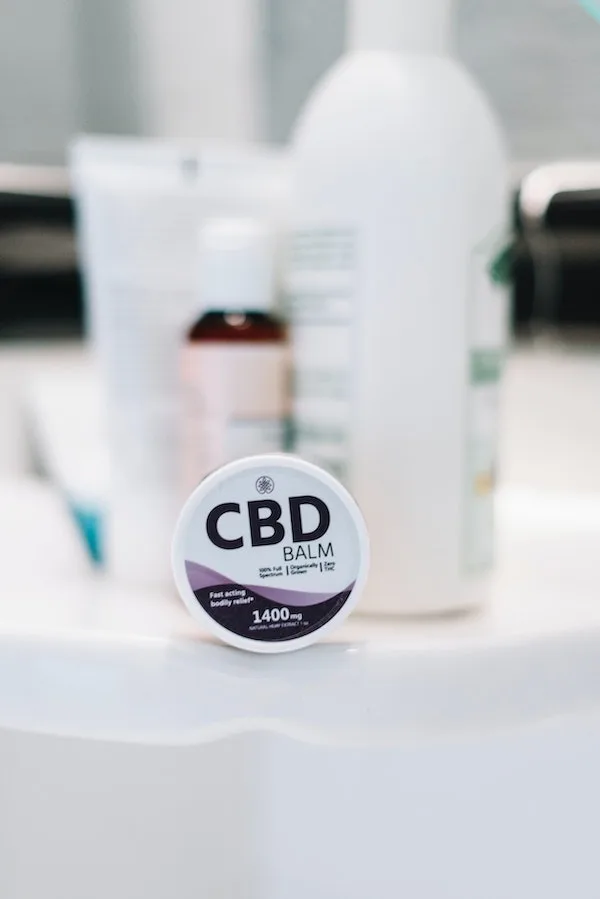 4. May Help Ease Eczema
This is a condition that is currently affecting many people. It makes skin patches crack, itch, swell, and turn red.
If you have eczema, you may experience frustrations and stress. It may also make you feel uncomfortable and have low self-esteem due to the constant itchiness. This can even refrain you from spending time with friends or engaging in social activities.
Though there is no reliable cure for this condition, CBD balm can help manage and treat eczema by reducing skin inflammation and dryness.
So, CBD balms are one of the beneficial options for conditions like eczema as it contains anti-inflammatory supplements with minimal side effects.
CBD reacts well with the endocannabinoid system that corresponds to allergic pain that could lead to eczema. Therefore, this means CBD balms can cure the symptoms of eczema and protect it from developing again.
5. Help to Remove and Prevents Wrinkles
At a certain age, skin starts developing wrinkles, becomes dull, and produces a redness. Wrinkles tend to be much more visible whenever the skin gets dry. Though there are so many anti-aging oils and products, they are not as strong as CBD balms.
CBD balms contain supplements that help maintain your skin in a hydrated and healthy manner, and free of wrinkles. It also has antioxidant supplements that react with the skin, thus reducing any sign of aging, visible wrinkles, or fine lines.
The fatty acids found in CBD balm oil impact the production of collagen and protect the skin from too much water loss, hence making it hydrated at all times.
Conclusion
Why should you spend a lot of money on skin products when you can go for a reliable CBD balm? There are many products one can use on the skin; however, the natural solutions are always the best. We recommend that you research and compare CBD oil brands to find the best product for oyur needs.
CBD balms are a natural product that treats and relieves different conditions such as dry skin, acne, eczema, and others. The above benefits alone are enough to prove that you should try out CBD balms as a skin remedy.
---
Thank you for visiting today! If you found this encouraging or informative, please connect with us on Instagram, Youtube, Pinterest, Facebook or Twitter. We'd love to meet you!
Sign-up for our monthly newsletter for updates and more. We promise we won't spam you! Feel free to unsubscribe anytime.
For more fitness fashion discounts and offers, please visit our Fitness Instructor Discounts + Brands Directory or favorite brands coupon codes list.
If you're a brand and want to submit a product for us to review, please use this form to get in touch.
This site uses affiliate links. Clicking on or purchasing via an affiliate link may result in commissions for us which help keep the content flowing and lights on at Schimiggy Reviews. You may read more about this in our privacy policy.