Reading Time:
6
minutes
Updated: 5/28/2019 | Aviator Nation Review: Have a Rad Day Smiley Face Long Leggings

About Aviator Nation
Aviator Nation is a California born brand offering rabbit soft hoodies and comfortable stretchy spandex for the beach bum in all of us.
Paige Mycoskie is the founder & creative visionary behind the 1970's inspired California lifestyle brand, Aviator Nation.
Aviator Nation was born in Paige's garage in Venice Beach in 2006.
The label has since grown into a global lifestyle brand with 5 destination retail locations. Abbot Kinney / Venice, CA (2009), Manhattan Beach (2011), Malibu (2014), Haight Ashbury / San Francisco, CA (2015), Laguna Beach, CA (2016), and Aspen, CO (2017).
Paige's passion for 1970's fashion and the music that defined that time period inspired her to create her own clothing stitched by hand.
While working at a surf shop in Southern California, she purchased a sewing machine and spent nights after work teaching herself to sew, determined to create garments with the same look and feel of the vintage pieces she had been collecting for years.
Paige first sold Aviator Nation at a local street fair in 2007 and immediately witnessed its business potential after quickly selling out of every style. In 2009, she opened the first Aviator Nation retail store in Venice, California, on Abbot Kinney Blvd. The laid-back 70's vibe of Aviator Nation drew locals and tourists.
Paige began hosting free concerts on the back patio of her Flagship store to support her other defining passion, music. Paige believes in the universal power of music to unite people for positive change.
The overwhelming demand for the Aviator Nation brand has led Paige to continue to launch retail locations in cities she feels drawn to. In 2014, Paige opened her Malibu store in the iconic Malibu Inn. In 2015, Aviator Nation opened on the world famous corner of Haight and Ashbury in San Francisco.
I was lucky enough to stumble into the Venice Beach store. I definitely took some time to try on all their awesome pieces. One piece that I was really drawn to was the Have a Rad Day leggings. I really love the fit and ended up taking them home!
Aviator Nation Review: Have a Rad Day Leggings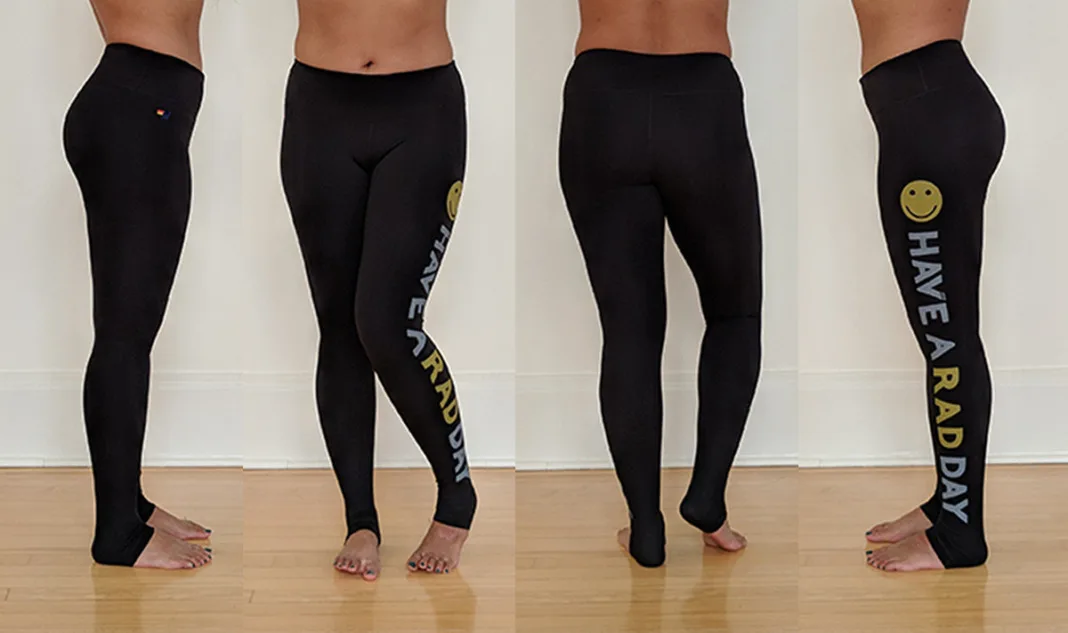 #1 Size: I visited the Venice Beach Aviator Nation store on Abbot Kinney. I tried both the small and medium and determined that both fit me well. The size small fit more compressive than the medium, however both fit me comfortably enough that sizing did not matter. I ended up going for a size medium in Aviator Nation. I recommended sizing up for a truer fit.
Currently, Aviator Nation does not offer a size chart for leggings.
#2 Style: Aviator Nation creates pieces for both men and women. Aviator Nation only recently created an activewear line.
#3 Inseam: The inseam of the leggings are 28″, making it great for taller women.
#4 Rise: The leggings have a standard rise fit. The leggings sit 1″ below my navel.
#5 Waistband: The leggings come with a tall waistband that hugs everything in (hiding those muffin tops).
#6 Fabric
Fabric Content: 90% Supplex Nylon/10% Lycra Spandex
Fabric Feel: The fabric treatment and wash process gives the fabric a vintage feel. The fabric feels buttery soft and hugs to your skin. It also feels very thin, which is great for wearing to the beach and in warmer weather. I would compare the fabric to Zella Live In Leggings.
Fabric Performance:

Fabric is quick drying.
Fabric has 4-way stretch allowing it to be form fitting.
Fabric is meant to withstand long-term use if cared for properly and per instructions.

Opacity: Leggings were 100% opaque (not see through)
Fabric Features:

Fabric has the words "Have a Rad Day" and a smiley face screen printed onto the side of the legging.
The Aviator Nation logo is embroidered on the front side hip of the leggings.
Care instructions and label is located inside the leggings.
#7 When to Wear: Aviator Nation creates a line that is for the beach lovin' bohemian babe and cool surfer dude. Every time I wear my leggings, I feel transported back into the 70's watching the Californian sunset on the beach.
I was in California last December and stumbled into the store in Venice Beach. I did NOT want to leave their awesome lounge area.
#8 Cost: The long leggings are a hefty $121.99. They're guaranteed to never pill, stretch or fade as long as you follow the care instructions. I have included some discount codes below.
#9 Gusset: Aviator Nation uses a triangle shaped, single layered gusset constructed with flat seams.
#10 Stitch Seam: The leggings are created with flat fell seams.
#11 UPF Protection: Not Disclosed
#12 Made in Venice Beach, California, USA.
#13 Care Instructions: To maintain the elasticity and vintage feel of the leggings, always machine or hand wash in COLD water and hang dry. I hang to dry on a foldable drying rack such as this one.
Aviator Nation highly encourages that you follow the care instructions on the inner label of the leggings.
Should I Buy Aviator Nation?
I am in LOVE with Aviator Nation! The fabric is so comfortable and is great for medium to low impact sports. I'll definitely be wearing these leggings EVERYWHERE. My favorite part of the leggings are the rad screen print design on the side and the uber soft, vintage feeling fabric. I feel like I am wearing a pair of my favorite worn in leggings.
Aviator Nation also comes with a elastic retention guarantee. I am so stoked that these vintage pants may retain their shape and quality as long as I care for them well.
We hope you enjoyed our Aviator Nation review! It's a brand we love and trust. Scroll down to see where you can buy Aviator Nation.
Where to Buy Aviator Nation
We hope you enjoyed our Aviator Nation review! Here are some reputable retailers where you can buy Aviator Nation.
Thank you for visiting today! If you found this encouraging or informative, please connect with us on Instagram or TikTok.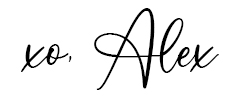 Sign up for our monthly newsletter for updates and more. We promise we won't spam you! Feel free to unsubscribe anytime.
If you're a brand and want to work with us, please visit this page to get in touch.