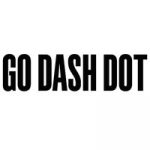 Description
Go Dash Dot makes trendy backpacks and bags for the active man and woman! Not only are their bags unisex, they also have a closed-loop program that allows members to donate their bags, receive a discount on their next bag AND help someone less fortunate receive a pre-loved Go Dash Dot backpack or bag!
What we love most are all the hidden pockets, design, multi-functionality and durability of Go Dash Dot products.
Discounts
Get a $25 off Go Dash Dot coupon code towards your first purchase with this link.