Reading Time:
5
minutes
Updated: 9/9/2022 | Where to Find the Best Flight Deals
Preparing for an upcoming trip? How do you begin to search for the best deals on flights? I have various suggestions depending on how organized OR spontaneous you want your trip to be.
I always want to travel. And when I do travel, I always strive to find the best deals. Sometimes my travel is planned and other times, the best deals create an adventure that I would not have originally planned myself. I was able to find a round trip (RT) ticket to South America (which included the following destinations; Chile, Argentina, Peru, and Colombia) for only $207. More recently we found a deal to Singapore for only $328 with an additional $100 to stopover in Tokyo for 5 days.
Related: Travel Guide to Santiago Chile
Not only is finding these deals exciting but when you have extra funds to spend on other travel necessities and towards more experiences, it makes the journey much more enjoyable!
Below are sites that I rotate through to find the best flight deals. I would recommend doing this on a weekly basis and setting up Google notifications for when a deal comes up!
Where to Find the Best Flight Deals
The Flight Deal offers deals that are huge bargains and pretty hard to believe. I found tickets from SEA to SCL (Santiago, Chile) for only $208 RT. Deals are posted almost daily but they do not last long (at most 1-2 days). Most of the time, the deals are loopholes that people have found. Sometimes when you've successfully booked your travel, the companies may void your confirmation if they realized their mistake. Some airlines will just graciously allow your confirmation to stay valid. Book through their instructions. I have usually had to book through Expedia, Priceline or Traveocity.
Travel Pirates offers deals similar to those found on The Flight Deal (deeply discounted). I would recommend following both sites in case a deal for a particular destination is over, the other site might have something similar available. Only difference is Travel Pirates offers lodging deals which in my opinion are not spectacular and they usually do not identify the departure city in their posts, forcing users to have to click on the listing to find out. I usually click onto their Current Deals page (home page) and see what's available every week.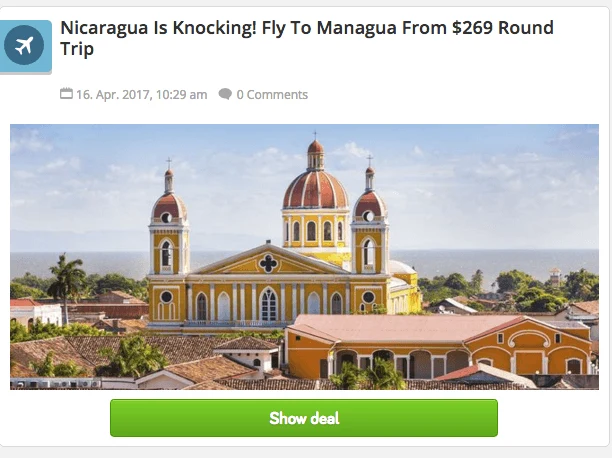 Kiwi is awesome! Search for flight deals ANYWHERE. A huge map will show you costs traveling one way, RT or via multi-cities. For visual planners and learners, this feature is really helpful. Kiwi is formerly known as Skypicker.
#4 Fly.com
Fly.com is great! I love their "Today's Best Fares" and "Fare Calendar" features. The site is great for both planned and spontaneous trips. I have found some great deals using their Fare Calendar feature ($98 RT from SEA to LAX). I use it mostly for planning my trips home to visit the family in Orange County, Calif. and preparing for a tropical vacation to Cancun or Hawaii.
Pretty much my go-to site when I plan my trips. I love the easy and simple layout and the ability to easily search by entering information in just a few fields. Use the "Explore Destinations" (a map) option to find cheap flights in neighboring cities/countries. Google Flights also gives you an option to track prices with the flick of a switch. Get daily notifications and book when the price and time are right.
Using Google's "Explore Destination" feature, I was able to find a flight from Paris (Charles de Gaul Airport – CDG) to Montreal (YUL) for only $110 USD! Considering it's a 7.5-hour flight, that is a really good deal and a great way to get back to North America from Europe.
From Montreal, I found a flight to Vancouver for only $68 and will be taking the bus home to Seattle for only $17 USD.
This is a product by Google and is a little more sophisticated to use. ITA Matrix is great for planning multiple destinations at the best price! You will need to use the information you gather from ITA Matrix and book on the airline website OR through a booking site (this option will cost more).
Kayak is great when trying to find pricing comparisons between airlines. I do appreciate (and find useful) their anywhere fare map attribute (similar to Kiwi). I have yet to actually book a flight through Kayak even though the service has been around for a long time.
Scott's Cheap Flights is a great subscription program that sends flight deals straight to your inbox. They have a full team dedicated to helping you find the best flight deals and fare mistakes, which can save you hundreds of dollars.
Read our Scott's Cheap Flights review here.
If you found our article on where to find the best fight deals helpful, please share it on Pinterest. Thanks for your support!
---
Thank you for visiting today! If you found this encouraging or informative, please connect with us on Instagram, Youtube, Pinterest, Facebook or Twitter. We'd love to meet you!
Sign-up for our monthly newsletter for updates and more. We promise we won't spam you! Feel free to unsubscribe anytime.
For more fitness fashion discounts and offers, please visit our Fitness Instructor Discounts + Brands Directory or favorite brands coupon codes list.
If you're a brand and want to submit a product for us to review, please use this form to get in touch.
This site uses affiliate links. Clicking on or purchasing via an affiliate link may result in commissions for us which help keep the content flowing and lights on at Schimiggy Reviews. You may read more about this in our privacy policy.