Reading Time:
4
minutes
Yay! I love deals and this one is going to be great! I own several pairs of Werkshop and have been hesitant to buy a new pair because they're so darn expensive ($88-$98 a pair). Werkshop rare ever offers coupon codes for their leggings that are very eye catching with an excellent fit! I love that they stretch to the form of the body after a few wears and are not see-through. The quality of the pants are A+ so the price reflects so! Check out my review of Werkshop leggings here.
I got to go upside down with my panda leggings at the Kubota Gardens in Seattle, Wash. If you haven't been there, it's a definite must!
OK! Let's get back to the WERK PERKS program.
SIGN-UP for WERK PERKS HERE. Immediately upon signing-up you'll earn 700 points. That's enough for $5 off your first order. Want a bigger discount? Well, they're offering a huge bonus on earned points for a limited time. For all customers who were already signed up prior to the program roll-out, you will have received 1,200 points upon enrolling into the WERK PERKS program.
What are the Rewards?
You can earn rewards in 500 point increments. I'm battling between the desire to use my points now, or wait until I receive the giftcard and use it with my teacher appreciation coupon code.
Earn 500 points, get a $5 promocode to use on a future order
Earn 1,000 points, get a $10 promocode to use on a future order
Earn 2,000 points, get a $20 promocode to use on a future order
Earn 2,500 points, get a $25 promocode to use on a future order
Earn 5,000 points, get a $50 promocode to use on a future order
Earn 12,500 points, get a $100 WERKSHOP webshop GiftCard!
Ways to earn WERK PERK points:
The WERK PERK program offers Werkshop loyalists various ways to accrue points. You can accumulate points quickly especially if you are active on social media. Below is a list of ways you can earn points.
Create a new store account = nom up 700 WERK PERK Points. BOOM BABY!
Refer a hOMie = get 2,000 WERK PERK Points (pass along your unique referral code to your friends. they'll get a special $10 off promocode and you'll get 2,000 points after they make their first purchase. that's $20 for every qualifying friend you refer!)
Update your account with your birthday = snap up 300 WERK PERK Points on your special day (must update your account at least 30 days prior to your b-day)
Write a Product Review = 250 WERK PERK Points (write up to 2 reviews per month! *LIMITED TIME Special – see below for deets)
Share werkshop.com on facebook = 100 WERK PERK Points
Share werkshop.com on twitter = 100 WERK PERK Points
Like on facebook = 50 WERK PERK Points
Follow on instagram = 50 WERK PERK Points
Follow on twitter = 50 WERK PERK Points
Werkshop now has tiers for members. The more you buy, the more savings you can accrue on future orders! Here are the tiers: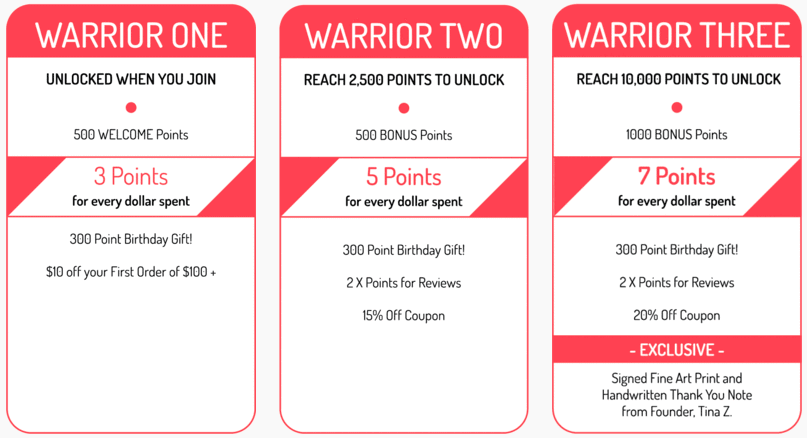 *LIMITED TIME SPECIAL: In honor of the launch of WERK PERKS, we are offering 250 WERK PERK Points when you write a product review on the webshop! This offer is good until October 31st, 2016. After that, you will still be able to earn 150 WERK PERK Points for each review (up to 2 per month).
NOTE: You can only earn WERK PERK Points once for liking/following and sharing on facebook, instagram and twitter. xo.
OK, let's cash our points in!
Once you have earned enough points to claim a reward, all you have to do is log into your WERK PERK account and you will be able to see your account balance and the rewards you're eligible for.
Click on "redeem" on the reward of your choosing and a unique promocode will appear. Copy and enter it at checkout when you place your next order. Easy peezy!
If for some reason you lose the code, a copy will also be emailed to you!
TERMS / CONDITIONS and THINGS TO REMEMBER:
You can only use 1 promo code at a time.
You cannot combine your teacher discount code with a WERK PERK REWARD code.
You CAN use a promocode and a GiftCard at the same time! GiftCards are treated same-as-cash on the webshop … so if you're a teacher and save up your points for that $100 GiftCard for some epic savings. That's $100 free cash plus 15% off! Ca-ching!
WERK PERKS launched on Aug 5th, 2016. Referrals and shares made on or after that date will be eligible for points/rewards.
WERK PERK Points are not transferrable. Please note that we cannot combine accounts or give points for referrals made prior to launch date.
Eagle Rock WERKSHOP® reserves the right to limit the number of rewards.
All REWARDS are issued in USD.
So what are you waiting for? Let's get to saving!
---
For more fitness fashion discounts and deals, please visit my Fitness Instructor Discounts + Brands page.
Schimiggy