Reading Time:
2
minutes
Here's one of my FAVORITE breakfast dishes…Aloo Poha! It's healthy AND vegan.
I visited Mumbai, India in 2016 and had my first Poha dish from a street vendor. There was a line of about 8 people waiting in line for this little rice dish on a plate. I ended up coming back to the cart every morning and enjoying my plate of Poha with a hot cup of chai.
It easily became my favorite morning routine.
We also had Poha at our friend's wedding ceremonies. Poha was everywhere. And that wasn't a bad thing.
What is Poha?
Poha is flattened rice that is added to aromatic spices to create a delicious breakfast dish. Poha can be eaten with spices alone or with added vegetables like potatoes, carrots or zucchini.
Back in Seattle, Wash., I could not find Poha for the life of me.
Luckily my friends, whom I also visited in India and attend their weddings, explained to me that it was very easy to make. They showed me the ingredients and gave me instructions.
I did it at home and was surprised at how easy and quick it was to make. Now, I want to share it with you so that you can also experience an Indian breakfast at home.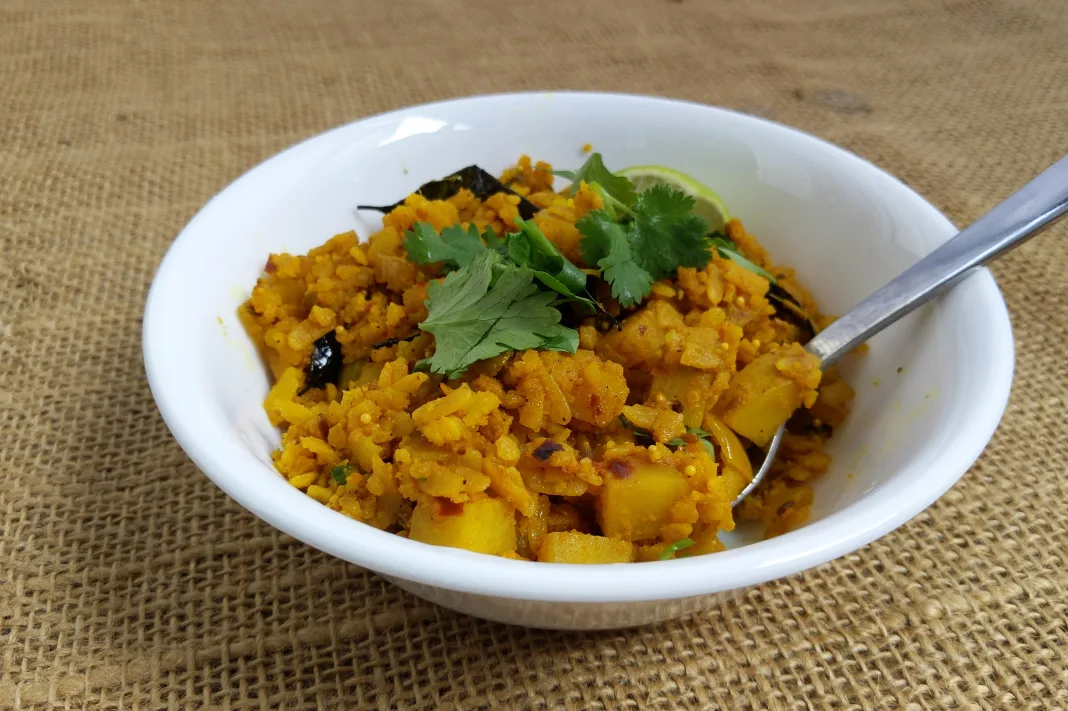 Aloo Poha Recipe
For this recipe, I added potatoes, transforming the street Poha in Aloo Poha. Aloo is the Hindi word for potato.
Yield: 4 servings
Aloo Poha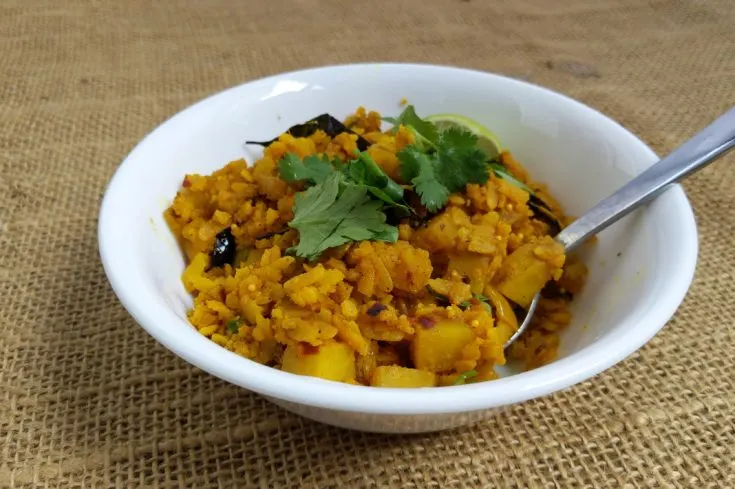 Aloo Poha is an Indian breakfast dish made with flattened rice and seasonings that will leave your tummy warm and taste buds satisfied. The dish is very easy to make. You can typically find the ingreidents at a local Indian grocery store.
Ingredients
2 cups medium or thick Poha
2 tablespoon Turmuric
1 tablespoon Cloves
1 tablespoon Yellow Mustard Seeds
18-24 Curry Leaves (dried or fresh)
1 Onion chopped
1 Potato chopped
1 Jalapeno chopped
Salt and Pepper to taste
1/2 cup Water
Instructions
In a strainer, add two cups of Poha rice and run it over warm water. Start to mix the rice with your hands and get it wet. It will often immediately. Drain the water and set it aside.
In a large pan on medium heat, add the olive oil, mustard seeds, cumin, turmeric and curry leaves. Use a wooden spoon and begin to mix the seasoning around until it looks like a thick red paste. The turmeric and curry leaves will start to give off a very aromatic flavor.
Add the onions, jalapenos and potatoes (Aloo) to the pan and begin to stir the vegetables into the seasoning mix.
Add a small amount of water to the pan so that the potatoes start to cook. Let it cook for another 5-7 minutes until the potatoes have softened. You can use a lid over the pan. Add more water as needed so that you don't brown the bottom fo the pan.
Once your potatoes have softened, turn the heat on low and mix the drained Poha rice into the pan. Mix until you no longer see white Poha flakes.
Serve into small bowls with a wedge of lime and cilantro garnish.
Notes
If you want your Poha spicier, add crushed red pepper flakes to the pan as you cook the spices.
You can serve Poha with plain yogurt to reduce the spiciness.
You can buy the curry leaves fresh or dried. We prefer the fresh curry leaves. You can soak the curry leaves prior to adding to the dish.
We hope you enjoyed our Aloo Poha recipe. it's super easy to make and very satisfying. Your family and friends will love it!
Bon Apetit!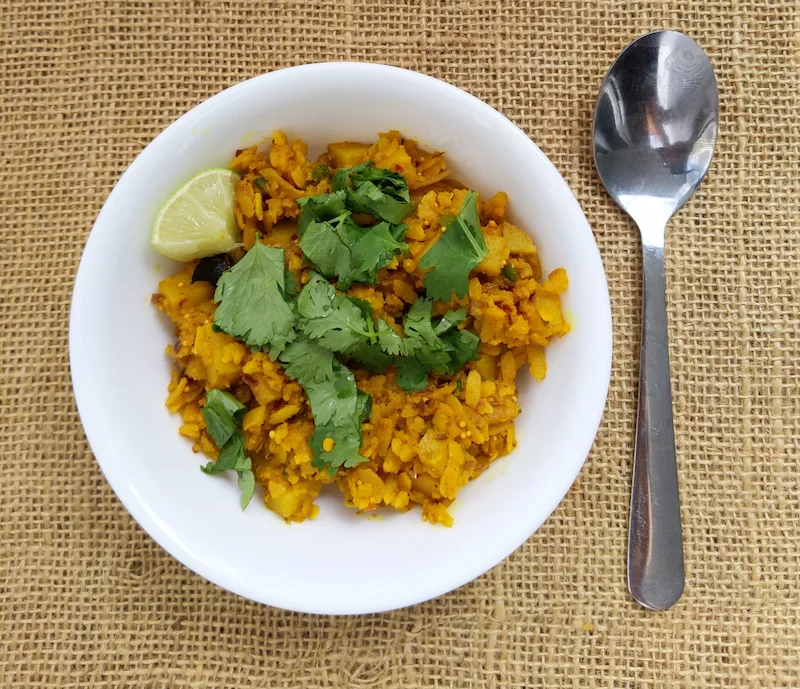 If you liked this post, please consider sharing it on Pinterest!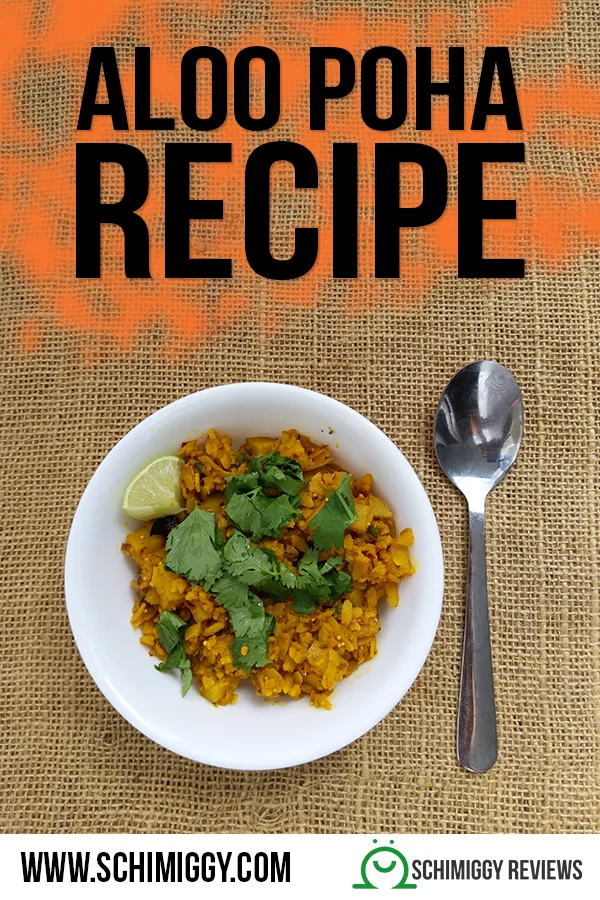 Thank you for visiting today! If you found this encouraging or informative, please connect with us on Instagram or TikTok.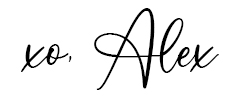 Sign up for our monthly newsletter for updates and more. We promise we won't spam you! Feel free to unsubscribe anytime.
If you're a brand and want to work with us, please visit this page to get in touch.