Reading Time:
18
minutes
Updated: 8/1/2023 | Vancouver BC Travel Guide
About Vancouver BC
Vancouver British Colombia (BC) is one of our favorite places to visit in Canada. It has a vibrant nightlife, is filled with daytime activities for every interest, and showcases an amazing food and drink scene.
This noticeably green and blue city is also known as VanCity, Raincouver, and the "Hollywood of the North," due to the growth of film production jobs. It's located in the southwest corner of Canada and is surrounded by water on three sides.
Vancouver is very diverse with a strong indigenous culture combined with immigrants from around the world. Most people's first language is not English, which lends to the diversity of food, culture, and even architecture.
And before you read on, never mistake Vancouver BC for Vancouver, Washington. They are two totally different experiences.
How Many Days Should I Spend in Vancouver
If you're a first-time visitor, we recommend spending 4-5 days. There is so much to do and you definitely want to see a few of the surrounding neighborhoods.
We live across the border in Seattle, Washington so a weekend trip works too! It would take 2-3 weekend trips to see all of what Vancouver has to offer.
How to Get to Vancouver BC
Getting to Vancouver is pretty easy if you live in the pacific northwest. You can drive, take a bus, or take a ferry over. It's a 2.5-hour drive and all you need is a valid passport to cross the border.
What is really great about going to Canada is that you can bring your dog across the border without any problems.
The cheapest way to travel to Vancouver from the Pacific Northwest (PNW) is by Flix Bus. It's only $19 USD one way and you'll get there within 4.25 hours. There are two drop-off points in downtown Vancouver.
If you're flying to Vancouver BC, you'll most likely be flying into Aéroport international de Vancouver (Vancouver International Airport) with airport code: YVR
Where to Stay in Vancouver BC
We highly recommend staying downtown because it's central to many attractions. You can pretty much get to all the other neighborhoods by bus, Sky Train (our favorite method), or car.
Hotels we recommend include:
Hyatt Regency Vancouver – We transferred Chase points to Hyatt and booked using points. Our stay was only 15,000 points per night, which is great because the value was over $600 USD. We always try to earn points so that our travel is free or heavily discounted. Hyatt properties are also pet friendly and pet fees are typically waived if you have status.
How to Get Around Vancouver BC
Here are the ways you can get around Vancouver BC:
By Car – Drive or rent a car to get around Vancouver BC. Parking is expensive downtown and street parking becomes more available as you get further away from downtown and into the surrounding smaller neighborhoods.
Walking – Downtown Vancouver is very walkable. If you're looking to go beyond downtown, we highly recommend using an Uber, taxi, or taking the Sky Train and public buses.
By Bike – Vancouver is a super bicycle-friendly city. They have bike lanes and streets are also shared with bicyclists. Make sure to wear a helmet if you decide to bike around the city.
Public Transit – Take the Sky Train or buses to get around Vancouver. They're very affordable and reliable.
Uber/Taxi – This is a great way to get around Vancouver BC. It's probably the most costly too.
Best Things to Do in Vancouver BC
#1 Stanley Park
One of our favorite things to do at Stanley Park is to rent a bicycle and make our way around the Stanley Park Seawall, which outlines the perimeter of the park. The Seawall was built to protect the city from eroding away but is now used as a walking, running, and/or biking route. It's 22 kilometers (or 13.6 miles) around and a great way to spend your day in Vancouver BC.
There is so much to see and do here! While you're at Stanley Wall, keep an eye out for these attractions (I've listed them in order that you'll see them if you're going counter-clockwise around the park):
Coal Harbour Seawall
Jubilee Fountain + Lost Lagoon
Nine O'Clock Gun – An old cannon that you can check out.
Vancouver Aquarium – Here you can see dolphins, sea lions, beluga whales, seals, sea otters and more!
Brockton Point Lighthouse
Totem Poles – Located at Brockton Point, these 9 totem poles are one of the most visited attractions at the park.
Beaver Lake
Scuba Diving Girl Statue
Flower gardens near the Pitch & Putt golf course.
S.S. Empress of Japan Figurehead Replica
Lions Gate Bridge
Siwash Rock (aka Pineapple Rock)
Furguson Point
Prospect Point Lighthouse
The Hollow Tree
Third Beach
Second Beach
Ride the Stanley Park miniature train
Ceperly Park
We highly recommend going during golden hour so that you can get enough sunlight and catch a pretty sunset on the west side of the park. It's a must-do attraction for anyone visiting Vancouver for the first time.
#2 Granville Island
Granville Island is another must-do attraction for first-time visitors. It's essentially a public marketplace with tons of restaurants, bars, art galleries, farmers' market, and eateries tucked inside and around the marché publique (public market in French).
You can spend the entire day here. It's easy to get here by walking, bus, car, or biking.
#3 Capilano Suspension Bridge
The Capilano suspension bridge is located just 15 minutes from downtown and can be accessed by the hop-on hop-off shuttle located in downtown Vancouver. You can also get there using Uber or by car.
The Capilano suspension bridge is 140 meters (460 feet) long and is located 70 meters (230 feet) above the river. The bridge was constructed in 1889.
While it's a pretty view, access to the bridge and park will cost you $60 USD.
#4 Hike Lynn Canyon Park + Suspension Bridge
If you're not keen on spending $60 to visit the Capilano suspension bridge, you're in luck!
Lynn Canyon Park is just a 20-minute drive from downtown Vancouver. Here you can enjoy a FREE suspension bridge experience.
Here the bridge is only 48 meters (157 feet) long and 50 meters (160 feet) above the river. It was constructed in 1912. It's shorter and not as high, but still worth a visit.
Many people opt to visit the Lynn Canyon because it's free and is part of the Baden Powell Trail. You will need to pay for parking ($3 CAD per hour). We recommend budgeting 2-3 hours of your time to hike the entirety of the park.
#5 VanDusen Botanical Garden
VanDusen Botanical Garden is a 55-acre oasis with over 7,500 plant species and varieties from around the world.
VanDusen Garden is worth visiting any time of the year, but we recommend visiting in late spring when the blossoms are in full bloom!
We also love visiting in the fall when the leaves start to change to a gorgeous red, yellow and orange hue. And if you're visiting during the holidays, check out the Halloween and Christmas lights. They are worth seeing!
Cost of admission changes with the seasons. Check the current prices here. No reservations are required.
#6 Hang Out At a Vancouver Beach
Bring your beach chair and some treats and have yourself a relaxing picnic at any of Vancouver's best beaches. We've also indicated some attractions you should look for while there.
English Bay Beach – Snap a photo with the Inuksuk (stacks of stones resembling humans) statue by artist Alvin Kanak! Honda also hosts the Celebration of Light every July. Participating countries create amazing firework displays that fill the beaches of Vancouver BC. We love watching the event from English Bay Beach.
Kitsilano Beach – Find the Kitsilano beach swing for a cute photo opportunity and visit Canada's longest pool (137.5 meters or 451 feet). This outdoor, saltwater pool is open year round.
Jericho Beach
Spanish Banks – Off-leash dog area with some awesome rocky coastal views.
Second Beach – Located along the west side of Stanley Park.
Third Beach – Located along the west side of Stanley Park.
Wreck Beach
Ambleside Beach
Sunset Beach – Find the engagement ring sculpture and watch the sunset from shore or by boat.
#7 Explore Grouse Mountain
Grouse Mountain is great for nature lovers. The mountain has activities year-round and many come to ride the Grouse Mountain Skyride, which offers an amazing aerial view of Vancouver and takes you up to the top of the mountain.
Activities that you can partake in at Grouse Mountain include; aerial ropes, skiing, snowboarding, snowshoeing, ice skating, sliding, ziplining, and tons of dining and shopping. There is something for everyone at Grouse Mountain.
You can easily drive to or take a public bus up to Grouse Mountain.
#8 Go Whale Watching
Vancouver is surrounded on three sides by water, so it's totally worth taking a whale-watching tour here.
Book your tour with the Prince of Whales tour group. They leave from multiple points around the city.
#9 Queen Elizabeth Park
Queen Elizabeth Park is Vancouver's horticultural center and is a major site for flora and fauna enthusiasts. At 125 meters (410 feet) above sea level, it's the highest point in Vancouver and makes for spectacular views of the park, city, and mountains on the North Shore.
It is also home to the Bloedel Conservatory.
#10 Go Up the Vancouver Lookout
Located downtown, the Vancouver Lookout (formerly known as the Harbour Centre Lookout Tower), is a Lookout Tower that is 131 meters (430 feet) high and the perfect place to admire the city from above. It looks similar to Seattle's Space Needle.
Take a ride up to the observation deck in a glass elevator and enjoy panoramic views of Vancouver, the mountains, and the ocean.
Tickets are $18 CAD and reservations are highly recommended.
#11 Visit Dr. Sun Yat-Sen Classical Chinese Garden
The Dr. Sun Yat-Sen Classical Chinese Garden (also known as the Vancouver Chinese Garden) is the first authentic classical Chinese garden built outside of China. National Geographic named this urban sanctuary the top city garden in the world.
Flower-covered walkways, ponds filled with koi fish, 150-year-old miniature trees, and tai hu rock (eroded rock formation with interesting holes) from China all tie together to create a tranquil spot to walk and reflect. The garden was built using 14th-century methods, without power tools, glue, or screws.
Admission is $16 CAD.
#12 Explore Gastown
Gastown is Vancouver's oldest neighborhood with stunning Victorian architecture. The town started with a single tavern founded in 1867 called the Globe Saloon.
Today, Gastown is a trendy place full of restaurants, cafes, boutique shops, and bars (such as Alibi Room, The Flying Pig, and Rodney's Oyster House).
Here are things we recommend doing while exploring Gastown:
Take a walk down the cobblestone streets by the old historic buildings
Admire the Gastown Steam Clock (a clock powered by steam)
Check out Hotel Europe (Vancouver's version of New York's Flat Iron building)
Visit the statue of Gassy Jack Deighton (the man who started the tavern and earned Gastown its name all those years ago).
Check out MacLeod's Books for rare and unique literary masterpieces.
Near Gastown is an awesome park where you can watch fireworks (when they're happening) called CRAB Park. It's an awesome park with a GREAT skyline view of downtown Vancouver. You are very welcome!
#13 Visit Yaletown
Yaletown is a recently converted industrial neighborhood that's now home to some of the city's most popular restaurants and bars.
Spend some time at David Lam Park, George Wainborn Park, or Bill Curtis Square (the hanging art installations here change regularly), walk along the decorated street art Seawall or grab some food or drinks at one of the many restaurant patios.
#14 Vancouver Art Gallery
The Vancouver Art Gallery (VAG) was founded in 1931 and is recognized as one of North America's most respected and innovative visual arts institutions.
The VAG's permanent collection serves as a repository of art for the Lower Mainland region and has approximately 12,000 works by artists from Canada, and from around the world. The museum has also organized and hosted a number of traveling art exhibitions from world-famous artists.
The building itself is gorgeous and was previously a provincial courthouse until it became a museum in 1980.
#15 Museum of Anthropology
The Museum of Anthropology at UBC is a great place to learn about the First Nations. With thousands of artifacts, it takes you into an intimate look at the indigenous culture in Vancouver.
They also have rotating art galleries by and of indigenous peoples.
#16 Catch the Sunset at Horseshoe Bay Lookout
The Horseshoe Bay secret platform is my favorite place to watch the sunset in Vancouver. Even though social media has made the spot busier, it's still not too crowded so you can enjoy the sunset with a handful of people there.
You can find the Horseshoe Bay lookout platform along Horseshoe Bay Drive which goes along the east side of the bay, just under the Sea to Sky Highway out to Squamish and Whistler. You will usually see some cars parked along the side of the highway very close to the platform itself.
From this point, it is 1.2 kilometers past the junction for Marine Drive and Horseshoe Bay Drive on the left-hand side.
There are a couple of different places that you can park your car when visiting this spot. If you are driving from the Vancouver direction, then you will see a small parking area a couple of hundred metres past the lookout on the left-hand side. It is the third pull-off parking area on the left after you pass the Marine Drive junction.
There is another place to park, closer to the lookout, right near the bank you need to climb up. However, this is more of a shoulder on the side of the road and really only has room for 3-5 cars.
It only takes around 20 minutes to get here from downtown Vancouver.
You can also get here via public transit. Take the 257 Bus, the Horseshoe Bay Express, from downtown Vancouver which will drop you off at the ferry terminal in Horseshoe Bay. From here it is less than a 30-minute walk up to the platform on Horseshoe Bay Drive.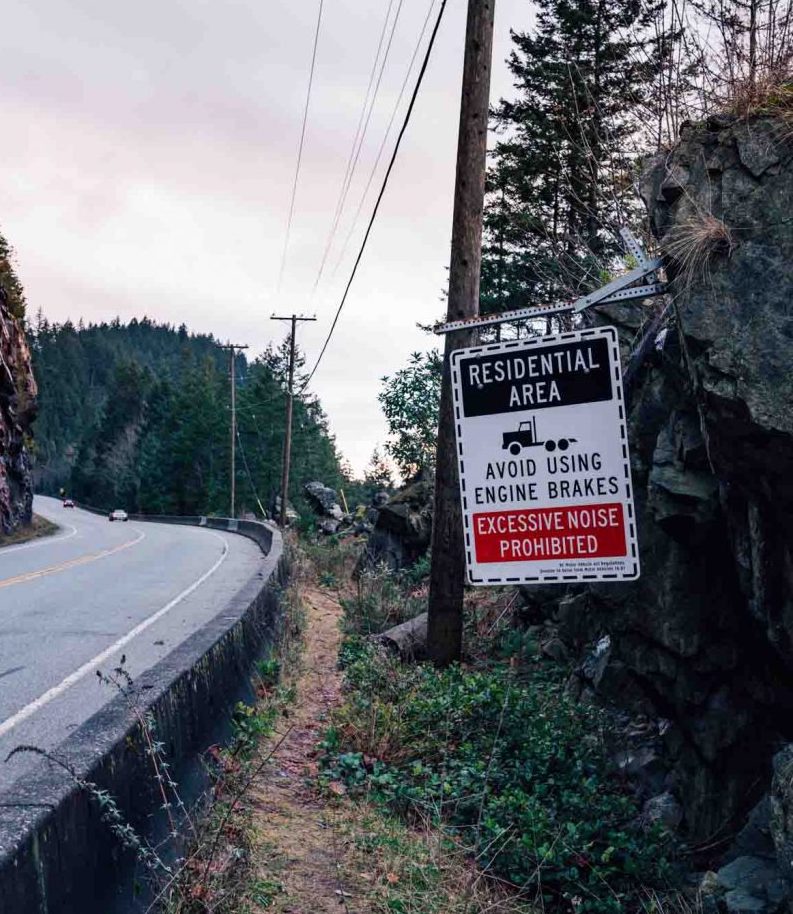 This sign marks the exact spot where you can climb up to find the Horseshoe Bay viewpoint platform. You just have to climb a couple of meters up the bank to reach the lookout. As you reach the top of the bank you will see the wooden platform right in front of you.
The view from up here is spectacular and you get an awesome birds-eye perspective down into the busy bay below. Horseshoe Bay is always buzzing with activity as there are several BC Ferries routes that depart from here. You'll see lots of ferries coming and going to Vancouver Island, Bowen Island, and the Sunshine Coast.
#17 Whytecliff Park
This pretty park is only 30 minutes from Downtown Vancouver and is located very close to Horseshoe Bay. Whytecliff Park has stunning views of Howe Sound, the mountains, and the rugged coastline. It's a popular spot for diving, picnics, and swimming.
Driving is the easiest way to get here. Just set your GPS to Whytecliff Lookout Point. You can also take the 257 bus from downtown to the Horseshoe Bay Ferry Terminal. From there it's a 35 to 40 minute walk to Whytecliff Park.
#18 Marine Building
Opened in 1930, the Marine Building is famous for its art deco-inspired architecture and ornate entrance and lobby. The door has intricate details and during the day, the sun reflects off the golden building located across the street and illuminates the facade of the building.
It's a popular spot for wedding and portrait photographers. You may also recognize it from a couple of the Fantastic Four Marvel films.
We recommend visiting the building on the weekends when you won't be bothered by the staff who service the building.
#19 UBC Rose Garden
The UBC Rose Garden is one of Vancouver's best-kept secrets. There are more than a dozen types of roses that bloom between June and September. It's a lovely spot to take some photos and enjoy the panoramic mountain range backdrop.
The Rose Garden is located on the University of British Columbia's Vancouver campus. It's actually on the top of a parkade just off NW Marine Drive.
#20 Spyglass Dock
This aquatic bus stop has become one of Vancouver's most instagrammable spots in recent years. Located directly beneath the Cambie Bridge, the pier offers a lovely skyline view of the blue and green glass buildings downtown.
Come at night when the buildings are lit up and reflecting off the water.
Other Noteworthy Places to Visit
Use our Vancouver Travel Guide Map to get to these fun destinations.
Alley Oop – One of the few Laneway Activations located throughout Vancouver.
Ackery's Alley – The second Laneway Activation located in the heart of Vancouver's entertainment district. The design was inspired by its location behind the Orpheum Theatre, the red and gold alley has been named in tribute to Ivan Ackery, the venue's most famous impresario of theater.
A-Maze-Ing Laughter – Located near English bar, this is a circular set of statues that were created to promote laughter and fun to all who pass by.
Fun Alley
The Crab statue at the Vancouver Planetarium
Digital Orca
Holy Rosary Cathedral – Has gorgeous gothic spires and windows.
Vancouver Central Public Library
Its Love Baby Pink Wall (located at Davie and Thurlow)
Olympic Cauldron
Lighthouse Park
East Van Cross Sign
Kitsilano Wings
Lonsdale Quay
Quarry Rock
Nitobe Memorial Garden
Lei De Buds
The Orpheum Theater
Chinatown Millennium Gate
Morton Park Statues
Science World
Vancouver City Hall
The Drop sculpture by Ignes Idee
Rusty Whale Ribs (217.5 Arc x 13′) by Bernar Venet at Sunset Beach Park
Voxel Bridge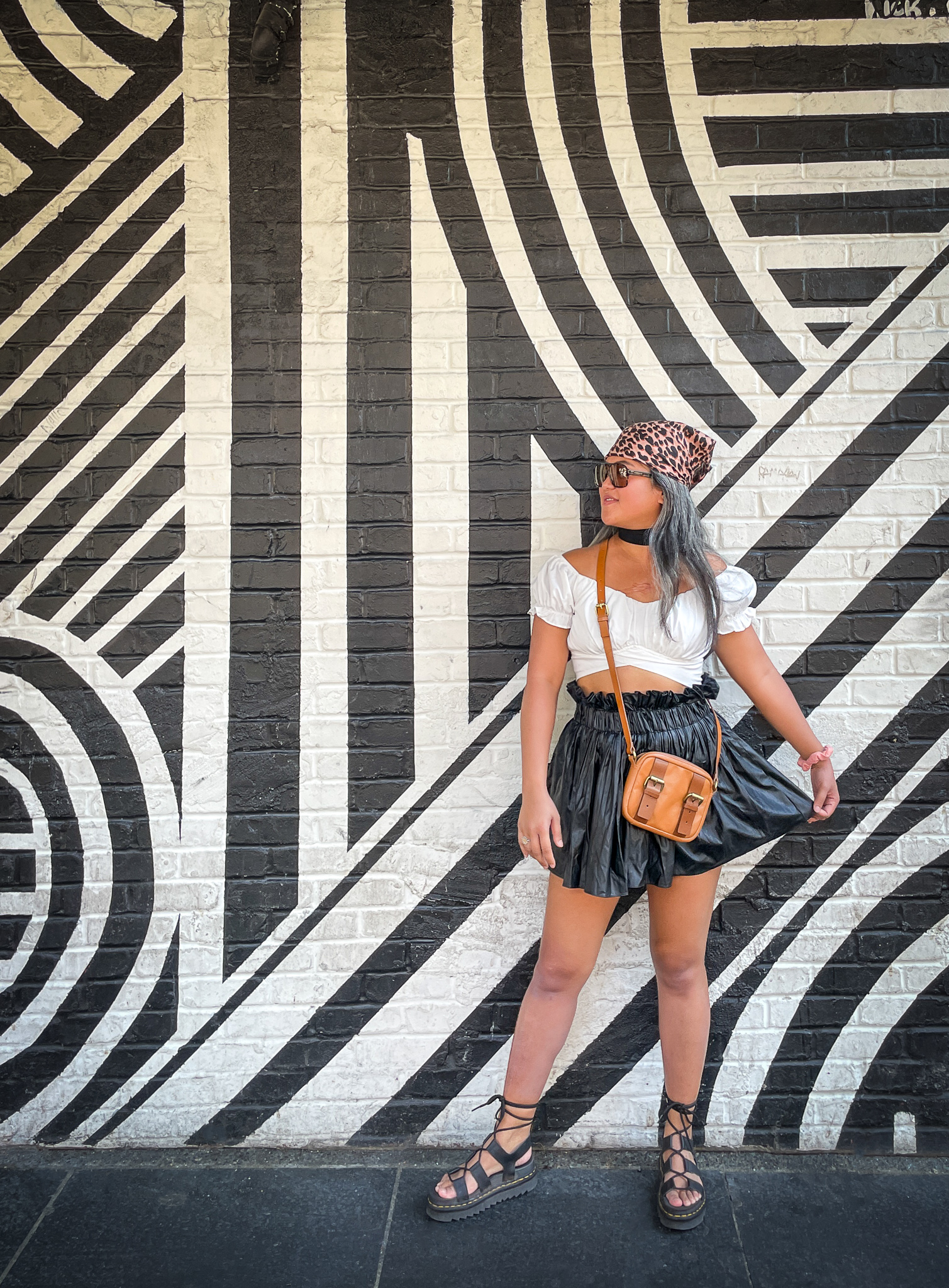 View this post on Instagram
Where to Eat in Vancouver BC
AnnaLena – Creative Canadian tasting menu in a modern setting. The restaurant is located in Kitsilano. Their menu changes monthly and reservations are highly recommended.
Alouette – If you're looking for traditional French food, the cuisine here is insanely delicious and authentic. They have a tableside beef tartare that you should not miss out on. For dessert, we highly recommend the Lark Bar. If they are offering the quiche on their weekly specials menu, order it. Everything was fabulous…and French! Don't forget to subscribe to their newsletter to get $10 off!
Bao Bei – High-end Chinese restaurant located in Chinatown.
Blue Water – Best seafood restaurant in Vancouver. They've won many awards and seafood is a big deal in Canada.
Botanist – High-end food and drinks. Located in the Fairmont Hotel.
Burdock & Co. – Farm-to-table restaurant with seasonal dishes that will blow your taste buds.
Chancho Tortilleria – No frills Mexican food joint that hand-makes their corn tortillas. Come here for tacos and tortas.
Xiang Yuan Qiao Yunnan Cross Bridge Rice Noodle – OMG we stumbled upon this place that served hot pot noodle soup and it was so good! I noticed that restaurants are not rated highly in Canada as they are in the USA. If you see anything with a rating of 3.75 and has mostly good reviews, do yourself a favor and go check it out! You might be discovering something novel that most people overlook.
Dynasty Seafood – Delicious Chinese food located in downtown Vancouver. Reservations are recommended.
Fritz Fry House – A great place for traditional poutine. Poutine is a Canadian delicacy that consists of Belgian fries or frites (often double fried) topped with melted cheese curds and gravy! LE YUM! Get their original poutine. It's the best!
Guu with Garlic – Japanese Izakaya-style restaurant with delicious meats and small dishes. There is typically a wait here. Expect to wait 30 minutes to dine here.
Happy Noodle House – Come here for dumplings and noodles galore! Our favorite dish in the mushroom salad.
JingleBao – Their rainbow soup dumplings are fun to eat! They offer all the dumplings as well as a huge dumpling that you'll have to drink with a straw. It's a cute Instagram food opportunity.
Kirin – Come here for delicious dim sum. It's located in Richmond and can easily be accessed by the Skytain.
La Belle Patate – A great place for creative and traditional poutine. Their large plates of poutine are great for sharing.
Noah's Cafe – They have the most innovative Japanese fusion menu I've ever tried. We ordered the Uni Cream Pasta and pork belly with truffle brussel sprouts which were all to die for. Cue all the flavor bombs!!! Come late at night so that you get discounted food and check out their daily menu offerings. We highly recommend trying one of their smoked bubble cocktails!
Phnom Penh – Come here for their famous butter beef, fried chicken wings, and all the Cambodian and Vietnamese food your heart desires. Reservations are highly recommended as they are always busy.
Richmond Night Market – The Richmond Night Market comes around every summer and hosts some of the best street food vendors in Vancouver. It's definitely worth a visit. Visit their site to find hours and dates.
Sushi California – Honestly, sushi is great anywhere in Vancouver, but our favorite is Sushi California. You get the most bang for your buck and the sushi is incredibly fresh. Their plates are made for sharing and portions are huge!
Sylvia Hotel – One of the most Instagrammable hotels (floral exterior) and restaurants in the city. It's located near English Bay Beach and has an awesome happy hour menu and prime rib dinners on Sundays. We also highly recommend coming here for brunch.
Where to Drink in Vancouver BC
I am a craft cocktail snob and always seek out the best places to partake in creative libations. Here are our top picks for Vancouver.
The 515 Bar – With an eye-catching pink exterior and neon decor inside, this place is great for craft cocktails and craft beer.
Bagheera – A newly opened speakeasy bar that you need to add to your list. They serve cocktails made with Indian flavors and fragrant curries served with fluffy naan bread. Watch our Reel on IG for some clues on how to get in.
Bartholomew – Swanky bar with a good selection of cocktails and wine.
CRAFT Beer Market Restaurant + Bar– Casual bar and eatery with a huge selection of craft beers.
D/6 Bar & Lounge (in Parq Vancouver Hotel)
Hello Goodbye Bar – Underground basement bar with craft cocktails.
The Keefer Bar – Voted Vancouver's 2nd best bar! Come here for craft cocktails and delicious food.
Laowai – Art deco speakeasy located behind the Blnd Tger Dumpling house. You'll need a password to get in.
The Narrow Lounge – From the same owners of Keefer bar. Another cozy craft cocktail haven.
Shameful Tiki Room – A bar for tiki cocktail lovers! They make creative craft tiki cocktails in a space paying homage to the tiki bar scene of America.
Silk Lounge – Classy restaurant serving fine foods and amazing cocktails.
Speakeasy on Granville – This place draws a huge crowd on the weekends. It turns into a club with hip hop and mainstream music. If you're thinking this is an intimate speakeasy, just be warned that it's absolutely not.
The Stock Room – A cozy bar located down the hallway just inside Hundy's, a very popular burger joint in Yaletown. We love their mix of refreshing and classic cocktails. Come early as it does get crowded by nighttime.
Uncle Abe's – Another interesting cocktail bar from the owners of Keefer.
Vancouver BC Travel Guide Map
We create a travel guide map with each guide we produce. Use this travel guide map to help you find important landmarks at your destination.
If you found our Vancouver BC travel guide helpful, please share it on Pinterest. Thanks for your support!
---
Thank you for visiting today! If you found this encouraging or informative, please connect with us on Instagram, Youtube, Pinterest, Facebook or Twitter. We'd love to meet you!
Sign-up for our monthly newsletter for updates and more. We promise we won't spam you! Feel free to unsubscribe anytime.
For more fitness fashion discounts and offers, please visit our Fitness Instructor Discounts + Brands Directory or favorite brands coupon codes list.
If you're a brand and want to submit a product for us to review, please use this form to get in touch.
This site uses affiliate links. Clicking on or purchasing via an affiliate link may result in commissions for us which help keep the content flowing and lights on at Schimiggy Reviews. You may read more about this in our privacy policy.