Reading Time:
4
minutes
Updated: 1/11/2022 | DIY Hat Clip for Your Bag
In my search for a way to hook my hat to my bag, I found many options. There are expensive brands such as Lindsay Albanese and Klipsta that came up in my search. I also found some more affordable hat bag clips on Etsy, Amazon, and even a hat clip made by the San Diego Hat Company.
Related: San Diego Hat Company Review + 15% off Coupon Code
Before buying anything new, I always try to make an effort to use things that are around my home. It helps prevent waste, unnecessary purchasing of things I don't need, and to save money.
So found a few things laying around the house and came up with a creative and easy way to create your own DIY hat clip. Hopefully, you have these items laying around in the home too!
Related: Watch our DIY Hat Clip for Bag tutorial on Instagram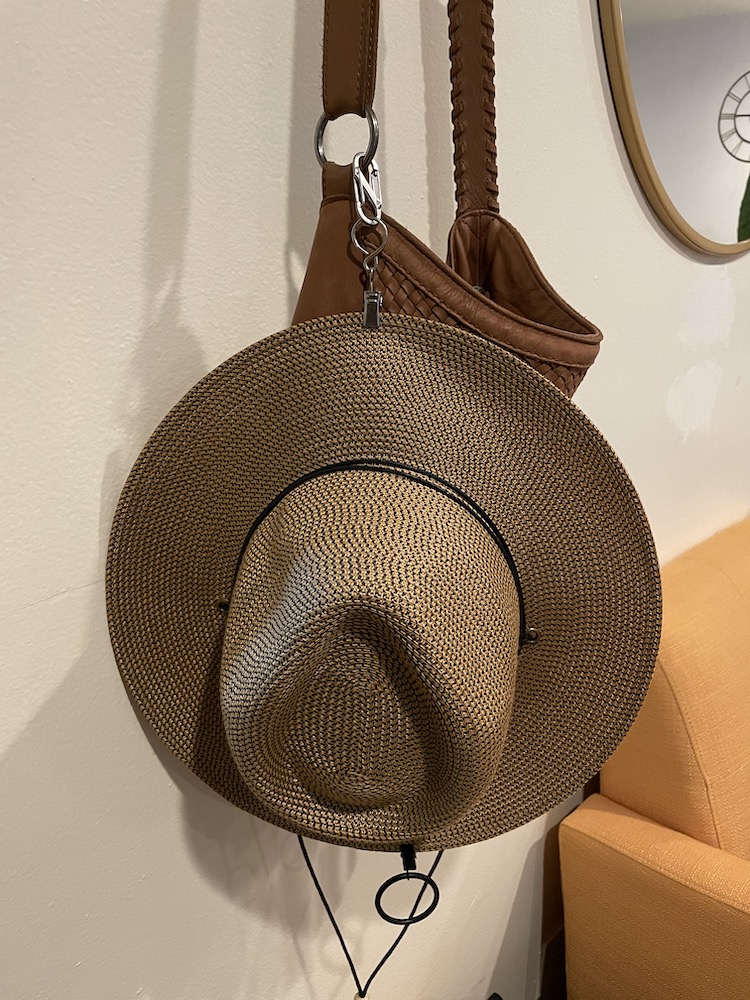 Below I'll go over the steps on how to do this so that you can carry your hat hands-free without having to spend too much money.
How to Make a DIY Hat Clip For Your Bag
Supplies You Need
This is an incredibly easy tutorial. You literally only need these two items.
1 small Carabiner by Nite Ize (or any other brand you have laying around the home). We also like to use the Heroclip because it doubles as a bag hook too!
They sell the curtain rings with clips in packs, so I highly recommend contacting your local Buy Nothing Group (on Facebook) to see if anyone has these laying around. I was able to get 20 units of these from my local group. If you're in Seattle and want one, please hit me up!
Related: Best Hats for People with Big Heads
DIY Hat Clip Tutorial
Step 1: Clip the curtain ring onto the carabiner.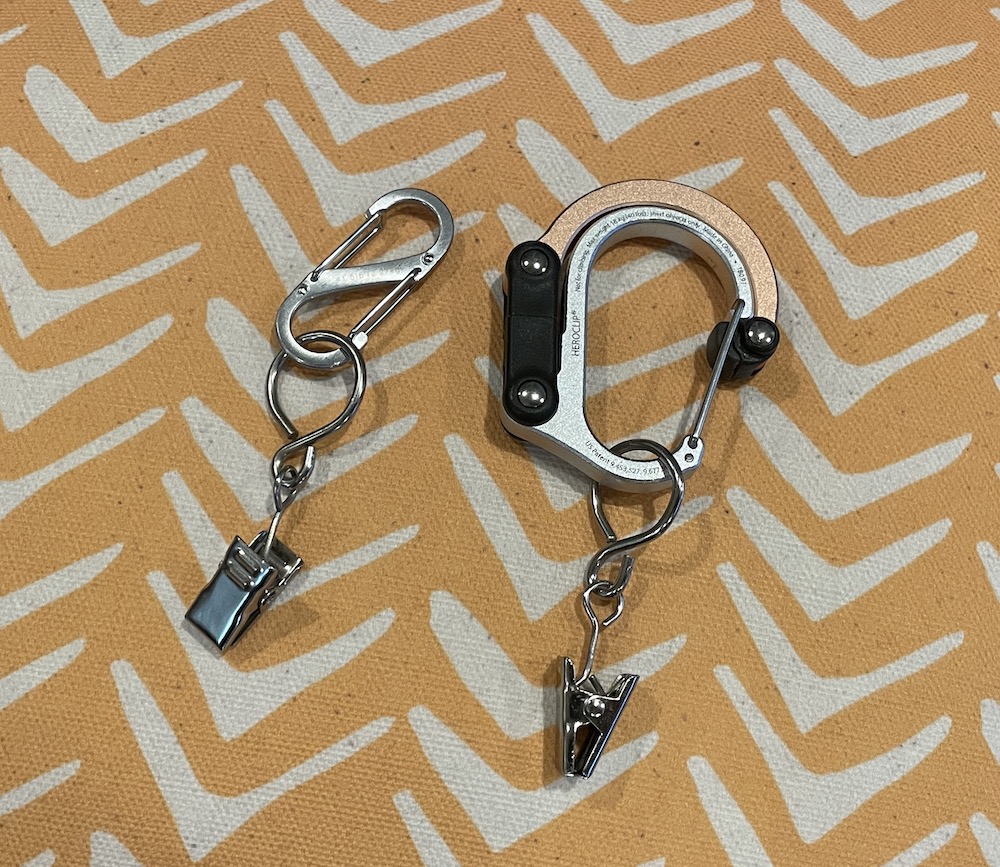 We used the S-Biner by Nite Ize on the left and a Heroclip (size small) on the right.
Allow the curtain ring to fall to the bottom of your carabiner. The added weight of the hat will keep the hat clip in place.
Step 2: Clip the Carabiner onto your favorite bag.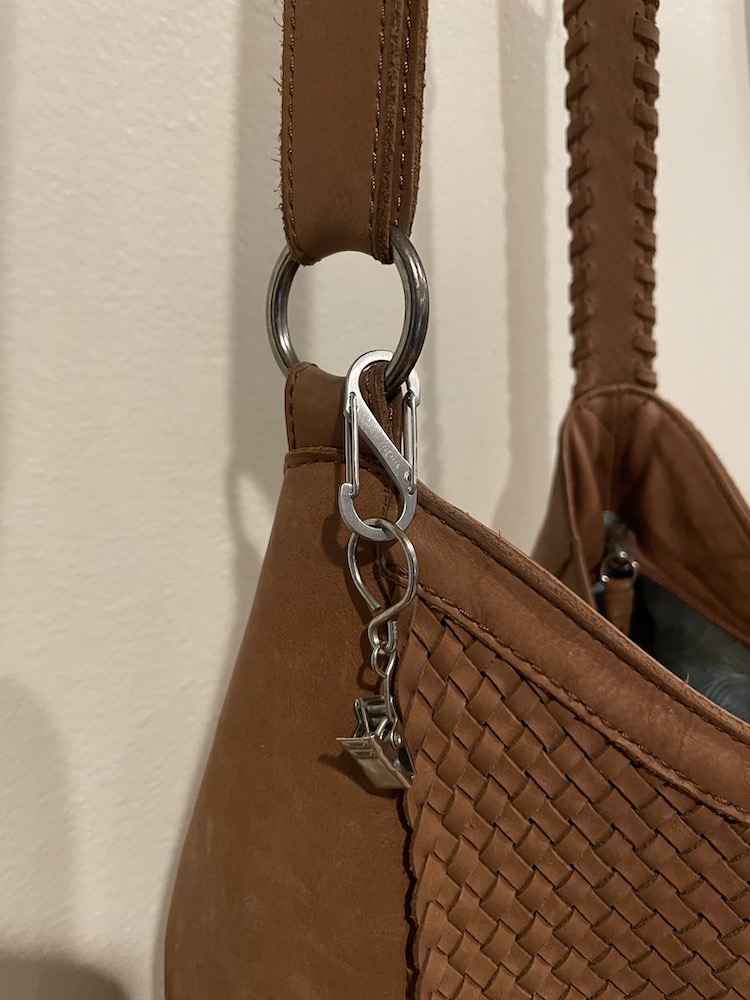 You can attach the clip to any bag of your choice.
We do recommend using a bag with a metal hoop like our The Sak Filmore Hobo Crossbody bag (image above). Hooks allow your DIY hat clips to stay in place, otherwise, the carabiner can move along the strap of the bag.
Related: The Sak Review – Eco-friendly and Sustainable Handbags
And if you need some pizzazz, you can decorate your hat clip with a scarf or purse charm. See? Not so plain anymore.
Step 3: Clip Your Hat Onto your DIY Hat Clip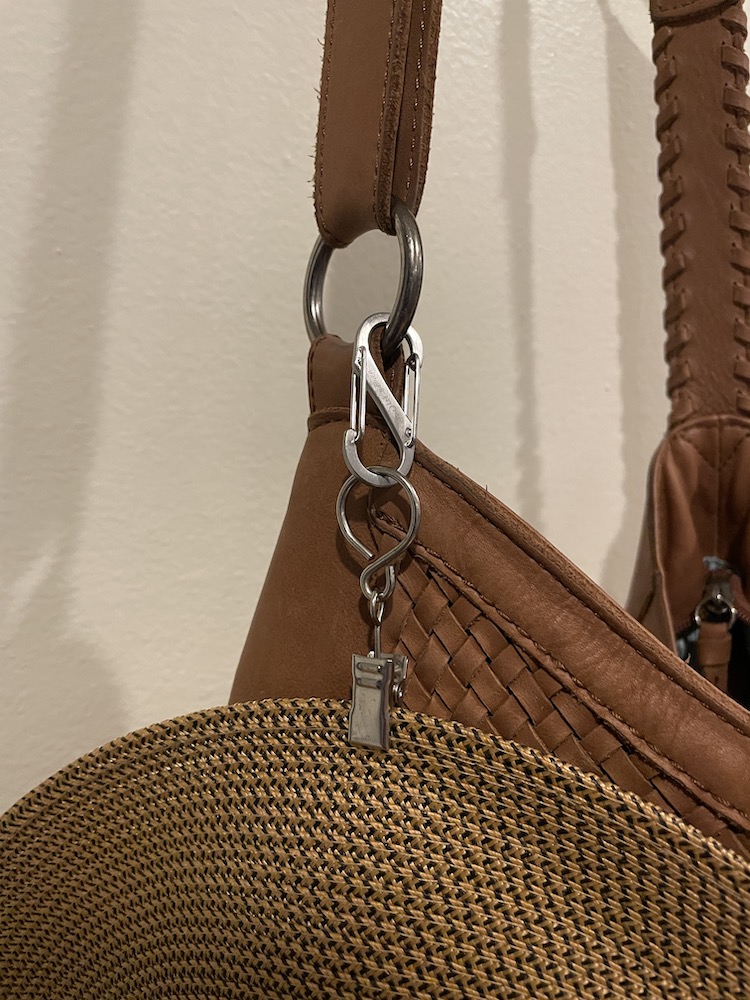 When your hat is not being used, clip your hat onto your DIY hat clip and continue exploring!
And that's it! It's a super easy yet useful hack that you'll be able to use any time. We also use the clip for other items such as gloves or scarves. You'll find that it comes in super handy!
And before you leave, we highly recommend using our guide on how to find the perfect hat size prior to shopping online or in-person for your next favorite hat!
If you found our DIY Hat Clip tutorial helpful, please share it on Pinterest! Thanks for your support!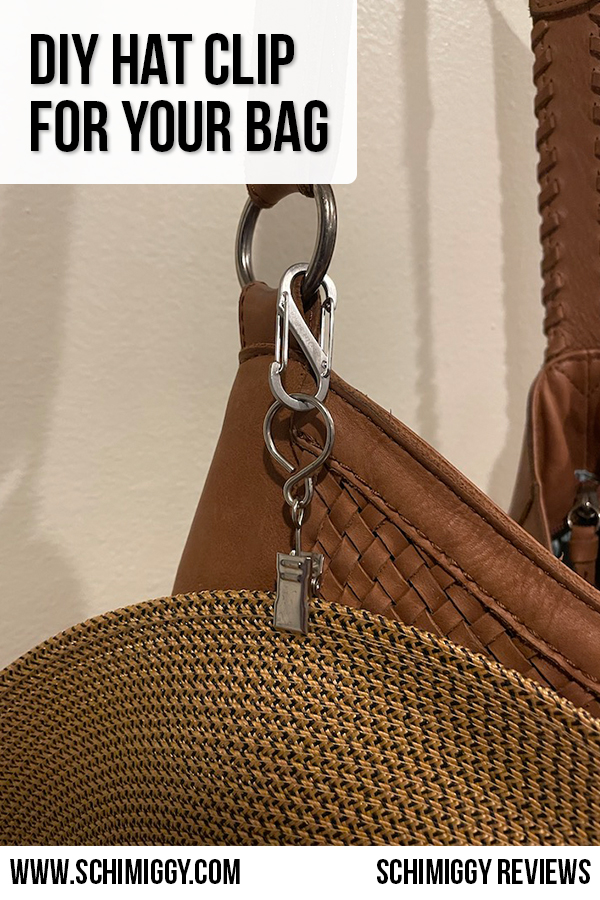 ---
Thank you for visiting today! If you found this encouraging or informative, please connect with us on Instagram, Youtube, Pinterest, Facebook or Twitter. We'd love to meet you!
Sign-up for our monthly newsletter for updates and more. We promise we won't spam you! Feel free to unsubscribe anytime.
For more fitness fashion discounts and offers, please visit our Fitness Instructor Discounts + Brands Directory or favorite brands coupon codes list.
If you're a brand and want to submit a product for us to review, please use this form to get in touch.
This site uses affiliate links. Clicking on or purchasing via an affiliate link may result in commissions for us which help keep the content flowing and lights on at Schimiggy Reviews. You may read more about this in our privacy policy.