Reading Time:
6
minutes
Updated: 8/9/2022 | Things to Do in Bangkok and Krabi
We escaped the craziness of Mumbai, India and took a flight to Thailand. In Thailand, we visited Bangkok and Krabi. We sought some solace and relaxation next to the beaches, as well as the plethora of amazing food on both the streets and in restaurants.
What I did with 3 Days in Bangkok
Immediately upon landing, we went through customs which took approximately 40 minutes. We booked a hotel on Agoda that offered shuttle pick-up. After a good 30 minutes of waiting for our car to arrive, we finally headed to the Cottage Inn.
We picked this hotel because it offered airport transportation, daily breakfast and wifi. It was also a great deal! If you have never used Agoda to book, I highly recommend it.
Getting to Thailand via bus or plane may require a long flight, but once you are there, it's pretty inexpensive to get around.
After checking in, we headed to a Vietnamese restaurant across the street from our hotel. We played frogger to get across as the roads were LONG and a detour to the nearest crosswalk would have extended our trip by 15 minutes. I was too hungry to wait.
We ordered DIY nem cuon (pork sausage) rice rolls, grilled chicken, and banh beo (Vietnamese sticky pancakes). This reminded me how much I missed the flavor and smell of fish sauce!
Afterwards, we headed over to a massage parlor and got Thai massages for only $8 USD. Woohoo!
After our massage, we took a Grab (Thailand's version of Uber) to Rot Fai Night Market! Rot Fai is Bangkok's largest night market! It's pretty overwhelming but you'll quickly find that food and fashion stalls tend to become repetitive.
I just decided to get lost. There were at least 100 food stands and possibly double or triple that number of retail kiosks. Everything was cheap and I saw a lot of counterfeit merchandise.
Most of the street food was 20-60 Baht (approximately $2 USD). We ordered fried fish balls and a corn dog balls on a stick. There were many other dishes that I would have gladly thrown down money for if I hadn't already stuffed myself with Vietnamese food. Note to you, come hungry.
My favorite find was bubble tea beverages for only 35 Baht (or $1 USD)!!! Back in Seattle, it's normal to pay $5+ for a boba drink.
We stayed out till approximately 11 PM then headed back to our hotel to plan our next day.
The next day we decided to do a little bit of shopping!
Our first stop was Pratanam or Platinum Mall. This place is an oasis for shoppers. There are 7 floors and one floor is dedicated to food (my favorite floor). A skybridge on the 2nd floor that connects the two malls. I bought myself a knockoff of the Issey Miyake Bao Bao crossbody bag complete with the logo and dust bag. It looks very legit and no one can tell it is a replica.
I then left to get my teeth cleaned. YES, I booked an appointment with a local dentist and got a deep cleaning for only $38 USD! This would have cost me $150 WITH INSURANCE back in Seattle. I'm glad I got a medical procedure done while traveling because it was worth it!
Then I headed back to the Platinum mall food court to meet up with Larry. This food court is the best! It showcases almost all of Thailands cuisine. It's also a great alternative to street food options which can get pretty repetitive. I enjoyed the shrimp donuts and noodle soups the best.
How does it work? You load money onto a card and use it at each kiosk. They give you a number and you pick it up when it's ready. It's a foodie heaven!
We also visited Wat Pho to check out the reclining Buddha. I had to cover up or else they wouldn't let me in. Did you know Wat Pho is Thailand's oldest massage school? Next time we'll have to book a massage there.
At night we decided to check out the infamous Pat Pong neighborhood. It was an adventure. We were rerouted on a Tuk Tuk to a brothel bar. I saw the "pimp" pull out a calculator to let foreigners know how much a lady would cost. If you're interested, she cost only 4,000 baht (or $130 USD). 🙁
At the bar, we ended up making friends with some Scottish guys and heading out to eating SUPER SPICY mystery noodle soup with some local workers at a nearby restaurant. SO WORTH IT!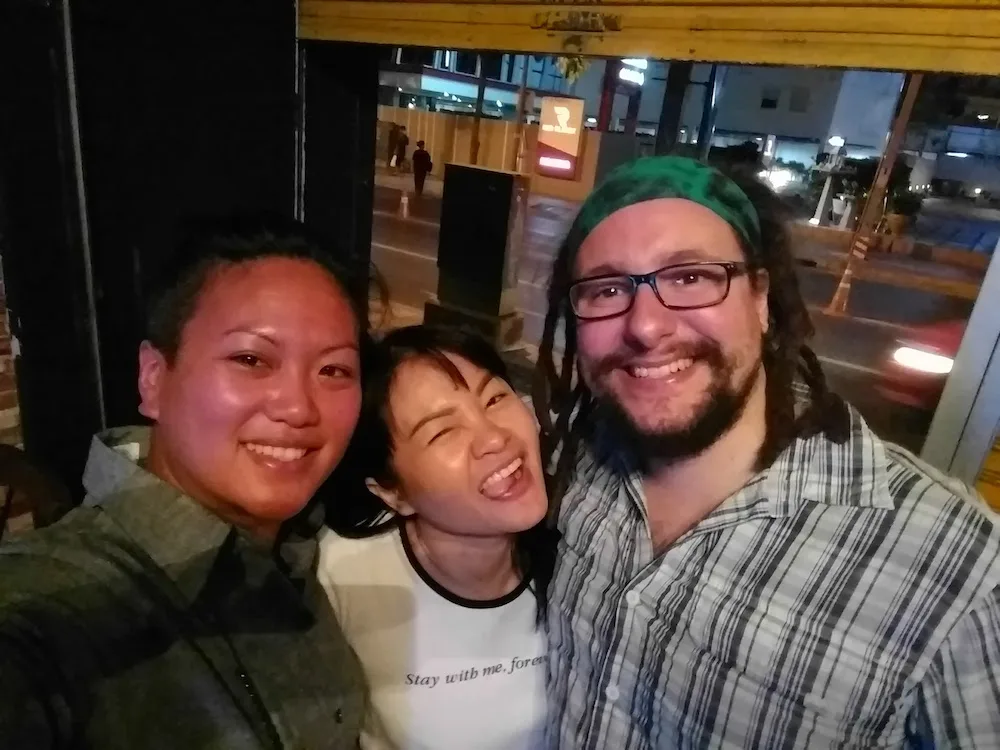 Final Day in BKK
On our last day we did what we love most, eat more food. I ordered a Happy Meal from McDonald's in Thailand and got some delicious fried chicken. We also had a pineapple pie (not pictured). Both tasted great and much better than American McDonald's.
And then we headed off to Ao Nang, Krabi! At the airport, we got massages using our Priority Pass to enter the lounge. What a way to end our non-stop Bangkok trip!
What I did with 2 Days in Ao Nang, Krabi
Ao Nang is a little beach town in Krabi. We spent two days here and our main goal was to RELAX. We booked a 4 star hotel at Viva Ao Nang Resort for only $32 USD a night! The hotel concierge made tour reservations for us and they picked us up in the morning.
The hotel breakfast was awesome. It came with little noodle bar that offered 3 different types of noodles. It's common to have a noodie dish for breakfast in South East Asia.
We also loved walking around town, getting $5 massages and enjoying $3 cocktails from street vendors! We also ate a ton of seafood and I might have eaten the best mango sticky rice ever.
Our boat tour took us to Ko Phi Phi islands. The weather wasn't all that stellar, but it was defnitely better than India.
I can't wait to go back to Thailand!
Update: We went back to Thailand in 2017. Just one year after our first visit. We're hoping to make it an annual event. 😀
Got questions? I've got answers. Feel free to contact me if you need any recommandations.
---
Thank you for visiting today! If you found this encouraging or informative, please connect with us on Instagram, Youtube, Pinterest, Facebook or Twitter. We'd love to meet you!
Sign-up for our monthly newsletter for updates and more. We promise we won't spam you! Feel free to unsubscribe anytime.
For more fitness fashion discounts and offers, please visit our Fitness Instructor Discounts + Brands Directory or favorite brands coupon codes list.
If you're a brand and want to submit a product for us to review, please use this form to get in touch.
This site uses affiliate links. Clicking on or purchasing via an affiliate link may result in commissions for us which help keep the content flowing and lights on at Schimiggy Reviews. You may read more about this in our privacy policy.