Reading Time:
5
minutes


About Teeki
Teeki is a California based activewear brand. I think of Coachella and Wanderlust festivals when I envision Teeki. Not only do they create beautiful and fun prints, they also have an awesome mission. By buying Teeki, you're enabling them to innovate and increase their impact on helping to preserve our world. Below is Teeki's vision and how they are helping the environment in which we live.
A portion of your purchase goes towards Teeki's vision of accomplishing the following:
Purchase, conserve, and rewild natural forests and waterways.
Support the build-out of an eco-retreat center that provides education and relaxation in a friendly community environment that's in harmony with the earth and its people.
Increasing Teeki's use of clean energy each year, with an overall goal to obtain 100% of used energy from renewable sources. Teeki currently using carbon neutral methods to ship.
All products are made in the USA, so you are supporting Teeki in hiring local and paying fair living wages.
With their beautiful prints and mission to preserving our world, I highly recommend Teeki to any leggings lover.
https://www.instagram.com/p/BUQguW8hSUm/
Teeki Review: Elephant Love Leggings
My first Teeki purchase ever was a pair of their Northern Lights leggings. I loved the ombre sky against the silhouette of Evergreens. At that time the leggings fit loosely and I didn't reach for them much, so I ended up selling them. Fast forward 5 years later, I decided to buy a pair of Elephant Love leggings in Medium. Although I gained 10 pounds, the leggings still fit loose. I normally wear a size 6 in Lululemon for sizing reference.
The print though is so magical! The elephant and roses against a striped background make the leggings look mystical and just gorgeous.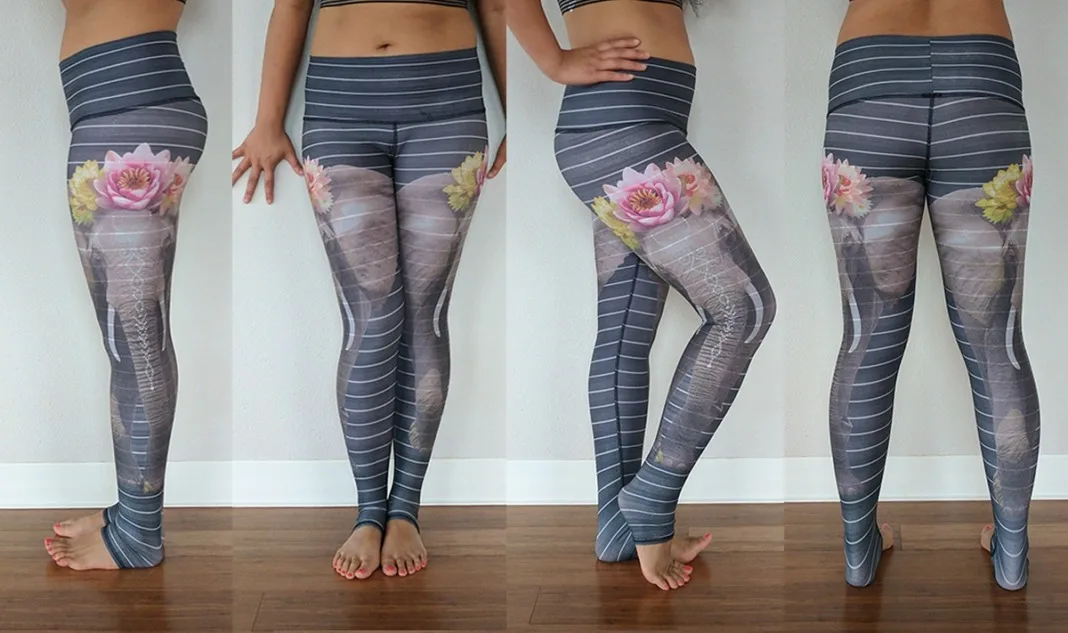 #1 Size: Teeki advises that you size down. I purchased my ever first pair of Teeki leggings in a size medium. They fit at first but after two wears, they stretched a lot and I was no longer able to fit them. I definitely needed a size small. In this review I purchased a pair of Elephant hot pants in size medium and had the same experience years later (and at a size bigger).
#2 Style: Teeki makes hot pants (long leggings), bell bottom pants, capris, shorts, tanks and bras.
#3 Inseam: A 26″ inseam provides lots of breathing space for your ankles. I am 5'5″ for reference and wear the leggings over my heel.
#4 Rise: Teeki pants have a high rise sitting just below the navel.
#5 Waistband: Teeki's have tall waistbands measuring 4.75″. The waistband is stitched together at the back of the pant. The waistband does fit a little looser than I prefer. It might be tighter in a smaller size. The tall waistband can be folded over for a low rise fit.
#6 Fabric:
Fabric Content: 79% recycled p.e.t. and 21% spandex
Fabric Feel: The fabric feels soft, brushed, and thin. I would compare it to Niyama Sol, another leggings brand that I totally recommend. Read my Niyama Sol reviews here.
Fabric Performance

Teeki pants have generous stretch so be sure to size down.
Leggings have four-way stretch so that it contours to fit the body like a second skin.
Due to the nature of our printing process, slight variations in the color and placement of the print are expected from pant to pant or among the same or similar styles. This is normal and does not impact the quality of the design.
They're quick drying! It took about 3 hours for my leggings to fully dry on a rackT

Opacity: The fabric is white backed but Teeki guarantees they were manufactured to be opaque. Even though the leggings are opaque, they do slightly stretch to white. It is not noticeable from afar and in photos.
Eco-Friendly: As part of their eco-friendly processing, they don't perform any kind of pre-washing or silicone washing. This saves precious water and eliminates chemical runoff.
Fabric Features:

Due to their organic process, you may notice slight variations from pant to pant.
#7 When to Wear: Teeki can be worn casually, for working out and lounging around. The fabric is very soft and comfortable. I have a pair of Teeki joggers that I wear constantly around the home.
#8 Cost: Teeki leggings are reasonably priced at only $72. I've included some coupon codes below to save you some money on Teeki apparel.
#9 Gusset: Teeki pants have a double-layered, diamond-shaped gusset.
#10 Stitch Seam: Teeki leggings are created using flat seams throughout the pant.
#11 UPF Protection: Not disclosed.
#12 Made in Los Angeles, USA!
#13 Care Instructions: Teekis love to be hand washed in cold water with eco-friendly detergent and hung to dry. I use a drying rack like this one. With these care instructions, you can ensure your Teekis will last a very long time!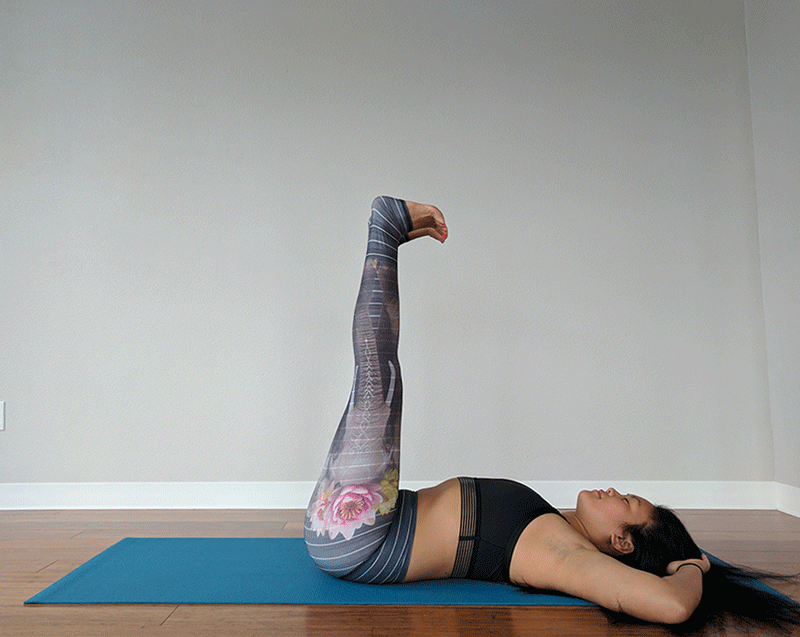 Should I Buy Teeki?
Yes, you should! If you wear a size 6 in lululemon (like me!) definitely go for a size small in Teeki. The fabric is comfortable and the prints are gorgeous and magical. Definitely try them out!
They also offer FREE REPAIRS for 6 months after purchase. Photos of the damage must be submitted prior and they will offer you a complimentary return label if it qualifies for any repairs.
More info on the repair process can be found here.
Where to buy Teeki
Here are the best online retailers that currently sell Teeki apparel:
I hope this Teeki leggings review helped you decide on your next pair of spandex. if you have any questions, feel free to send us an e-mail.
---
Thank you for visiting today! If you found this encouraging or informative, please connect with us on Instagram, Youtube, Pinterest, Facebook or Twitter. We'd love to meet you!
Sign-up for our monthly newsletter for updates and more. We promise we won't spam you! Feel free to unsubscribe anytime.
For more fitness fashion discounts and offers, please visit our Fitness Instructor Discounts + Brands Directory or favorite brands coupon codes list.
If you're a brand and want to submit a product for us to review, please use this form to get in touch.
This site uses affiliate links. Clicking on or purchasing via an affiliate link may result in commissions for us which help keep the content flowing and lights on at Schimiggy Reviews. You may read more about this in our privacy policy.