Reading Time:
3
minutes
Updated: 9/20/2022 | Sydney Travel Guide
Sydney is one of the best, most exciting cities in Australia. It's a city that has it all: beaches, mountains, and great restaurants. But where do you start with so many things to do and see? Here are our top recommendations for when you're thinking about visiting Sydney.
About Sydney
Sydney is the most populous city in Australia and the state capital of New South Wales. It is one of the most famous cities in the world, known for its beaches, harbor, and skyline.
Sydney's climate is temperate, with mild winters and hot summers.
The average temperature ranges from 18–21°C (64–69°F). Summers can be very hot during July/August due to warm ocean temperatures around Sydney Bay, which keep this area warmer than other areas nearby, such as Botany Bay or Port Jackson (Parramatta).
Make sure to play and budget properly to be able to enjoy your trip. You can count on Joe Fortune Crypto Casino and their secure payment methods to help you cover your finances.
When is the best time to visit Sydney?
Sydney is a great place to visit any time of the year. The weather in Sydney varies from hot and humid in summer to mild in winter. This can make it hard for some travelers who may be used to cooler climates or prefer spring or autumn as their holiday time.
Sydney's climate is influenced by its proximity to the ocean, which causes it to have warmer days than areas further inland. In January (winter), temperatures average 22 degrees Celsius; this makes it ideal for those who enjoy warm weather! Also, if there are any festivals around the time of your visit, then you might be in for a treat!
How many days should I spend in Sydney?
With a little planning, you can spend two to three days in Sydney and still see all the main sights. This gives you one full day in the CBD and around the Opera House and Harbor Bridge, a day to enjoy Bondi Beach, Taronga Zoo, or Newtown, and the opportunity for a day trip to the Blue Mountains.
If this seems too short of time, we recommend that you take advantage of our [3-day] package, which includes most things on this list, plus complimentary city tours with some amazing views!
Where to Stay in Sydney
Sydney has a range of accommodation options to suit all budgets. The city is a popular destination for backpackers, with hostels and hotels offering cheap accommodation in the city center. For those looking for something more luxurious, there are also serviced apartments and luxury hotels along the harborfront that offer reasonably priced modern facilities.
If you're planning on traveling with family or friends, we recommend staying in one central location so everyone can easily meet up during your stay.
While most people stay in Sydney's CBD area (the central business district), don't forget about other neighborhoods such as Balmain or South Bank. This is where you'll find plenty of excellent attractions, including museums such as the Museum of Contemporary Art Australia (MOCA) or National Portrait Gallery, bars and restaurants, shops, parks/green spaces, etc.!
What to do and see in Sydney?
Plan out the details of the itinerary, so you don't forget any stopping points. Here are some must-see places there:
Visit the Opera House
This iconic building was built in 1932 and is one of the most recognizable structures in Australia. You can see it from every angle as you walk around town or as you walk to work across The Rocks Bridge (the iconic Sydney Harbor Bridge).
Visit the Harbor Bridge
The Australian Museum has an excellent exhibit on this famous landmark that includes a view through its glass floor!
Hyde Park Barracks
You could also visit Hyde Park Barracks Historic Site: This museum tells the story of Australia's involvement in World War I and includes an interactive display about how soldiers lived during wartime.
Go on a tour of Circular Quay
This is one of Sydney's busiest areas where people go shopping or eat at restaurants before heading home after hours spent sightseeing at Darling Harbor/Paddy's Market/The Rocks area. Make sure to take lots of photos to make memories!
Where to Eat in Sydney
For a unique fine dining experience, head to Saint Peter. It's a hidden gem with an elegant atmosphere and some of the best food in Sydney. Try the scallops or their signature prawns served with tomato salsa and crispy polenta bread.
Head over to Ho Jiak if you want a amazing and elevated Malaysian food. Their dumpling and vegetable dishes are some of the most memorable food I've ever had.
For a sweet tooth, head to Gelato Messina for gelato made from real ingredients like milk from local farms – it tastes so good that you won't want to stop eating!
If you're looking for variety, Spice Alley is a food court with tons on pan-Asian options.
You can't leave Sydney without trying out these restaurants!
We hope you enjoyed this Sydney travel guide. Australia is one of the most beautiful places to visit, full of rich culture and friendly people.
If you haven't been already, you might want to consider adding it to your bucket list!
If you found our Sydney travel guide helpful, please share it on Pinterest. Thanks for your support!
Thank you for visiting today! If you found this encouraging or informative, please connect with us on Instagram or TikTok.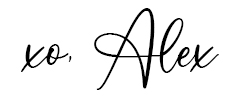 Sign up for our monthly newsletter for updates and more. We promise we won't spam you! Feel free to unsubscribe anytime.
If you're a brand and want to work with us, please visit this page to get in touch.