Reading Time:
5
minutes
Update: 8/12/2023 | Where to Buy Split Hem Leggings and Pants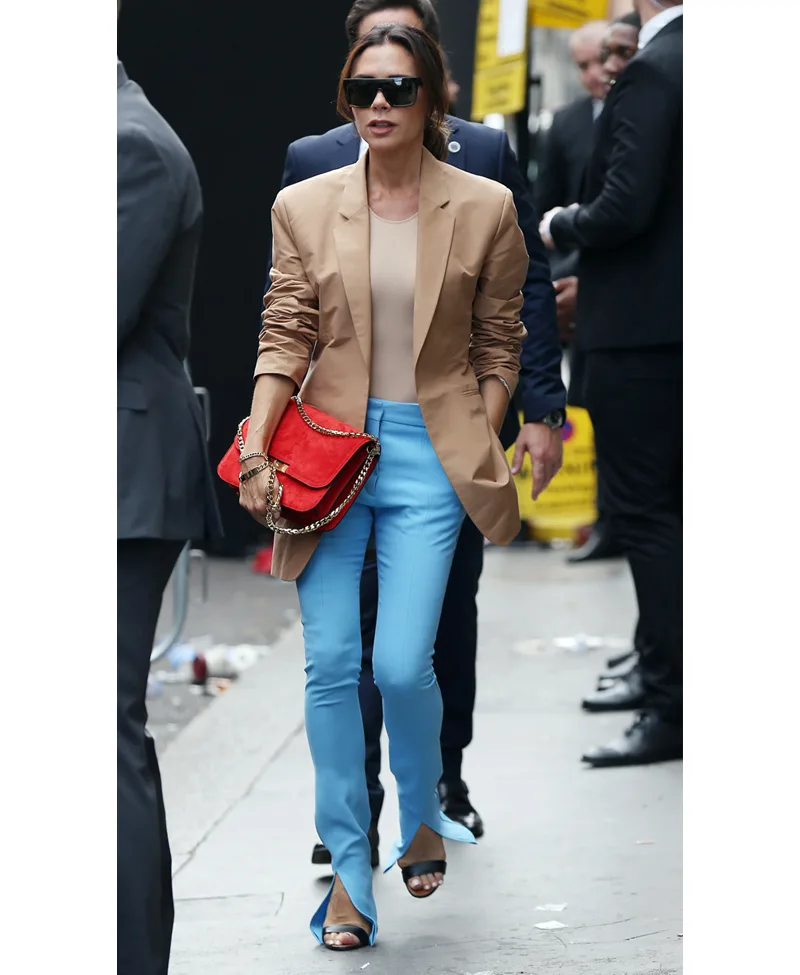 Split-front leggings are a great way to add some flair to your wardrobe. The split front allows your shoe to peek through and looks very edgy, making it perfect for on-trend streetwear.
Victoria Beckham made the split hem trend a thing. She introduced it through her fashion brand and wore the trend multiple times.
The slit also has the magical ability to give you longer and slimmer legs. Everyone needs at least one pair in their closet.
You may find that different brands place the slit in different places. It can be on the front, side, back, or on the inseam of any pant.
Below are brands we've tested of this trendy trouser style and highly recommend.
Best Split Front Leggings and Pants
#1 ALO Yoga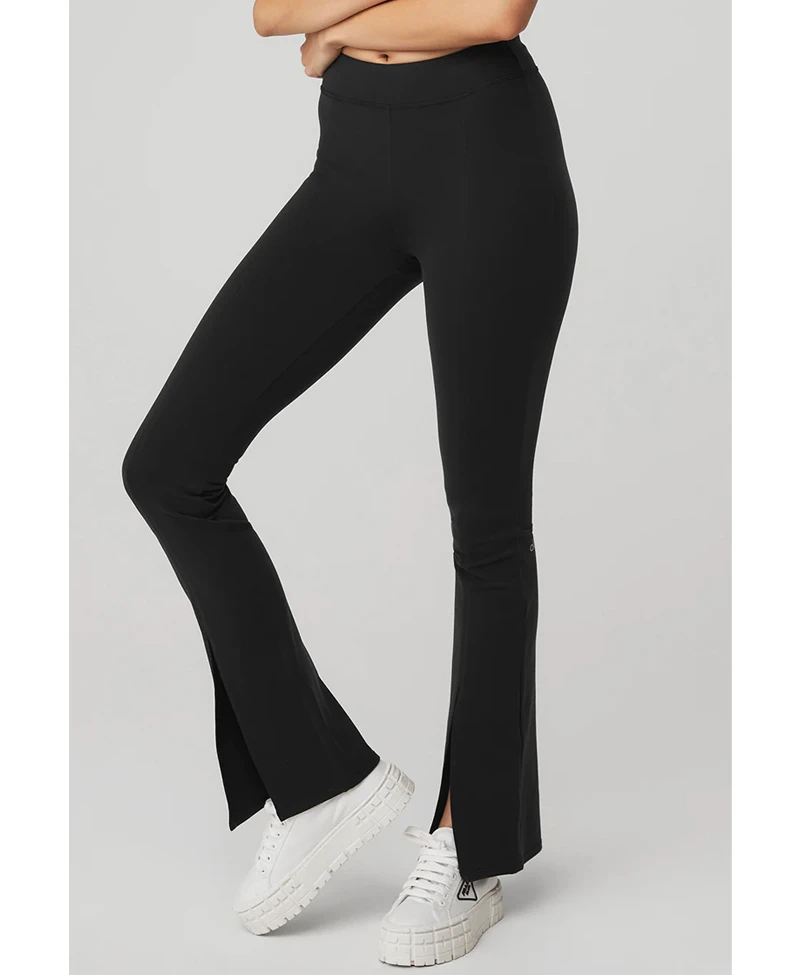 ALO Yoga's Flutter pants ($118) have a front split hem and come in various colors. They also come in a regular and 7/8 length for shorter gals.
Use this link to save 10% on your orders at ALO yoga.
#2 Epoque Evolution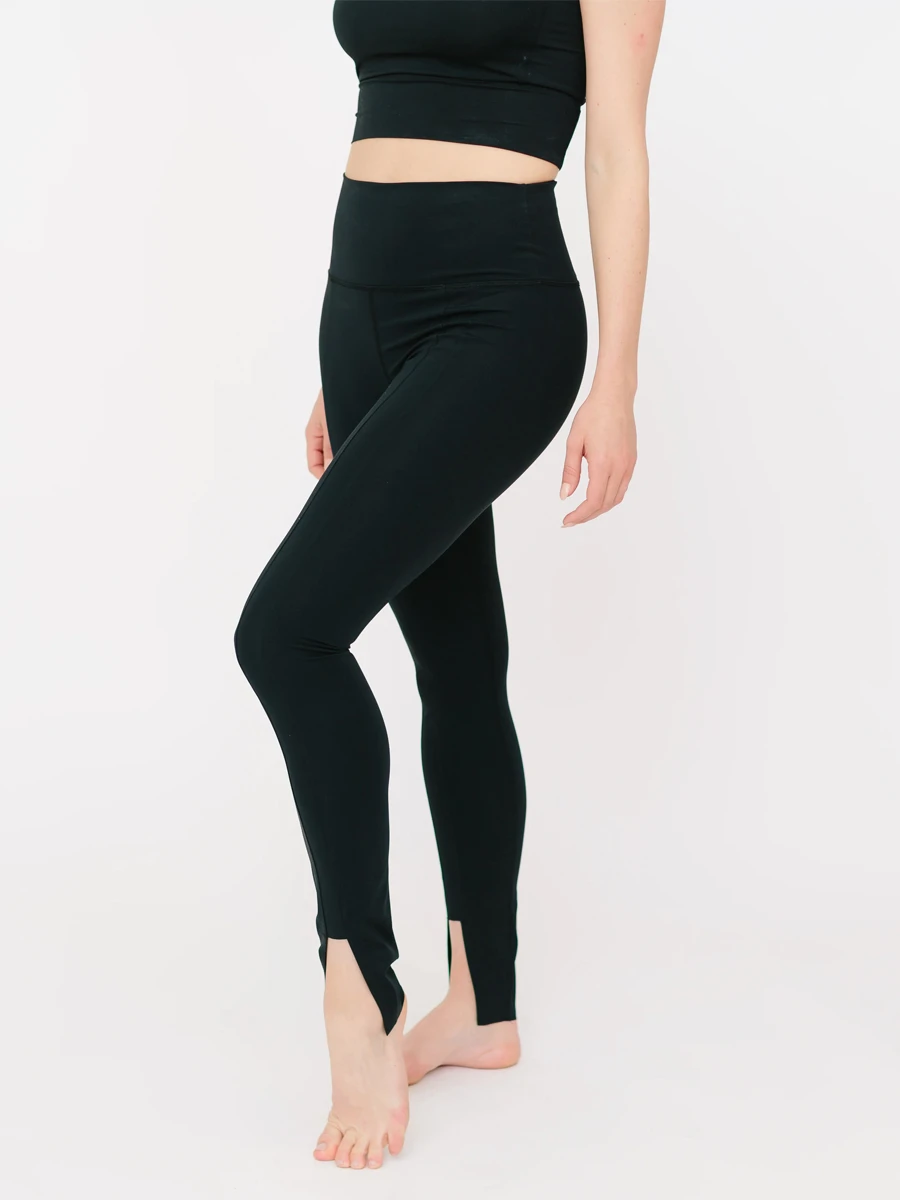 Epoque Evolution makes their split pants a little different and we LOVE it. Their Orion II leggings have a square split hem and it's a super unique detail that will make your wardrobe stand out effortlessly.
Their buttery soft and stretchy fabric is also *chef's kiss*.
#3 H:OURS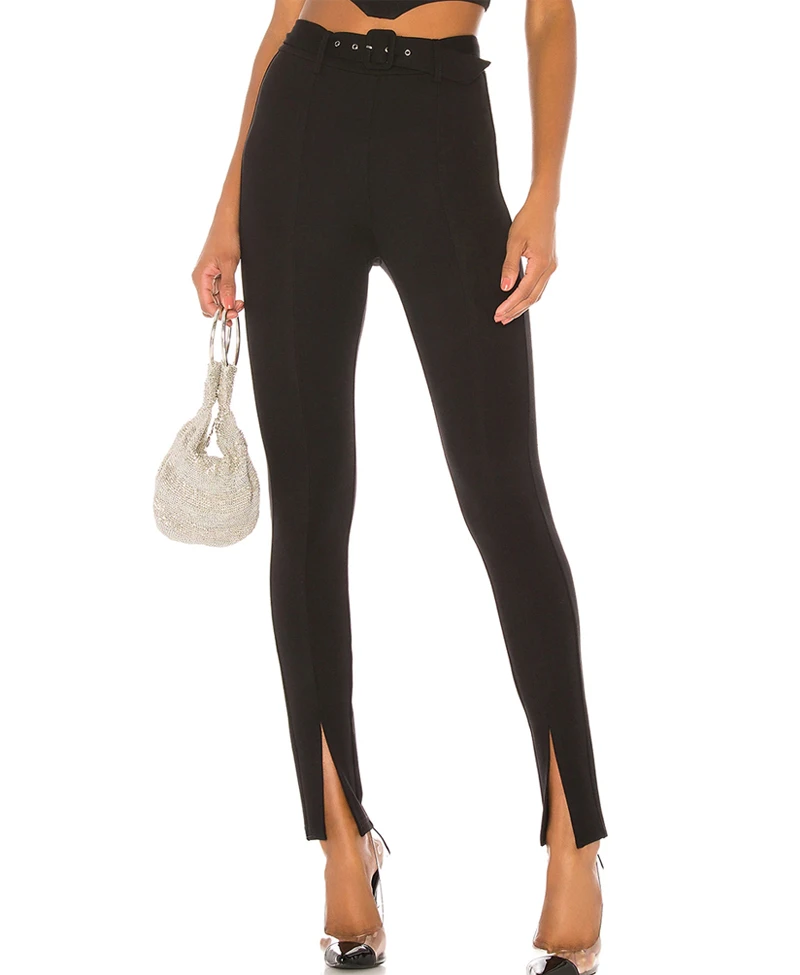 H:OURS is a popular REVOLVE brand. Their Allison leggings ($148) come with a split hem design and removable belt. We love how stretchy the fabric is and how the pants can easily be dressed up or down.
#4 Beyond Yoga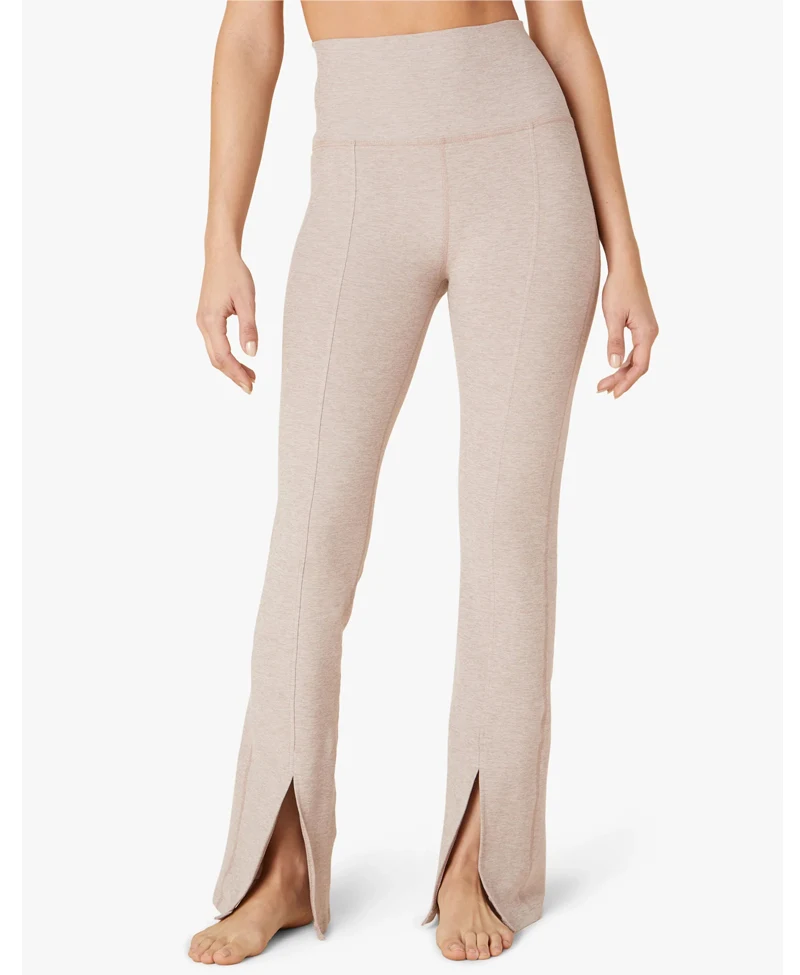 Beyond Yoga offers a Make The Cut Split Ankle Pant ($99) from their buttery soft spacedye fabric. We are seriously obsessed with this fabric in so many ways.
It comes in various colors and is great for lounging in and working out in.
#5 Silk & Salt
Silk & Salt offers a split front hem pant that is affordable and stylish.
You can use code SCHIMIGGY to save 20% off all your orders at Silk & Salt.
#6 Commando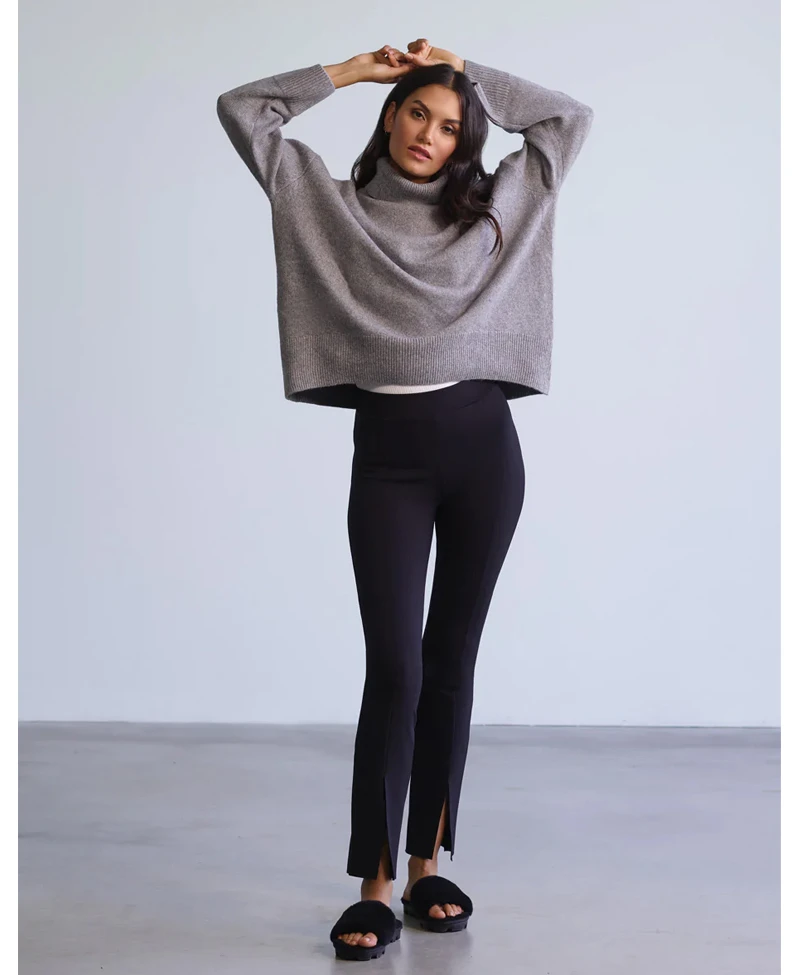 Commando's Neoprene Split Front Pant ($178) comes in different colors including a faux leather material. We love their high waist design which allows your leggings to stay put all day long.
Shop for Commando on REVOLVE and through their website.
#7 Norma Kamali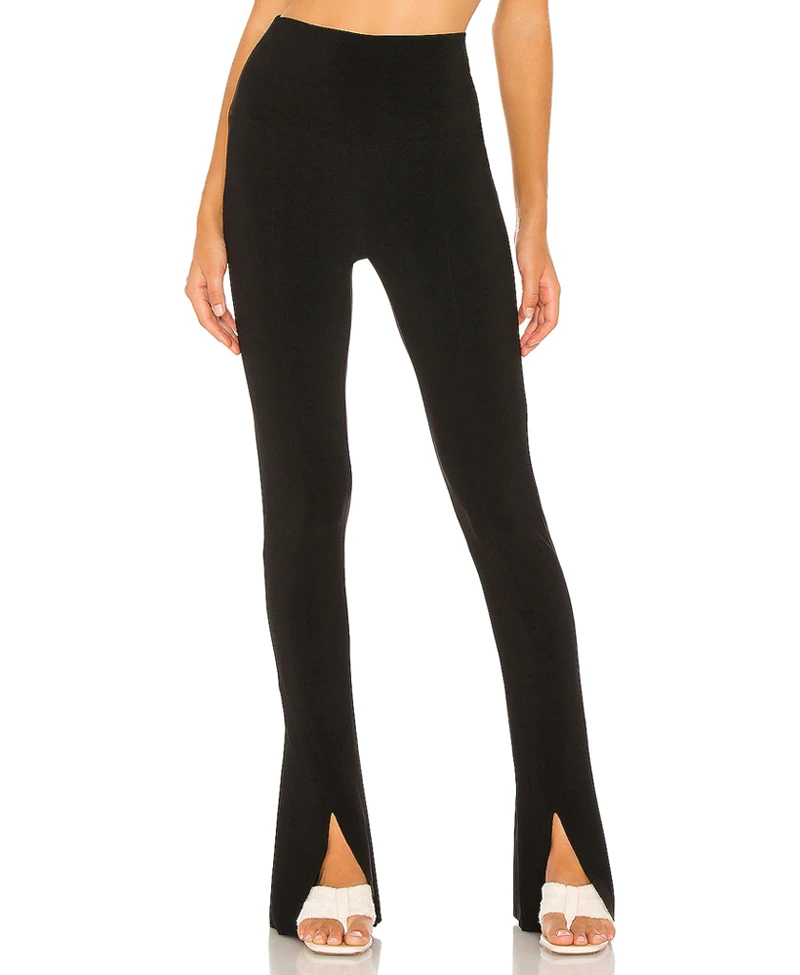 Norma Kamali is known for her gorgeous dresses that are made to last a lifetime. She also offers the Spat pants ($135) which has a front split hem and are made with Norma Kamali's signature soft and luxurious fabric.
We love shopping Norma Kamali's collection on REVOLVE.
#8 Port de Bras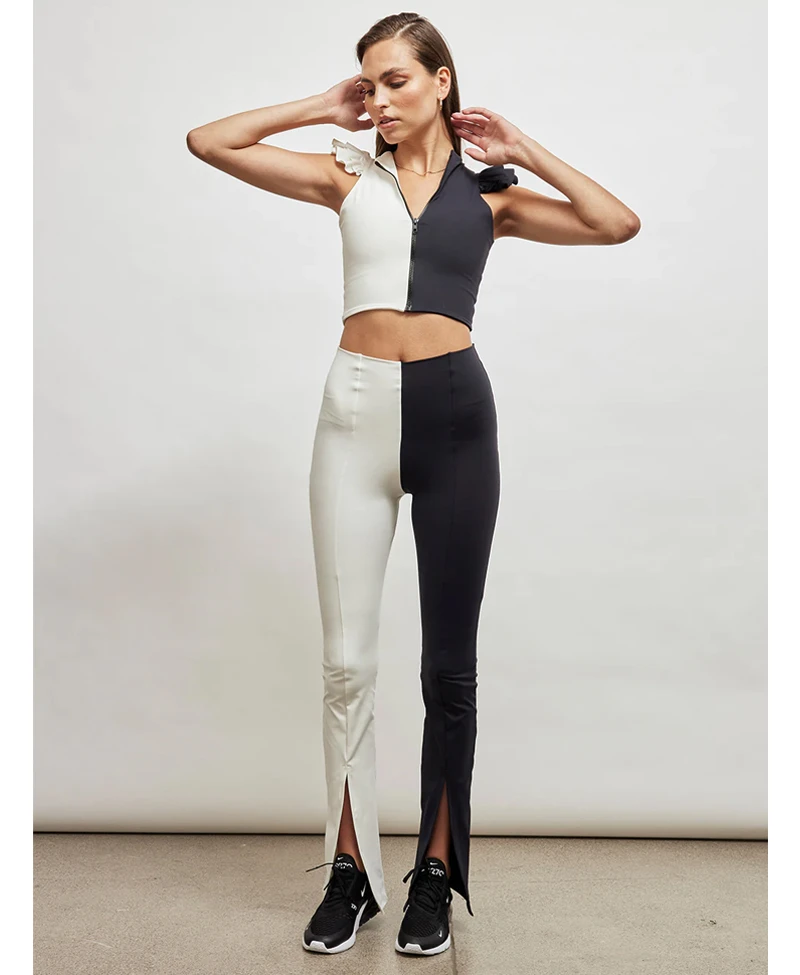 We love that Port de Bras has a different take on their split hem pants. Their two-tone Ponti pants ($245) are definitely eye-catching and come in many colors. The fabric is also very durable and won't pill.
It's a bit pricey but totally worth it!
Shop Port de Bras on Carbon38 or through their website.
#9 Athleta Elation Split Flare Pant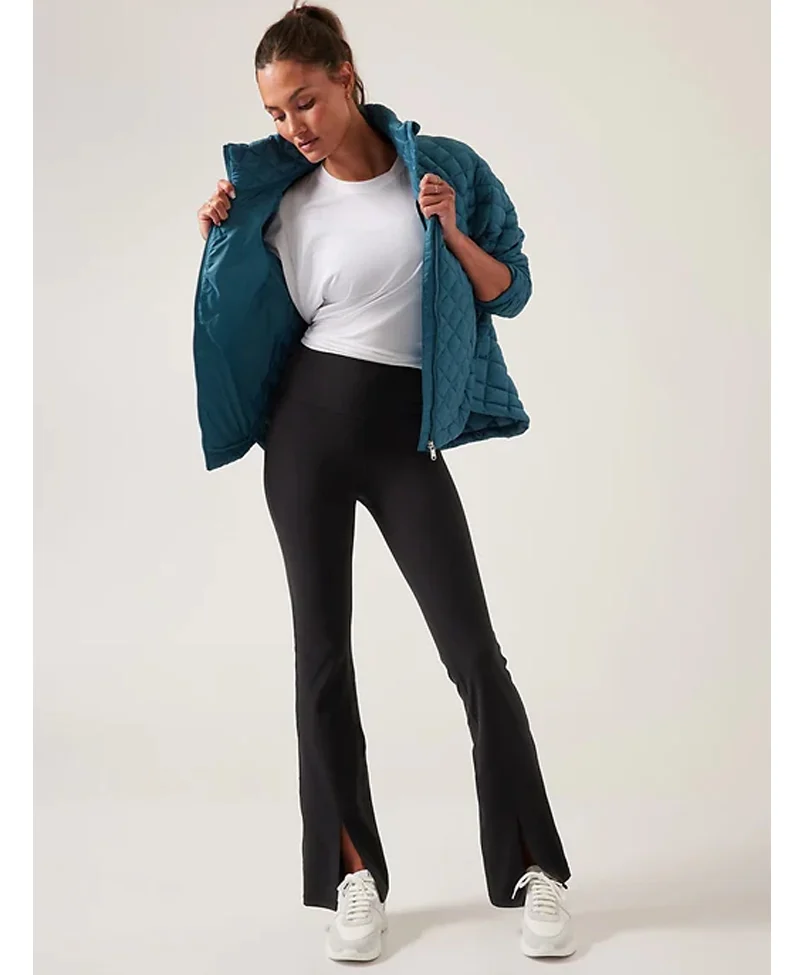 We love Athleta's Elation Split Flare Pant ($109)! It comes in various colors and is made from their Elation fabric, which is similar to lululemon's Nulu fabric used in their Align pants.
#10 Carbon38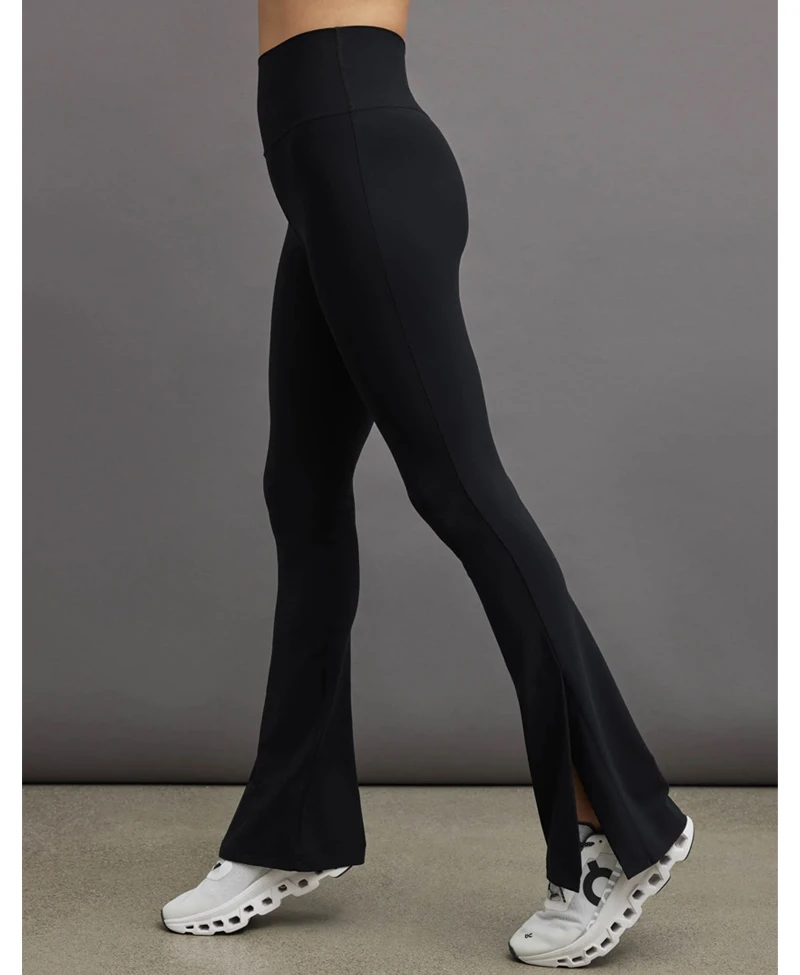 Carbon38's split hem flare pants are made from their buttery soft MELT fabric. This fabric is super soft and feels like you're wearing nothing.
#11 SPANX
SPANX is known for their shapewear and faux leather leggings, but did you know they have a Perfect Pant line too?
Their Split Hem Flare Pants ($168) are stretchy and fit true to size.
Use this link to save 20% off your orders at SPANX.
#12 Halara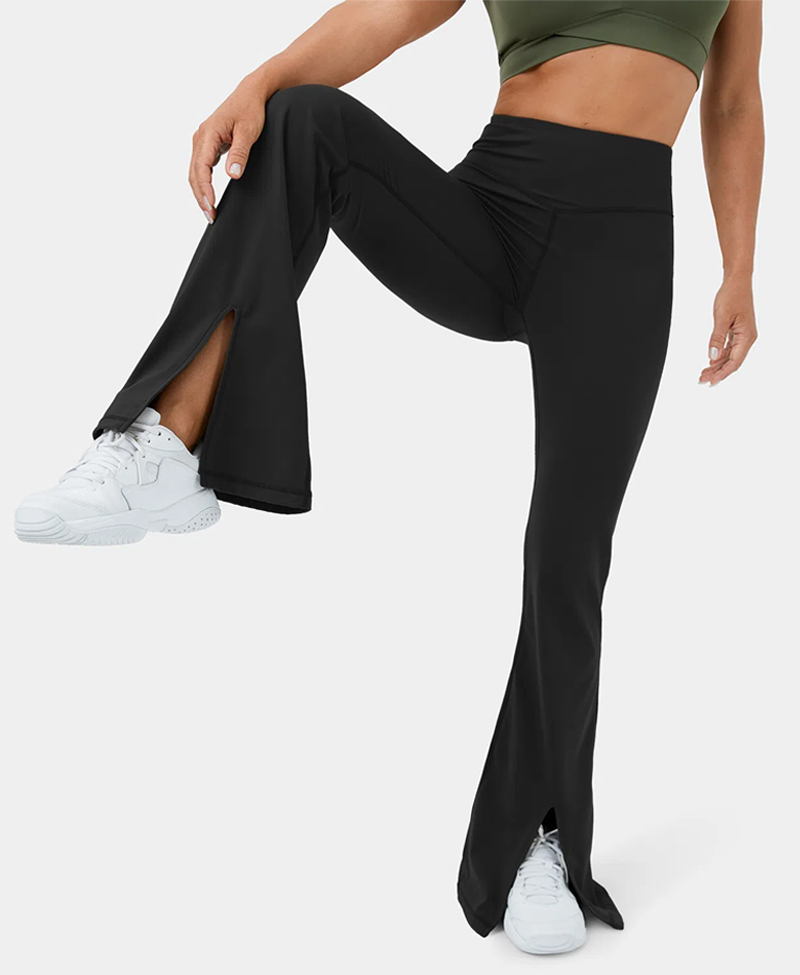 Halara is a very affordable activewear brand. They make leggings, sports bras, dresses, pants, skirts, and much more.
We love their super soft Cloudful® High Waisted Split Hem Super Flare Yoga Leggings ($39.95). It's affordable too!
#13 VICI Collection
VICI Collection is a popular women's fashion brand. They offer a variety of split hem pants, leggings and denim.
#14 ASOS
ASOS has a wide range of split front hem pants from various designers. Their styles are also more appropriate for dressing up.
#15 FP Movement
FP Movement by Free People offers their Hot Shot Kick Flares ($70) which is a wide flared pant with asymmetrical slits. It's super flattering and great for working out in or wearing casually.
#16 Amazon
And finally, you can always find split hem pants on Amazon. They are affordable but can also be a fast fashion brand. We recommend shopping with other retailers with sustainable practices prior to shopping with Amazon.
If you found our article on the best split front hem pants helpful, please share it. Thanks in advance for your support!
Thank you for visiting today! If you found this encouraging or informative, please connect with us on Instagram or TikTok.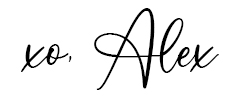 Sign up for our monthly newsletter for updates and more. We promise we won't spam you! Feel free to unsubscribe anytime.
If you're a brand and want to work with us, please visit this page to get in touch.