Reading Time:
3
minutes

About Smart for Life
Smart for Life® is known for their cookie diet. Founded by Doctor Sasson Moulavi (AKA Dr. Sass) in 2002, after Dr. Sass began to put on some weight while working long hours in the ER in Canada.
He created Smart for Life as a long term solution for himself and his patients. He shifted from working in the ER to a more proactive career helping keep patients from ever going to the ER when possible.
Smart for Life® is intended to help people stay healthy and stay out of the doctor's office as much as possible.
Imagine being able to get your daily nutrients from cookies and still lose weight? Sounds too good to be true, right?
Aside from cookies, Smart for Life also offers protein bars, supplements, cupcakes, and even soups. If you want to stick to the cookie diet, they also have gluten-free and vegan options.
All their products are packed with proteins so that you can get your nutrients from food that you'll actually enjoy eating.
How does Smart for Life Work?
It's pretty straight forward. There are three simple steps to support your weight loss.
Here's all you have to do:
Eat 6 protein cookies a day with water
Drink 8 glasses of water a day
Eat 1 meal of lean meat and non-starchy veggies a day
That's it! It's totally doable and is great for people with busy schedules or who don't like to prepare meals.
Smart for Life Review
We were sent the following products to review:
Honestly, we loved everything by Smart for Life. My favorites are still the delicious protein cookie and protein powder.
The protein powder is unsweetened, so if you're not a fan of overly sweet beverages, this is a perfect option for you.
The cookies are sweet, but not overly sweet to the point you would get fatigued by the flavor. We munch on cookies throughout the day and it really does curb our appetite.
The ThinAdventure soups were lacking a bit in flavor so we added Sriracha hot sauce to give it some zing.
We also love that there are no GMOs and all products are produced in the US.
They're also the perfect snack to have on hand for any adventure.
Where to Buy Smart for Life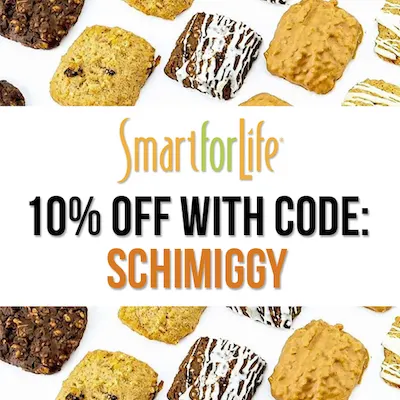 Buy Smart for Life products directly from their website.
We recommend choosing from their 1 to 5 week diet plans packages for the best results. You can choose for all cookie diets, or mix and match with protein bars and other products.
If you're unsure of what type of cookie is best for you, use their custom cookie kit builder to find the best products for you.
Consider signing up for their subscription service and save 10% with every order.
Ready to give Smart for Life a try? Use code SCHIMIGGY for 10% off all your orders.
If you enjoyed our Smart for Life review, please share it on Pinterest! Thank you!
Thank you for visiting today! If you found this encouraging or informative, please connect with us on Instagram or TikTok.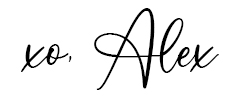 Sign up for our monthly newsletter for updates and more. We promise we won't spam you! Feel free to unsubscribe anytime.
If you're a brand and want to work with us, please visit this page to get in touch.