Reading Time:
2
minutes
Updated: 10/30/2021 | Red Chicken Pozole Recipe
What is Pozole?
Pozole (or posole) is a Mexican soup that is typically made with chicken or pork. It's very flavorful and commonly eaten during warmer months. It is especially popular at holiday parties and gatherings.
There are two types of pozole: rojo (red) and verde (green).
Rojo pozole is made with a blend of guajillo chili peppers sauce. And the verde pozole is made from a blend of tomatillo tomatoes and poblano peppers.
On a trip to Mexico, we stumbled upon the Pozoleria la Guera in Barrio Tepito (Tepito Marketplace). They make an amazing verde pozole using ALL parts of the pig (including the ear, innards, offal, etc.). This meat combination is known as surtidos, or "assorted" pozole.
It was so delicious and inspired me to return home and learn how to make pozole.
View this post on Instagram
I learned to make pozole by asking a random stranger in a grocery store how to make it. She walked me through the store and showed me the exact ingredients I needed to make her mother's recipe.
And with that, I made a delicious rojo Pozole the next day!
And making modifications to your recipe is always encouraged. I typically add sliced mushrooms and napa cabbage (when I cannot find "normal" cabbage) to my pozole. The napa gives my soup a healthy crunch and the mushrooms add more flavor to the soup.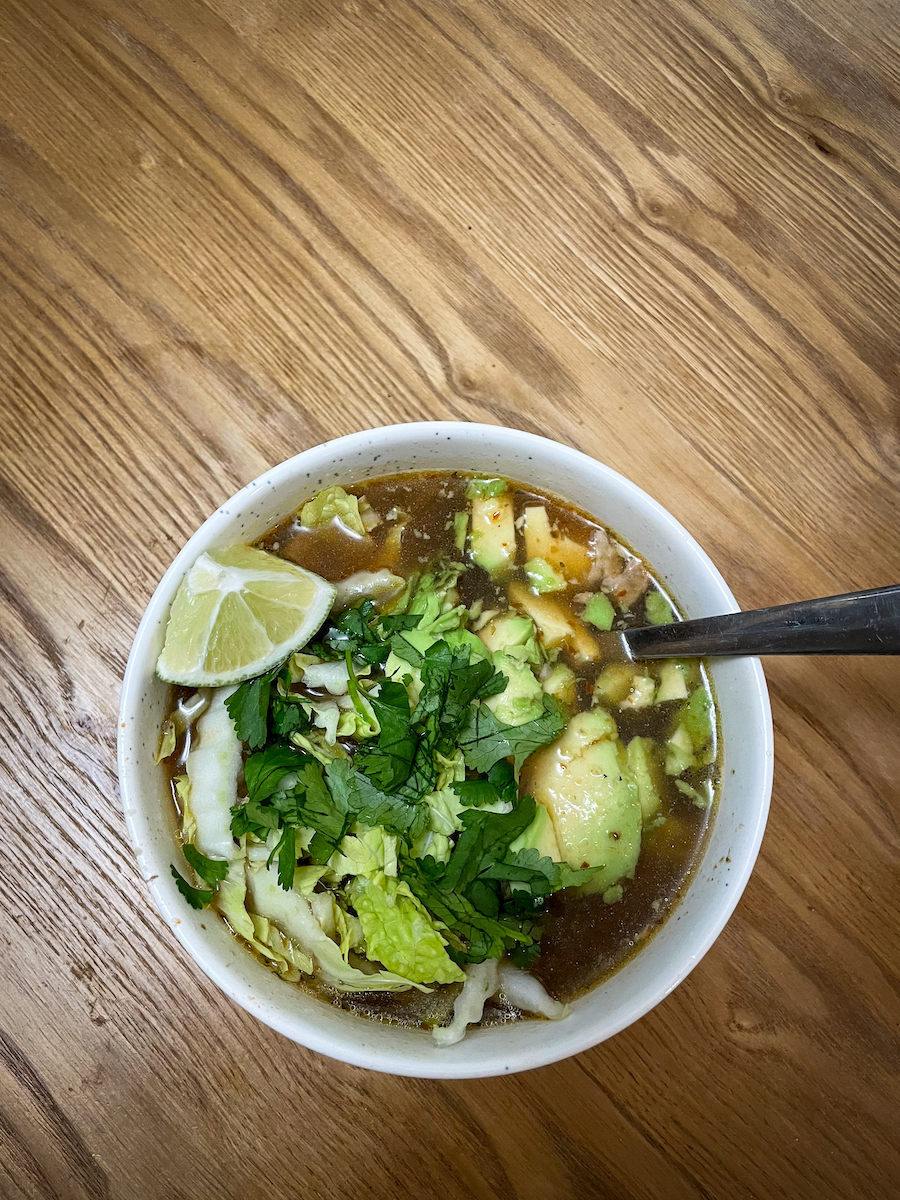 This was an experience I had before the days of food and recipe blogging. I've been making it for decades now and figured I should finally share it along with my variations with the world!
For this recipe, I chose chicken because it's easy to make and is just as flavorful as the pork version. You can make it with pork but I recommend using pork bones to make the broth from scratch. It's so much better that way.
Without further ado, here is my chicken pozole recipe! I hope you enjoy it as much as we do!
Yield: 10 Servings
Rojo (or Red) Chicken Pozole
Try our tasty chicken pozole recipe. Pozole is a Mexican soup that can be made with pork or chicken. We prefer to make it with chicken because it's much quicker and just as tasty.
Additional Time
10 minutes
Total Time
1 hour
40 minutes
Ingredients
Chicken Pozole Soup
1. 1 Whole Chicken
1 whole peeled Onion
5 cloves of garlic
5 Garlic Cloves
Salt and Pepper to taste
Garnishes
1 cup sliced Red Radish
1 cup chopped White Onion
1/2 cup Dried Oregano
4 sliced limes
1/2 chopped Cabbage
1/2 chopped Cilantro
2 sliced Avocados
Instructions
How to Make the Chicken Pozole Soup:
Clean the chicken under running water and set it aside.
In a 12 Qt stockpot, add the chicken, onion, and garlic.
Cover the ingredients with water and bring it to medium-high heat on the stove.
Cook the soup for 30 minutes.
Add 5 dried guajillo chilis to a bowl of hot water. Allow the chilis to soak for 15 minutes.
Drain the water from the chilis and blend the chilis in a blender. Set aside.
While the soup is cooking, prepare the garnishes. Dice the onions, slice the cabbage, slice the limes, chop the cilantro, and set aside chili flakes and dried oregano in small bowls.
After 25 minutes, turn off the heat and remove the chicken from the pot and allow it to cool down.
When the chicken has cooled down, shred the meat and set it aside. You can eat the skin of the chicken, but we prefer to throw it out.
Drain the hominy and add it to the pot.
Add the bones back to the broth and continue to cook it for another 15 minutes.
After 15 minutes, turn off the heat and remove the bones and onion with tongs and toss.
Add the chicken meat back into the soup and serve with garnishes.
How to Assemble the Pozole:
Use a ladle to scoop out soup into a bowl.
Garnish with sliced cabbage, diced onions, 2-3 slices of avocado, sliced radish, oregano, onions, chopped cilantro, limes, and add tortilla chips for some crunch.
Notes
Feel free to leave the skin in the soup. It will give it more texture and make the broth more gelatinous.
Tortilla chips give the soup a nice crunch. Alternatively, you can also eat it with fresh soft corn (maiz) or flour (harina) tortillas.
It's OK to eat your pozole with a lot of lime. That is how we prefer it!
Nutrition Information:
Yield:
10
Serving Size:
1
Amount Per Serving:
Calories:

275
Total Fat:

15g
Saturated Fat:

3g
Trans Fat:

0g
Unsaturated Fat:

10g
Cholesterol:

53mg
Sodium:

150mg
Carbohydrates:

20g
Fiber:

8g
Sugar:

5g
Protein:

19g
If you liked our red chicken pozole recipe, please share it on Pinterest. Thanks for your support!
Thank you for visiting today! If you found this encouraging or informative, please connect with us on Instagram or TikTok.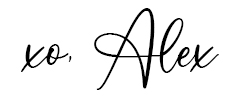 Sign up for our monthly newsletter for updates and more. We promise we won't spam you! Feel free to unsubscribe anytime.
If you're a brand and want to work with us, please visit this page to get in touch.