Reading Time:
14
minutes
Updated: 11/12/2022 | Prague Travel Guide
About Prague
Prague is the capital city of the Czech Republic in Europe. It's a great place where you can see beautiful, ornate buildings and learn a lot about communist and medieval history. The city itself is so picturesque and everywhere you go, there is something new to discover.
Here is a link to our Instagram story highlights from Prague so you get an idea of what traveling to Prague is like.
Here are some things you should know to help plan for your trip to Prague.
Language: Czech is the official language spoken in Prague. You'll find that many people are bilingual in English as well. You do not need to learn Czech to visit, but common phrases are always appreciated.
Currency: The currency in Prague is the Czech Crown (CZK). This is also the same currency used throughout the entire country of the Czech Republic.
You'll find that food and drink in most restaurants, cafés, and shops in Prague are cheaper than in the rest of Western Europe. Beer and wine in pubs are considerably cheaper (ranging from 40 to 60 CZK, or around $2-3 USD). The cost of clothes and other common consumer goods is similar to in other European countries.
If you need to withdraw cash, we highly recommend against using Euronet ATMs because of their exorbitant transaction and conversion fees. Try to withdraw from a local banking institution instead.
Credit Cards and Banks: Many places accept credit card or bank card payments. They have POS systems that have contactless payment (tap to pay). Some businesses may take Euros, but not all.
Tips are not required in Prague, however, they are appreciated in the tourist industry. Staff will not chase tips and leaving 5%-10% is appropriate if you wish to tip.
Climate and Weather: The weather in Prague varies dramatically between the seasons. Summer (June to August) is often hot and sunny, reaching the high temperatures. Winter (December to February) can be very cold, with lengthy periods of snow. In the spring and autumn, Prague enjoys long spells of warm sunny weather, interspersed with dull days and heavy showers. The average high in July/August is 23°C (73°F), although at least one heat wave can be expected, pushing temperatures up to 35°C (95°F) and beyond. The average low in December is -2°C (28°F), in January it is -4°C (25°F). But both months can bring considerably colder weather for days on end, particularly in January.
What to Wear: Pack a good selection of lightweight and breathable clothing so you can be comfortable throughout Prague's hot days. Prague winters are cold, so it's best to bring a coat with gloves, a scarf and beanie.
Safety: Prague is regarded by both locals and visitors as a safe city. It is safe to walk around and travel on public transportation. This includes traveling at night as well. Assaults are extremely rare.
Pickpockets are the number one thing to look out for. Keep a close eye on your valuables. Do not keep your wallet in your back pocket or hang your handbag on a chair in a crowded area. Make sure you can see or feel your money and other valuables at all times. And if you do not need to carry something on your body, leave it in your Airbnb or hotel. Do not ride unmarked taxis and use Uber instead.
It's also safe to drink the tap water in Prague.
Bathrooms: Bathrooms are available throughout Prague in restaurants and venues. There are no public restrooms or WC (wash closets). It is safe to flush the toilet paper.
Electricity: As in most of Northern and Central Europe, the electricity supply in Prague is 230v. Electrical sockets take standard European two-pin plugs. British, North American, and other tourists should bring adaptors. In Prague, adaptors can be purchased at Tesco or at Euronics at Palladium Shopping Centre.
Best Time to Visit Prague
Prague is a beautiful city to visit all year round. The contrasts in weather and temperature only add to its appeal.
The historic buildings and majestic squares are a joy to explore whatever the weather, while the river scene and parks offer different landscapes as the seasons change.
April to June: These are the most popular months to visit Prague. The weather is perfect and the days are long. Followed by are December when tourists are drawn to the city for the Christmas markets and to spend Christmas and New Year's Eve here.
July and August: There are fewer other visitors and you can enjoy lovely weather with relatively low cost lodging. Flights and accommodation are cheaper during these months because most Europeans prefer to head for the beach rather than visit a city.
November, January, February and March: This is an opportunity to enjoy a cheap city break without the crowds. You gamble on the weather, but at moments you will feel like you have the city all to yourself.
How to Get Around Prague
Walking: The best way to get around is on foot. Prague is small enough that you can walk from area to area without much difficulty. There are many streets that are pedestrian-only.
Public Transit: The Prague public transport network is cheap, efficient, and highly integrated. Public transportation runs frequently during the day and at night, and a single ticket permits travel on trams, buses, and the Prague Metro. We love using the public transit system to get around.
By Car: You can rent and drive a car, but you'll have to find and pay for parking. Some hotels do offer free parking but it's not very common. I would only suggest renting and driving your car if you are going elsewhere in the Czech Republic before or after visiting Prague.
Uber: Uber is very affordable in Prague. It cost about $18 USD to get from the airport to our hotel in the city center. It costs about $5 to get around the city.
Rent Scooters and Bikes: It's super fun to take scooters and bikes around Prague. It's a great way to get around and still be able to sightsee. A ride will typically cost you $2-3 USD.
Where to Stay in Prague
We stayed at Hotel Pav in Newer Town. It's a convenient location and was about 12 minutes from Old Town Square and just across the Charles bridge with easy access to Lesser Town.
The most expensive months to book a room are May, April, June, September, October, and December. And if you can travel midweek, Monday to Thursday rates are pretty cheap year-round.
The hotels we recommend checking out in Prague are:
Hotel OREA Pyramide – Has an indoor pool and luxurious rooms.
Grand Mark Prague – This luxurious hotel has amazing amenities, a great breakfast and peacocks onsite! We were able to use our American Express Platinum card benefit to get $200 back and $100 in credit to use at the hotel.
OREA Hotel Angelo Praha – Modern hotel with a fine-dining restaurant and very cool common areas.
Gold Bank Hotel – Offers free antigen tests. Located centrally in Prague.
Botanique Hotel – A boutique hotel that is in a central location and has a gym.
Best Things to Do in Prague
Now onto the fun stuff! Here are our favorite things to do while in Prague!
#1 Walk Across the Charles Bridge
The Charles Bridge is a very iconic and ornate bridge that connects Old Town to the Prague Castle areas. You may find yourself crossing the bridge multiple times during your stay in Prague.
While you're on the bridge, don't forget to rub the dog and queen and falling baby for good luck. The best time to go is during the day so that you can see all the statues that were added to the bridge after it was erected in the 15th century.
#2 Visit the Prague Castle
Prague Castle is Prague's premier tourist attraction. This vast complex includes churches, palaces, a monastery, museums, a medieval street (Golden Lane), art galleries, viewing towers, and the supreme St. Vitus Cathedral.
Visiting the Golden Lane (Zlatá ulička u Daliborky) at Prague Castle is a must! This little rainbow-colored row of medieval houses will brighten your day. While you're at the Golden Lane, make sure you visit the Medieval Weapons Museum. The museum also has a torture room!
The cost to explore the entire Prague Castle complex is available here for only $11.05 USD!
#3 Visit the Rotating Franz Kafka Structure
Franz Kafka is a renowned Bohemian writer known for his works such as The Metamorphosis and The Trial where the characters find themselves dealing with bizarre situations. The structure rotates every 15 minutes and is located in front of a shopping mall.
The Franz Kafka head was created by David Cerny, who also has other notable sculptures and artworks around Prague and throughout the Czech Republic.
#4 See the Metronome
This huge Metronome is a sight to see and can even be seen across the river.
#5 Check out the Prague Christmas Markets
The markets typically run between late November to early January. The Prague Christmas Markets run daily at the Old Town Square and Wenceslas Square. A "winter wonderland" awaits, for visitors to soak up the festive atmosphere, browse the stalls, and enjoy Christmas carols, hearty food, and local drinks.
#6 Visit Old Town Square (Staroměstské náměstí)
With its origins in the 12th century, the Old Town Square is the most significant square in the historical center of Prague and is unquestionably one of the most beautiful historical sights in Europe.
#7 Visit Wenceslas Square
Wenceslas Square is Prague's main boulevard, and the center for shops, bars, banks, casinos & hotels. It is an extremely popular place for tourists to stay, as most of Prague's sights & attractions lie within easy walking distance.
#8 Visit the Lesser Town Square (Malostranske namesti)
The Lesser Town (Mala Strana) since the 10th century. The stunning St. Nicholas Church dominates the center of the square. All around are Baroque buildings, small shops, and restaurants.
#9 See the Crazy Dancing House (Tančící dům)
This hotel located in Newer Town is super funky because it is a building that has curves, so it appears to be "dancing."
It's designed by Frank Gehry, the same person who designed the Guggenheim museum and the MoPOP Museum in Seattle, Washington! You'll see it as you walk south along the Vlata River.
#10 Visit the Jewish Synagogue and Museum
Visit the Jewish Quarter (Josefov) to see the beautiful Synagogue and museum. The Jewish Quarter contains the best-preserved complex of historical Jewish monuments in Europe. The torrid history of the former Jewish Ghetto began in the 13th century, when Jewish people were ordered to vacate their disparate homes and settle in the area.
Please note that Saturday is the day of rest, so many Synagogues will be closed.
#11 Walk along the Vlata River
The Vltava River flows through the center of Prague. The Old Town and the New Town lie on one side of the river. On the other bank is the Lesser Town and Prague Castle. Spanning the two sides is Charles Bridge, a pedestrian bridge and a great point for visitors to see the entire city.
#12 Visit Tyn Church
Tyn Church, founded in 1385, dominates one side of the Old Town Square in Prague.
The towers of this powerful-looking Gothic church (with a Baroque interior) can be seen from all over Prague.
#13 St. Vitus Cathedral at Prague Castle
St. Vitus Cathedral is the dominant building within the Prague Castle complex. The cathedral is a Gothic masterpiece commissioned by Charles IV in 1344.
Visitors can climb the Great South Tower to enjoy magnificent views over the city.
View this post on Instagram
#14 St. Nicholas Church
The lovely white façade of St. Nicholas Church gleams in the corner of the Old Town Square, hit by the sun during the day and lit by strong white lights at night. Classical concerts are held here.
St. Nicholas Church at Lesser Town Square – This is the largest church in Prague founded by the Jesuits. The construction began in 1703, it is the masterpiece of Christoph and Kilian Ignaz Dientzenhofer.
#15 St. George's Basilica at Prague Castle
St. George's Basilica was founded by Prince Vratislav (915-921) and is both the best-preserved Romanesque church in Prague, and the oldest church building in the Prague Castle complex. St. George's Basilica is a popular setting for classical concerts.
#16 See the John Lennon Wall
Located in Lesser Town, the John Lennon wall is a great way to commemorate what the Beatles singer and songwriter stood for; peace, love, and unity.
You'll find a John Lennon mural and other graffiti art to commemorate the late singer.
#17 Spanish Synagogue
The Spanish Synagogue in Prague is described as the most beautiful synagogue in Europe. Set in the Jewish Quarter, it forms part of the Jewish Museum, and houses a permanent exhibition on "Jews in the Bohemian Lands."
#18 Rudolfinum (Dvorak Hall)
The Rudolfinum in Prague is a significant Neo-Renaissance structure set in a commanding position near the river. The Dvořák Hall inside the Rudolfinum hosts a varied program of classical music concerts, mostly performed by the Czech Philharmonic Orchestra.
#19 Powder Tower
The Powder Tower can be traced back to the 11th century when it was one of 13 entrances into the Old Town. It was once used to store gunpowder, thus the name Powder Tower.
You can ascend to the top of the tower for only 100 CZK for adults and 70 CZK for students and children.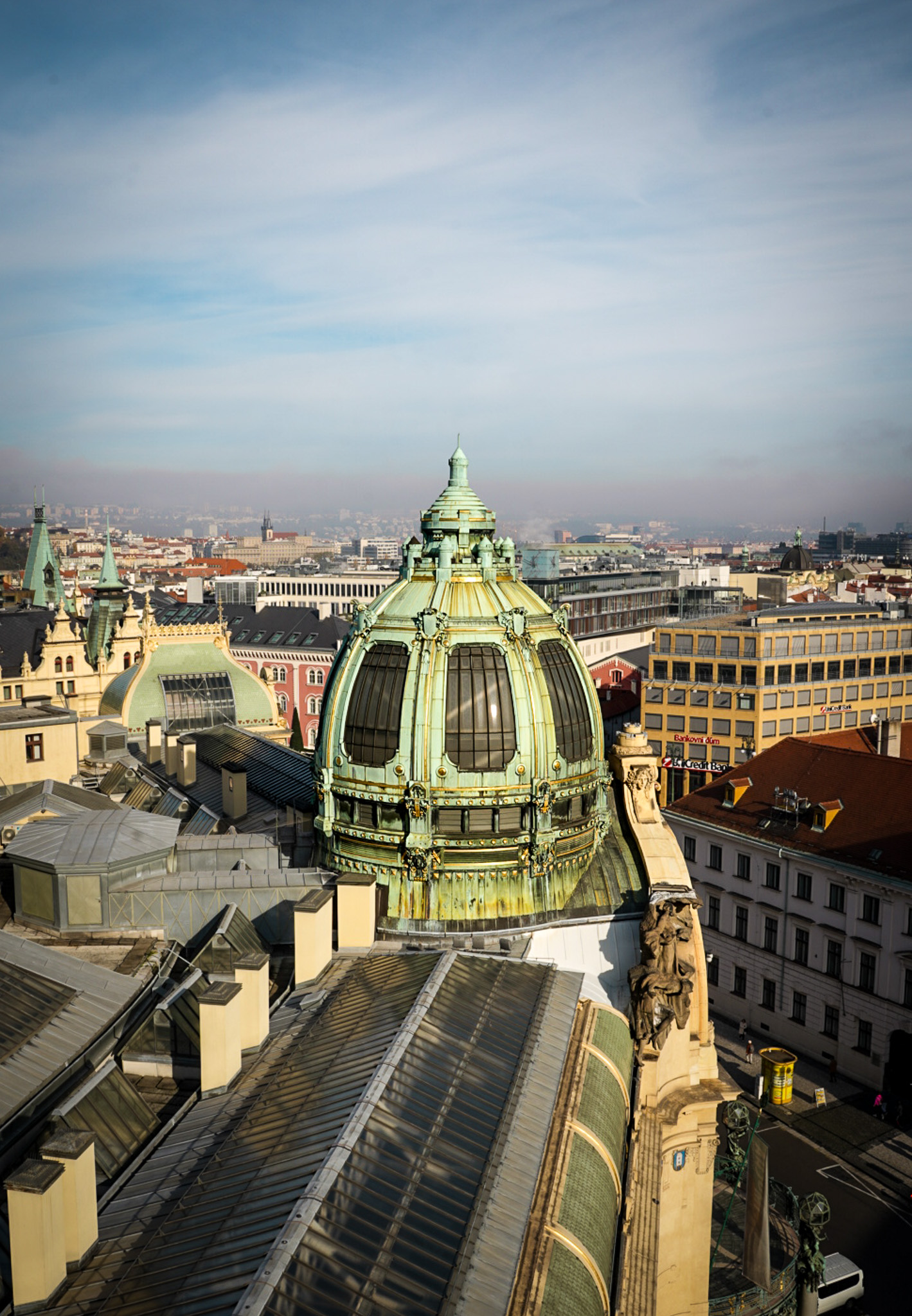 #20 Church of Our Lady Victorious: Infant Jesus of Prague
The church houses a statue called the Infant Jesus of Prague. It is credited with miraculous healing and, amongst other things, with saving Prague during the Swedish siege in 1639.
#21 Petrin Hill & Petrin Lookout Tower
Take the Petrin funicular in Lesser Town to get to the top of Petrin Hill, then climb the Petrin Lookout Tower to enjoy the views over Prague. There are also landscaped gardens, a mirror maze, and an observatory.
#22 Maisel Synagogue
Maisel Synagogue is one of the historical monuments that form the Jewish Museum in Prague. It was built in 1590-92 and for a century it stood as the largest and most impressive building in the Jewish Ghetto. It is now the setting for early evening classical concerts.
#23 Old Town Hall Tower & Astronomical Clock Tower
The Astronomical Clock is one of the most popular Prague tourist attractions. Watch the procession of the Twelve Apostles, then climb the tower for spectacular views over the Old Town. You can ascend the clock tower. The costs to go up the tower are 250 CZK for adults and 150 CZK for children and students.
#24 Old Town Bridge Tower
Part of Prague's old fortification system, the Old Town Bridge Tower is one of the most beautiful Gothic towers in Europe and heralds the entrance to the Old Town from Charles Bridge.
Adult: 100 CZK Student: 70 CZK Child: 70 CZK
#25 Estates Theatre
The Estates Theatre in Prague is one of the finest historical theatres in Europe. Mozart personally conducted the premiere of the opera Don Giovanni here in 1787. The theatre stages a variety of operas throughout the year, many by Mozart.
#26 Lobkowicz Palace at Prague Castle
The highly acclaimed Lobkowicz Palace (Lobkowiczký palác) is part of the Prague Castle complex. The palace is one of the finest museums in Prague, while its most beautiful room, the 17th-century Baroque Concert Hall, is the setting for lunchtime classical concerts.
Vseyhrad is a fortified gothic castle with a museum, cemetery, hidden passages, large grounds & the remains of a medieval basilica. It's very peaceful and calm to peruse the fortress. Entry is free but attractions within the fortress require tickets.
Visiting the museum next to the medieval church is free.
Tours are given only in the Czech language.
Best Places to Eat in Prague
Bab Ryze – Serves authentic Korean fare. Our favorites include naeng myun (cold noodle), kimchi jjigae (kimchi soup), mandu (steamed dumplings), Bulgogi (bbq beef), and tteok bokki (spicy rice cakes). Service was quick, friendly and the food was very high quality. They have two locations; one in New Town and one in Vinohrady.
Bistro Monk – Cute brunch place. Expect a wait, but it's so worth it!
Gran Fierro – We were invited to a Brazilian Brunch at Gran Fierro and it did not disappoint! The food and drinks here are excellent and we were welcomed with a Caipirinha cocktail. We recommend trying their steaks in their upscale setting. Reservations are recommended.
Laboratorio Della Pizza – Located in Lesser Town, this Italian restaurant serves delicious salads, pizzas, and pasta dishes. Try their Caesar salad and burrata Caprese salad. I also found my favorite mulled wine here.
Prague Medieval Tavern – The Medieval Tavern is a historic restaurant located in Mala Strana and has been open daily since 1375. It offers a genuine medieval feast that must be eaten with your hands. They also offer live entertainment (cue fire performances and dancing), hearty food, and drinks on certain evenings. Reservations are highly recommended but we were able to do a walk in in the late afternoon. Expect to spend at least 3 to 4 hours (the event is from 19:00 to 23:00 or 7 PM-11 PM). The cost is approximately 1,200 CZK for Adults and 750 CZK for children. Make your reservation here.
U Pivrnce – Funky restaurant that serves delicious pork knuckle in beer sauce (a must-try) and tasty lagers. Enjoy lewd artwork by Petr Urban throughout the restaurant and especially in the downstairs dining area. Meals plus appetizer and beer for two person was only 35 USD.
Nam Vietnamese Kitchen – Surprisingly I found good pho (beef noodle soup) here. They also have other Vietnamese dishes that you'll love if you're looking for something light and healthy to dine on.
Smíchovský radniční sklípek – Had the best schnitzel variety dish (4 kinds made with chicken and pork) and goulash with 3 types of potatoes dumplings. The food here is inexpensive and super delicious!
Staropražské Tradiční Trdlo – You have to try the trdelnik (pronounced tur-dell-neek) or chimney spit pastries (pictured below). This is our favorite spot for trdelnik and they have three locations in Prague. You can take your trdelnik plain with just cinnamon sugar, or get it filled with ice cream or fruit filling. Our favorite is the apple filling and topped with whipped cream. When you see a trdelnik place with women wearing medieval dresses, you're in the right place!
Triton Restaurant – Enjoy traditional Czech & International cuisine. Triton Restaurant is located in Wenceslas Square in Prague and opened its doors in 1912. It is a beautiful cellar restaurant built to resemble a stalactite cave. The unique ambiance of Triton, coupled with the fine dining experience it provides, makes it one of Prague's première Art Nouveau restaurants.
Best Things to Drink in Prague
Prague is FILLED with fun and creative places to drink. We had to create a map (see below) to list all the different bars in Prague. We could probably spend an entire month drinking at all the different bars in Prague.
Prague Travel Guide Map
If you found our Prague Travel Guide helpful, please share it on Pinterest. Thanks for your support!
---
Thank you for visiting today! If you found this encouraging or informative, please connect with us on Instagram, Youtube, Pinterest, Facebook or Twitter. We'd love to meet you!
Sign-up for our monthly newsletter for updates and more. We promise we won't spam you! Feel free to unsubscribe anytime.
For more fitness fashion discounts and offers, please visit our Fitness Instructor Discounts + Brands Directory or favorite brands coupon codes list.
If you're a brand and want to submit a product for us to review, please use this form to get in touch.
This site uses affiliate links. Clicking on or purchasing via an affiliate link may result in commissions for us which help keep the content flowing and lights on at Schimiggy Reviews. You may read more about this in our privacy policy.