Reading Time:
9
minutes
Updated: 6/6/2023 | Popular Thai Dishes You MUST Try
Thai food is one of my favorite cuisines. In America, we are lucky to have plenty of Thai restaurants to dine at.
Below we'll share our favorite dishes that you must try.
Here's a really quick overview of Thai cuisine, but I encourage you to read more from experts:
Northern region – Known for hefty usage of herbs, soups, and meat, since most of the country's livestock is raised here
Isaan region – Known for spicy and sour dishes with a lot of sticky rice, similar to Laotian food
Central region – Known for globally-influenced dishes that most people around the world are familiar with, such as green curry
Southern region – Known for very spicy seafood and heavy usage of coconut milk since most of the country's coconut groves are in this area
Popular Thai Dishes You MUST Try
Appetizers
Hoi Tod (Mussel Omelet)
This super crispy mussel omelet is served as street food with bean sprouts, scallions and a spicy and tangy red sauce. The origin is Chinese, but it is pretty famous throughout the streets of Bangkok. The crispness of the omelet is made by the addition of rice flour. There is also a version with oysters.
Hor Mok Pla
Pla is fish, and Hor Mok means the process of cooking these steamed curry dumplings on the banana leaf. An authentic Thai food that has also influenced its neighbors, such as Cambodia's famous Amok fish. Hor Mok Pla looks more like a steamed fish souffle made with coconut cream, curry paste, and kaffir lime.
Satay Boran
Satay Boran is grilled marinated pork or chicken on a skewer. It's served with a chunky curry peanut sauce, toast, and pickled cucumber.
Salads
Laab
Larb, laab, or laap is a tangy meat salad seasoned with fresh herbs mixed with ground toasted rice. The salad is served with a wedge of cabbage and can be eaten alone or like a lettuce wrap. It is believed that the dish is originally from Laos but is also popular in the Northeastern and Northern regions of Thailand. It's a very common dish found in Thai restaurants worldwide.
Som Tam
Som tam is a Central Thai green papaya salad that has sweet, spicy, salty, and sour elements thanks to a combination of lime, fish sauce, and herbs.
Stir Fry Dishes
Prik King
Pad Prik King is Thai red curry stir-fried green beans and chili paste. The green beans are also known as snake beans. Protein can be added to this dish.
Curries
Phrik Kaeng Phet – Red Curry
The red curry brings a lot of red chili as its main ingredient, making the curry reddish. The red curry is spicier than the yellow curry, which I explain below.
Kaeng Kari – Yellow Curry
Many curry pastes share common ingredients such as galangal, ginger, lemongrass, shrimp paste, garlic, etc. In the yellow curry, the big difference is the addition of turmeric. It is also well-used in dishes with coconut milk and potatoes.
Kaeng Khiao Wan – Green Curry
In my opinion, this is the curry paste with the most intense flavor. Its base has coriander, lemongrass, galangal, kaffir lime leaves, zest, and the great highlight, green chili. It results in more pungent and intense curry. The green chili stands out and pleases the more resistant palates to astringent spicy. It comes with a lot of aroma and freshness.
Massaman Curry
Considered by many to be one of the best curries in Thailand. Massaman Curry deviates from traditional Thai curry due to the spices used, which has Muslim influences from the neighboring country of Malaysia. The common curry ingredients, such as coriander seed, lemongrass, galangal, chilies, and shrimp paste are mixed with dried spices like cinnamon, cumin, cardamom cloves, anise, and nutmeg. The harmony of this curry paste with potatoes, chicken, and coconut milk makes this one of the must-have Thai dishes.
Panang Curry
The interaction of southern Thailand with northern Malaysia created another dish that is a must-eat food in Thailand. The Panang curry takes peanuts in the recipe, which thickens the sauce and makes it unique compared to any other Thai curry. It also takes coconut milk, chilies, coriander, galangal, lemongrass, etc.
Khao Soi
Khao Soi is a delicious chicken or beef soup made with egg noodles in two textures: cooked in the broth and another portion fried and served on top of the soup. It usually accompanies pickled cabbage, red onion, and lemon. It is believed to be influenced by the Hui / Chin Haw people. That is, it came with the Chinese-Muslims who migrated to Myanmar, Laos, and Northern Thailand. If you go to Chiang Mai, be sure to try it!
View this post on Instagram
Entrees
Gai Yang
Gai Yang is grilled marinated chicken with crispy skin, juicy meat, and sweet chili sauce on the side. The chicken is often eaten with sticky rice and green papaya salad.
Pla Plao
Pla Plao is a fish covered with coarse salt, stuffed with lemongrass, and grilled over hot coals. The appearance is dry, but you don't believe how juicy this preparation is when you take the first bite. The usual side dishes are fresh noodles, fresh herbs, leaves, and a little special sauce.
Hay Yai Fried Chicken
Hat Yai (frequently spelled Had Yai) is the largest city in southern Thailand. It's located near the border of Malaysia.
Hat Yai crispy chicken is a fried dish that is served with sticky rice and sauces. The chicken is fried until super crispy and then topped with fried scallions.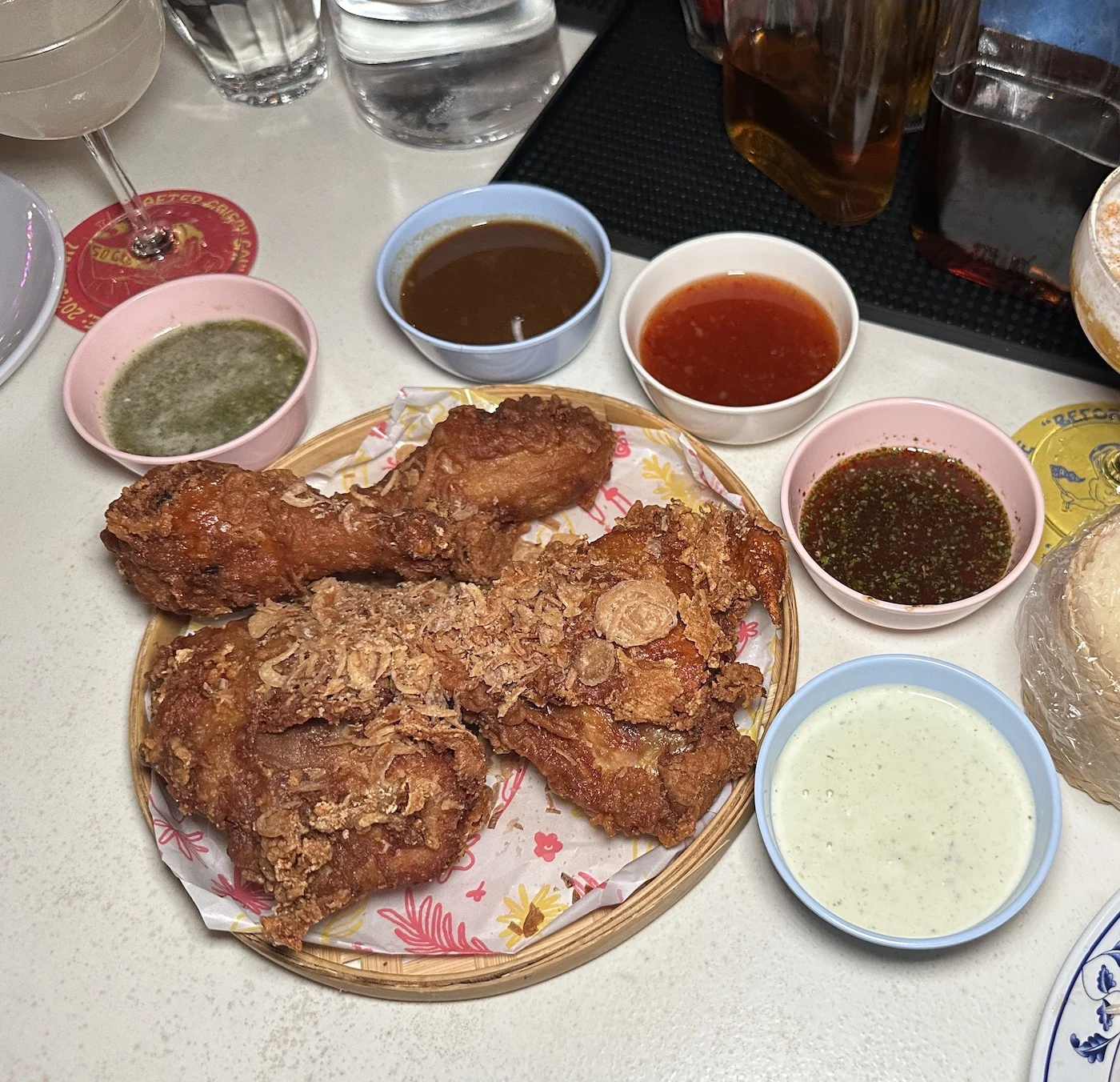 Gai Hor Bai Toey
Fried chicken on pandan leaf. Pandanus is a plant widely used in Asia to add aroma and color to food. Its fragrance, reminiscent of vanilla, brings a special touch to this dish. The chicken is marinated, then rolled in the pandan leaf, and fried in the wok.
Sai Oua
Typical of Northern Thailand, Sai Oua (Northern Thai Sausage) is a spicy sausage. This sausage is prepared with ground pork, spices, and herbs, for example, lemongrass, which brings a very intense and fresh flavor to it. Excellent Thai snack to have with a beer. If you order as a main meal, don't forget the sticky rice as a side dish.
Neau Yang E-Sarn
Grilled marinated flat iron steak served with Jaew dipping sauce. Recommended With Sticky Rice.
Noodles
#1 Pad Thai
One of the most known foods of Thailand and is also widely accepted by Western palates. A traditional Pad Thai recipe includes rice noodles stir-fried with eggs and tofu, seasoned with tamarind juice, fish sauce, dried shrimp, garlic, onion, pepper, and palm sugar. It is usually served with bean sprouts, lemon slices, and roasted peanuts. Many variations add fresh shrimp, chicken, or pork.
#2 Pad See Ew
Unlike Pad Thai, Pad See Ew is made with a much larger rice noodle. The noodle is stir-fried with plenty of soy sauce, meat, egg, tofu, and Chinese broccoli.
Rama Noodle
Stir-fried wide rice noodles made with egg and sautéed spinach topped with creamy peanut sauce.
Pad Kee Mao
"Drunken style" stir-fried wide rice noodles with egg, broccoli, bell pepper, tomato, onion, bamboo shoot, chili, and basil.
Pad Thai Boran
A traditional Thai-style stir-fried rice noodles with egg served with bean sprouts, banana blossom, and ground peanuts.
Noodle Soups
Kuay Teow Neua
Kuay Teow Neua (Beef Boat Noodle Soup). Although beef is not a common ingredient in Thai cuisine, this beef noodle soup is delicious. The big secret lies in the broth that slowly cooks the beef pieces until it becomes very soft. One of our favorite Thai street foods in Bangkok.
Ba Mee Kiew
Delicious egg noodles made with wonton and usually accompanied by beautiful slices of pork belly. Wonton is a Cantonese dumpling filled with meat and widely consumed throughout Asia. You can choose between Dry Wonton Noodles or Wonton Noodle Soup. In the soup version, the ingredients come immersed in a clear broth, while in the dry version, the broth comes in a separate bowl.
Soups
Tom Yum
Tom Yum is a sour and spicy Thai soup. The best known is made with shrimps, called Tom Yum Goong. Tom Yum's main base is the Nam Prik Pao, a paste of herbs and spices made with chili, shallots, and garlic. The soup also takes mushrooms, coriander, tomatoes, lemon juice, sugar, and fish sauce. You can also have the soup with tofu or chicken.
Tom Kha Gai
Tom Kha Gai is another delicious and popular soup from Thailand (and Laos). It's made with chicken and coconut milk. The broth is aromatic, creamy, and slightly sour. The main ingredients include coconut milk, mushroom, galangal, kaffir lime leaves, lemongrass, chili, fish sauce, lemon juice, and chicken.
Kaeng Som
Kaeng Som is known as Sour Curry. This Thai curry is very popular in southern Thailand, where sour tastes satisfy most local palates. A hot soup with fish, fresh tamarind, and shrimp paste as the main ingredients. Some regions like to add turmeric. In this case, it is called Kaeng Lueang, which means Yellow Sour Curry.
Rice Dishes
Khao Niao
Khao Niao (or sticky rice) is one of the main staple foods in the Isan region of northeastern Thailand and Laos. The sticky rice or glutinous rice has such a strong presence in Thai cuisine that it goes in many kinds of dishes, from appetizers to desserts.
Pad Kra Pao
Pad Kra Pao is a meat stew, usually chicken or pork, with Thai holy basil accompanied by a portion of rice and a fried egg. It's a quick dish with a lot of food and aroma of basil.
Khao Kha Moo
Khao Kha Moo (Pork Leg with Rice) is another traditional Thai food, famous in Chiang Mai's streets, but not only. It is made with rice, pork, and boiled eggs. The dish's highlight is the pork leg that is slowly braised in a sweet broth full of spices. The boiled egg, after being cooked, goes to the same broth to absorb its flavor and color. If you like pork cut into an aromatic and sweet broth, this is the one you should order.
Khao Kluk Kapi
Khao Kluk Kapi starts with rice, not only cooked but sautéed with shrimp paste. Rice is served with various elements that contrast among themselves: green mango, omelet, red onion, dried shrimp, sweet pork, sweet and sour Chinese sausage, peppers, cucumbers, green beans, coriander, onion, and egg. A complete and typical Thailand dish in both texture and flavor.
Khao Mok Gai
Known as the Biryani of Thailand (Thai-Style Chicken Biryani). This dish is influenced by Thai Muslims living in the south of the country due to Malaysia's proximity. Rice with turmeric and various spices is cooked with the meat resulting in a yellowish and aromatic dish. Served with slices of cucumber and fried onions, the biggest difference from the other versions of Biryani is the combination of Indian and local spices.
Khao Pad
Who has never heard of fried rice? Cooked Jasmine rice, egg, chicken or pork meat, garlic, onion, pepper, soy sauce, fish sauce, and so on. Just throw everything in the wok, with oil over high heat and hands-on stir-frying. A famous version among Thai foods is the Khao Pad Sapparod which is served in a pineapple.
Pineapple Fried Rice
Jok
Jok is a rice porridge widely consumed in Bangkok for breakfast. This delicious dish combines a good broth with chopped pork, chives, cilantro, fried garlic, ginger, and lemon to finish. It's a hearty and healthy way to start your day.
Desserts
Bua Loi
Bua loi or bua loy (floating water lily) is a Thai dessert. It consists of rice flour rolled into small balls, and cooked in coconut milk and sugar. Some bua loi recipes use sweet egg.
Khao Niao Mamuang (Mango Sticky Rice)
Khao Niao Mamuang, known as Mango Sticky Rice, is a plate of sliced mango served with steamed glutinous rice (sticky rice) mixed with sweetened coconut milk. You can add an optional portion of coconut cream and sesame or mung beans on top. It can also be made with pandan glutinous rice wrapped in a green pandan leaf or with black glutinous rice.
Kluai Buat Chi
This simple yet satisfying dish consists of ripe banana slices cooked in coconut milk. It's a very traditional Thai dessert. It's easy to make, light, and healthy. You only need ripe bananas, sugar, salt, and coconut milk.
If you found our post on popular Thai dishes you must try, please share it. Thanks for your support!
---
Thank you for visiting today! If you found this encouraging or informative, please connect with us on Instagram, Youtube, Pinterest, Facebook or Twitter. We'd love to meet you!
Sign-up for our monthly newsletter for updates and more. We promise we won't spam you! Feel free to unsubscribe anytime.
For more fitness fashion discounts and offers, please visit our Fitness Instructor Discounts + Brands Directory or favorite brands coupon codes list.
If you're a brand and want to submit a product for us to review, please use this form to get in touch.
This site uses affiliate links. Clicking on or purchasing via an affiliate link may result in commissions for us which help keep the content flowing and lights on at Schimiggy Reviews. You may read more about this in our privacy policy.