Reading Time:
23
minutes
Updated: 6/14/2023 | Oaxaca Travel Guide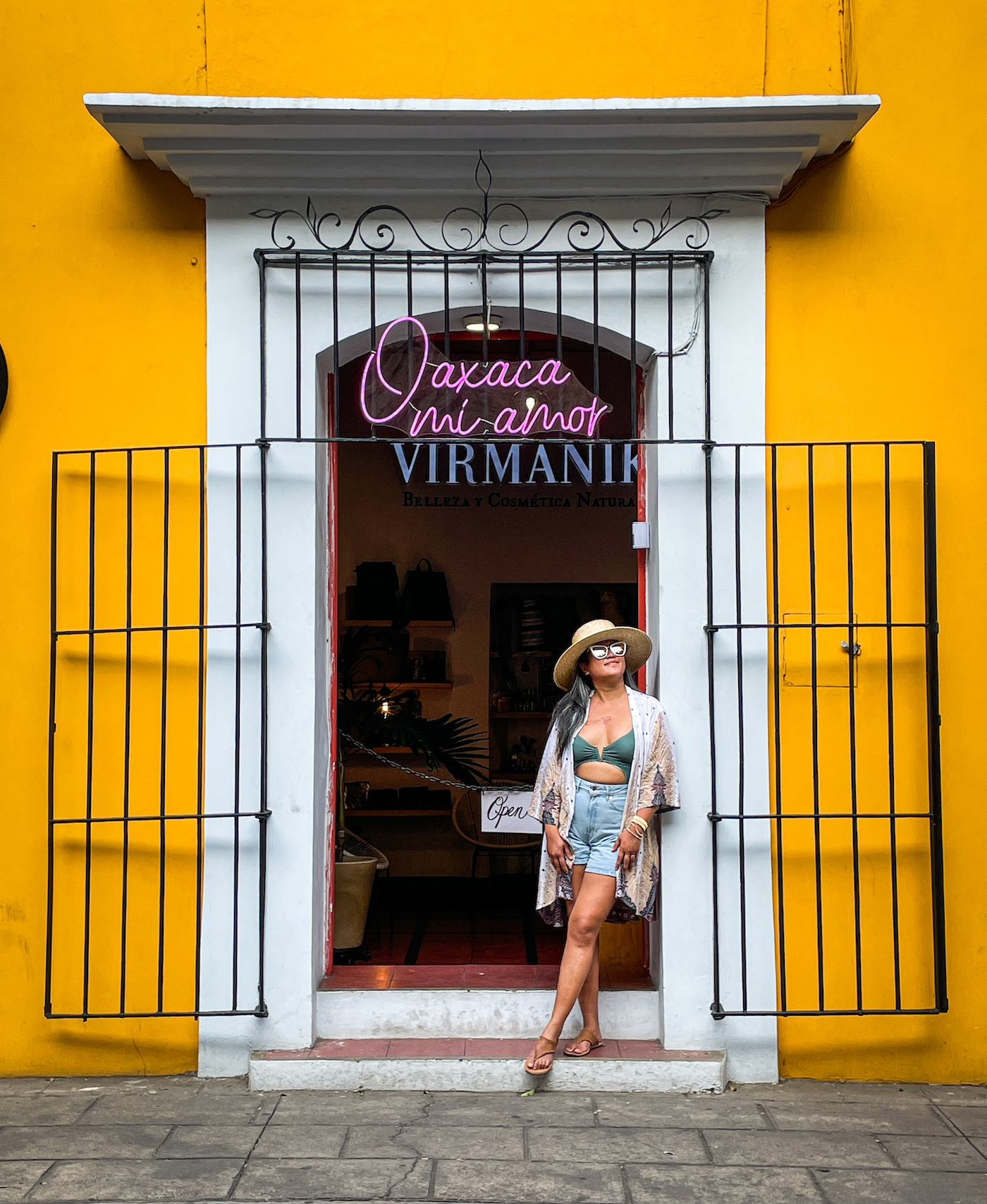 About Oaxaca
Oaxaca (pronounced "wuh-haw-kah") state is the 10th largest in Mexico, with a population of almost 4 million. It's in the southwest of Mexico. While the state's mountainous terrain makes navigating through Oaxaca more challenging, it's also contributed to the survival of many indigenous people, cultures, and plant and animal life.
Oaxaca is incredibly colorful and gives off Pueblo Magico vibes without being a designated site.
Oaxaca has experienced a tourism boom in the past few years that has resulted in rent and restaurant prices to soar, especially downtown. Mexico's Secretariat of Tourism reported that travel to the state capital brought in over $21 million in 2017. As retired gringos and digital nomads start to move in, locals have been pushed out of the costlier historic neighborhoods of the Centro, Jalatlaco, and Xochimilco.
Oaxaca has been inhabited for thousands of years by indigenous Zapotec and Mixtec peoples. Today, Oaxaca is a center for heritage tourism with many historical attractions including Monte Albán, a UNESCO Heritage Site, and Mitla, a Zapotec archeological site.
Oaxaca is a city of colorful buildings, scenic rooftop restaurants and bars, street art, historic Spanish colonial churches, cobblestone streets, and picturesque parks. It's also one of the gastronomic centers of Mexico and a hub for making mezcal in the country.
Oaxacan cuisine is the best mezcal in the world and when combined with its rich history, you'll fall in love with Oaxaca and its magic.
Oaxaca sits at 1,555 meters or 5,102 feet above sea level. You may find yourself out of breath every so often from the altitude. Some people who are prone to altitude sickness do have issues in Oaxaca, but for most people, this is not an issue.
This travel guide to Oaxaca will help you plan your next trip. We'll list places to see, eat and drink and ensure that you'll fall as equally in love with this magical place as we did.
Things to Know
Currency: Mexican peso (MXN) (the exchange rate in 2022 was 20 MXN to 1 USD); Cash is still prevalently used throughout Oaxaca and you can easily withdraw cash from banks such as Santander and HSBC. It's best to call prior to going to an establishment to ensure you have enough cash if it is required.
Electricity: Mexico uses the 127V/60Hz two-prong American plug. I use this universal adapter by Tessan and carry it with me even to Mexico because it has 4 USB ports and comes in really handy for charging multiple electronics.
Water: It's not safe to drink directly from the faucet. We highly recommend drinking and brushing your teeth with bottled water. In the event that you accidentally ingest tap water or get sick from Oaxacan food, bring along activated charcoal pills to alleviate any stomach issues.
Weather: The winters in Oaxaca are mild, cool, and exceedingly dry. You won't see snow in the city, but night-time temperatures can drop drastically, even on what was a seemingly mild winter day. By mid summer, it's scorching hot and unforgivingly sunny, so pack a hat and apply sunscreen regularly. We recommend staying well-hydrated year round.
Visas: Getting a traveler Visa is pretty easy. Americans get a quick stamp on their passport that is valid for six months.
Cellular Service: You will definitely need data to get around Oaxaca. Telcel is likely your best option and you can buy a SIM card at the airport or at a local cellular store near the Zocalo. You may need a passport to buy a SIM card, so be sure to have that ready. We have service with T-Mobile and it gives us service in most countries. Google Fi and Visible are also great service providers that offer service in Mexico. Many businesses use WhatsApp to communicate and make reservations.
Safety: Oaxaca State is very safe. You may encounter local protests but they are typically nonviolent. Be mindful that if a protest is happening, roads may be closed for days. The majority of protests occur every year around May. Many times, these take place outside of the tourist areas, but occasionally the protest focuses on the city center's square (the zòcalo).
You're safe to walk around town and after dark. Cabs are always nearby if you need a quick lift home. No matter what time of day, be cautious of petty theft and opportunistic crimes like bag and phone snatching by a motorbike zooming past.
How to Get Around Oaxaca
By Foot: Oaxaca Center is very pedestrian-friendly. Unless you're heading out to the nearby ruins, you can likely just walk everywhere in the downtown area. There are some streets that are closed off for foot traffic only. At any time of the week, you may run into a parade organized by wedding parties or for some other cause.
By Bus: Collectivos (shared taxis that drive set routes) are available around the city and usually cost around 15 MXN. You can also take a Collectivo "TAXI" at the airport to get to city center for around 105 MXN.
The northeastern collectivo pickup location is easy to find because of the nearby McDonald's. Go to this spot, then find a shared taxi with the name of your destination painted on the side. The collectivos usually cost 10-25 pesos max to any town out in the Valley. People hop onto the car as you drive in the direction of your destination.
The local buses are considerably safer than collectivos, but less convenient. If you can speak Spanish and have time on your side, these buses are a great mode of transportation to get around. You will have to know your stop by sight or ask for help from the locals. You can catch a bus from the same spots where you would catch a collectivo.
By Taxi: Taxis start at 50 MXN and go up by distance traveled. For example, anywhere in the historic center costs 50 MXN, even if you only travel 1 block or 10. If you want to go to the neighboring region of La Reforma from the historic center, it costs 70 MXN, and so on. A taxi to the airport should be about 150-200 MXN, depending on which region you're staying in (and what time of day/night it is, with nighttime being a bit higher). While affordable, they add up quickly so skip the taxis if you can.
Uber is not available in Oaxaca, but you can use a similar app called Didi to hail a taxi service. International credit cards don't seem to work with the app, so make sure you have cash on hand to pay the driver.
By Bicycle: Bike rentals can be found for around 100 MXN for a half-day rental.
By Car Rental: Car rentals cost approximately 500 MXN per day. I would only rent a car if you want to coordinate your own and multiple day trips outside the city. Renters must be 21 years of age and have had their license for at least two years.
Some companies require renters to be over 25. Deposits on car rentals can also be quite steep, with some companies asking for $1,000 USD as a deposit.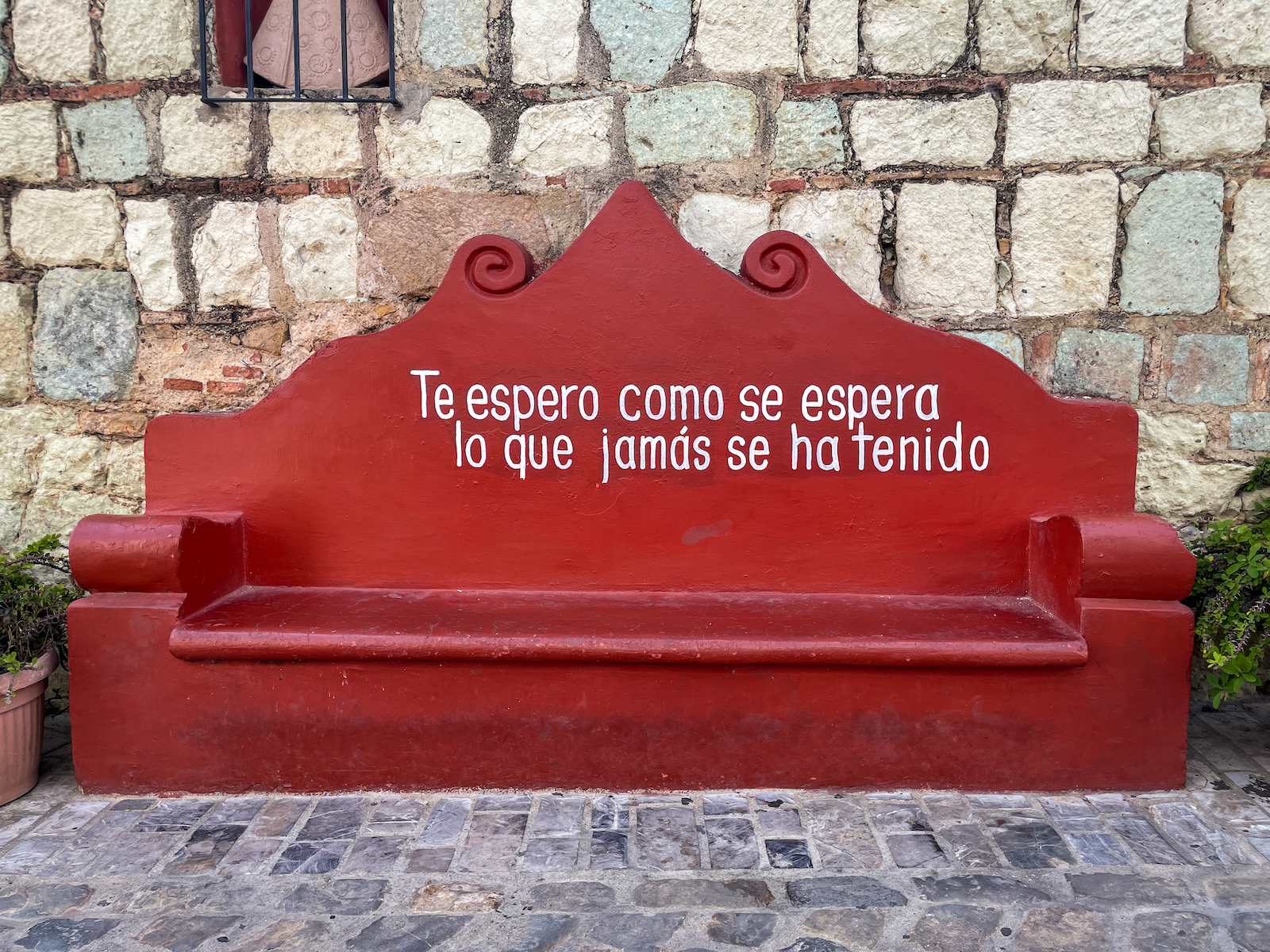 How to Get to Oaxaca
Oaxaca has two main airports:
Xoxocotlán in Oaxaca City (OAX) – You'll most likely fly in and out of this airport. OAX has connections throughout Mexico, Los Angeles, Houston, and Dallas.
Bahías de Huatulco in Huatulco (HUX)
If you're within Mexico, you may be able to drive to take a bus to Oaxaca. From Mexico City, it's a 6 hour car drive to Oaxaca.
We recommend checking out Bookaway to plan your transportation to and from Oaxaca.
Festivals to Note
Day of the Dead (Dia de los Muertos) is the signature festival in this region of Mexico and Oaxaca is an ideal place to celebrate. Day of the Dead occurs around Halloween, specifically in the first days of November. Guelaguetza is huge and celebrates the 16 indigenous cultures of the Oaxaca Valley (July).
The Fiesta de Rábanos (Festival of the Radishes) is lively and takes place in the zócalo around the Christmas holidays with fireworks and crafts (begins on the 23rd of December).
Where to Stay in Oaxaca
The months of December through February are very busy in Oaxaca City. We highly recommend booking ahead when lodging is more affordable. The months of November through May are typically dry with warm days that give way to cool nights. Expect occasional rain from June through September.
El Callejón – This boutique hotel is located in Xochimilco, one of the oldest neighborhoods in town and is a treat to be in. There are only a few rooms and the owner is an architect who used traditional materials such as adobe, clay, and stone to build the property.
Hotel Azul – This hotel was a huge private home that has been turned into lodging for visitors near and far. There's a terrace that overlooks the city, and the interior courtyard, which is lined with organ-pipe cacti.
La Calera – This hipster abode is located in the Santa María neighborhood. It was once housed in a former lime factory and has high, lofted ceilings. Oaxaca-based painter Willy Olguín helped design some of the white-walled, concrete-floor rooms, so make sure to note his artwork around the property.
Quinta Real Oaxaca – A luxury hotel located in the center of downtown. We attended a wedding in this hotel and found the courtyard fountain absolutely gorgeous.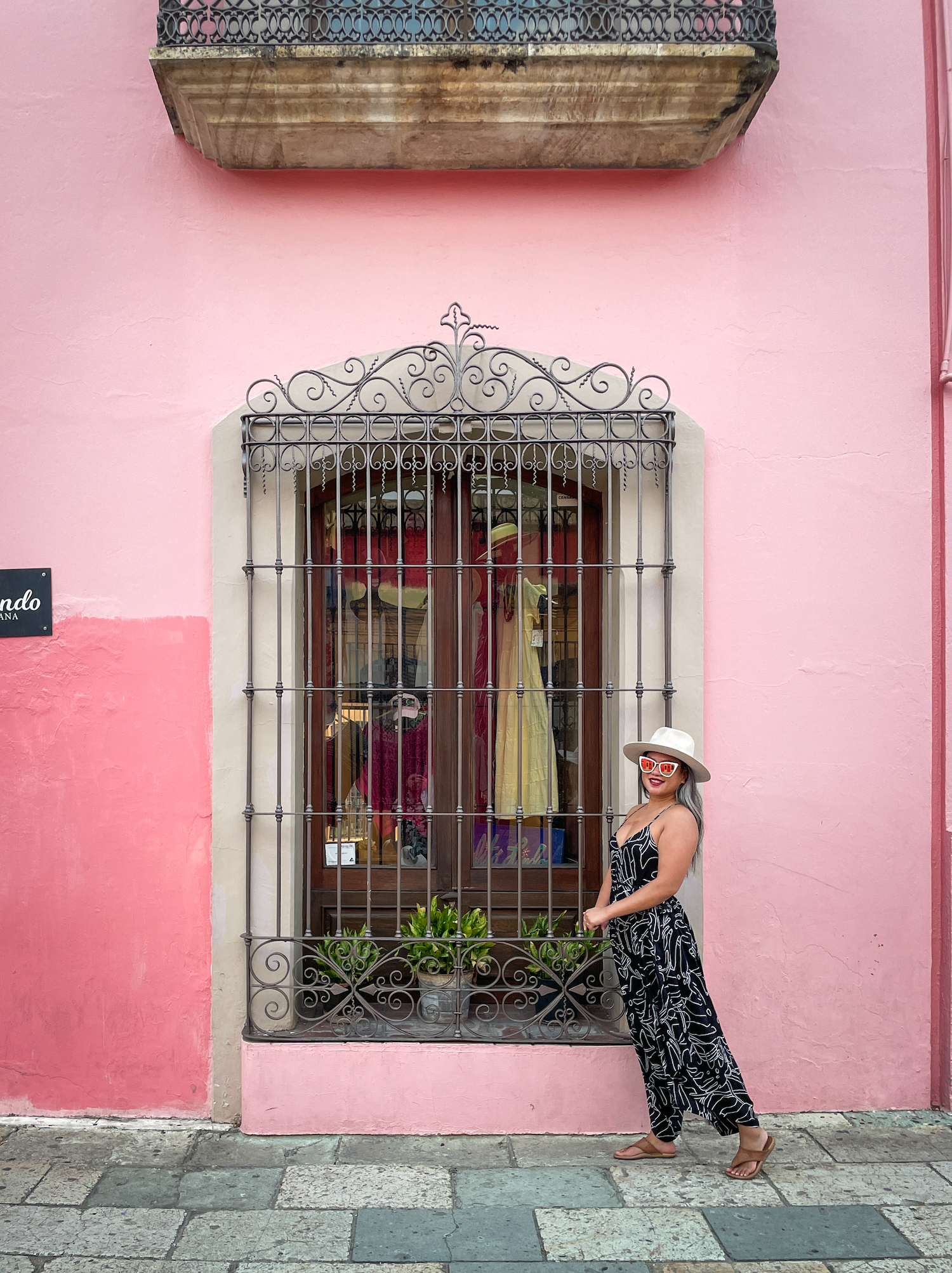 What to do in Oaxaca
Here are our top things to do when visiting Oaxaca.
Visit the Zócalo de Oaxaca
Visiting the main square is one of the best things to do in Oaxaca City. It's always filled with tourists, street vendors, and street food carts. There are also a ton of restaurants lining the perimeter of the zócalo.
You'll also find the Catedral Metropolitana de Oaxaca and other churches and museums surrounding the zócalo. We especially loved the Museo de Los Pintores Oaxaqueños (MUPO).
There are also a ton of performances happening daily. It really is the place to be!
Check Out the Mercados (Markets)
No trip to Oaxaca can be complete without wandering through one of their famous local markets. A great place to start your market adventure is just south of the Zocalo, where you'll discover the joys of two adjacent mercados: Benito Juarez market and the 20 de Noviembre market.
It's a beautiful scene that must be experienced even by those who have no intentions of shopping.
Here, you can find just about anything from flowers to toys, to meats, to chocolate, to mezcal, to clothes, to herbs, to local crafts, and of course, women selling plenty of chapulines (fried grasshoppers) in large basket displays.
Head to Pasillo de Humo ("hall of smoke") at Mercado 20 de Noviembre for carne asada (grilled meat). People also refer to this place as the Pasillo de Carnes Asadas. We recommend trying Oaxaca's rendition of grilled meats such as tasajo (thinly cut beef), and cecina (spicy pork). There are grills located around the market so that you can also grill your own meats as your purchase them.
Mercado Benito Juárez is also a great place to try tejate: a pre-Hispanic, non-alcoholic "drink of the gods" consumed by royalty and used in religious ceremonies in ancient times. It's similar to pulque in terms of fermentation process. Look for women stirring large, colorful jicaras (bowls) or clay pots of what appears to be a liquid substance with a frothy, foamy paste on top. This is it! Tejate is served cold, made with toasted maíz (corn), pixtle (ground mamey pits), fermented cacao beans, and cacao flower. It's very refreshing on a hot Oaxacan day.
Hierve el Agua
Located about 45 miles from Oaxaca City and is Oaxaca's most famous natural wonder is Hierve el Agua, which translates to "boiling water."
This petrified "cascadas," or waterfalls, has natural mineral pools on top. They are the most photographed places in Oaxaca.
Hierve el Agua can be reached within 1.5 hours by car or by van from Oaxaca's second-class bus terminal, located eight blocks west of the city center. You can also take a half or full-day tour to see Hierve el Agua, which we highly recommend.
Visit the Monte Alban Archeological Site
Monte Alban is an ancient Zapotec city, founded around 500 B.C., is one of the oldest archaeological sites in Mexico, consisting of several pyramids and tombs that are in great condition.
You'll typically want to spend the morning here and then break for lunch when it gets too hot.
The site is 25 minutes from the city center by taxi or bus. You can buy round-trip bus tickets from a ticket office at the corner of Díaz Ordaz and Francisco Javier Mina. A taxi will cost you around 140 MXN each way.
There are also day tours but you can save time and easily do it on your own.
Visit Mitla Ruins
Daily tours are offered to the Mitla Archeological site. Mitla was a designated burial site of the Zapotec people. It is now a designated Pueblo Magico with shops and eateries surrounding the ruins.
The most distinguishing feature of Mitla is the intricate mosaic fretwork and geometric designs that adorn the ruin walls. The geometric patterns, called "grecas" in Spanish, are made from thousands of cut and polished stones that are then fitted together without mortar.
Tickets are 85 MXN ($4.25 USD) to enter and they accept cash only.
You can get to Mitla via taxi, bus, or a half or full-day tour. We toured Mitla with Mezcal Tour Oaxaca and highly recommend them.
See the Tule Tree
The Árbol del Tule (The tree of enlightenment or the Tule Tree) is a giant Montezuma cypress tree on the grounds of the Templo Santa María de la Asunción church, located in the pueblo (small town) of Santa Maria del Tule, Oaxaca Mexico.
It holds the world's record for the biggest trunk diameter on Earth, at 46-feet, which takes at least 30 adults with clasped hands to wrap around it. Scientists date this tree at about 2,000-years-old. However, Oaxaca's native Zapotec people say it was planted about 1,400 years ago by Ehécatl, the god of the wind.
It's a quick drive from Centro and you can easily access it via a taxi, bus, or as part of a tour.
Oaxaca Botanical Garden
To see more of Oaxaca's famous plants, head to the Jardin Etnobotanico de Oaxaca (Botanical Garden), which is located downtown adjacent to the Templo de Santo Domingo. This 2.5-acre garden showcases Oaxaca's immense biodiversity with hundreds of local plant and cactus species.
These gardens span over 2 acres and are located near the Church of Santo Domingo. The gardens feature different plants from across the state (Oaxaca is one of the most biologically diverse regions in the country). In addition to the flowers, trees, and cacti that dot the garden, there are also sculptures and works of art too. Self-guided tours are not allowed so you'll need to go with a guide (English tours are offered Tuesday, Thursday, and Saturday while Spanish tours are offered daily). Admission (including the tour) is 50 MXN.
Take a Mezcal Tour
Mezcal is Oaxaca's quintessential spirit. It's made from agave and you'll find tons of mezcal tasting rooms throughout town.
We took an awesome tour with Mezcal Tour Oaxaca with Antonio, who himself is a mezcal distiller and very knowledgeable about the mezcal making process.
You'll get to meet the farmers who produce the plants on agave farms, and even go to a mezcal palenque (or distillery) where you'll get to see how it is fermented and then distilled. You'll even have a chance to taste different types of mezcal and take some home with you. We were able to taste mezcal from Mal de Amor and Ve Lua.
Book your tour with Mezcal Tour Oaxaca here. Their tours are also tailored and he will create a special itinerary for you and your group. It's a great way to optimize your day so that you're not spending the entire day sightseeing.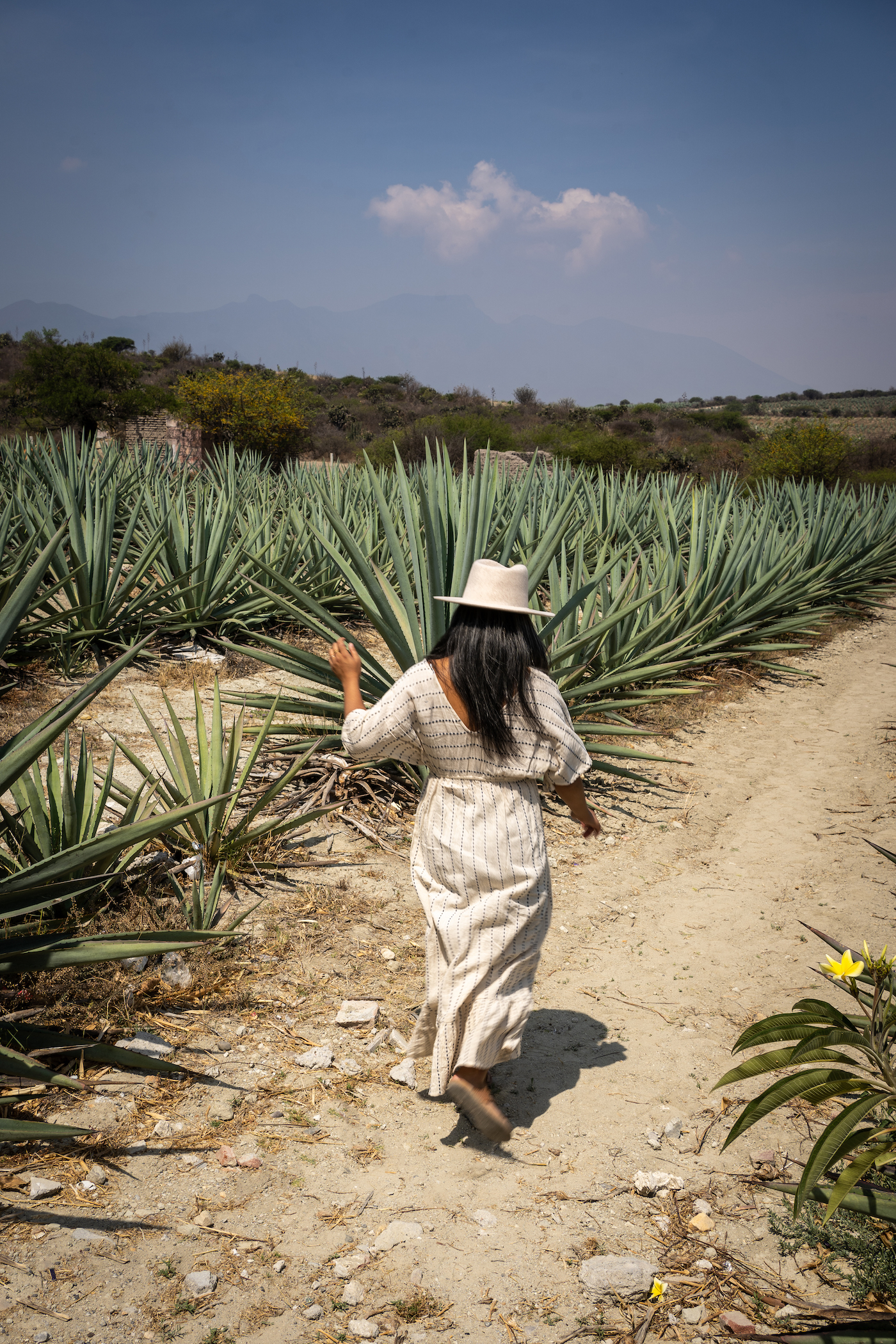 Check Out a Textile Workshop
Textile tours are often paired with mezcal tours.
At the workshops, you'll receive a demonstration of how dyes and yarns are created and then turned into beautiful tapestries. Depending on the size of the tapetes (rug), each piece can take anywhere between 3 to 6 months to complete.
We toured a local textile workshop with Mezcal Oaxaca Tours.
Visit Templo de Santo Domingo
This Baroque Roman Catholic church was started in 1572 and wasn't completed until 1731. It was originally used as a Dominican church and monastery.
During Mexico's revolutionary war, the church was annexed and used as a barracks and military building. It was transformed into a museum in the 1970s and is now home to all kinds of religious and pre-Colombian artifacts. The interior is very ornate with intricate carvings on the walls and ceilings.
Admission is free, but you will need to dress appropriately. No shorts or mini skirts, exposed shoulders and you must wear shoes.
Take a Oaxacan Food Tour
Callin all foodies! One of the best ways to get a sense of the local food scene is to take a guided food tour. Oaxaca is the center of gastronomy in Mexico, so it makes sense to take a food tour here. Oaxaca has some of the most diverse selection of dishes in Mexico that you should definitely try.
Oaxaca Eats runs several tours, most of which last around 4 hours. You'll get to sample 20+ dishes. Tour prices vary but expect to spend 1,800 MXN per person.
Check out the Sunday Market in Tlacolula
Mercado Tlacolula (AKA Super One) is one of the most popular markets in the region. It's essentially been in operation for centuries and is a good place to buy local crafts, produce, food, and anything else you can think of.
It's located approximately 45-minutes outside the city, but it's absolutely worth the journey. There are hundreds of vendors and a ton of amazing food to try. You'll need to drive, taxi or take the bus to the mercado.
We highly recommend the barbacoa (stewed meat) and chicharrón (fried pork rinds). Barbacoa is slow-cooked, braised lamb (or goat), resulting in a tender, juicy and flavorful delicacy traditionally eaten in Mexico on Sundays – explaining the timing of this market.
And if you're still hungry, definitely check out Casa Tierra, a family-owned restaurant just north of the market.
Visit the Textile Museum of Oaxaca
The Museo Textil de Oaxaca is a great place to learn about the history of Oaxacan textiles. Admission is free!
Ascend Cerro del Fortín for a View of the City
Directly northwest of Centro you'll find Cerro (Hill) del Fortín. Head up towards the Escaleras del Fortín, a long staircase that leads up the hill where the Guelaguetza Auditorium and a gorgeous mirador (viewpoint) awaits you.
Keep climbing the hill for a monument in honor of the national hero and indigenous Mexican president Benito Juárez (who was coincidentally born in rural Oaxaca). Press on further and you'll even stumble across a planetarium and space observatory.
Take a Cooking Class
We believe cooking classes are one of the best souvenirs. You get to bring the recipes you love home to recreate in your own kitchen.
Most classes will take you through the market to buy fresh ingredients prior to cooking. Classes take around 5 hours, are hands-on, and are fully immersive.
Expect to make one appetizer, salsa, a mole dish (mole is a specific sauce and one of the region's specialties), and a dessert. The classes will cost around 1,600 MXN per person, per class.
Experience a Temazcal
Temazcal (meaning "house of heat") is a traditional Zapotec sweat lodge. You'll sit in a small domed hut that then becomes increasingly warmer (think Arrested Development).
You'll rub everything from clay to fresh fruit juices and peels on your skin as you heat up, cooling down by dunking yourself in cold water. It's a very meditative and spiritual experience with numerous health benefits.
Visits usually last an hour and cost around 600+ MXN.
Visit the Arquitos de Xochimilco
The Arquitos (little arches) de Xochimilco along Rufino Tamayo Street, part of the old San Felipe Aqueduct (SFA). The SFA which was the main water supply system for Oaxaca from 1751 until 1940.
Today stores, homes, and restaurants exist behind the arches. I followed the arquitos north and found the large Acueducto de Xochimilco. We highly recommend walking north from the center on Rufino Tamayo to see all the beautiful street art along the way.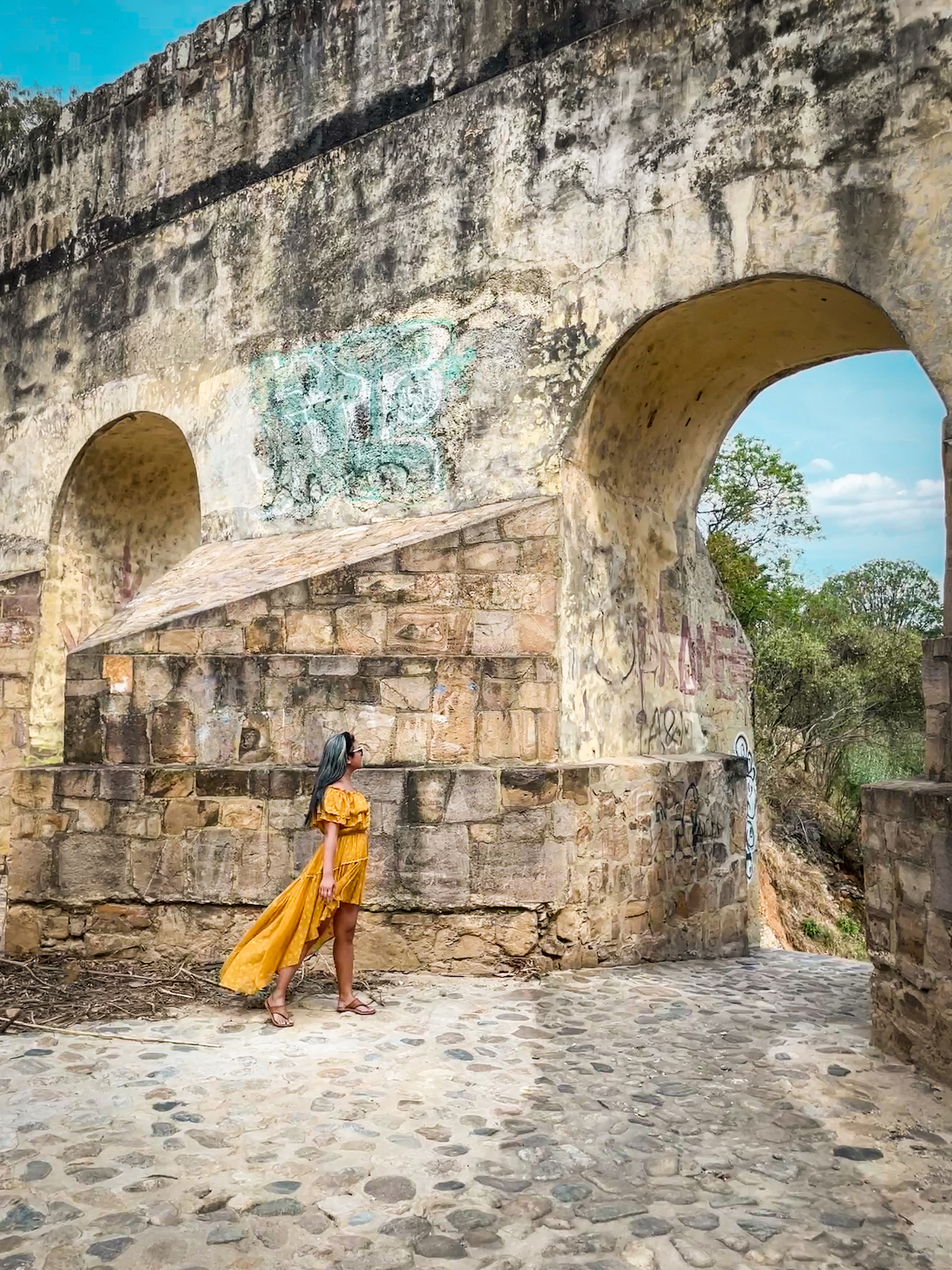 Celebrate the Day of the Dead
The Day of the Dead (Día de Los Muertos) is one of the biggest celebrations in all of Mexico and is a great time to visit Oaxaca.
It occurs between October 31st and November 2nd and is a time meant for remembering loved ones who have passed. Locals paint their faces, visit cemeteries, and give offerings often at an ofrenda (offering table). There are also parades and festivals throughout Centro.
Book your accommodation and flights early because everything begins to sell out months in advance.
Day Trips from Oaxaca
#1 Puerto Escondido
Located on the Pacific Coast 6 hours away by car, Puerto Escondido is famous for its stunning beaches and impressive nightlife. It's like Tulum, but cheaper and not overcrowded (Yet!).
If you're looking for a quick weekend getaway from Oaxaca, head here to lounge away the days and party all night. Playa Manzanillo and Puerto Angelito are the best beaches for swimming and lounging while Playa Zicatela is great for surfing.
Avoid staying in the middle of Zicatela as there is not much going on and you might get bored. If you're backpacking, stay at the very south where all the hostels are and the scene is more vibrant and lively.
#2 Go hiking in Sierra Norte
Sierra Norte offers visitors over 100 km of hiking trails spanning over 40 different trails. Located just two hours by car from Oaxaca, you'll also see a handful of Zapotec villages (Pueblos Mancomunados) along the way that offer village-to-village treks and homestays. Trails are not well marked so you'll need to hire a guide to help you get around. Going solo is possible but not recommended.
The guides are also very knowledgeable and can point out wildlife (there are pumas, bobcats, armadillos, and more here), identify plants, and ensure you don't get lost as (plus, hiring a guide helps support the local economy). Multi-day tours (which trek from village to village) cost around 3,600 MXN per person for a 3-day tour.
#3 Go Nude Sunbathing in Zipolite
Zipolite is a small, secluded beach town where the jungle-thick mountains meet the sea.
It's a nude beach, but just a ten-minute taxi ride away is neighboring beach Playa Mazunt​e and its Punta Cometa, a cliff that juts into the Pacific Ocean. The sunsets along this west coast beach town are amazing.
Stay at El Alquimista, a hotel whose restaurant offers locally grown coffee, tropical fruits, and fresh-caught dorado (Mahi). There are also daily yoga classes.
Zipolite is a 45-minute flight from Oaxaca and then a one-hour bus ride from the main bus terminal in Puerto Escondido. You can also hire a taxi at the airport.
What to Eat in Oaxaca
Oaxaca is famous for its culinary traditions and history. After all, Oaxaca is known as the "Land of the Seven Moles." Street food is scattered, but the markets hold most of the delicious cuisine while offering respite from the heat.
Outside of the markets, you can most often find elotes and esquites (steamed corn dishes), dorilocos (walking tacos), burgers, and taco stands. They're cheap eats.
Oaxaca is not particularly vegetarian or vegan friendly, but you can find some places that offer those options. We've listed some below.
What to Drink in Oaxaca
Mezcal is the drink of choice in Oaxaca and you can pretty much find it everywhere in Centro. It's a very strong liquor that is similar to tequila with a very distinct flavor. It can be very overwhelming to drink alone, luckily there are many bars that craft tasty cocktails out of this local spirit.
Here is a list of our favorite places to get libations in Oaxaca.
Guajolote de Oro – When you enter Guajolote de Oro (translates to "turkey of gold"), you're invited by a luminous ambiance, a beautifully backlit bar paired with creative craft cocktails. This intimate spot is owned by the namesake Grupo Amantes (alongside the aforementioned Hotel Los Amantes and Mezcalería Los Amantes, all three of which happen to be located on the same block). Find the bar inside the Posada Dos Palmas hotel.
In Situ – The place to go for a great mezcal tasting experience. The walls are lined with bottles of one-of-a-kind mezcals, creating an apothecary vibe. You will always find Ulises Torrentera behind the bar, explaining the complexity of each spirit. ​is owned by Ulises Torrentera, a guy with a ​tremendous amount ​of mezcal knowledge. The bar has a wide variety of agaves, from espadín to more rare types, such as jabalí. ​And they also stock a decent selection of locally made craft beer."
La Cueva – La Cueva is an awesome craft cocktail, craft beer, and wine bar with an extensive selection. Follow their Instagram to be in the know for special events such as guest bartenders and live music.
Selva – Pass through the courtyard entrance, head up the stairs and follow the jazz music to arrive at this upscale cocktail den from the owners of Los Danzantes. The speakeasy style space is sophisticated and stylish complete with inventive cocktails created by a team of talented mixologists. Reservations are highly recommended as the space is small and intimate.
Casa Embajador – Another solid choice for cocktails in Centro is Casa Embajador. Inventive mezcal libations are the star at this sleek space, crafted to perfection with their own house line of mezcal in addition to plenty of go-to cocktail staples, plus local craft beer and wine. Enjoy with their signature cacahuates (peanuts) or upgrade to larger bites like the Focaccia BLT or Tostadas de Atún (tuna tostadas).
Mezcalogia – We love coming here for craft cocktails and live music. The space is tiny, but the talent is huge. Try their Naked and Famous cocktail, a popular drink made with Mezcal and a bartender favorite. They also do mezcal tastings here.
Mezcaloteca – ​ Offers over 100 different types of mezcal​, many of which you can take home​​. The vibe here is almost more library than a bar, with clear mezcal bottles occupying the dark wooden shelves, and green-hued banker's lamps lighting the long, L-shaped bar. Reservations are required to attend a tasting at this ​intimate little place.
Pulqueria Mayahuel – Pulque is a pre-Hispanic beverage known as a "drink of the gods," only priests and other nobility were allowed to drink pulque. Pulque is a fermented beverage that has a sweet-sour taste and milky appearance. The best place to try pulque is Pulqueria Mayahuel. The bar is lined with luchador (Mexican wrestler) masks, sombreros and other funky Mexican memorabilia. They serve pulque in hand-painted jicaras (drinking bowls made from the dried fruit of the Crescentia cujete, or Calabash, tree). You can choose from various curados (flavors) which include avena (oatmeal), arandano (cranberry), piñon (pine nut) and mango. Not familiar with pulque? The bartender will give you sample before you to commit to a whole half or full liter. Not into pulque? You can also come here for beer (cerveza) and a fun selection of tiki-inspired cocktails.
Puro Burro – Offers amazing craft cocktails and Oaxacan dishes on their rooftop bar. Contact the bar to schedule a mezcal tasting with Daniel. He's amazing!
Sabina Sabe – Sabina Sabe is also known for their craft cocktails and mezcal tastings.
La Santisima Flor de Lupolo – Head to the northern end of Centro to try small-batch beer brewed on-site at La Santísima Flor de Lúpolo ("Holy saint of the hop flower"), a nano-brewery and taproom at the heart of Oaxaca's craft beer movement. Interesting brews like the Earl Grey Pale Ale, Saison Rouge, and Chocomint Stout are available either on the rotating tap, by bottle, or flight, which you can pair with housemade sausages, charcuterie, cheese, and more from the connected Gourmand Deli. You can even check out the action with a tour of their nano-brewery with tastings included.
Oaxaca Travel Guide Map
If you found our Oaxaca travel guide helpful, please share it on Pinterest. Thanks for your support!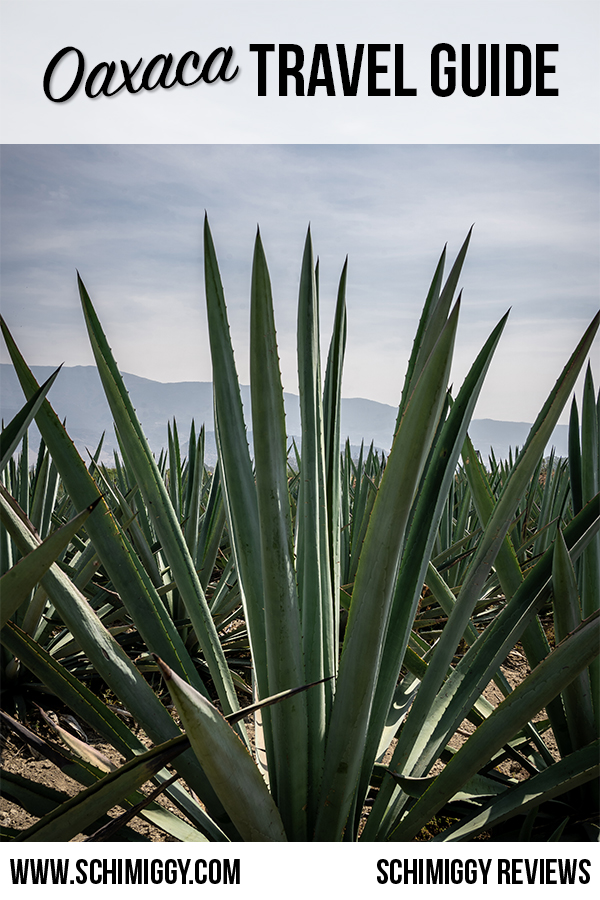 ---
Thank you for visiting today! If you found this encouraging or informative, please connect with us on Instagram, Youtube, Pinterest, Facebook or Twitter. We'd love to meet you!
Sign-up for our monthly newsletter for updates and more. We promise we won't spam you! Feel free to unsubscribe anytime.
For more fitness fashion discounts and offers, please visit our Fitness Instructor Discounts + Brands Directory or favorite brands coupon codes list.
If you're a brand and want to submit a product for us to review, please use this form to get in touch.
This site uses affiliate links. Clicking on or purchasing via an affiliate link may result in commissions for us which help keep the content flowing and lights on at Schimiggy Reviews. You may read more about this in our privacy policy.