Reading Time:
5
minutes
Niyama Sports (not to be confused with Niyama Sol) was created and born in California by founder Harald Wester, who has a passion for practicing and teaching yoga. Harold took his 20 years of experience in the textile and printing industry to create the perfect activewear through a combination of high-quality fabric, unique and organic prints and comfortability. Niyama is now based in Germany and recently held a Kickstarter campaign to bring Niyama leggings to US consumers.
Niyama is one of the 8 limbs of yoga and focuses on "personal observances," or practices that you would personally practice on your yogic journey. It is a philosophy and way of living that promotes the true-self. Niyama Sports has over 30+ designs, each one evoking a spiritual awareness and connection to your internal divinity. Kinda like a wand from Harry Potter, the pant you want will choose you.
Niyama Sports Review: Zentangle Leggings
I enrolled in Niyama's 500 program (program currently full) where Niyama partners with instructors and offer them a pair of leggings for free! Instructors are required to promote and share their review of the product on social media.
I chose the Zentangle design because 1) it's beautiful and 2) hand drawn. It reminds me of lululemon's Florence hand drawn print. I ordered and received my Zentangle leggings within 6 days. They arrived in a neatly wrapped package along with an angel charm and thank you card signed by the team! Already I am loving Niyama!
I quickly opened the package and although they advise to wash the leggings first, out of sheer excitement, I decided to slip them on for a few poses. What's the worse that could happen? #yolo
#1 Size: Per their size chart, I went with a SMALL. It fit me perfectly! I would consider their sizing TTS (true to size). I am a size 6 in lululemon for sizing reference.
#2 Style: Niyama Sports offers both long length pants and crop pants (limited designs).
#3 Inseam: The inseam for their pants fall at the ankle and measure 28″ long. The leg opening bunches around my ankles on my 5'5″ frame.
#4 Rise: The rise is standard and falls below the navel. There is a seam in the front and back rise of the pants.
#5 Waistband: The leggings come with a standard waistband with "no slip waist" technology lining the inside of the waistband (lingerie silicone strips to prevent slippage). The tall waistband measures 3.5″.
#6 Fabric:
Fabric Content: Niyama is made from durable and high quality Italian fabric. The fabric is manufactured in Cologne, Germany and is eco-friendly.
Fabric Feel: The fabric feels sleek and similar to swimwear. The feel of the fabric is very similar to Werkshop and Yoga Democracy. The fabric fit feels like a second skin.
Fabric Performance:

Fabric is made with dry wicking material, making it quick to dry and elevates sweat to the fabric surface.
Fabric has 4-Way Stretch, allowing for a very compressive fit.
Fabric is very durable and will not easily snag or pill.

Opacity: The leggings are white-backed (printed on white fabric) but they are 100% opaque (not see-through).
Fabric Features:

The Niyama Sport logo is printed on the back of the waistband.
The leggings are hand drawn then digitally printed onto the leggings. I love the intricate design. It's very alluring and unique.
The inner waistband has a rubber layer that prevents slippage during practice and normal wear.
The leggings do not have pockets.
#7 When to Wear: Niyama pants were designed for yoga but can totally be worn casually and for other low to high-impact exercises. Because the fabric is so slick, it's very compressive. I would recommend these leggings for medium to high impact sports.
#8 Cost: Leggings start at $79. Use coupon code SCHIMIGGY for 15% off your order! They also offer FREE shipping and FREE returns! If you don't like your Niyamas, feel free to return them at their cost.
#9 Gusset: The leggings come with a triangle shaped, double layered gusset.
#10 Stitch Seam: Niyama Sports uses flat-fell seams throughout the pant. The flat seams offer a chafe free and body hugging fit.
#11 UPF Protection: Not disclosed, but I am pretty sure there is some UPF protection based on how the material feels.
Should I buy Niyama Sports?
I love the quality and thoughtfulness that went into the leggings. I would wear mine more often if the fabric was a bit softer and felt brushed. The material does offer lots of compression but also feels like swimwear material. I would recommend it if you're doing high impact sports and not necessarily yoga or pilates.
Niyama Sports also offers a lifetime guarantee on their products from any manufacturing defects. Their leggings are made to be sustainable using very durable and certified Italian fabrics.
If you like Werkshop and Yoga Democracy, you'll definitely LOVE Niyama Sports!
You can buy Niyama Sports leggings online at the official Niyama Sports online store or on Amazon. Each pair of leggings costs $79. Use Niyama Sports discount code SCHIMIGGY for 15% off your orders! Shipping and return shipping are FREE! How's that for peace of mind?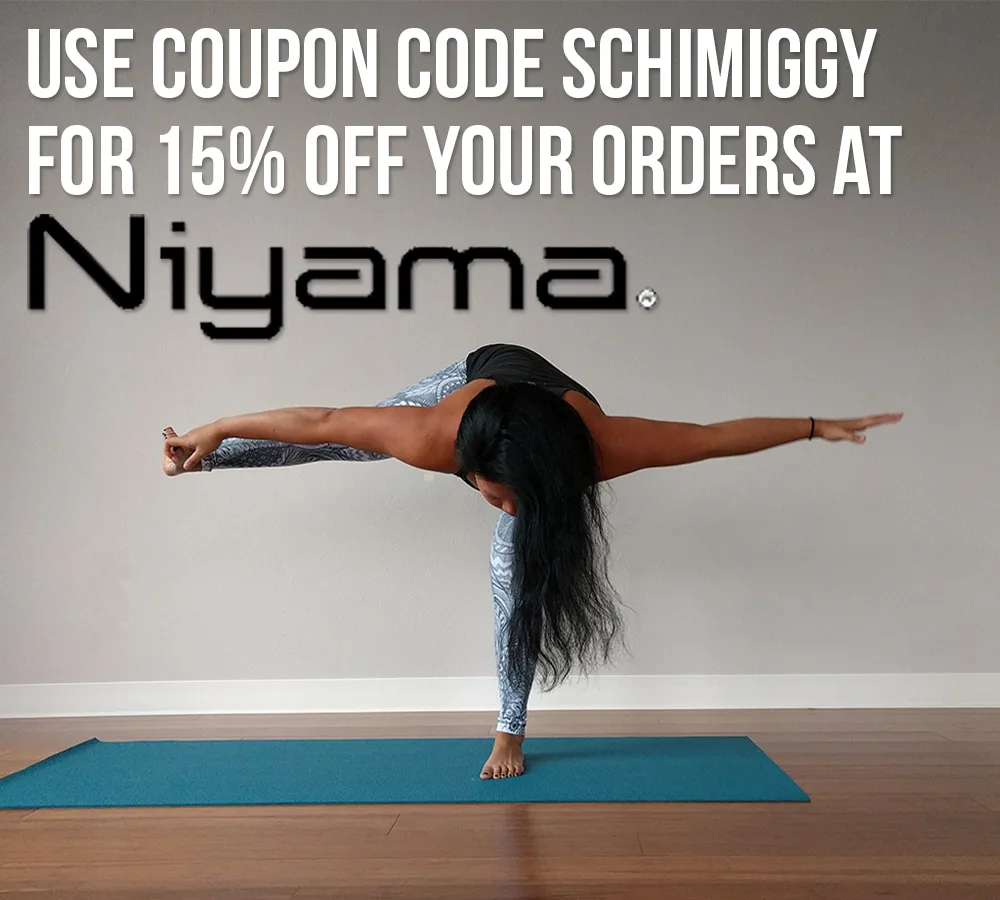 ---
For more fitness fashion discounts and deals, please visit my Fitness Instructor Discounts + Brands page.