Reading Time:
5
minutes
Updated: 8/30/2022 | Nantucket Travel Guide
Here is our Nantucket travel guide where we show you to plan the perfect Nantucket vacation like a pro.
Sun and fun await you at New England's favorite getaway. Tucked 30 miles off Cape Cod is an idyllic escape that's a must-visit. There's nothing not to love about Nantucket. Miles of picturesque beaches, alluring attractions, seafood cuisine, and photogenic trails await to be explored on the scenic island.
Vacation? Yes, please! But finding the ideal transportation, perfect accommodation, and memorable attractions can be overwhelming. Use our guide to create the perfect itinerary so that you can enjoy this beautiful Massachusetts destination.
Best Time to Visit Nantucket
Most vacationers flock to Nantucket during the summer peak. Between Memorial Day and Labor Day, crowds of deep-pocketed thrill seekers flock to the island. Most travelers prefer this time of the year because the weather is comfortably warm. Temperatures are around the 60s and 70s, perfect for surfing, boating, or basking on the beach.
Outside of the summer months (March – April, Mid-September – October), you can avoid the insane crowds (and insane prices). Temperatures are more tolerable and can dip from the high 30s to the low 60s, so you won't have to worry about bundling up or sweating.
Where to Stay
Nantucket has plenty of fantastic accommodation options, including luxury hotels, Nantucket homes, budget hotels, boutique hotels, and inns. A common favorite are the gorgeous Nantucket homes, which are much loved for their affordability and privacy, especially if traveling with family. They are the perfect definition of home away from home.
How to Get to Nantucket
Being an island, you can only access Nantucket by plane or ferry. In most cases, the ferry will be the least expensive option but keep an eye out for great deals by commercial airlines such as Cape Air.
Here are ferries that will take you to Nantucket:
Hy-Line Cruises:

The high-speed catamarans take about 45-50 minutes from Hyannis, MA, to Nantucket. A round-trip ticket is around $75.

The Steamship Authority: You have two options; Traditional Car and a High-Speed ferry. The 2+ hour ride from Hyannis to Nantucket will cost about $37 without tagging your car. If you need to ferry your car, you'll have to cough an extra $200.
Seastreak: Luxury high-speed ferry from New Bedford (1 hour 40 minutes), New York City or New Jersey (7+ hours). A ticket is about $175 one way and $260 round trip if you're departing from NY or NJ. If you're departing from Bedford, you can expect to pay $55 for a one-way ticket or $70 for a same-day round trip.
Here are airlines that will take you to Nantucket
JetBlue:

Offers seasonal flights from ACK to MA, Boston, Newark, Washington, NY, and NJ. The airline also offers seasonal deals on flights and hotel packages.

Cape Air: Provides year-round flights from ACK to Hyannis, Boston, New Bedford, and Martha's Vineyard.
American: Provides seasonal flights from ACK to NY, Washington, Philadelphia, Charlotte, Chicago, and NC.
How to Get Around Nantucket
Moving around in Nantucket is seamless, thanks to several available options.
Buses:

The WAVE by Nantucket Regional Transit Authority is the main bus system on the island. All shuttle buses are fitted with bike racks and wheelchair accessible. You can also bring your dog a board as long as he's clean and dry.

There are $2 shuttle loops (Miacomet loop, Mid-Island loop, and Jetties Beach) and $3 loops (Surfside Beach, Madaket Route, Airport Route, and Sconset Route). Children under six ride for free, and 65+-year-old travelers pay half price.
Taxis: There are plenty of taxis in Nantucket. Some taxis at the airport or ferry ports can also carry bikes or accommodate a large group. Charges are flat rate per person riding with surcharges for bikes, extra people, and dogs. Reliable cab companies in Nantucket include Chief's Cab, Canty's Cab, Lisa's Taxi, and Val's Cab Service. Also operating on the island are Uber and Lyft.
Car: If your vacation will last more than a week or you're staying outside Nantucket town, it's best to use a car. But traffic and parking in Nantucket can be a nightmare, especially during the peak season. Also, fueling in Nantucket is more expensive than on the mainland. A four-wheel vehicle is your best option as many natural areas and beaches are off sandy paths. Be sure to make a reservation at least one month before your visit, especially if it's during summer. You can rent a car, jeep, or any four-wheel-drive at Hertz, Nantucket Windmill Auto Rental, and Young's 4*4 & Car Rental.
Rent a bike or moped: Nantucket is a relatively flat island paved with several bike paths from Nantucket town to Surfside, Siasconset, and Madaket. There are also numerous unpaved back roads on the island worth exploring, so getting a mountain bike for your tours is a wise choice. Mopeds and scooters are also common, but they are not allowed on bike paths or sidewalks. Also, watch out for local regulations and sand on the roads. You can rent a bike or a scooter at Young's Bicycle Shop and Nantucket Bike Shop.
Where to Eat in Nantucket
These restaurants serve eye-popping views and a bountiful seafood supply to tease your tastebuds.
Brant Point Grill:

When craving an authentic seafood experience, there is perhaps nowhere better than Brant Point Grill. Located in White Elephant Hotel, the fine-dining restaurant overlooks the picturesque Nantucket Harbor. Try out their famous lobster roll or seafood ceviche, which is basically "sea on a plate," and wash it down with a Brown Derby.

Dune: Make your next Nantucket meal one to remember by venturing out to the Dune. Go for the trademark pan-roasted Halibut. The pan-seared Maine sea scallops are equally delicious and satisfying. Wash it down with one of the innovative cocktails like the delightful Coatue Sunset.
Straight Wharf Restaurant: Few restaurants claim to be as integral to Nantucket as Straight Wharf Restaurant. It is the island's well-kept secret spanning over four decades. The restaurant prides itself on creating exquisite dishes from local produce and fresh sea catch. A must-try is their delectable slow-poached Scottish salmon with a tasty sauce gribiche and fresh island vegetables on the side. The bar section features a slew of local brews, classic cocktails, and innovative libations for adventure-seekers.
The Proprietors Bar and Table: Offers reimagined American cuisine in a small space alongside creative libations. They only make reservations for parties of 4 or fewer. We recommend trying their cavatelli, duck, and roast chicken.
Best Things to Do in Nantucket
#1 Explore the Beaches
Popular beaches include Jetties Beach, Surfside Beach, Madaket Beach, and Sconset Beach. Grab your beach gear and spend the day here with family. Don't forget to bring snacks and refreshments.
#2 Visit the Whaling Museum
Learn about the history of Nantucket with a tour of the Whaling Museum. Discover the island's whaling history, including several exhibits such as the iconic sperm whale skeleton.
#3 Visit a Lighthouse
One of the major attractions in Nantucket is its lighthouses steeped in rich history.
There are three lighthouses on the island which include; Brant Point Lighthouse, Great Point Lighthouse, and Sankaty Lighthouse. Make it a fun family outing and try to visit all three lighthouses in a single day.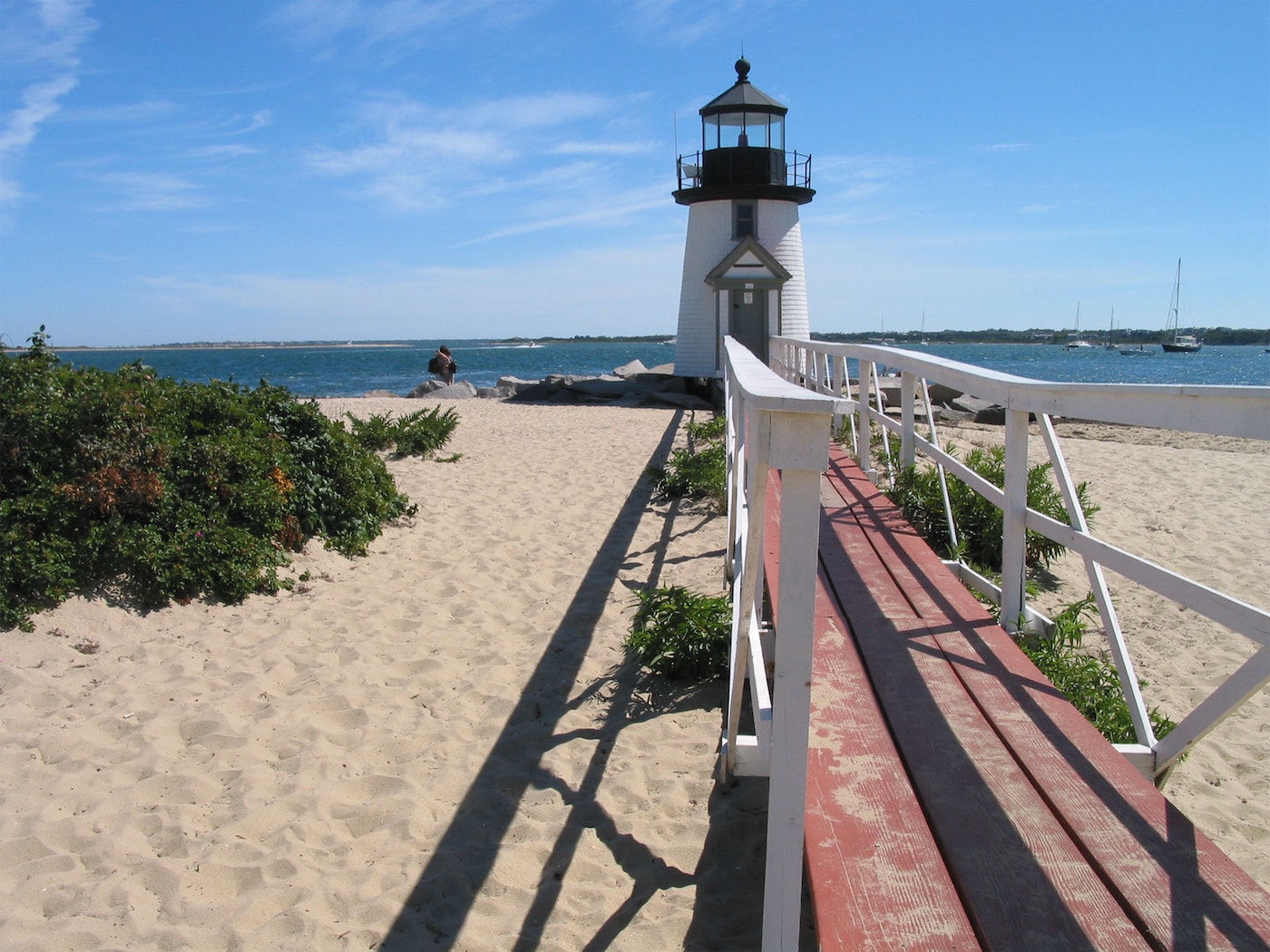 We hope you found our guide helpful. Check out our other travel guides for more inspiration.
If you found our Nantucket travel guide helpful, please share it on Pinterest. Thanks for your support!
---
Thank you for visiting today! If you found this encouraging or informative, please connect with us on Instagram, Youtube, Pinterest, Facebook or Twitter. We'd love to meet you!
Sign-up for our monthly newsletter for updates and more. We promise we won't spam you! Feel free to unsubscribe anytime.
For more fitness fashion discounts and offers, please visit our Fitness Instructor Discounts + Brands Directory or favorite brands coupon codes list.
If you're a brand and want to submit a product for us to review, please use this form to get in touch.
This site uses affiliate links. Clicking on or purchasing via an affiliate link may result in commissions for us which help keep the content flowing and lights on at Schimiggy Reviews. You may read more about this in our privacy policy.