Reading Time:
22
minutes
Updated: 9/18/2023 | Medellin Travel Guide
About Medellin
Medellin is nicknamed the City of Eternal Spring because of how comfortable and temperate the weather is year-round. The city is super cosmopolitan with a population of 3.5 million and is the second-largest city in Colombia right after Bogotá.
In 1988, Time magazine declared Medellin "the most dangerous city in the world." In 2013, The Wall Street Journal called it the most innovative metropolis on the planet. But much has changed over the years. The city is no longer plagued by the grip of the famed drug-trafficker Pablo Escobar.
Medellin is now overflowing with things to do for all types of travelers and is very affordable. It's considered one of the best destinations for remote workers. Tourists and expats are coming here in droves because it is so affordable and fun!
Here is our guide to visiting Medellin.
Things You Need to Know
Money: The local currency is the Colombian Peso (COP). When we went in February 2022, it was around 4,020 COP per $1 USD. You will need to have cash on you for some vendors, so I would recommend pulling money out at a local ATM from a trusted bank.
Most restaurants and cafes will accept a credit card but have cash on hand just in case they do not.
Travel Insurance: I recommend having it. You can get it via your travel credit card used to book hotels and flights. We recommend the Chase Sapphire Reserve or American Express Platinum credit cards. For trip insurance plans, we recommend World Nomads.
How Much Time to Spend: For Medellin, we recommend spending at least three to four days here. And if you're taking day trips, I highly recommend spending 4-5 days. At least two full days are needed to see all that the city has to offer.
How to Get to Medellin
By Airplane: Medellín's principal airport, José María Córdova Airport, isn't actually in the city. It's located in the smaller town of Rionegro and takes around an hour to get to Medellin city center. There's a small airport named Olaya Herrera Airport within the city, but this only serves a few regional routes and most international and domestic travelers do not depart from it. Be aware of the distance between the city and the airport and plan your travel accordingly so you aren't rushing to make your flight. On the way back, we had to deal with a lot of security and searching from US Border Patrol. From the airport, it's pretty easy to get to the city center using a taxi or Uber and you'll get to go through one of the longest record-breaking tunnels in the world!
By Bus: Bus connections from Medellin to other destinations in Colombia are frequent. It is a cheap option for getting to and from the city. We prefer to use Bookaway when planning our transportation into and out of Medellin. They have the best rates and routes.
Best Time to Go to Medellin
The weather in Medellín is different from the rest of Colombia due to its elevation. During the day it can get hot and humid and at night it will cool off. The winter months are cooler so be prepared for a light jacket and sweater.
Dress in Medellín is not like Cartagena. Walking around in flip-flops and cut-off shorts is not recommended as you'll stick out. The dress is very proper and rivals that of Manhattan. Men are typically in collared shirts and pants and the women dress incredibly well. I wish I had brought more pants + blouses for the dinners in Poblado especially.
Related: What to Wear in 80-Degree Weather
How to Get Around Medellin
Uber or Taxi: Uber and taxis are very affordable in Medellin. It costs us around $3 USD to travel 12-15 minutes and approsimately $20 USD to get from the airport to our hotel in Poblado.
Metro/Train: The Metro is an incredibly cheap way to get around the city. This option is great for budget travelers. It's very simple to use, just buy tickets at the station and then enter the gates.
Walking: The majority of Medellin is safe to walk. I would avoid certain areas near El Centro, especially if you're a tourist. Some areas are sketchy and it's not recommended that you visit in the evening.
Where to Stay in Medellin
Click Clack Hotel – This is a super cool and modern hotel. The decor is very kitsch and they have a rooftop bar, pool, and restaurant! The bottom of the hotel houses several restaurants and bars that serve delicious food and beverages. It's also very affordable. We were shocked at how cheap it was!
Art Hotel – The rooms are affordable with basic but somewhat trendy decoration. Breakfast is included on the rooftop.
Celestino Boutique Hotel – If you want to splurge, definitely check out this is the boutique hotel. It's centrally located and has amazing decor and is very romantic.
The Charlee Hotel – This is another great option in El Poblado as it has a ton of rooms and is centrally located. It comes up as the most recommended hotel each time across multiple guides.
Safety in Medellin
Safety in Colombia is always the first question many people have. It wasn't long ago that Medellin was the most dangerous city in the world with a violent past and drug-related history.
Today it is changing and there is a ton to love about the city. There are plenty of places you can visit without feeling like you are in danger.
There are some areas where you should enter with caution during the day or with an experienced tour guide. Here are those areas:
Comuna 13
The Hole (El Hueco)
El Centro
What to Do in Medellin
#1 Free City Tour
We took a free talking tour with Real City Tours and really enjoyed it! It costs about $8-10 USD donation per person and takes you through El Centro, the bustling downtown area of Medellin.
The tour takes approximately 2 hours to complete and is a great way to see some major attractions in Medellin.
#2 Visit Pueblito Paisa
Perched atop Nutibara Hill in the city center is Pueblito Paisa, a miniature replica of a traditional Antioquian pueblo or town. If you don't have time to travel out of the city to a real pueblo, this is the next best thing.
It has amazing panoramic views and only takes 20 minutes to walk up to. If you're not keen on walking around Medellin, you can also opt to drive all the way to the top.
The village is laid out like a typical town, with a central cobbled square, church, and fountain ringed by white facades with colorful trims. I later learned that some of the building materials used in construction were salvaged from a real pueblo near Guatape, including original wooden doors, windows, and the church altar.
This is one of Medellin's most popular tourist attractions and is very commercial. It's worth visiting but just be mindful of the crowds. It's best to go during the week, as weekends tend to get packed.
If you have extra time, we recommend checking out The Medellin City Museum which is also located on the hill next to the Pueblo. Climb the stairs to the top where you can take in multiple viewpoints of Medellin.
#2 See Botero Sculptures and Artwork
Fernando Botero is a Medellin artist who is known for creating chubby statues, paintings, and drawings. He donated a lot of his artwork to museums and city plazas so that people could be inspired and enjoy art without organizations profiting from it.
Botero donated 23 of his large sculptures to the city of Medellin. You'll find them in and around Plaza Botero near the Parque Berrio metro station and at Parque San Antonio. Their setting against the ornate black-and-white patterns of Rafael Uribe Uribe Palace of Culture highlights the appeal of his voluptuous artwork.
You'll find even more of Botero's works – including famed paintings like La Muerte de Pablo Escobar (The Death of Pablo Escobar) – in the Museum of Antioquia. Located along the western edge of Plaza Botero, this three-story facility is the second oldest museum in the country. It includes a wide spectrum of art from pre-Columbian Colombia right up to modern masters like Botero.
And if you're ever in Bogota, make sure you visit the Botero Museum. Admission is free and you'll see many of Botero's artworks along with pieces from his private collection displayed here.
Address: Carrera 52 # 52-43, Medellín, Antioquia
#4 Take the Metrocable up to Parque Arvi
The metro and metro cable system of Medellín has received lots of praise for bringing a city of many different neighborhoods together.
You can get all over the city with your metro ticket, and if you want to venture up for great views and fresh air, pay a little more to take the metro cable from Santo Domingo to Parque Arvi.
The 15-minute ride provides great views of the city and the neighborhoods below.
At the top, there are places to stop for some snacks made from local Colombian products (like grilled mushrooms) and souvenirs.
#5 Museo de Antioquia
Museo de Antioquia is a former city hall turned museum and houses a great collection of works by Fernando Botero.
Botero is one of Colombia's most famous artists and is known for his chubby sculptures and paintings. Born in Medellín, the artist patronized his hometown museum by donating many of the works himself.
We recommend starting on the top floor to begin viewing his earlier pieces and making your way down to see his evolution as an artist.
The museum also houses works by international artists and offers an audio guide if you want to learn even more.
#6 Santo Domingo and Biblioteca España
If you take a ride up the metro cable, you'll get a glimpse of a few of the poorer barrios on your way up and down.
It's an authentic look into life in these colorful neighborhoods which were once in the center of a warzone.
During the day it's fine to stop in Santo Domingo to have a look around – maybe grab a beer and some fried chicken and arepas from one of the small local restaurants.
Many people also get off here to check out the Biblioteca España, a massive, modern library built from black slate that's become like a local community center.
#7 The Botanical Gardens
A natural oasis in the center of Medellín, the city's botanical gardens contain more than 1,000 species of wildlife and 4,500 flowers.
There's a butterfly garden, a cactus garden, and a huge collection of orchids.
Entry is free and you can go explore the area to find critters or just lie on the grass in the sun with a book.
There's even a 65-foot-high wooden mesh structure called the Orquideorama which collects rainwater and protects the orchids and butterflies below.
Have a picnic, check for live events, and be sure to visit if you're here during the city's Festival of the Flowers, which is even more impressive.
#8 Parque Explora
Everybody loves Parque Explora, even adults, and those folks without kids.
It's an interactive science museum combined with South America's largest freshwater aquarium.
There are over 300 interactive exhibits housed in the building's four red cubes, plus a planetarium, 3D auditorium, and a television studio.
Located in Zona Norte near the botanical gardens and shopping malls, it's easy to spend a whole day here playing and learning about science and technology, but it's also a convenient stop on your way to other attractions.
Parque Explora is totally interesting and fun, and you'll enjoy it even more if you do have kids with you.
#9 Check Out Poblado Neighborhood
Chances are you might be staying in this upscale neighborhood anyway because it's where most of the gringos, expats, and backpackers in Medellin frequent.
It's a beautiful area of shady streets, solid café culture, and a range of international food options.
Coffee shops and free wifi abound, plus there are bars, spas, gyms, and all the other comforts of home here.
If you're looking to party, definitely check out Calle 9. It's lined with restaurants and bars and in the evening is a stomping ground for partygoers in Colombia.
#10 Visit Casa de la Memoria
This museum is both upsetting, enlightening, and informative, and it's the place to go if you want more insight into Colombia's violent history.
From drug cartels and gangs to a terrible civil war, Casa de la Memoria aims to amplify the voices of victims and preserve their history so that we might learn more about it and avoid these pitfalls in the future.
Entry is free, and the whole place is well-curated – the interactive exhibits, emotional photography, and artwork are all sure to inform and move you.
#11 Visit Guatapé
Guatapé is a picturesque, colorful lake town about two hours outside the city. It's a must-do day trip from Medellín, but it's even better if you can spend a night or two there.
Along the lake and throughout town you'll find cheap street foods like empanadas and churros, and of course, the restaurants will supply you with plenty of freshly cooked lake trout and fish soup.
Take photos of the vibrantly painted exteriors of homes here, and visit the Plaza de Zocalos for the most colorful town square in Colombia.
The most popular activity in town, however, is climbing the 740 steps up El Peñol, a giant rock, for an amazing view of the islands and water beneath.
Most of the time in Medellín was spent exploring El Poblado, the home base for most travelers visiting. The neighborhood is packed with bustling cafes, local boutiques, and top restaurants. One day was spent out in Guatapé, which was well worth the bus ride to soak in the views. The city is changing, at least from what the several locals shared with me. It became very apparent as to why it has started to become a traveler's hotspot.
#12 Parque Lleras
Poblado is one of the biggest hotspots for nightlife in Medellín, and for locals and tourists alike, Parque Lleras is often the place where you start out the night.
It's just a little park filled with trees where you'll find vendors selling art by day and crowds of folks drinking by night.
The park is surrounded by bars, restaurants, and clubs, plus it's close to many of the hostels in the area, so there's always young people around.
Grab a bottle of the anise-flavored Colombian spirit, Aguardiente, or just a few Aguila beers and head to this lively park to hang out before going out.
#13 El Castillo Museo y Jardines
Wait, there's a castle in Medellín? Yep, for a small entry fee you can check out this French-inspired, 20th-century castle and its gardens, fountains, and pathways.
Take a little tour to see the inside as well, with its four-poster beds, porcelain collection, and giant dining room table.
It was built in 1930 and it opened as a museum in 1971, but in between those years it served as a home for the wealthy and a place for entertaining high society visitors from Europe.
#14 Plaza Minorista Market
Get an authentic look at Medellín food culture by visiting one of the city's markets.
Plaza Minorista is a huge farmer's market filled with local vendors selling everything from fresh produce and fish to just-butchered meats and ready-made corn arepas.
It's a great place to bring your camera to capture all the bright colors and characters here.
Take a tour to do some fruit tasting or just buy some of what looks good for yourself – prices are cheap! There are plenty of little restaurants in Minorista where you can grab a set meal or a full breakfast, plus things like fish stew, coconut rice, and freshly squeezed fruit juice.
Antioquia is Colombia's fruit bowl, and Medellin is where the region's farmers come to trade their tropical delights. There are several fruit markets in the city worth visiting. My personal favourite is the Plaza Minorista José María Villa, or The Minorista for short.
The Minorista is an atmospheric green market made up of 3,000-plus undercover stalls. Roam the aisles, chatting with the friendly los vendedores (vendors) who are usually more than happy to offer free samples of their most exotic offerings: Maracuyá, zapote, mangosteen, curuba, and more.
#15 Parque Berrío
A plaza with fewer people trying to sell you things and ask for money and more folks just trying to meet up and hang out, Parque Berrío feels very local.
Tons of people gather here in the afternoon to sit and listen to street musicians play after buying beers and snacks from local vendors.
Old men gather to play games like dominos, and the locals here are pretty friendly.
Once the site of the old public market and home to public executions, the park was transformed in the early 90s when the area made way for the nearby metro station.
You can visit the old Iglesia la Candelaria on one side and a few blocks away is the much more touristy Plaza Botero.
#16 Comuna 13 and Las Escaleras (The Escalators)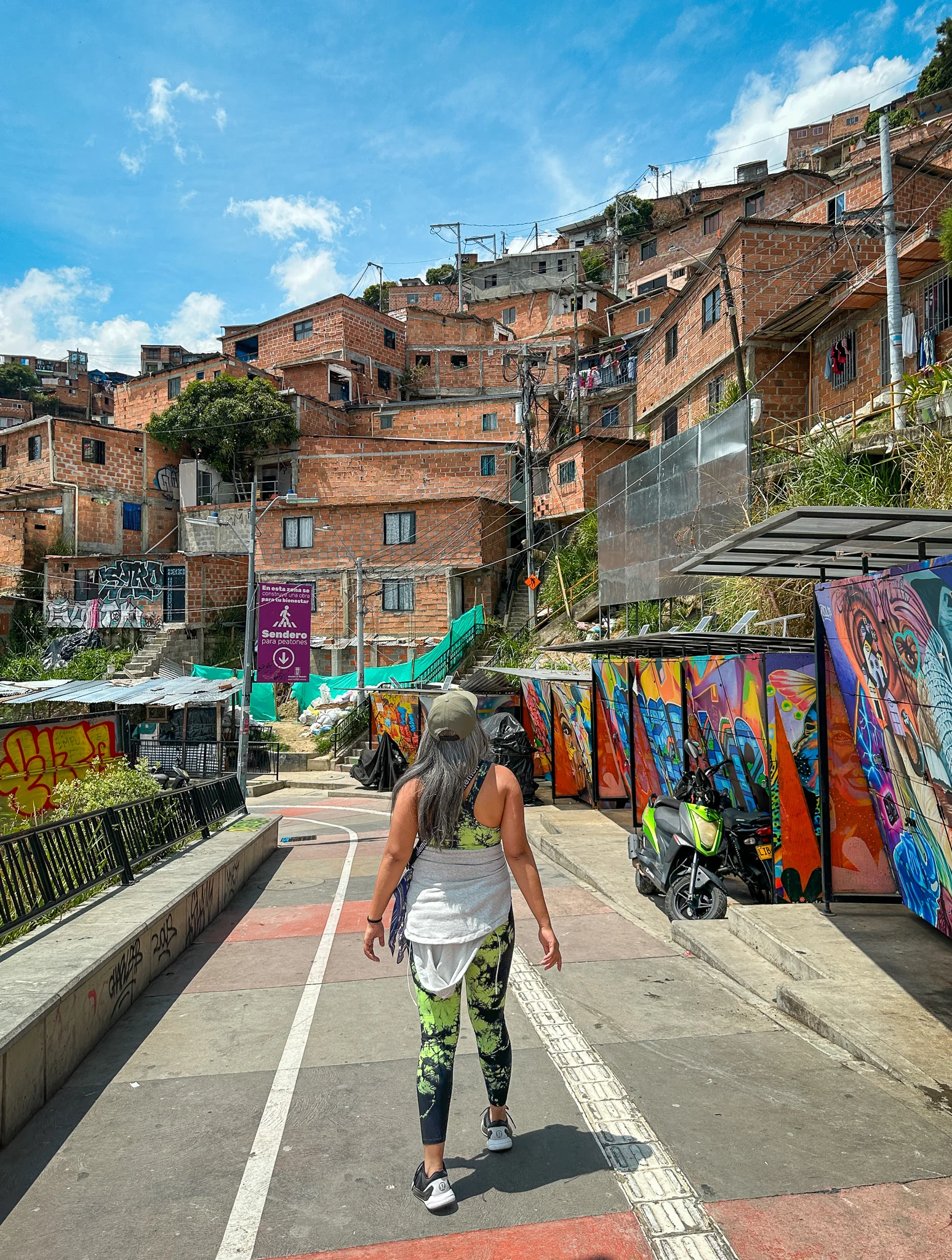 Comuna 13 was once a part of the city you'd never even consider visiting.
It wasn't until October 16, 2002, when the Colombian military carried out Operation Orión, a strike to overthrow all rebel groups in Comuna 13. Over 1,000 policemen, soldiers, and aircrew in helicopters attacked the area of roughly 100,000 inhabitants. Nine people were killed, of which three were children, and hundreds were wounded. The siege made it impossible to seek medical attention for the wounded and the community took to the streets in solidarity flying white rags. And with that, the fighting stopped.
Since then, the government, local artists, and community activists have joined forces to make Comuna 13 a better place to live. The addition of colorful artwork, escalators, and increased safety measures have opened the neighborhood up to tourism and brought the community closer together. There are still improvements being made to this day and if you take the tour again in the future, you will notice significant changes.
A tour of Comuna 13 will introduce you to artists, street performers, and a different perspective of Medellin. Today it is one of the safest places in Medellin and they are continuing to expand this effort to improve the comuna.
We took a tour with SAG Tour Medellin and were guided by Luis who once left and is now back living in Comuna 13. He is very informative and fun. We highly recommend their tours as it's super easy to get lost in Comuna 13. You will also be supporting locals who would love to share their history with visitors.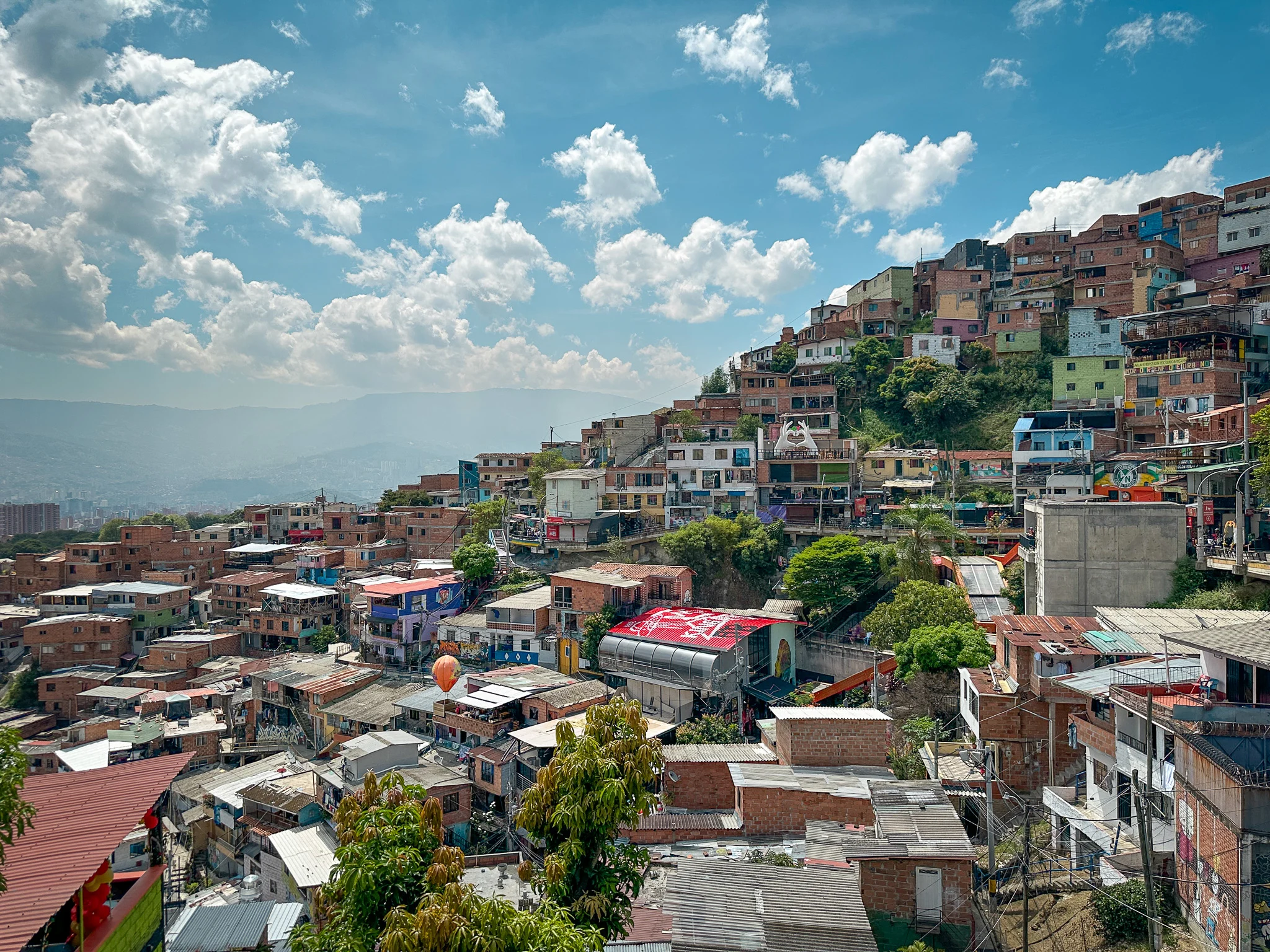 #17 Museo de Arte Moderno Medellín
A very cool work of modern architecture itself, this small but edgy museum is home to modern artwork by Colombian and other Latin American artists.
While somewhat compact, the MAMM features several permanent and temporary exhibits, including paintings, videos, sculptures, and 3D creations both inside and out.
Modern art isn't for everyone, so the museum does a good job of providing explanations of each of the pieces.
The theater here shows movies occasionally, and the gift shop sells super unique souvenirs created by artists.
There's a great terrace with views of the city and a restaurant downstairs where you can have a drink.
#18 Centro Comercial Palacio Nacional for Shopping
Medellín is a great place to do some shopping, whether you're after dirt-cheap knockoffs or luxury stores.
El Hueco is where you'd go for a little bit of chaos, haggling, and lots of shops and street vendors selling fake brand-name goods and other odds and ends you might need.
For a more modern mall experience with a broad range of stores, check out the huge Centro Commercial Santa Fe or Oviedo.
For a unique, high-end experience just a few blocks away, check out Río Sur, a group of repurposed buildings that now contain upmarket boutique shops, salons, and lots of nightclubs, restaurants, and bars.
#19 Cañón Del Río Claro Reserva Natural
This little piece of paradise is about three hours outside Medellín, and it's a great place to spend a few nights relaxing in nature and exploring.
You can go hiking, ziplining, rafting, birdwatching, or cavern trekking around the Río Claro Valley and reserve.
As far as accommodation, there's an eco-friendly lodge, plus cabins and camping available – be sure to bring cash! It's a rustic place, but it's surrounded by pure natural beauty, like the river which cuts through a marble canyon and jungle-like forests.
You'll spot plenty of exotic wildlife here too, with monkeys, scorpions, massive butterflies, and tons of birds from parrots to toucans to hummingbirds, all at your doorstep.
#20 Palacio de la Cultura Rafael Uribe Uribe
You won't be able to avoid seeing this unique and imposing building, because of course, you'll be visiting the Plaza Botero.
Chances are you've never seen anything like its intricate and dizzying black-and-white facade though.
The architect who built it received so much public criticism for his work that he walked off the job, and the city finished his work in a completely different style and you can see the difference. If it's open, head inside to see the lovely courtyard with a fountain and gardens.
While the interior has fallen into disrepair a bit, there is some artwork to view and you can climb to the top for views of the city and plaza below.
View this post on Instagram
#21 Plaza Cisneros
Plaza Cisneros is yet another example of a section of Medellin that was once full of drugs and violence but is now a relatively safe and popular destination for sightseeing.
Walk by during the day, and it might not look like much, but head back after dark and the 300 light poles scattered throughout the plaza will surely leave an impression. These 24-meter-high beacons are like giant Jedi lightsabers brightening up the night sky.
More than just pretty lights, this plaza is also home to some spectacular architecture, including the angular Biblioteca EPM, a library with a small museum and free Wi-Fi. Head across Avenida San Juan for even more architectural marvels like the bumblebee-colored towers of Plaza de la Libertad.
Address: Cl. 44 #52-50, Medellín, Antioquia
#22 Barefoot Park
One of the most bizarre and beloved attractions in Medellin is Barefoot Park. It's a zen-inspired public park designed by local architect Felipe Uribe de Bedout. Visitors are encouraged to take off their shoes and wander through its gardens, sandy pits, and bubbling water fountains to experience the different textures and contemplate how they feel. The idea is to reconnect with nature in a way humans lost when we started wearing modern footwear.
The park has plenty of shady nooks and cooling waterways to combat a hot day.
Address: Cra. 58 #42-125, Medellín, Antioquia
#23 Wander the Cementerio Museo de San Pedro
Built in 1842, the Cementerio Museo de San Pedro is a cemetery and museum where you can see the monuments and graves of many famous Colombians while learning about their lives and contributions to society.
There are a lot of large marble mausoleums and statues here. Keep an eye out for special events such as midnight tours and movie nights. The cemetery is small but it's also close to the botanical gardens so you can do both one after the other.
Address: Cra. 51 #68-68, +57 4-516-7650; Open daily 7:30 am-5:30 pm. Admission is free.
#24 Visit Comuna 8
Much like Comuna 13, this area was one of the poorest in Medellín — and it still is. This district was really isolated until the city built a gondola from downtown, allowing people to get to work more easily.
La Sierra runs a tour to teach people about the history of the area, and, unlike Comuna 13, it's not overrun with tourists. It's a small district and the tour doesn't last long, but you get a much more authentic look at the city and its people and history than you do in Comuna 13 (where the focus is more on street art).
#25 Shop for Souvenirs at San Alejo Market
If you happen to be visiting Medellin on the first Saturday of the month, don't miss the San Alejo Handicraft Market in Parque Bolivar.
This showcase of local food projects and crafts only takes place once every four weeks. It's a 35-year tradition, drawing crowds who shop directly from 400 artists, makers, antique vendors, and artisanal farmers.
Indigenous artisans from communities around Medellin are also represented, making San Alejo one of the few places in the city where you can buy authentic handicrafts such as hand-woven Wayuu Mochila bags and colorful Mola textiles, traditionally made by the Kuna people.
#26 Placita de Flórez flower market.
Placita de Flórez flower market. The oldest undercover market in the city (it dates back to 1891), the Placita is a short walk from the Casa de la Memoria in the Bombona district. You can quite easily combine them into one visit.
The market is a bit of an unusual combination: On one level you'll find beautiful fresh-cut flowers interspersed with butcher's shops. Downstairs, you'll find the fruit and vegetable vendors.
On the back wall of the lower level, there's a wildly popular food stall you can't miss: It's where Medellin's best arepas de chócolo (sweet corn arepas served with a slab of cheese on top) are served.
Back outside the market, order a freshly pressed OJ from one of the roving juice carts while you sit on a plastic stool and observe the ins and outs of Colombian commerce.
#27 Visit Leafy Laureles
Laureles is probably the most livable district in Medellin. I booked an Airbnb here without realizing it was one of the city's hottest suburbs, and I was very happy to be able to explore a 'real' local neighborhood.
Originally a working-class area, parts of Laureles are now quite swish. It's extremely leafy, with old-growth trees lining wide roads, tons of dog parks and outdoor exercise areas, and open-air restaurants. Primer Parque de Laureles was my 'local' park during my short stay.
Parts of the district are laid out with roundabouts and curved streets, so it can be a bit confusing to try and navigate on foot. But getting lost and aimlessly strolling is all part of the fun.
There are a few notable attractions to seek out, including the Fundación Aburrá gallery-museum. For more things to do, see this detailed guide to the Laureles neighborhood.
#28 Get Lost in El Hueco
El Hueco translates as "the hole" and it is a busy market located in the center of downtown, just south of Plaza Botero.
Here you will find a series of city blocks that have been taken over by a ton of vendors selling all sorts of goods from little carts. Here you'll find clothes, shoes, hats, and a variety of things. It's very similar to an open flea market and can be a bit chaotic.
#29 Pablo Escobar Tours
And finally, the ONE thing you should NOT DO while in Medellin. Please, don't patronize the Pablo Escobar tours here.
With the influx of Western tourists who only know Colombia for cocaine and Pablo Escobar, a number of businesses have cropped up catering to these tourists.
They tend to glorify Pablo and take you to visit things like his grave, the house where he was killed, etc. One tour will take you to visit Pablo's brother, who was complicit in Pablo's crimes, so you can have coffee with him and take happy selfies.
Let's talk about Pablo Escobar… Remember, he was a terrorist who nearly destroyed Medellin, killing thousands of people in the process, and throwing the reputation of an entire country into the gutter (even until today).
For most Colombians, Pablo Escobar is a figure as hated as Osama bin Laden, someone who has done incalculable damage to the country. The only Colombians that idolize Pablo are the poorest and most uneducated among them (or those making money selling shirts, souvenirs, or tours to visitors).
Pablo is not just some rebel gangster like Al Capone or Michael Corleone. We aren't talking about prohibition-era hijinks or Hollywood movies.
Many Colombians still live with painful memories of the bombs and bloodshed left by him.
What to Eat in Medellin
Medellín is the perfect place to get acquainted with Colombian food. The one thing you must try here is the local specialty, bandeja paisa, a plate filled with meats like sausage and pork cracklings alongside beans, plantains, rice, a fried egg, and a few avocado slices they've thrown in for good measure. Hacienda Junin, and
20 Mission – A great microbrewery with delicious food too! Try the IPA. (Cl. 16 #43f-66)
37 Park – Another great bar and restaurant with a rustic outdoor garden. (Cra. 37 #8A – 4)
Alambique – A jungle-like restaurant that serves great cocktails and creative Colombian dishes. We really enjoyed the guanabana cocktail and avocado and tomato soup (served cold and refreshing).
Restaurante Bar Donde Gloria
Burdo – Popular spot for both drinks and casual bites.
Cafe Cliche
Carmen – High-end gastronomy with some of the best food in all of Colombia. It's expensive but worth it. It was the best splurge meal I had in the country. (Cra. 36 #10a-27)
Don Diablo – An amazing steakhouse that is the best bang for your buck. We tried the tasting menu here which we highly recommend. They have a service that allows you to choose a knife of your choice to cut your meat.
El Tejadito – Come here for stuffed arepas. They're so delicious!
El Trifásico
Hacienda Junin – A Colombian restaurant serving typical dishes in a terrace setting. We highly recommend their chicharron, bandeja paisa, soups, and limonada coco beverage which is super creamy and refreshing.
Hatoviejo – This is one of the best places to get traditional Colombian food. It's pricey when compared to some of the hole-in-the-wall restaurants you'll find throughout town. We really enjoyed the Bandeja Paisa and the steak dishes from Hatoviejo.
Restaurante IN SITU
Juno
Malevo
Mercado Del Rio – A popular food court for eating and socializing, check out Mercado del Río for a choice of over 40 restaurants. It's a lively food court with a cool ambiance and many trendy options located near the MAMM. This place is packed at lunchtime and dinnertime with young professionals from nearby office buildings, so getting a seat might be a challenge. A cool spot to come with friends, you'll have your pick of everything from sushi, hamburgers, and paella to Mexican, vegan, and Mediterranean dishes. You can also grab beers, cocktails, or a glass of wine and hang out over a few shared plates.
Mondongo – Traditional Colombian food in a relaxed atmosphere. Try the mondongo, a traditional tripe soup. It comes with a ton of side dishes (including giant avocados). Come early, as this place gets packed. Try to avoid dining here on the weekends. (Cl. 10 #38-38)
Nuovo Fiore – Come here for thc ice cream.
OCI.mde – This was our last meal in town and one of the favorites for a modern take on Colombian food. It's upscale and the restaurant has a ton of energy. Make reservations in advance.
Pedacito de Amor
Salon Versalles – Come here for delicious Argentinian empanadas
Tal Cual
Truchera Arcoiris – Come here to literally catch your own lunch with a fishing reel. It's an experience if you have some extra time.
Vaggart – This is the rooftop restaurant at the Art Hotel and the food was really good. It was more of a bar menu but loved it!
Empanadas at the corner of Avenida Caraboobo and Calle 52 – These were my favorite, I can't find the name on the map but if you're headed to Plaza Botero, it is right there on the corner.
What to Drink in Medellin
If you find yourself parched after an afternoon of sampling the city's delicious cuisine, consider taking a brewery or craft beer tour to quench your thirst. There is an up-and-coming craft beer scene in Colombia, and Medellín has over 30 breweries and microbreweries. These are some of the best places to try local beer:
3 Cordilleras offers craft beer in both Bogota and Medellin. They also have tours which need to be booked in advance.
Cerveceria Libre: For a local brewery, come here and try their beers on tap. The "passion" was my favorite.
20 Mission Cerveza has great beer, and great food, and it's a fun place to hang out and meet people. They offer tours of the brewery and they also host music events and DJs. It's super popular and one of the best places in town to grab a beer.
Brew House is a family-owned-and-operated brewery where you can take a tour and sample the offerings alongside their full pub menu.
La Bronco: Favorite cocktails were here and the food looked good as well.
Medellín Beer Factory doesn't offer tours, though it does brew its own beer, with over 50 kinds on the menu! It's a great place to relax with friends.
Cafe Toucan – Great place for coffee.
Pergamino Café – A chill café with some of the best coffee in town. It's also a great place to get some work done. And if you're hungry, they offer breakfast dishes, sandwiches, and empanadas.
Salon Malaga: A traditional piano bar with an old-timey feel and a wonderful atmosphere. It's been a fixture of Medellin since 1957.Settle in amongst the jukeboxes and retro music posters to listen to live tango and salsa. It's not uncommon for couples to get up and start cutting a rug, so remember to wear your dancing shoes if you want to join in the fun. A neat shot of aguardiente, Colombian 'fire water', should get things moving. Made from fermented sugar cane, it has a pleasant anise flavor and actually goes down quite smooth (well, sometimes).
Rituales is another great spot for coffee.
El Social is the last bastion of semi-affordable Colombian-ness in the area. It's no frills, but the beer's cold, which is all you need.
Erre is one of the few spots to have a happy hour which includes two-for-one beers and select spirits.
Medellin Travel Guide Map
Use our Medellin Travel Guide Map when you get to the city. It will show up in your Google Maps App.
If you found our Medellin travel guide helpful, please share it on Pinterest. Thanks for your support!
---
Thank you for visiting today! If you found this encouraging or informative, please connect with us on Instagram, Youtube, Pinterest, Facebook or Twitter. We'd love to meet you!
Sign-up for our monthly newsletter for updates and more. We promise we won't spam you! Feel free to unsubscribe anytime.
For more fitness fashion discounts and offers, please visit our Fitness Instructor Discounts + Brands Directory or favorite brands coupon codes list.
If you're a brand and want to submit a product for us to review, please use this form to get in touch.
This site uses affiliate links. Clicking on or purchasing via an affiliate link may result in commissions for us which help keep the content flowing and lights on at Schimiggy Reviews. You may read more about this in our privacy policy.