Reading Time:
5
minutes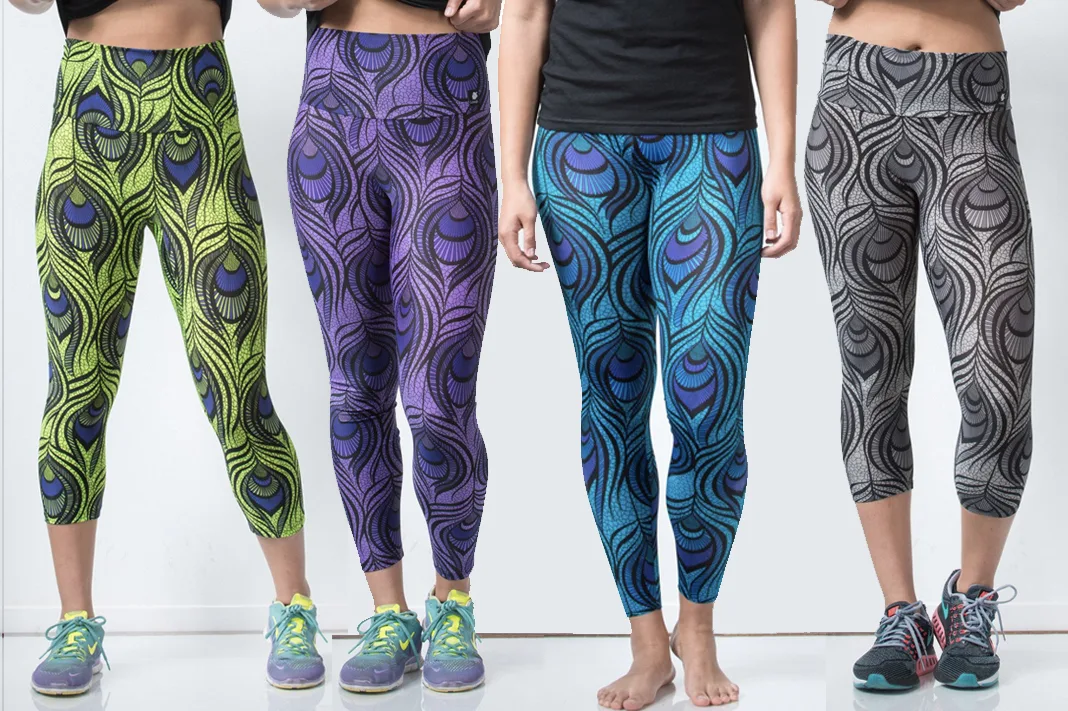 About Lineage Wear
**STORE CLOSED**
Lineage Wear (LW) was created by Katie Pippin in 2012. The brand is based out of New York. Katie has over 10 years of costume production on Big Apple's Broadway. She took her expertise in costume design to create an inclusive activewear line for women of all shapes and sizes.
LW is known for their bright patterns, signature high waist design, and flat front paneled leggings. Lineage Wear is definitely one of my favorite brands!
I've tested the leggings before but wanted to include a more thorough review for my present-day readers. Read my previous review here.
Let me know what you think in the comments!
Lineage Wear Review: Peacock Leggings
I reached out to Lineage Wear in 2013 when I was just starting my yoga journey. I had been wearing K-Deer leggings and read that LW had a similar fit and feel, without the high prices.
#1 Size: My initial review of Lineage Wear was for a size MEDIUM floral print. The pants were just too big even though they were gorgeous. I then purchased a size SMALL in the green peacock print and they fit perfectly!
I would order true to size (TTS) in Lineage Wear. I am a size 6 in lululemon for reference.
Lineage Wear is also inclusive of all shapes and sizes of bodies. Their sizing ranges from extra small to 3XL, which equates to a women's size zero all the way up to a 24. The pricing for leggings is the same for all sizes.
#2 Style: I am reviewing the long length (or midfoot) version of the Peacock leggings. Most prints also come in ankle and capri length. Lineage Wear also sells kids leggings, tanks, tops, and headbands.
#3 Inseam: The inseam measures 29.5″ and sits just under my arch near the ball of my foot. The leggings are also constructed with an angled inseam for a butt lifting and form-fitting fit.
#4 Rise: The leggings are high rise and sit above the navel. One unique feature about their leggings are their flat front pant panel. Because there is no center front seam, there's no camel toe!
#5 Waistband: The extra-high waistband sits above the navel. The waistband measures 4″. The LW logo is sewn onto the waistband towards the left hip. There are no pockets in the waistband.
#6 Fabric
Fabric Content: 80% polyester, 20% spandex

Lineage Wear uses water-based inks in their pigment printing process with no added solvents (which emit harmful VOCs)
Operates an in-house waste water treatment system that cleans and filters water to remove dye particles.
Recycling exhausted transfer paper to other markets
Collecting waste fabric to be recycled to other markets

Fabric Feel: The fabric feels very stretchy and durable. The fabric feels exactly like K-Deer fabric. The fabric is very durable and abrasion-resistant. I would avoid storing them in the same place you store your velcro.
Fabric Performance:

The fabric is thin and has quick drying qualities.
The fabric has 4-Way Stretch, allowing it to contour to the body.

Opacity: My bottoms were not see-through and 100% opaque. The colors are so vibrant and do not fade. They are white-backed but barely, so they do not stretch to white.
Fabric Features:

The pants come with an unfinished hem at the leg opening.
The Lineage Wear logo is sewn onto the left side hip.
#7 When to Wear: Their apparel is meant for both high and low impact sports. They're very durable so feel free to wear them while doing anything.
#8 Cost: Long leggings cost $62. They are very affordable compared to other brands.
#9 Gusset: The leggings are constructed with a t-shaped gusset (see below).
#10 Stitch Seam: The leggings use overlocked seams throughout the pant. The fabric is very stretchy and probably accounts for why the fabric does not stretch at the seams during wear.
#11 UPF Protection: Not disclosed.
#12 Made in New York! Did I mention they're also ethically handmade?
#13 Care Instructions: Hand wash or machine wash on delicate cycle with gentle detergent. I strongly advise you hang dry them on a foldable drying rack such as this one, or lay flat to dry.
Should I Buy Lineage Wear?
You should definitely buy Lineage Wear! I love the prints and the fit is absolutely amazing. I do not have to tug at my pants nor worry about my bum showing during forward folds. The peacock pattern is also very vibrant and timeless. If peacocks aren't your thing, they make a variety of prints and colors.
Their collection is based on what is available at the time of production, making each print and release, limited edition pieces. The price is also very affordable compared to many other brands.
Where to Buy Lineage Wear
Lineage Wear – Use discount code SCHIMIGGY for 15% off all your orders! (NO LONGER WORKS)
You may be able to find the brand on Poshmark, Mercari, or eBay.