Reading Time:
6
minutes
Updated: 8/3/2023 | How to Spot Show and Concert Ticket Scammers
I was in Chicago during the 2023 Lollapalooza festival and wanted to buy 4-day tickets. Tickets weren't being sold on the Facebook Marketplace so I resorted to the wild wild west of marketplaces that is Craigslist.
I e-mailed 20+ listings and texted two people. I received one e-mail response and two texts back.
I got a text back from phone # ‭(616) 589-6315‬ (a Michigan phone #) and was asked to send money via Zelle. I got the seller to agree to let me pay with Venmo as goods but they insisted that they send me a request as friends and family. She (I assumed from her handle) sent the request from the account @amarylis-melendez-1 for $600 for two Lollapalooza GA 4-day tickets, which is a steal! Tickets were going for $500+ while we were in town.
I created a request to pay with purchase protection and received a pop-up notification stating that I could not send money to this account. It also states that I could send money to this account, but it would not be purchase protected. That was a huge red flag for me.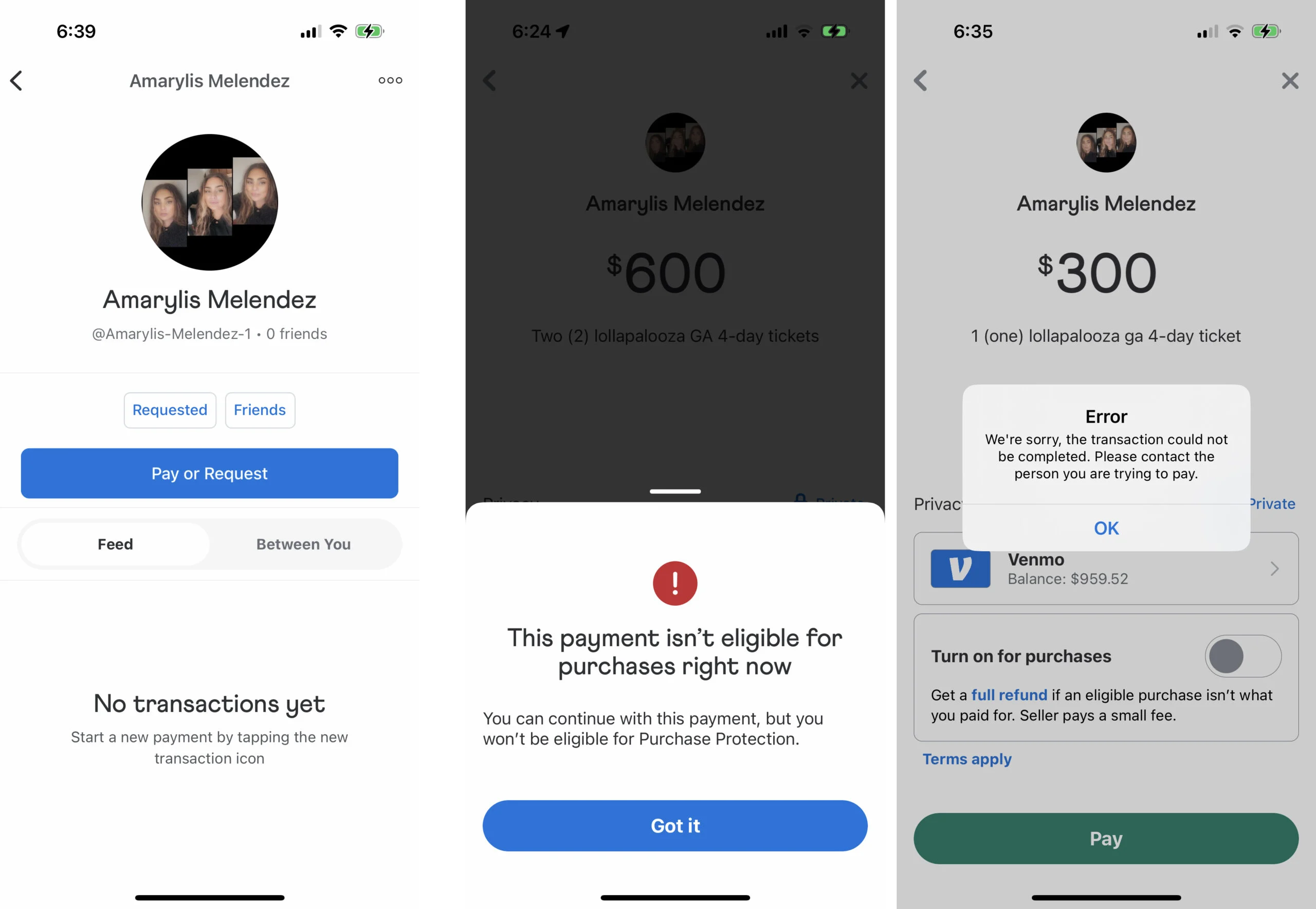 I thought that was weird, so I contacted Venmo's Live Chat and they stated that her account was not in good standing and that she should contact them to fix it. Below is a transcript of my chat with the Venmo rep.
I learned that buyers on Venmo always have the option to send money as goods and services and that the receiver can never turn that feature off. Not being able to pay as goods and services indicates that the account you're sending to has an issue that needs to be investigated and fixed by Venmo.

Venmo also lists common scams to look out for on their site.
Transactional Red Flags
Here are some indicators that a person might be trying to scam you.
The cost of the tickets (or items) is too good to be true. The seller was selling 4-day passes for $300 when they were going for $500+ a pop just days before the event.
The seller has barely any information about themselves online. I did a reverse search for all phone numbers and e-mails and nothing came up. I try to find social accounts such as Instagram, Facebook, and/or LinkedIn. I was able to find this Facebook account with the same photo the seller had on Venmo. There was also another Facebook account associated with this same name.
The seller won't Facetime or Video Chat with you. And they won't because who they present themselves to be is probably not who they really are.
They try to use payment methods such as Zelle or money orders to complete transactions. These methods DO NOT protect you. Only use these payment methods with people you know AND trust.
Payment methods are not working as they should. I was having so much trouble using Venmo when it's typically super easy and straightforward. Having payment issues and being unable to pay as goods or services is a huge red flag. This means that something is going on with their account and they may have violated Venmo terms in the past.
Facebook is cluttered with scammers and fake accounts. Do not purchase tickets from accounts that were created just a mere few months ago or even 1-2 years ago. I also watch for profiles that have uploaded an unusual amount of photos or posts within a single day. This is a huge indicator that they are fake accounts made for the sole purpose of scamming people online. If you're interested, you can do a Google reverse image search to find out where the scammer stole their images from. However, this method only works sometimes. And…once you determine a scam account, report that account to Facebook immediately.
Examples of Fake Facebook Accounts
Incomplete profile
Weird friends list on account (probably all fake scam profiles too)
Weird profile name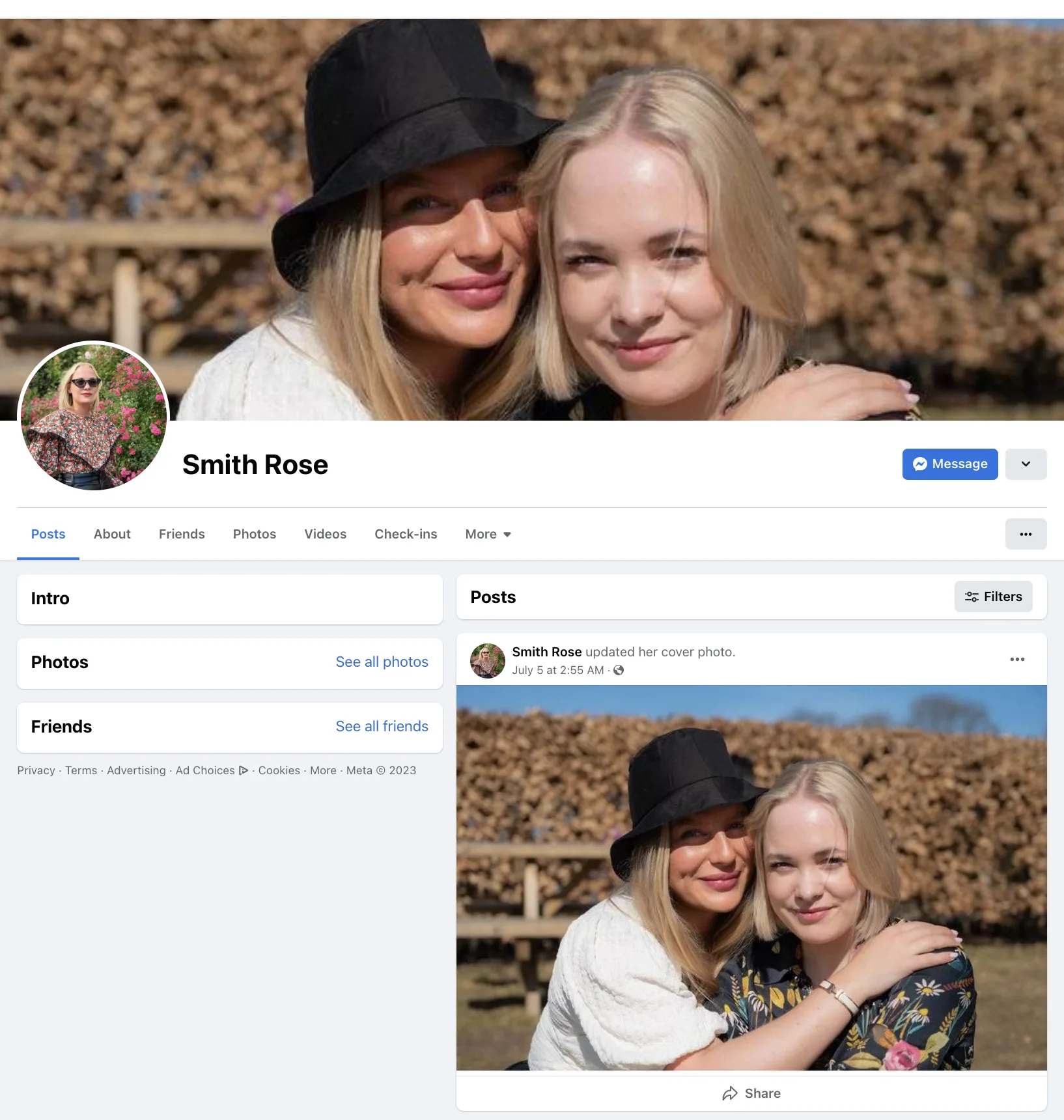 All images are uploaded on July 21st
The account was created on July 21st, 2023
How to NOT Get Scammed
Follow the steps below before making ANY purchase from anyone online. This goes for tickets, clothing, accessories, electronics, instruments, etc.
#1 NEVER EVER EVER EVER pay someone you do not know as friends & family.
Unless you can meet face to face and get the product into your hands immediately, it's not worth it.
Your purchase will NOT be protected and you can possibly lose out on lots of money. This also means you cannot get a refund regardless of your situation or how much paperwork or evidence you have. Venmo rules are strict and unforgiving and when using their platform, you are not protected by the FDIC.
It's also good practice to transfer ANY MONEY you have in your Venmo account to an FDIC-insured banking institution. If for some reason Venmo stops working, all your money is not protected and will be gone. Venmo is not responsible for safeguarding any money you put into their accounts. The same goes for Paypal accounts. Venmo is owned by Paypal.
#2 Do a reverse search for the phone number or e-mail you're interacting with.
Search for the person's name if you have it. See if other profiles show up. If a profile looks incomplete or was created recently, then they're probably a scammer.
If you don't have a name, try using the phone number or email they are giving you in order to complete the transaction. You can find out a lot about an email or phone number just by searching for it.
I received the following contacts from my scammer throughout this process:
(616) 589-6315‬
(682) 888-2221
718-974-4483 – Jessie Sosa
fireapplejacks@icloud.com
Otwstacking2@gmail.com
Curtis Elizabeth Ann on Venmo as @curtis-ann8
Frederick Tholen on Venmo as @Tholen976
‭(703) 665-9487‬
These area codes are from everywhere, which is an indicator that these scammers work in groups and that they're probably doing this type of stuff across multiple states.
If your search leads you to my post, avoid doing any business with these frauds, and let me know so that I can update this post with more information and continue exposing them.
#3 Ask for a screenshot of the purchase receipt and verify with the ticketing agent or company that this is a valid purchase.
I was able to request a copy of their "purchase receipt" and called StubHub to verify that the order number was valid. I found out that the order # was actually for Taylor Swift tickets! The scammer had Photoshopped the receipt to look like they were for 2023 Lollapalooza tickets.
So freaking awful!
Do this for ALL purchases you may be wary of, not just concert tickets.
#4 Buy Tickets IN PERSON
We ultimately were able to find 4-day GA passes from a scalper just outside the festival.
Luckily, we were able to verify tickets through a registration and activation system provided by Lollapalooza. Once our serial code was registered, we paid the scalper with Cashapp and were happily on our way to the festival.
The lesson learned here was to just buy at the festival entrance. You may need to walk around and talk to people who are "buying" tickets (who are actually selling) and negotiate with them. We were able to negotiate a $50 discount on one of our passes, which brings the tickets to just about what we had paid if we were more proactive about buying tickets before arriving in Chicago.
The other lesson learned is to just buy the tickets early next time. Lollapalooza offers early bird specials. I know for some people this may be a scary thing to do, especially when the lineup hasn't even been released yet. I've been to Lollapalooza twice now and loved both experiences. You'll never have a bad time, so I say go for it if it's been on your mind.
And if it turns out you can't go, you can always sell your tickets the honest way.
If you found our article on how to spot show and concert ticket scammers helpful, please share it. Thanks for your support!
---
Thank you for visiting today! If you found this encouraging or informative, please connect with us on Instagram, Youtube, Pinterest, Facebook or Twitter. We'd love to meet you!
Sign-up for our monthly newsletter for updates and more. We promise we won't spam you! Feel free to unsubscribe anytime.
For more fitness fashion discounts and offers, please visit our Fitness Instructor Discounts + Brands Directory or favorite brands coupon codes list.
If you're a brand and want to submit a product for us to review, please use this form to get in touch.
This site uses affiliate links. Clicking on or purchasing via an affiliate link may result in commissions for us which help keep the content flowing and lights on at Schimiggy Reviews. You may read more about this in our privacy policy.