Reading Time:
7
minutes
Ever go to spend money using your debit card and then get hit by a $35 fee because you didn't have enough money in your bank account? That fee is known as an overdraft fee and they can be financially debilitating, embarrassing and downright annoying.
What are Overdraft Fees?
Overdraft fees are charged when you don't have enough cash in your account to cover a payment you've made. As part of an overdraft protection service, the bank covers the difference for you…but at a cost.
And it doesn't end there. Some banks may charge a fee of $2 to $5 per day until your account reverts to a positive balance.
In 2017, Americans paid over $34.3 BILLION in overdraft fees! Banks are banking on people who live paycheck to paycheck or simply spend beyond their means.
Here is a quick glance at how much in overdraft fees banks will charge:
Overdrafts are not reported to credit reporting agencies, but if the amount of the overdraft is sent to collections, that account will be reported and hurt your credit score.
Luckily, overdraft fees are avoidable. Here are our top account management tips that will help prevent and avoid overdraft fees forever.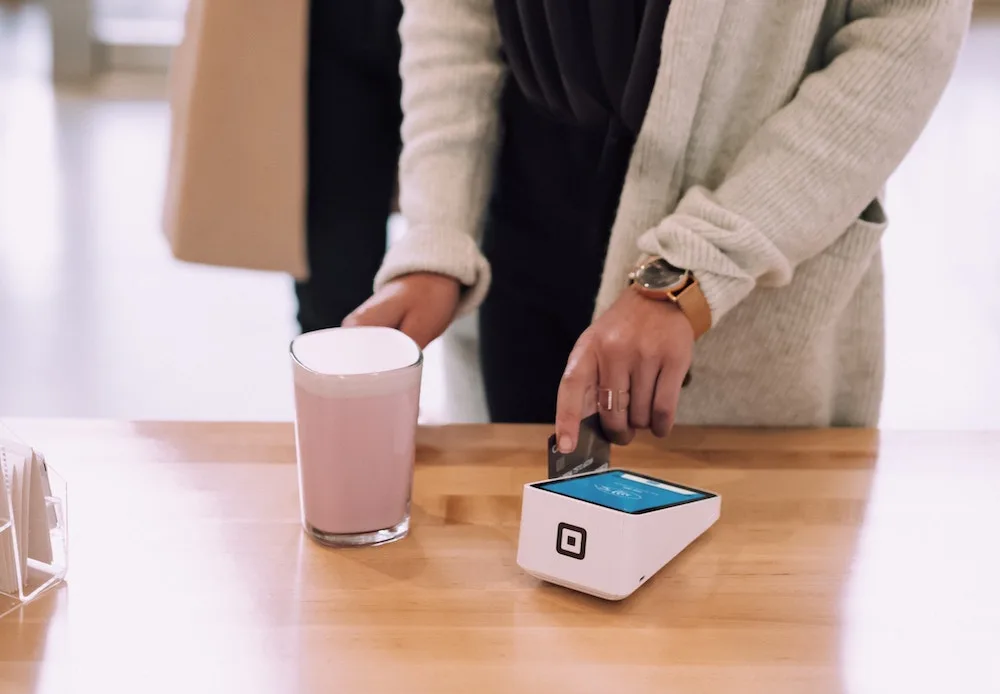 How to Avoid Overdraft Fees
#1 Opt-Out of Overdraft Protection
The most straightforward way to avoid overdraft fees altogether is to simply not enroll in the overdraft protection program.
2010 Legislation required banks to give customers the option to opt-in instead of automatically enrolling them into overdraft protection. This meant that 1) you would not pay ANY overdraft fees and 2) if you did not have enough in your bank account, that your purchase would simply be denied.
#2 Monitor Your Account Balance and Transactions
Nowadays, being able to check your bank accounts and balance is very easy if you have access to online banking and a mobile banking app.
When considering a bank, make sure you can access your banking account online. Sign up for electronic and mobile banking and you could monitor your account activity on your computer, at the ATM or with your phone via a mobile app.
It's also important to be aware of what automatic payments you've set up. Keep in mind that payments will not reflect immediately in your bank accounts until a few days after payment has been sent. This will make you more aware of your finances and when during the month you'll most likely tend to overdraft.
I set up my automatic payments on my Google calendar so that I am aware of when my money is being withdrawn throughout the month. I also use Mint to manage my spending and keep track of my spending, budget and financial planning.
#3 Sign Up for Automatic Alerts for Low Balances
Most online banking now has the technology to allow you to set up electronic or mobile alerts to notify you when your account is low on funds. Some banks will allow you to set a $50 or $100 as the limit. If your account dips close to or below your limit, you'll automatically receive a warning via email or text.
#4 Don't Use Your Debit Card to Make Large Transactions or Transactions with Holds
When making large purchases, you can easily go over your spending limit. Try not to spend your debit card when buying large appliances, computers, fine jewelry or while shopping at large department stores.
Also be aware of using your debit card when checking into a hotel, renting a car or going out to fancy dinners. These types of businesses place holds or blocks on your checking account until you check out or when the tip has been calculated into your final total.
It's best to use a credit card for large purchases or transactions which will result in a hold.
#5 Link a Checking Account to Another Account
Some banks will offer an overdraft protection transfer service as a less expensive alternative. This will require you to link your checking account to another savings account or credit card.
Once the accounts are linked, funds will be transferred from the linked account to your checking account to cover any overspending. There is typically a fee for this service, but it is usually less than the hefty overdraft fees.
#6 Keep a Pad, Cushion or Buffer of Money in Your Banking Accounts
Keeping more money in your checking account can help offset overdraft fees. Instead of transferring all your money into a savings or retirement account, consider leaving a minimum amount in your checking account to prevent any overdraft fees.
Depending on your spending, we recommend having a minimum of $100 to $500 in your checking accounts at all times.
#7 Consider Prospective Budgeting
Prospective budgeting requires you to plan out your spending for the next month or even quarter ahead of time. The opposite is retrospective budgeting is budgeting after your money is spent.
If you are someone living paycheck to paycheck, prospective budgeting can prevent your accounts from going negative at any point. It's a great way to control where you spend your money and avoid any potential fees altogether.
#8 Use Cash
Consider establishing a cash budget to track your daily spending. Counting your cash will enable you to keep track of your money dollar for dollar and may even result in spending less money overall!
There's a method called the Cash Envelope Budgeting Method. This method requires you to organize envelopes into different budgeting categories such as groceries, gas, mortgage, clothing, entertainment, food, etc. Set your budget at the beginning of each month and only spend up to the amount that is inside the envelope.
Using a debit card comes with its risks and using a cash management system eliminates all potential banking fees.
#9 Get a Prepaid Debit Card
A prepaid debit card is a great solution for tracking your spending. These cards work like debit cards. You can deposit, withdraw and spend money like usual. The prepaid cards are not linked to checking accounts. Prepaid debit cards typically do not have overdraft services or related fees, but they can have fees for declined transactions, ATM withdrawals or monthly fees.
#10 Choose a Bank that Doesn't Have Fees
One great way to avoid overdraft fees entirely is to bank with a company that does not have any fees. There are literally thousands of banks competing for your business, so shopping around is very important when deciding where you want to bank.
My number one choice is the Charles Schwab High Yield Investor Checking account!
Benefits of a Charles Schwab account:
No fees
Unlimited ATM rebates worldwide
No account minimums
No-fee overdraft protection
Deposit checks via pre-paid envelopes or via iPhone app
A VISA debit and ATM card
Free checks
No foreign transaction fees
Fees can add up quickly when you're busy traveling, living or creating your empire. Charles Schwab reimburses you for ALL of these fees and offers more benefits as a member.
Another option is Chime Bank, who doesn't even offer overdraft protection. Your card will simply get denied when you try to overdraft. You will also receive balance notifications every morning so you know how much is in your account at all times.
If your account does happen to go negative, they give you a full 15 days to deposit money before moving money (for free) over from your savings account to cover the negative balance.
Other banks that offer none to low fees include:
#11 Pay With Credit Card Instead and Pay Off the Balance Before You Incur Interest
This is probably my FAVORITE option. Not only can you avoid overdraft fees altogether, but you also have the potential to earn points/miles AND work towards improving your credit score. The trick is to spend only what you need to and pay off your credit card before you incur interest in the next billing cycle.
Never ever pay interest, because that would mean that you're still giving banks all your hard-earned money.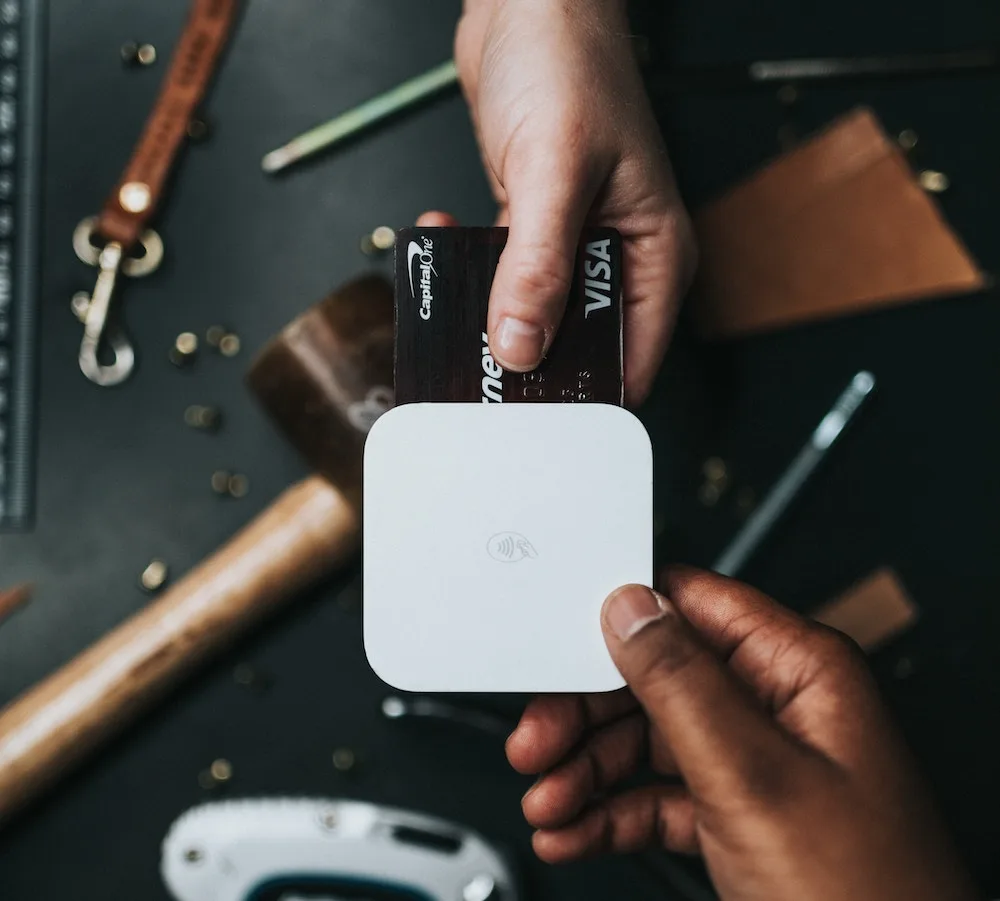 How to Get Overdraft Fees Waived or Reduced
Always remember that banks want your business. Sometimes things happen where you make an accidental purchase or a check you wrote gets cashed months from when it was written.
When this happens, it's worth a try to call your bank right away and try to get the fees waived or reduced.
Here is a script you can use while you're on the phone with the bank representative.
[Call your bank.]
[Representative answers and you establish yourself as the owner of your account.]
You:I was charged a late fee on my account that I would like to get it waived.
Customer Representative: I'll be glad to see what I can do. Give me a second to pull up your account. Sorry there is nothing we can do.
You: I've been a longtime customer for X years. I accidentally overdrafted my account and this has never happened before. I would like to see if you can waive it.
Customer Representative: Let me see what I can do. Sorry we cannot waive your overdraft fees.
You: May I speak to your Manager?
Customer Representative: Let me see what I can do. I will go and speak with my Manager.
[Puts me on hold and goes and speaks with Manager.]
Customer Representative: I was able to check with my Manager and they have offered to waive the fee. Is there anything else I can help you with today?
If this is not the result you received, call again in a few days and speak with a different Customer Representative. Going directly into the branch might be helpful too if a phone call does not resolve it.
Once you've got your bank and credit card fees waived, adopt a solution so that you're never hit with overdraft fees ever again!
If you found this helpful, please pin this to Pinterest!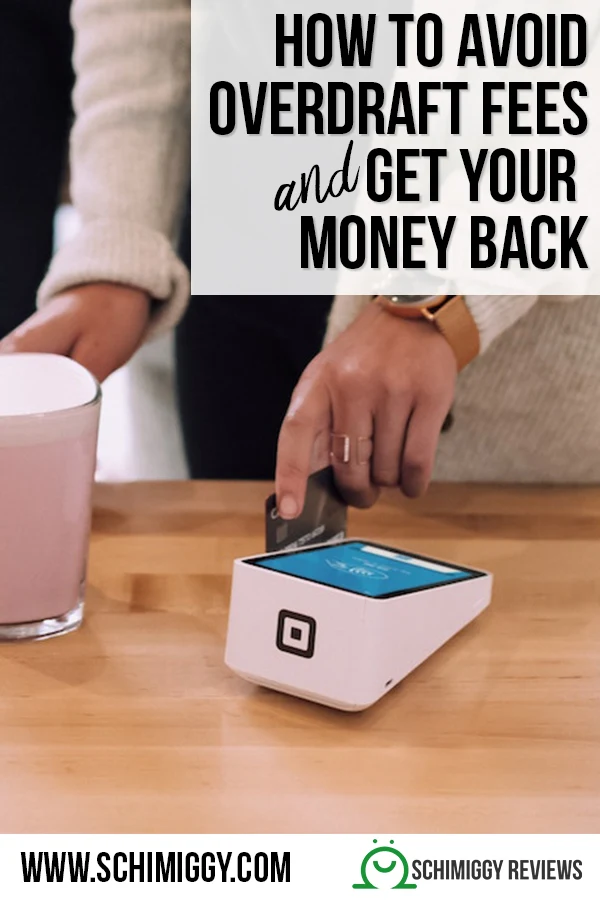 ---
Thank you for visiting today! If you found this encouraging or informative, please connect with us on Instagram, Youtube, Pinterest, Facebook or Twitter. We'd love to meet you!
Sign-up for our monthly newsletter for updates and more. We promise we won't spam you! Feel free to unsubscribe anytime.
For more fitness fashion discounts and offers, please visit our Fitness Instructor Discounts + Brands Directory or favorite brands coupon codes list.
If you're a brand and want to submit a product for us to review, please use this form to get in touch.
This site uses affiliate links. Clicking on or purchasing via an affiliate link may result in commissions for us which help keep the content flowing and lights on at Schimiggy Reviews. You may read more about this in our privacy policy.